Luang Prabang Is A Place You Go To Chillax
Hi. I'm not the Ninja Housewife, but I promised her that I'll write about my trip to Luang Prabang so here it is. 
xxx
Luang Prabang isn't a hidden gem kind of place, nor is it an overly-travelled one. It's one of those must-go places for backpackers (especially those from the Western Hemisphere) doing the Banana Pancake Trail, but has yet to appeal to the wider Asian market. All of these spell good news for travellers like me because:
This means a wider range of accommodation – everything from the 5* Sofitel to hostels with USD10 bed/night.
English menus – or French, in this case.
Affordability – yes, it's one of the cheaper Southeast Asian destinations I've been so far. And I do budget travelling.
Now that you know what to expect of this charming little city, I'll get to the details:
Some history about Luang Prabang, and a bit of Laos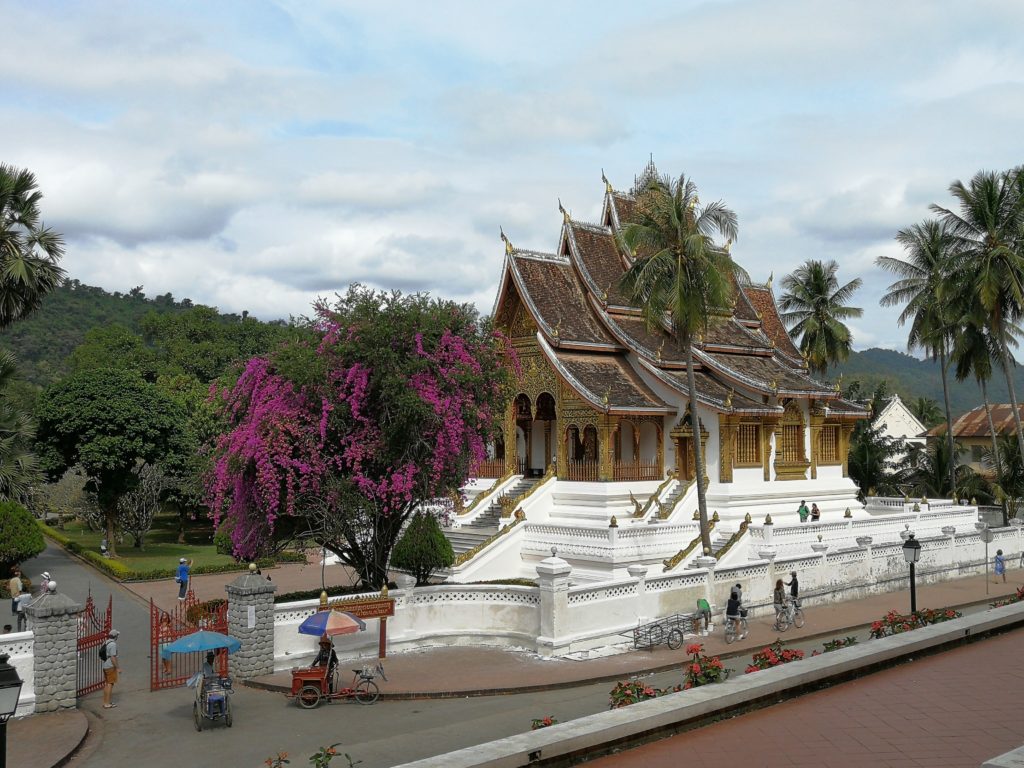 Luang Prabang is a city located in the northern part of Laos (read: Genting Highlands weather). It's quite an important city for the Laotians as it was an ancient capital, which then became a kingdom by itself, then briefly became a capital again, and then now it's not a capital. I know, confusing stuff.
The city has a looooooooong history so I'll start from the not-so ancient events. Around the 14th century, Luang Prabang is the capital city of the ancient Kingdom of Lan Xang, a kingdom which includes Laos along with bits and pieces of Myanmar and Vietnam. And from what I read, Lan Xang was kind of the big guy during that time, so you can imagine how glorious and busy Luang Prabang used to be.
By the way, Lan Xang means "Million Elephants and White Parasols". What a name right? I know.
Then the bad stuff started happening. Usual stuff: brothers and cousins fought and then the kingdom was split into three by the 18th century — Luang Prabang, Vientiane, and later on Champasak. After the split, the neighbouring kingdoms (what is now Thailand, Vietnam, and Cambodia) bullied them, the French came to colonise them, the Chinese wanted a piece of them, and even the Japanese came to kacau. The city didn't even have peace after World War II because that's when the Laotian Civil War started.
Long story short – if you think your life is tough, Luang Prabang's life is tougher.
The food

Given its history, it's no surprise why Laotian food look and taste like those of Thailand and Vietnam. I usually dine in restaurants that have a larger local clientele, and the ones that I've been to in Luang Prabang serve spring rolls that are like Vietnamese ones; as well as basil chicken dishes like the ones in Thailand. Oh, they sell "sandwiches" by the roadside too – it's just like banh mi. Then there was the pancake that made me go, "Roti pisang?"
But all in all, good flavours. If you love Thai and Vietnamese food, you'll love Lao cuisine. Street food is generally clean and I'm sure your tummies can stand it because if the French backpacker can eat it and not have food poisoning, you'll survive too.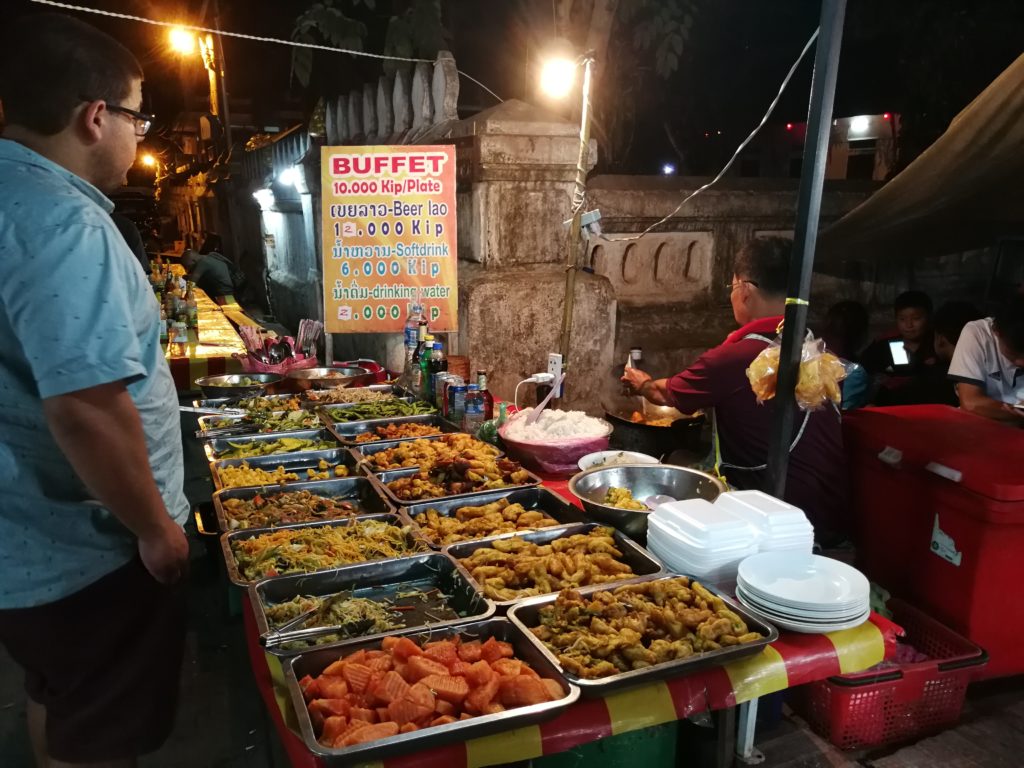 Try their roadside "buffet". It's like our economy mixed rice. LAK10,000 (about RM5) for a bowl of mixed rice/noodles with all-you-can-pile-on lauk. That's super cheap man. And they don't charge you by how many types of lauk you put into your bowl – as long as it fits in your bowl, it's LAK10,000 for you my friend.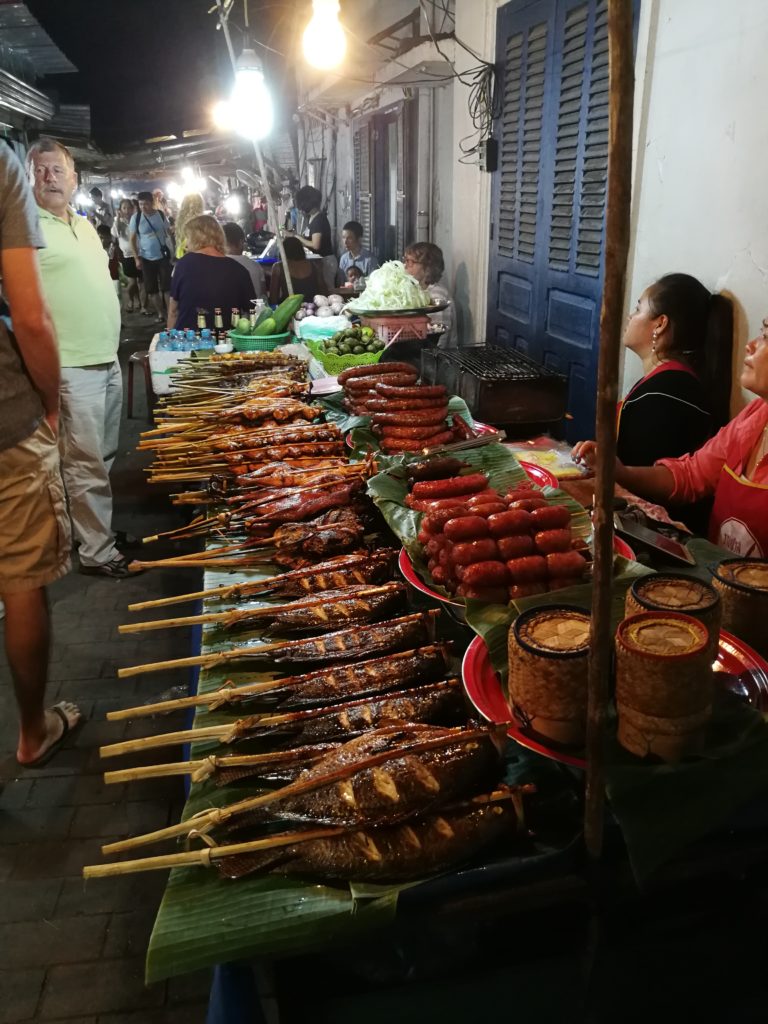 And please go for the roadside BBQ. They look so good, and so oily.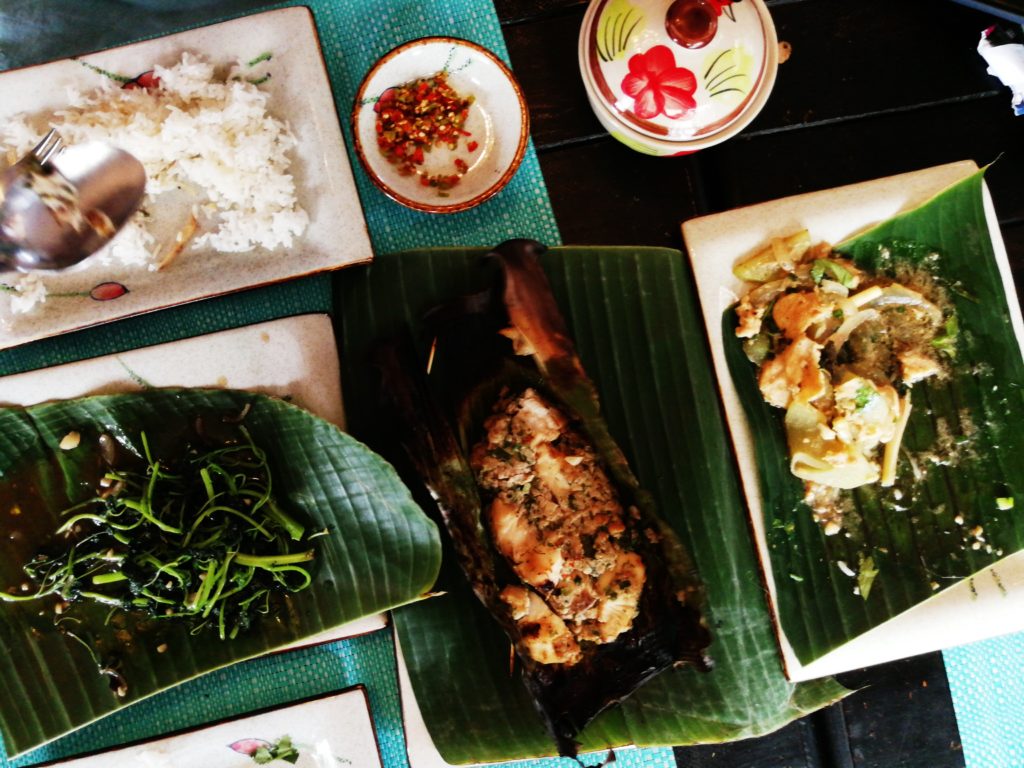 There are also proper restaurants too if you are Singaporean have a delicate tummy , they'll be slightly more expensive of course. Laotian BBQ is also popular — it's exactly like BBQ Plaza, or Thai mookata and Cambodian BBQ, with a dome-shaped BBQ area in the middle of a steamboat pot.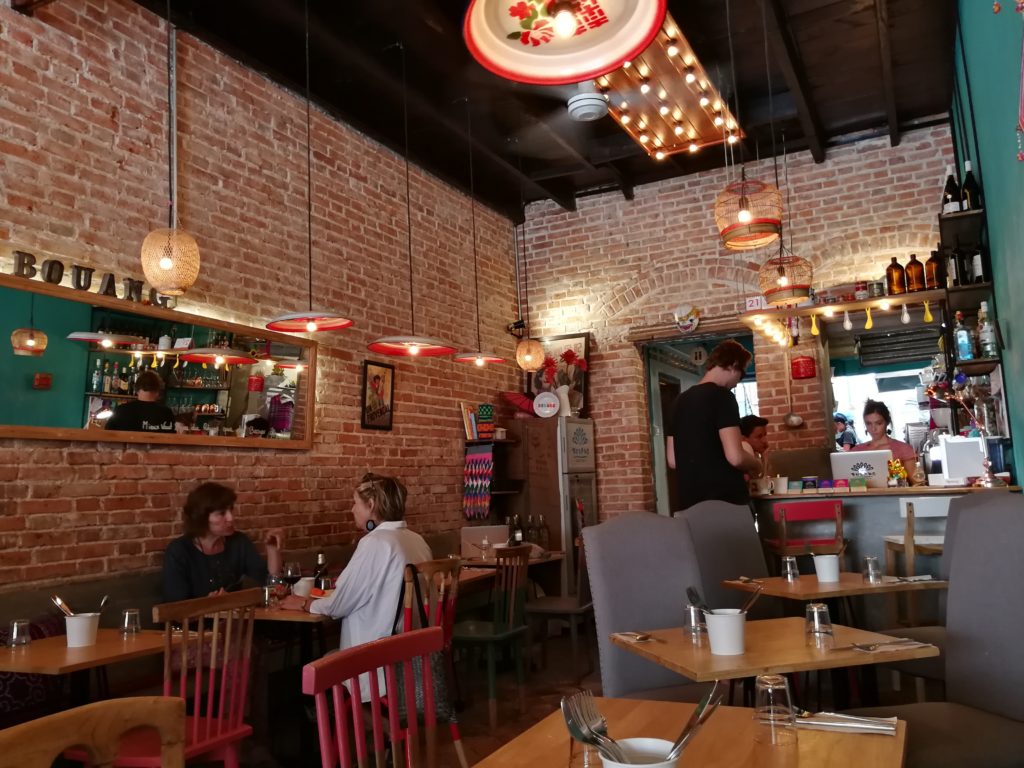 And if you're a baller, go waste money on French food. Except Bouang and Ori Bakery, these places serve good and cheap guai lou stuff.
What to see
Luang Prabang is a super chillax place. It's so chillax that you can't help but chillax when you're there. I can testify to this. I'm a super kan cheong person (my boyfriend will be happy to tell you about my kan cheong episodes because he finds it entertaining) and even I can chillax there. My itinerary allows for ample napping sessions. Time seems to move slowly in that part of Southeast Asia. It's a great getaway if you don't like crowds, shopping, and beaches.
Unfortunately no, it's not kid-friendly. Unless you have a hyperactive kid and you don't mind them running through the forest, then yup this would be a great + affordable family trip.
Day 1: Royal Palace, night market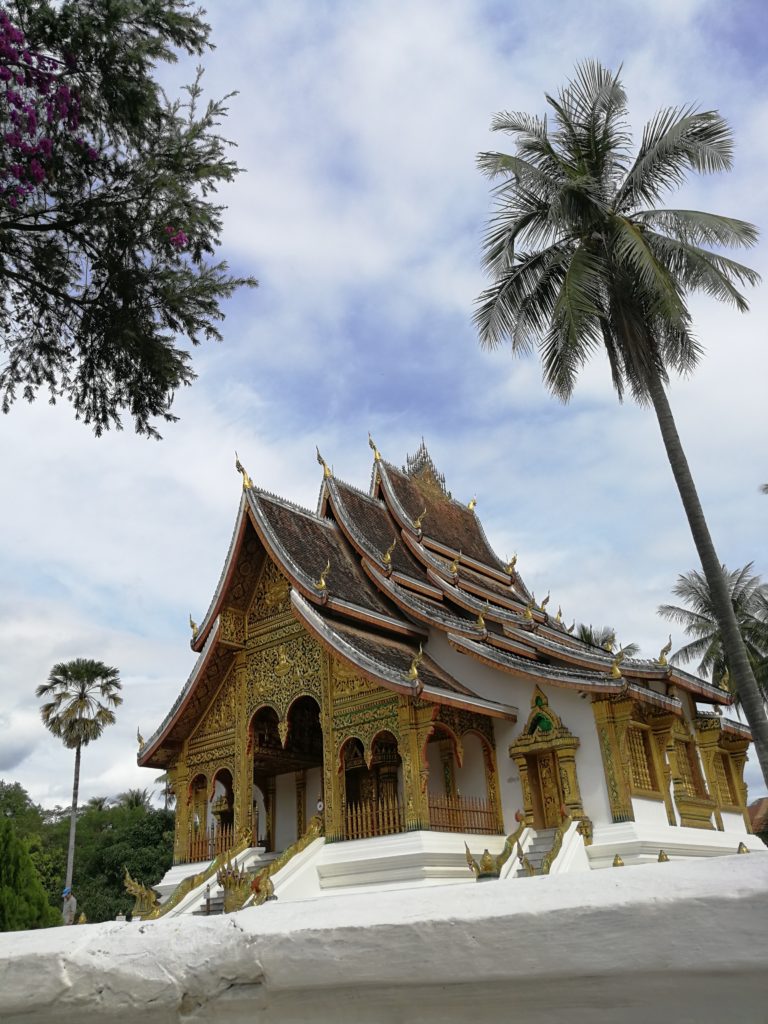 We usually spend the travelling day exploring the area where our hostel is located at, and visit any attractions that are within walking distance. So we circled the base of Mount Phousi, passed parts of the city centre, and ended up at the entrance of the Royal Palace.
Now, this is where I get preachy about dress code. If you're going to visit religious sites or historical landmarks associated with royalty of any nation, please wear a pair of trousers and sleeved top. Or bring a scarf. The Royal Palace of Luang Prabang requires you to cover up as a sign of respect. While they do offer sarongs for rent (LAK5,000 or RM2.50 refundable deposit), they do tend to run out during peak season. So please bring sleeved tops and long pants if you plan on visiting these places.
It's a modest palace with simple furniture. Yet what it lacks in display, it makes up with a sort of subtle elegance.  Like, who needs shouty ornaments when you're a descendant of the house who rules "million elephants and white parasols"? Show me how many elephants you have and we'll talk.
Unfortunately I have no photos of the interior as photography is prohibited inside the palace. But do go, it's only LAK20,000 (RM10).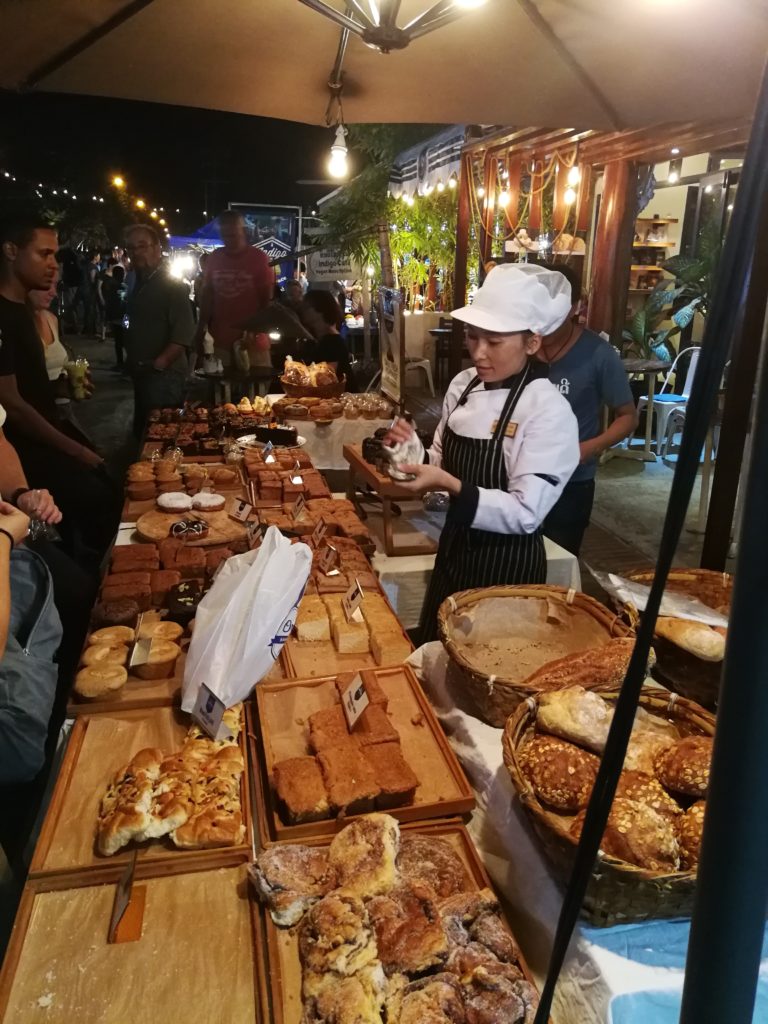 We checked out the famous night market on Sisavangvong Road after dinner. The street looked really different at night – like a broader and older version of Jonker Street. Here's where you can find the popular bread/cake stall — Ori Bakery. The guys make really good banana cakes and brownies. The coconut cake stall beside it is really good too, if you like santan-ish desserts.
Day 2: Kuang Si Falls, Wat Xieng Thong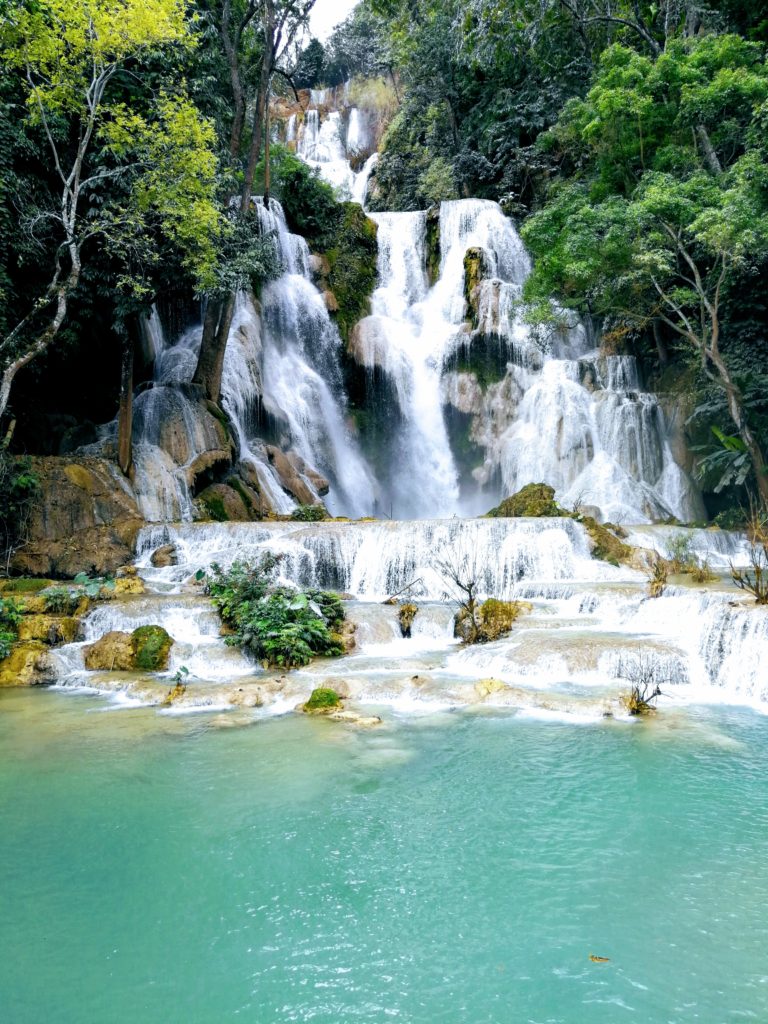 Just gonna spam all the photos here because it's too beautiful. You can hire a private car/tuk-tuk to get to the waterfall, but it's a little pricey. We're more adventurous, so we bonceng-ed a motorcycle all the way there by ourselves. Took us about an hour (30+km) — the roads were smooth enough, the scenery was beautiful, it's perfectly safe.
Remember to bring your best walking shoes if you want to hike to the source of the waterfall. If Batu Caves is nothing for you, then this short hike shouldn't be a problem. Just remember to bring a bottle of water and travel light.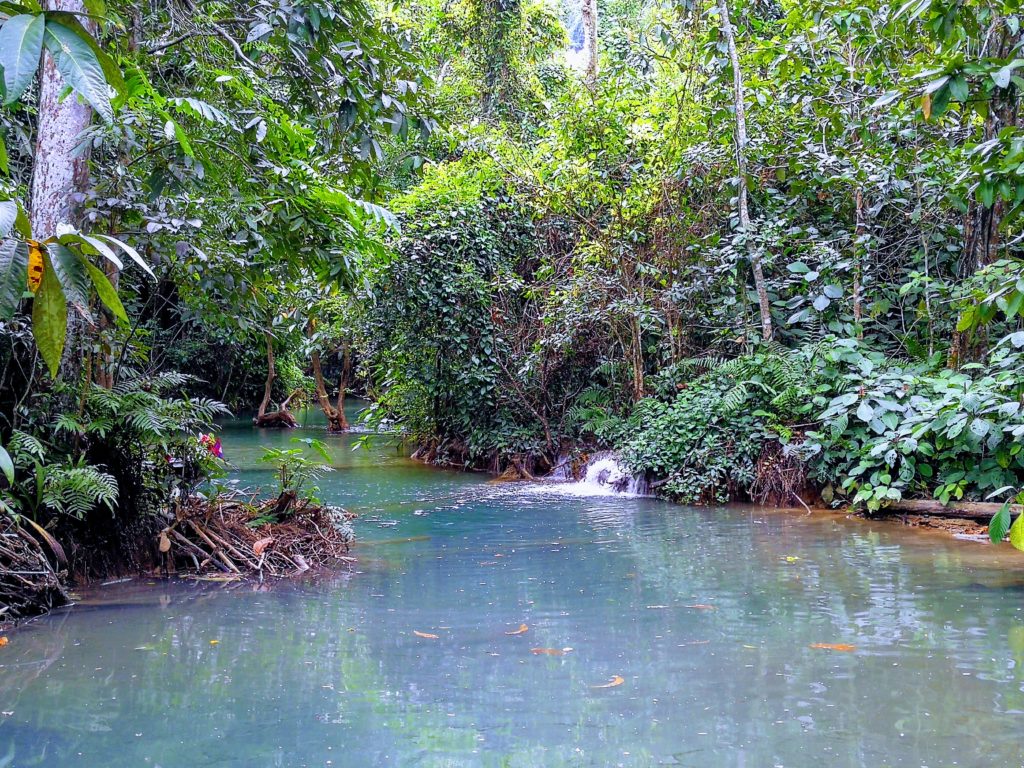 You'll be greeted by this peaceful pool of water on the top of the hill. You can take a short boat trip around the pool/lake/spring, it'll probably cost you LAK10,000 (RM5). Or you can be like us and go hunt for the "secret spring". It looks like this: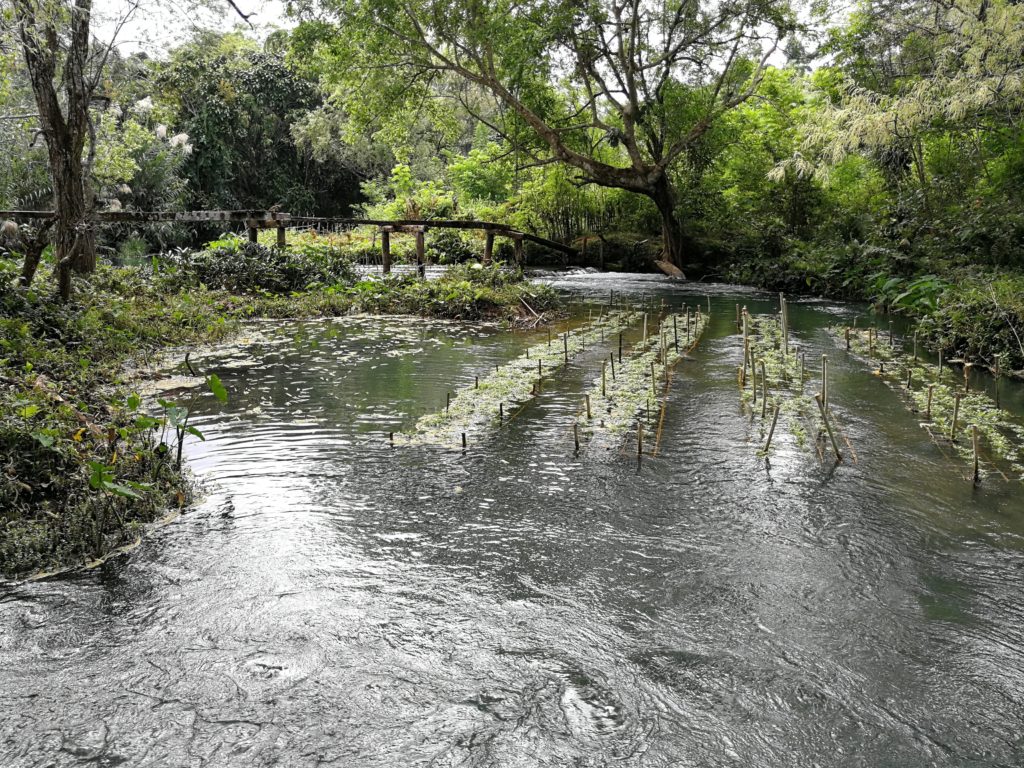 Most websites you tell you that Wat Xieng Thong is a must-see. Yes, it's the most important temple in Luang Prabang with a rich history. Unless you love temples as much as I do (I LOVE TEMPLES), then you might want to skip this.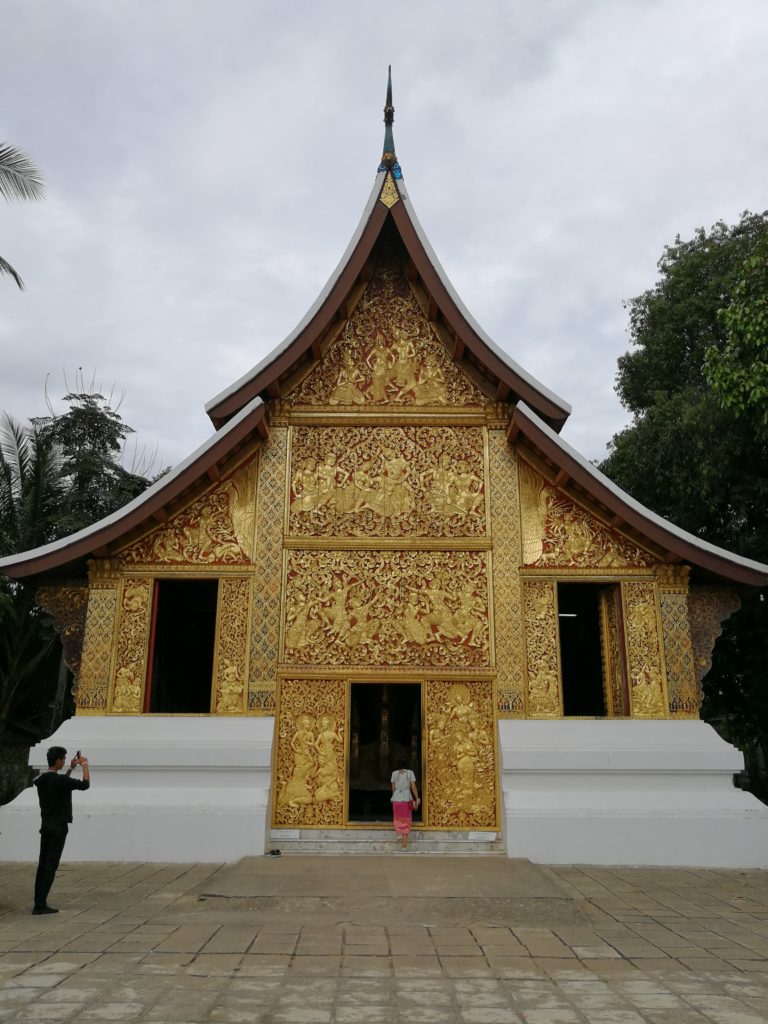 All the past kings of Luang Prabang were crowned here in this temple. The murals are really beautiful, I've never seen anything quite like these. Like most Buddhist temples in the region, scenes from Buddha's life is a staple but note the difference in style. You can see that Laotian painting is more intricate, as compared to Burmese ones. It seems that they're more into patterns as compared to their neighbours.
Day 3: Tad Sae Falls, Mount Phousi
The Kuang Si falls are majestic, but the ones at Tad Sae are magical.
There are three waterfalls in Luang Prabang: Kuang Si, Tad Sae, and Tad Thong — the first being the most popular one. Tad Thong is relatively unknown to tourists mainly due to the long hike and its seasonal nature (waterfall during the rainy season, dripping water otherwise). But Tad Sae will not disappoint you.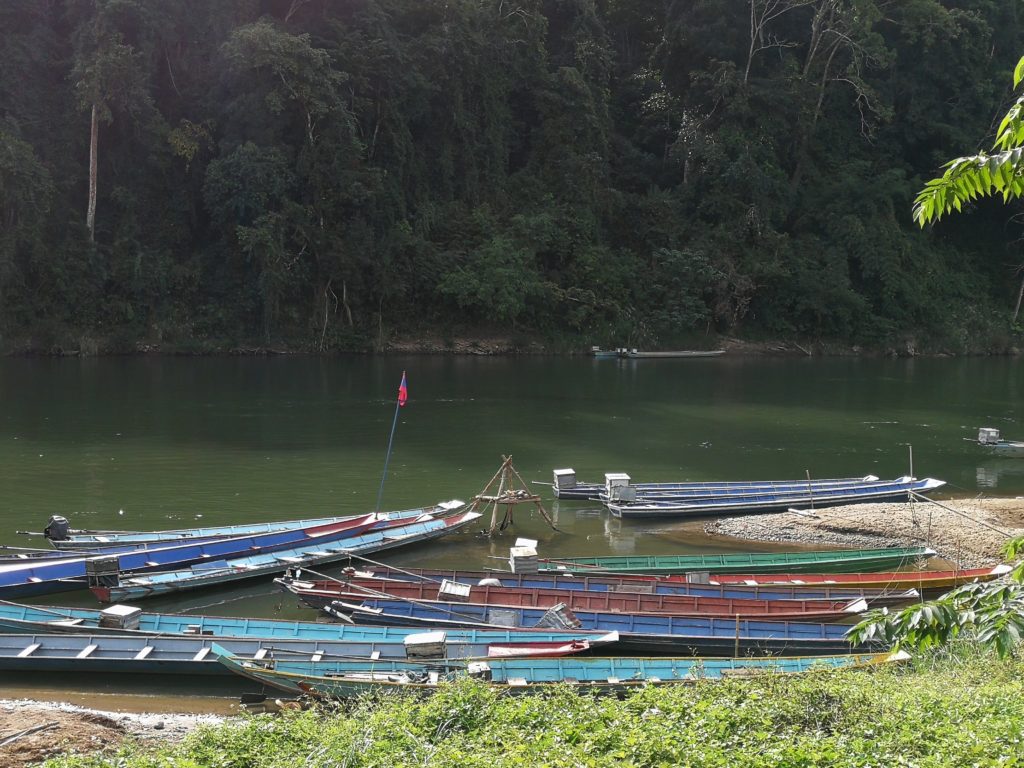 Getting to Tad Sae itself was quite exciting — you need to cross the Mekong on a sampan to get to the waterfall. The return boat ride was LAK10,000 (RM5) per person if you're going in pairs or in a group.
It's a real sampan.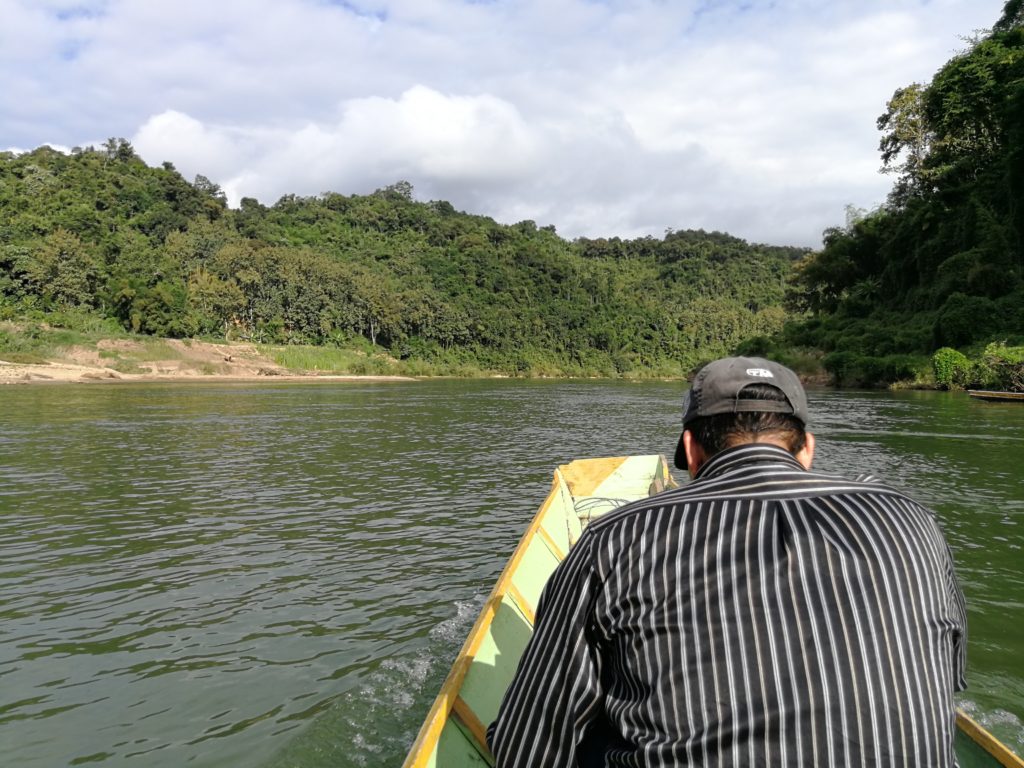 The water could just flow in anytime. I will never ever joke about people's ancestors, or mine, coming to Malaysia on a sampan anymore. It's ridiculous. Just look at it.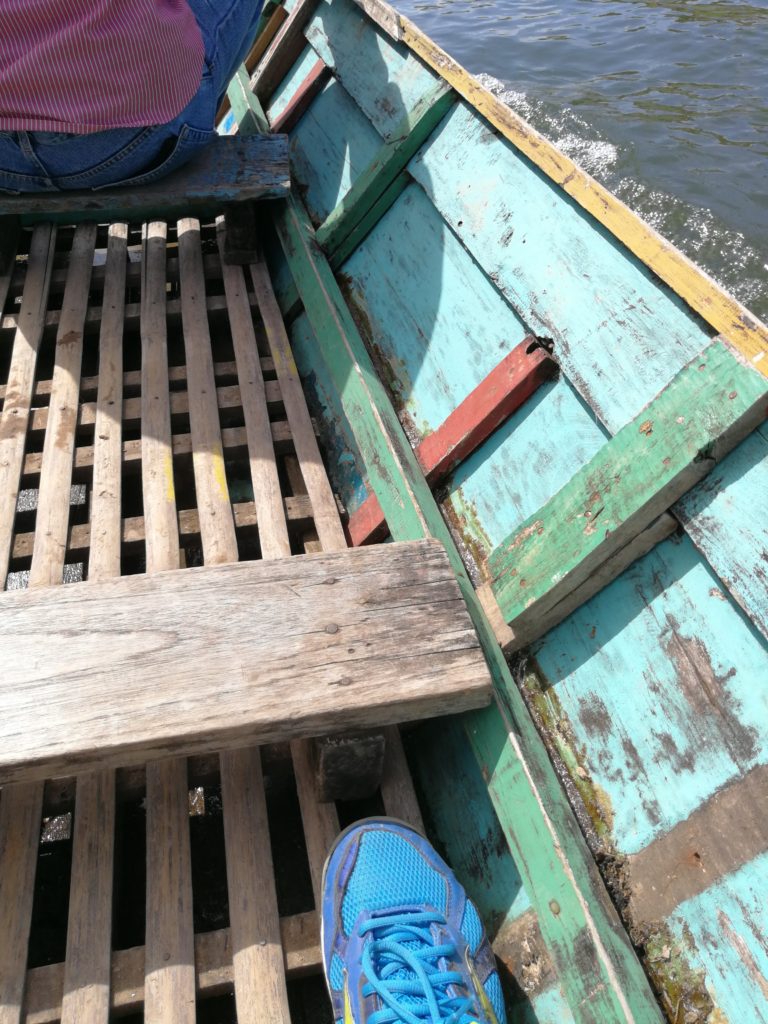 But it was a really nice boat ride, I really enjoyed it. We got to the other side in 10-15 minutes and by that time, you could already hear the waterfall. Pay another LAK15,000 (RM7.50) for the entrance fee and you're in waterfall paradise.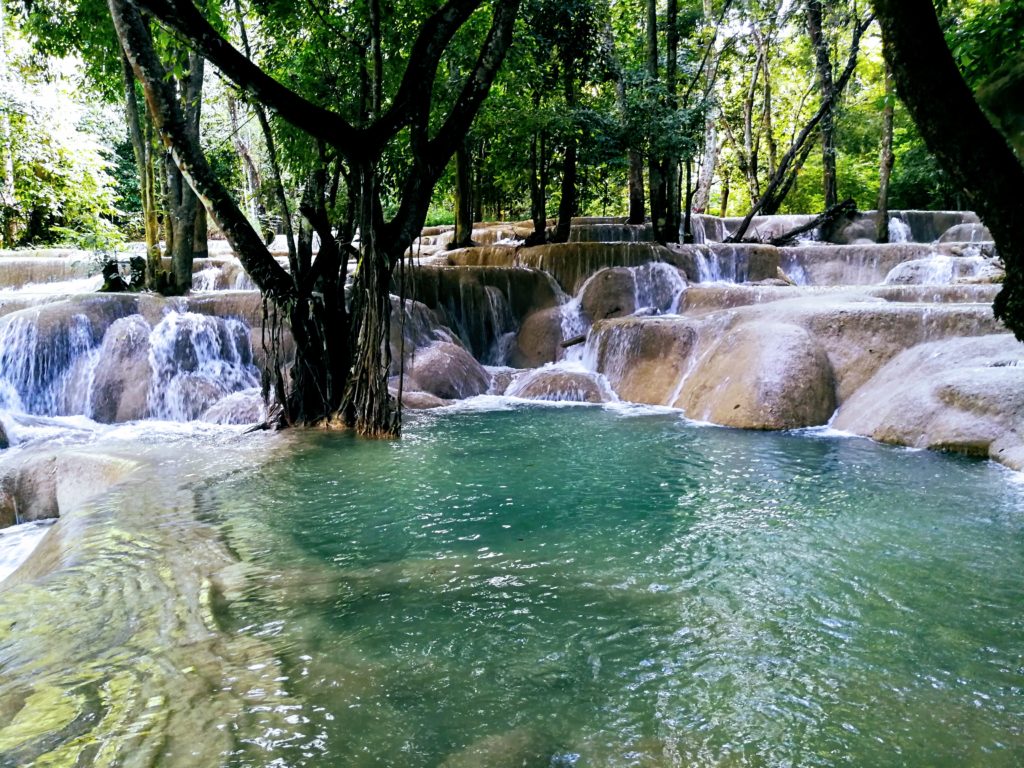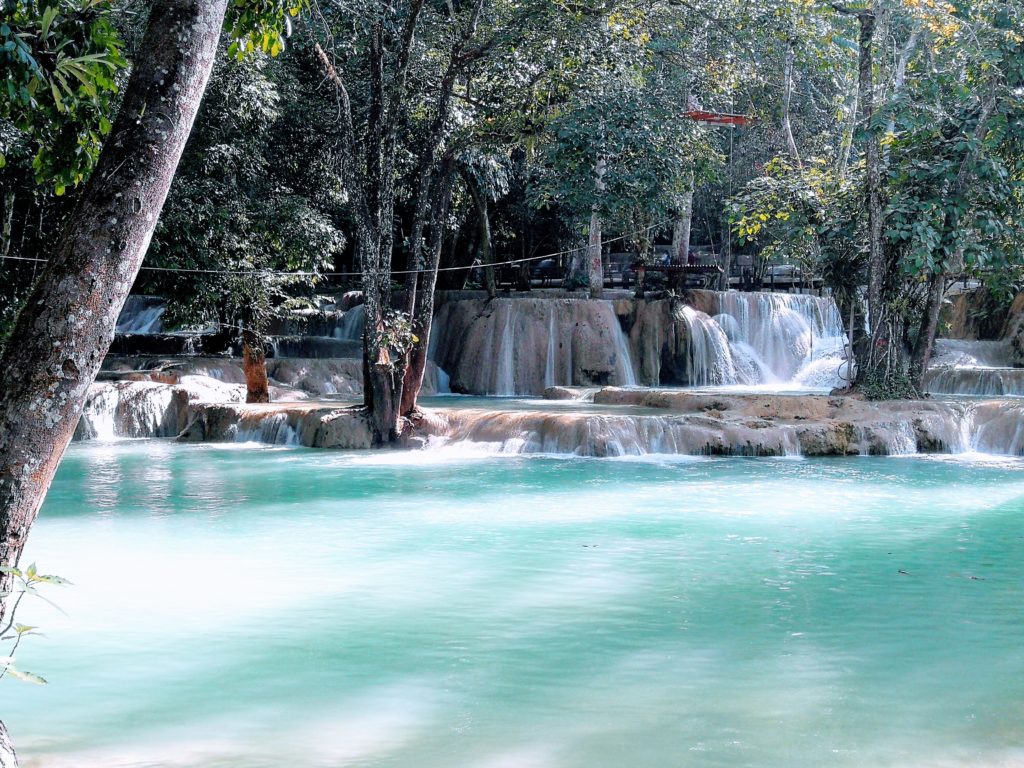 So pretty right? They even built a deck and steps into the pool for visitors, so thoughtful. But this is just the first waterfall — there are three in total. And because we're so adventurous and hipster, we decided to go look for the second and third. The idea is to go to the first one, which was located on top, so we can be anti-social and swim in super pure water.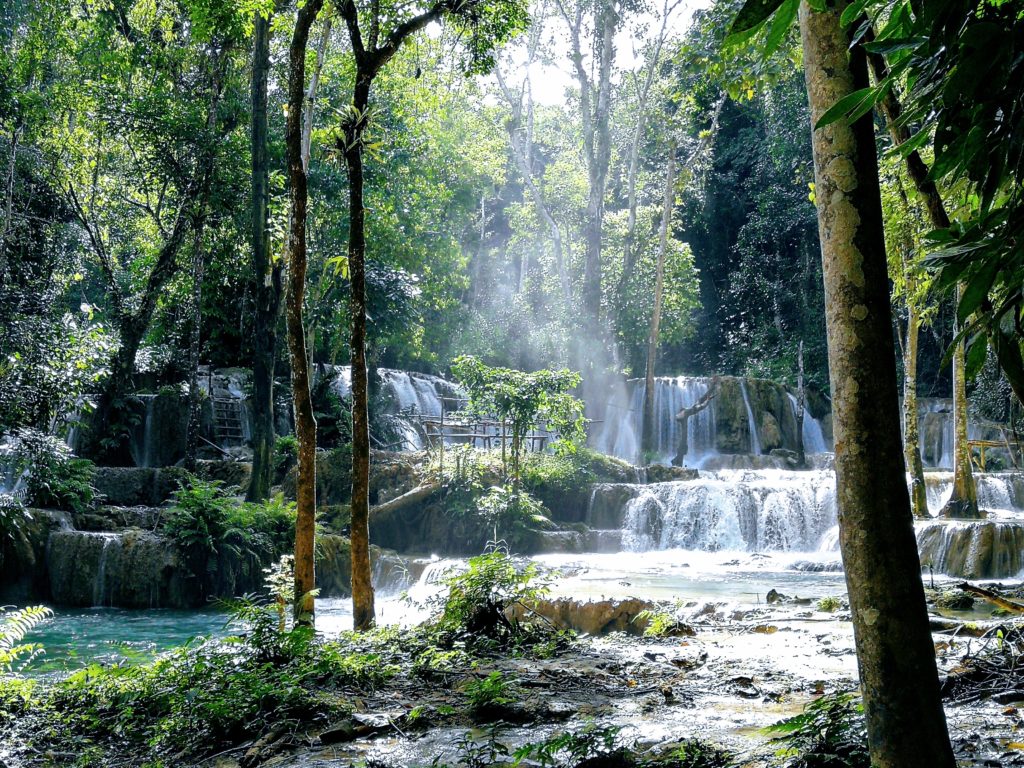 This is the second waterfall. It's quiet and beautiful. Yeah sure, we still have to go to the first one.
But we gave up, because slopes and I aren't friends. There weren't any clear paths after a while so we were practically walking in the forest blindly. I was already super hesitant, like what if there are still communists hiding in the forest? So of course I was slowing down the progress because I didn't train in the Bruneian jungles for a month. We (actually I) gave up halfway and returned to the second waterfall.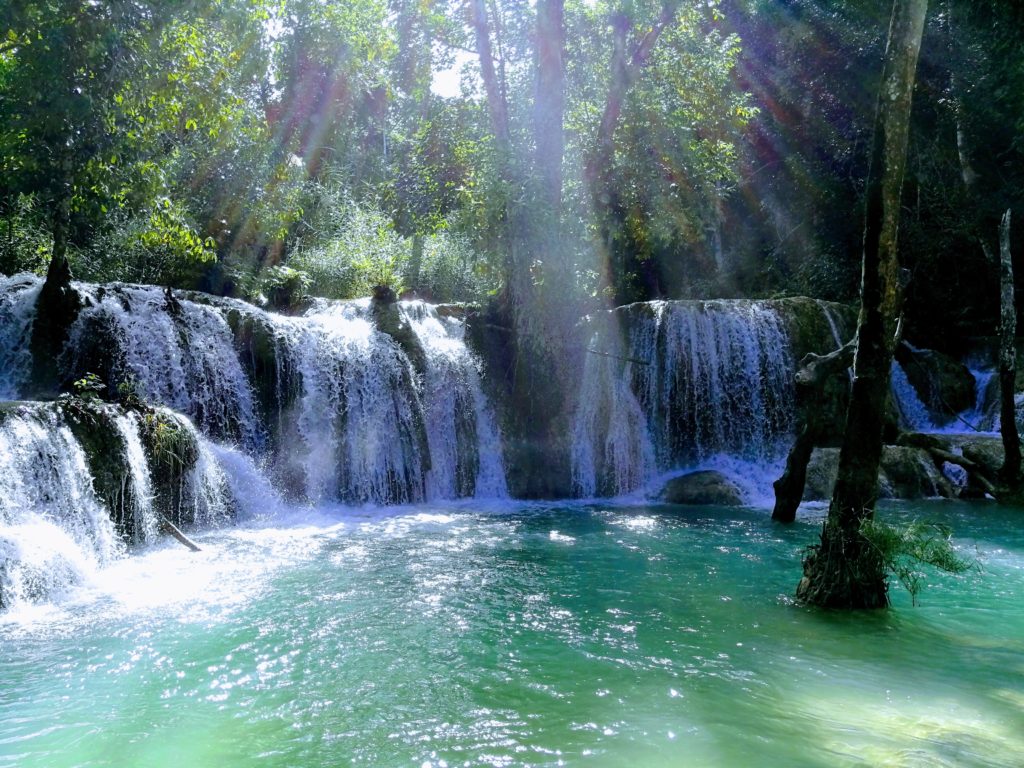 We had the waterfall all to ourselves for 10 minutes or so when other backpackers started arriving and that's it lah. In just a few seconds they were half naked, climbing rocks, jumping from the rocks, all the while holding their silly GoPros. Meh.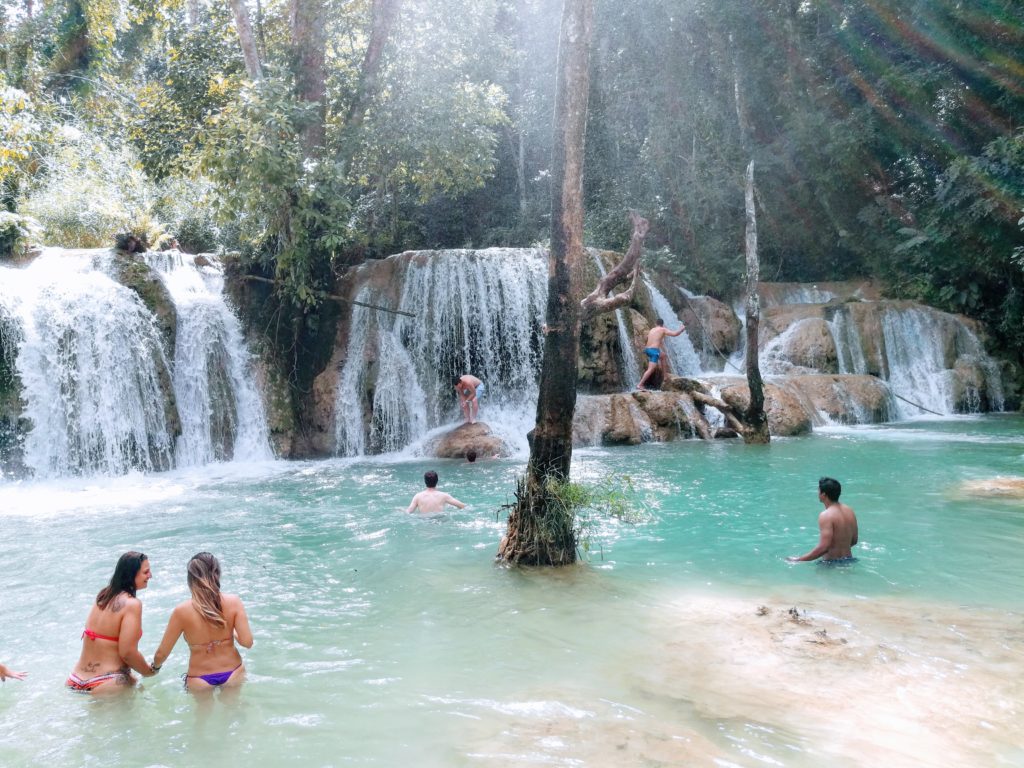 Note: The water is super cold. Malaysian waterfalls are like swimming pools on a cold morning. Swimming in Kuang Si and Tad Sae is like going into a tub full of ice cubes. It's that cold.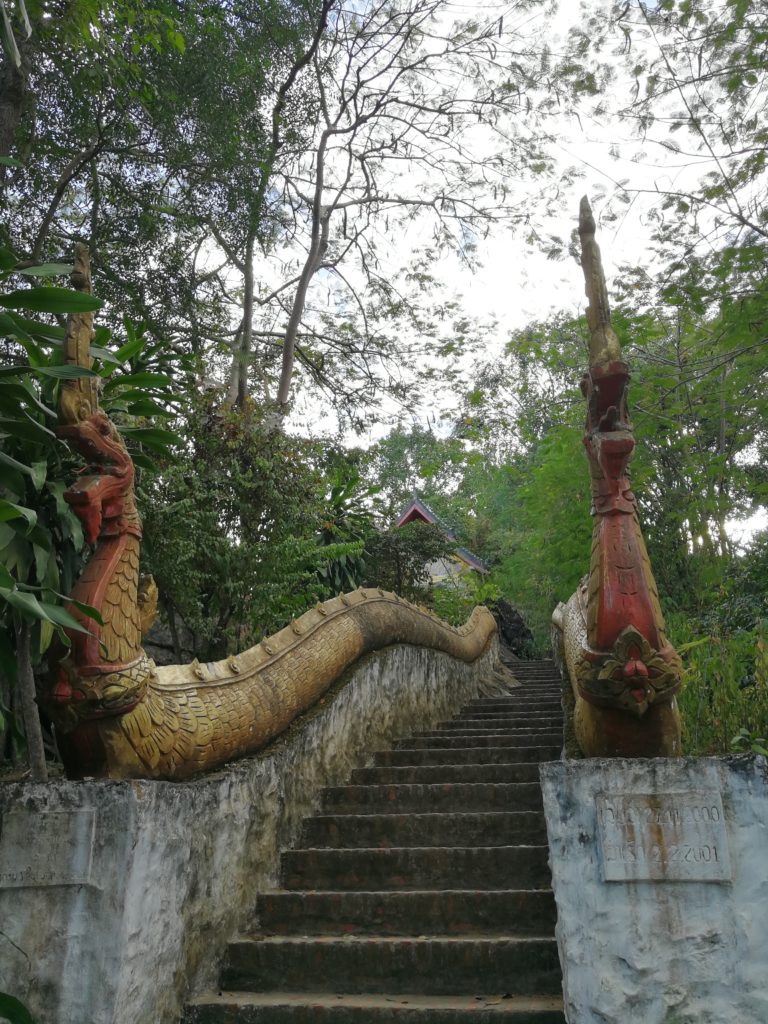 We ended the day by climbing 355 steps up Mount Phousi to watch the sunset. The view is really nice, but it was too hot so we didn't say for the sunset.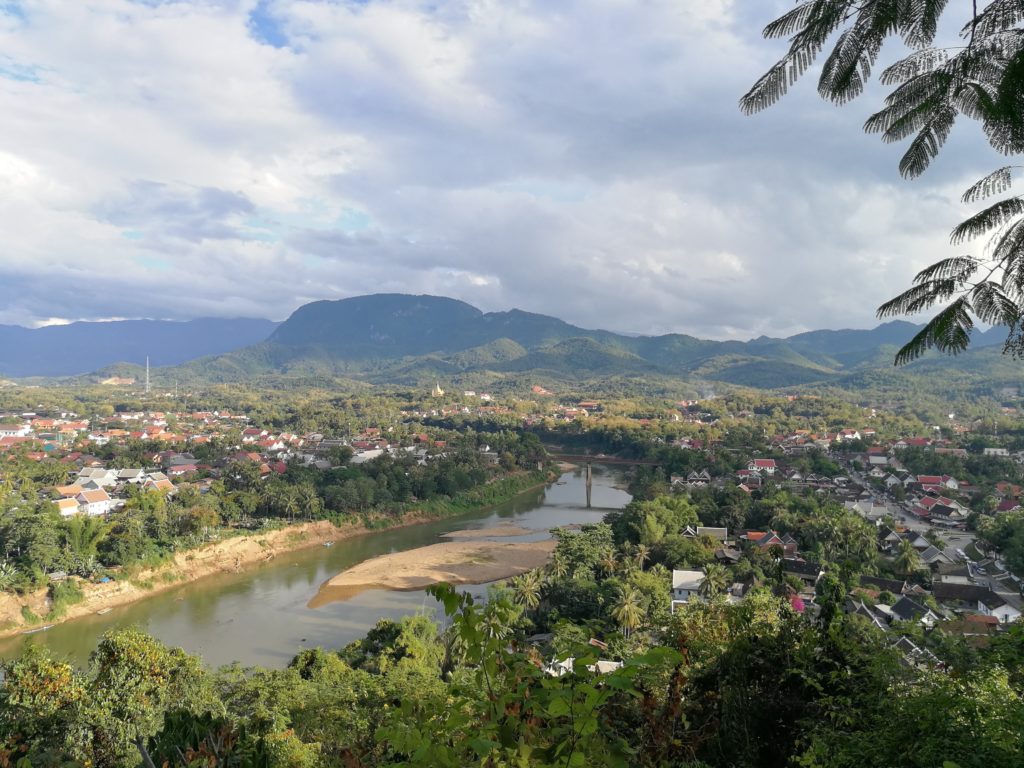 Day 4: Pak Ou Caves, Utopia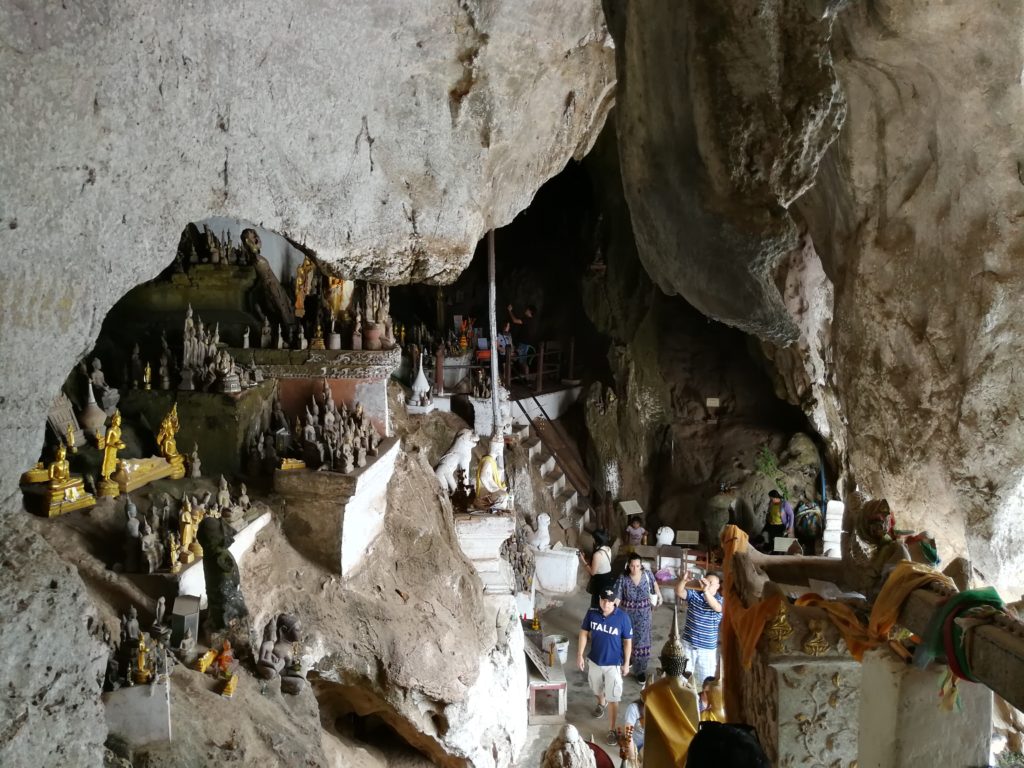 The Pak Ou Caves have been a popular pilgrimage site for local Buddhists. For hundreds of years, people have been flocking there to pray and leave figurines of Buddha in the caves. It's estimated to house at least 4,000 Buddha figurines, with some ancient Buddhist sculptures too. Again, if you don't like temples – skip this.
You can get to the caves via slow boat or tuk-tuk. Tuk-tuk will be faster (about an hour), but the journey is quite bumpy and expensive. We took the two-hour slow boat ride there and paid LAK70,000 (RM35) for a return trip. I quite like the boat ride – helped me find my inner peace. For real.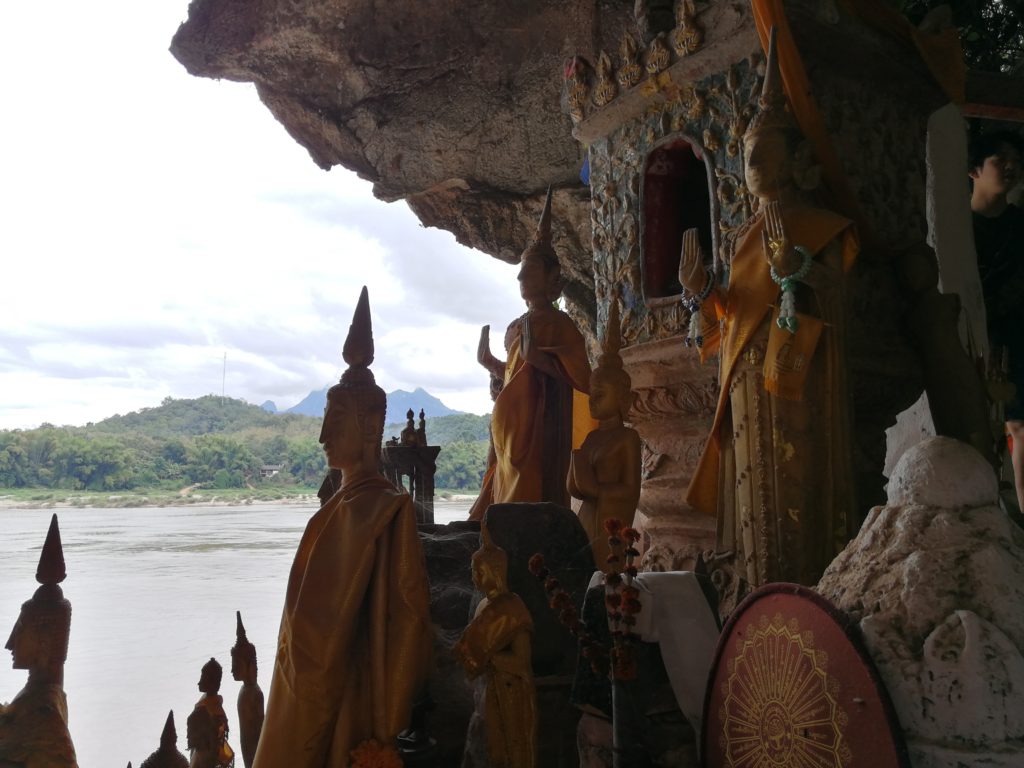 There's something about the caves and the many Buddhas that made me think about life. But you don't need to know that. Just know that there are two caves and that the lower one is where you get all your Instagram shots. The upper one is super dark and quite eerie.
Remember I mentioned earlier that Luang Prabang is a super chillax place? This restaurant/bar called Utopia is the epitome of chillax. They have a nice sitting area facing the Nam Khon river, and backpackers love it because they can lie on the floor and nap.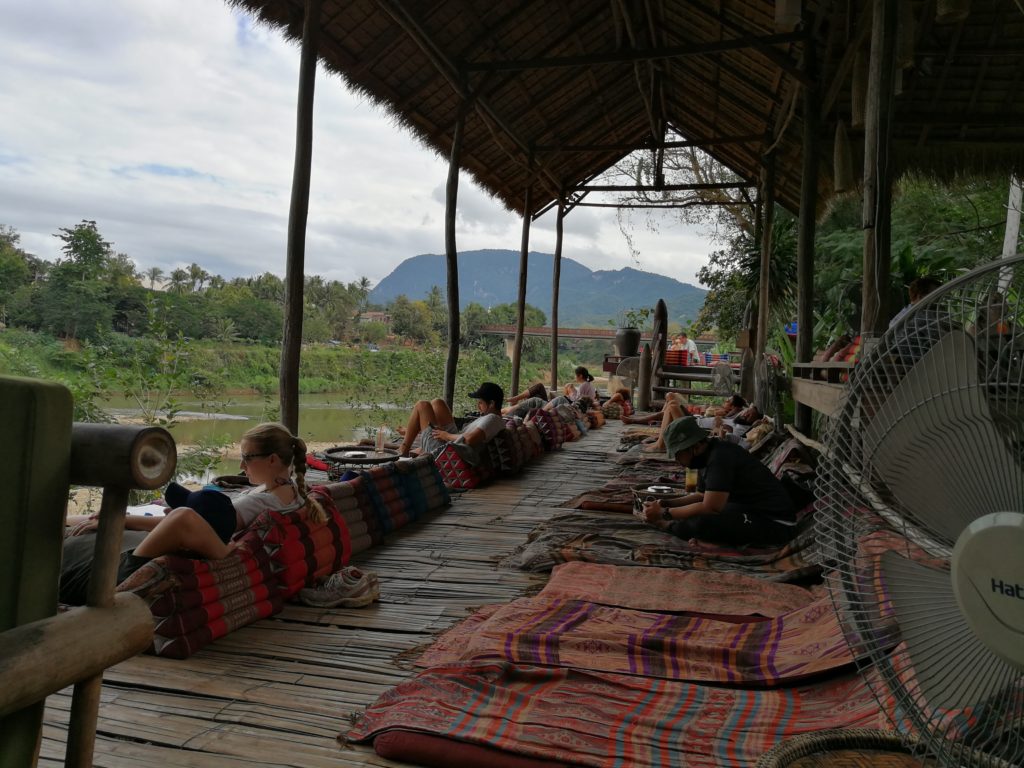 I'm not joking. They really come here to sleep.
Otherwise, the food is quite alright. Expensive, though.
Where to stay
We stayed in Villa Merry Lao III, a budget hotel with rooms priced at about RM165 per night, with simple breakfast served daily. The staff are friendly and helpful — one of the ladies gave us a map of the city and recommended places to go, food to try, and even helped us rent a motorcycle.
Ballers can check out the likes of Sofitel in Luang Prabang, which will cost you at least RM1,000 per night. If you just want a clean, no-frills, hotel with affordable rates, you can easily find one around the RM150-250/night range in the city. You might wanna stay a little further from Sisavangvong Road since that's the night market area, which means large crowds and noisy evenings.
Verdict
I enjoyed the trip, but might not revisit Luang Prabang. Perhaps I'd go back if I were younger and more active, for the waterfalls and hiking. Go for the waterfalls, it's worth it. Maybe four days is enough.
Facebook Comments