An Express Pass At Universal Studios Singapore For The Day
Because Resorts World Sentosa is dope, they gave us express passes to enjoy Universal Studios Singapore for the day after we spent the night dying at Halloween Horror Nights 7.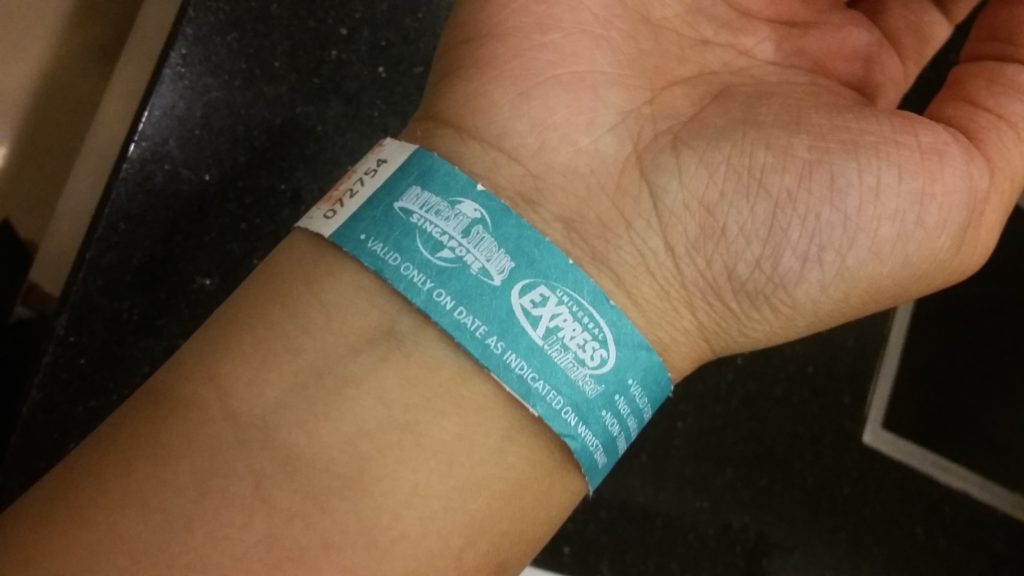 The Express pass is seriously worth it. Even though we were there on a Tuesday during an off-peak season, the park was crowded. Not super packed, but still considerable queues leading up to the rides.
With the Express pass, we got to go straight to the front and received VIP seating for both rides and shows. Nice.
Here's what you should totally do at Universal Studios Singapore in no particular order:
The giant 'Battlestar Galactica' rollercoaster looks terrifying
I admit this is one rollercoaster I did not, and will never, ride on. Hell to the no. I have a fear of falling. This rollercoaster is nothing but falling. Upside inside downside sideside all the sides falling.
It's actually two rollercoasters intertwined – Human and Cylon.
I watched my friends ride the 'Human' and wanted to puke. Two out of four tapped out after that. Leaving Gowri and our video producer to conquer Cylon alone. Cylon leaves you dangling and flips you upside down and round and round. By the end of it Gowri was dead.
I totally love the 'Revenge of the Mummy' underground rollercoaster
I was tricked into going on this rollercoaster a few years ago when I went to Universal Studios Singapore with my former colleagues. One guy said it was just a really fast ride in the dark that goes forward and back.
IT IS NOT.
Firstly, it's super pitch black so you can't see a thing. Next, it doesn't just go back and forth. It drops a million miles down into the abyss of more darkness… several times. Then it turns this way and that, and drops again and again. And just when you think the ride is over, is does the whole course again but backwards.
It is so scary and fun. Here's me with the Smobble team a few years ago: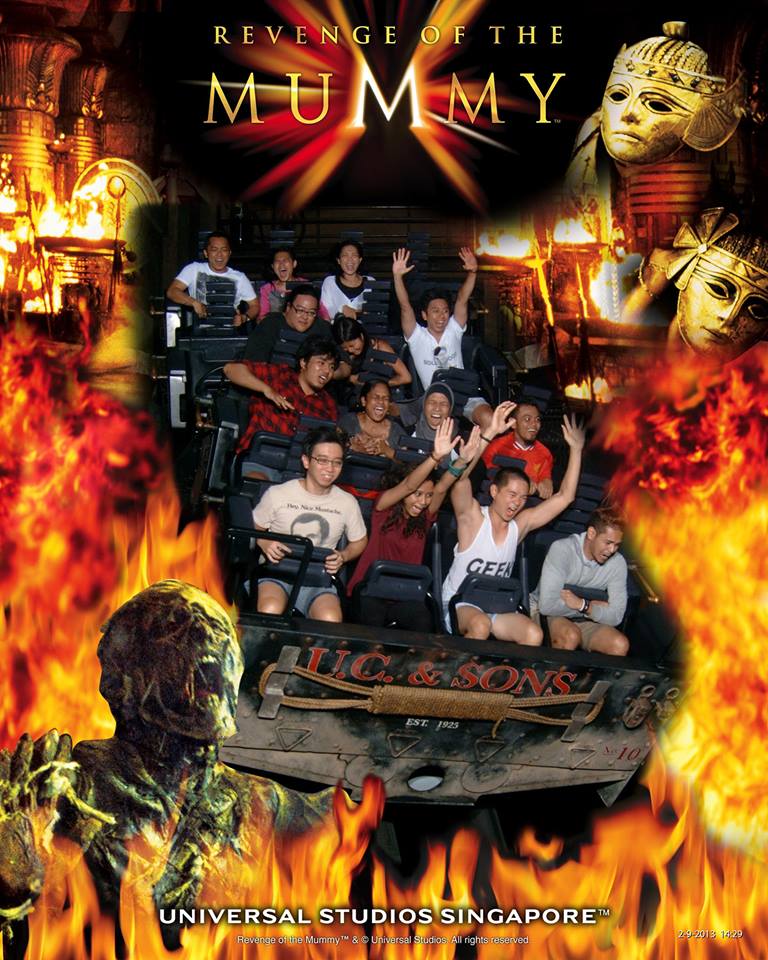 The 'Transformers' ride is the best ride in the wooooooorld
This is seriously such an amazing ride. It is unlike anything you will ever experience. Because it's a 4D rollercoaster that takes you beyond what any physical rollercoaster could ever do.
You're in a little car, helping the Autobots defeat the Decepticons. In this little car you drive full speed ahead through the city (way faster than any real car could go), and you get dragged through the air by a Decepticon, crash into a building, then free fall off a skyscraper. It was insane.
Honestly the first time I rode this I got so scared I just closed my eyes. And because it's all virtual, the scary feelings went away.
This is best best best ride ever. I've been on it at least four times.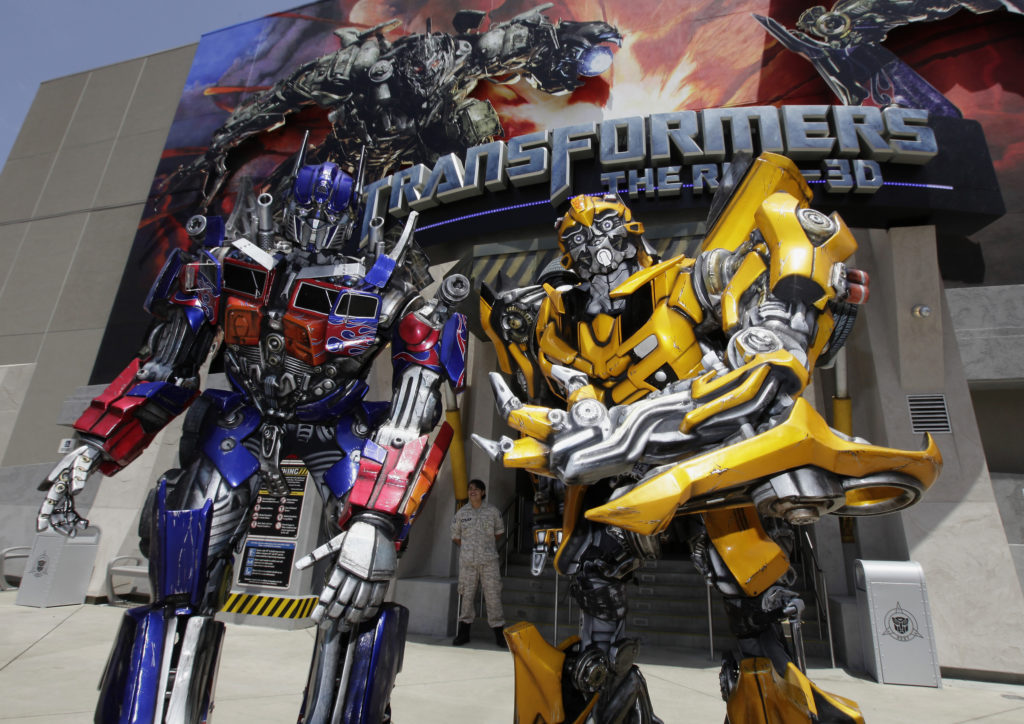 You can also watch Optimus Prime and Bumblebee in a live action show outside. Plus, there's a meet and greet, which is super cute. They are sooooo taaaaallll…
'Jurassic Park Rapids Adventure' made me scream and get wet
Hehe. No. You will scream and you will get wet.
You're sitting in this round white water raft and you go zooming down the 'Jurassic Park' river. While it's mostly quite calm, it does get rocky and shaky, and there are unexpected drops into the rapids that will leave you soaking wet.
Of course, there are loads of animatronic dinosaurs all over the park, which is really cool too. And the theme music, man. So epic. Much feels. I love this movie. Even after all this time. There are always super long queues for this ride. Expect 2-3 hour long waits. Unless you have an Express pass 😉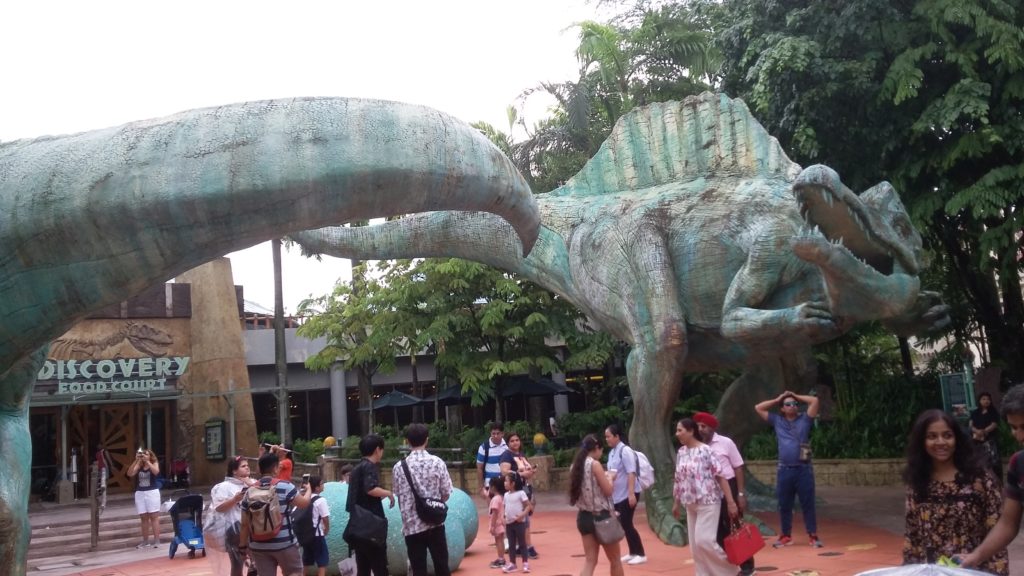 The junior rollercoaster at 'Far Far Away' is still too scary for me
When I saw the 'Enchanted Airways' rollercoaster labelled as 'junior' I was like hell no I still don't wanna go. But I went anyway. And it's still scary. I screamed very loud.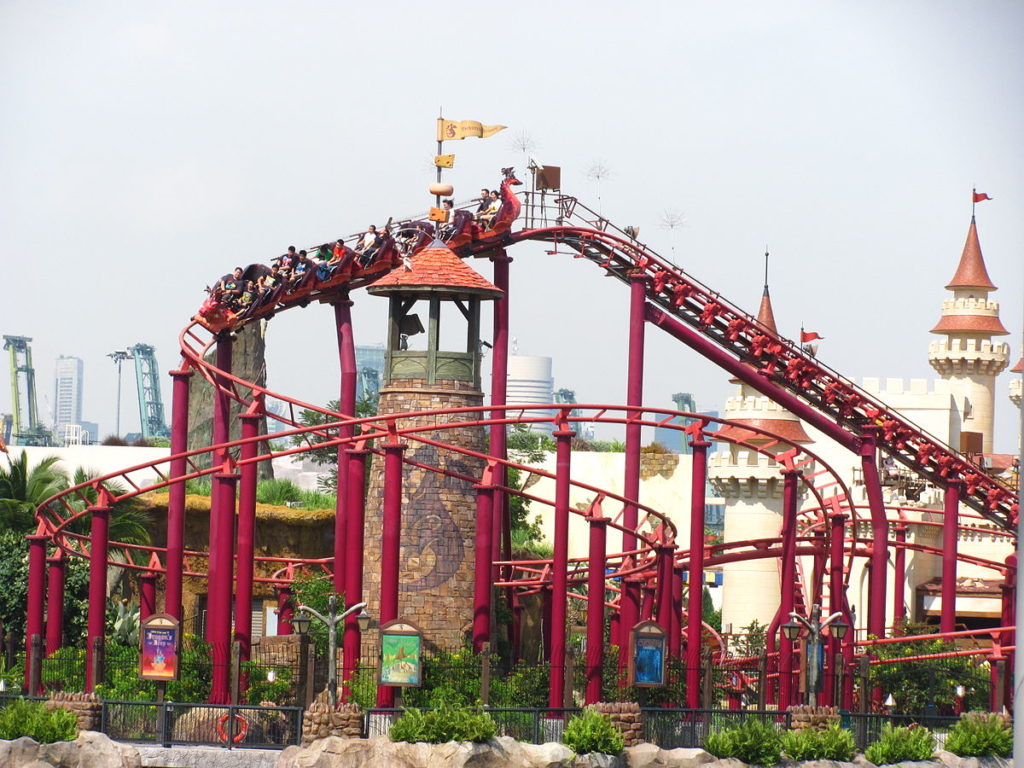 I really wanna bring Ayub and Sulaiman here. I think they will love it. Sulaiman hasn't been able to go on a rollercoaster yet because of his height and age. But I think, it's time!
The 'Shrek 4D Adventure' is fun but left me a little cross-eyed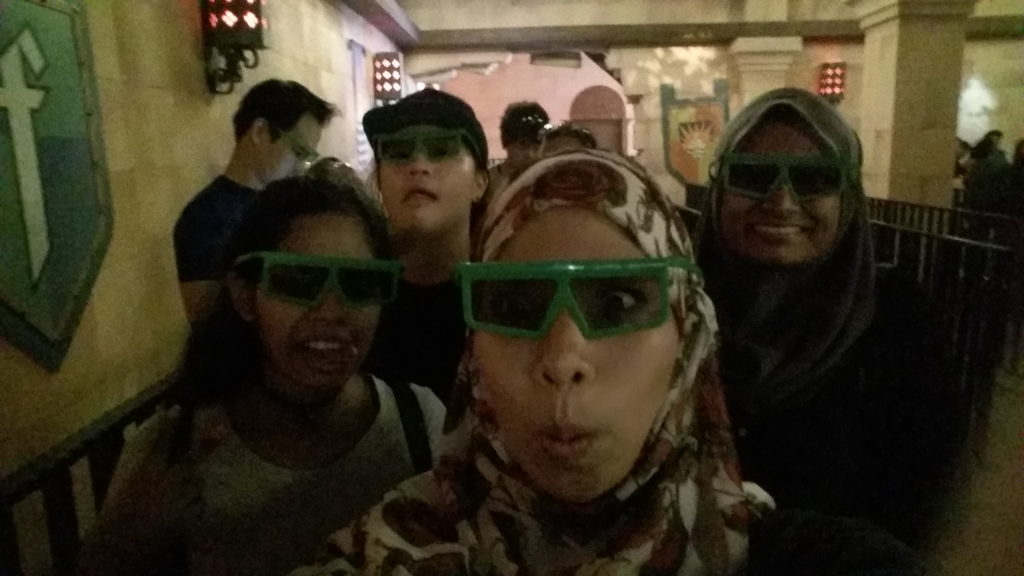 Donkey sneezed at us and we got covered in wet snot. We laughed our heads off when our chairs tipped back and started galloping as we rode on horses. Tons of spiders were thrown at our faces and we felt tiny insects scurry over our bodies.
It was cool. Lots of water splashing. Cute story. No stupid scary drops into the abyss of darkness. I like.
The ultimate kid-friendly ride is in 'Madagascar'
You should probably not bother with this if you don't have children. It's super tame and cute. Reminds me of the 'It's a small world after allllll" ride at Disneyland.
Gowri was traumatized from the 'Revenge of the Mummy' and Halloween Horror Nights 7 so she kept yelling that it was creepy and she was scared. She's silly.
Spinning teacups on drugs at the 'Accelerator' will make you nauseous
It's really very fast to begin with. Then you have the choice to spin it manually with your hands. Too much spinning will make your brain cry. I brain cried.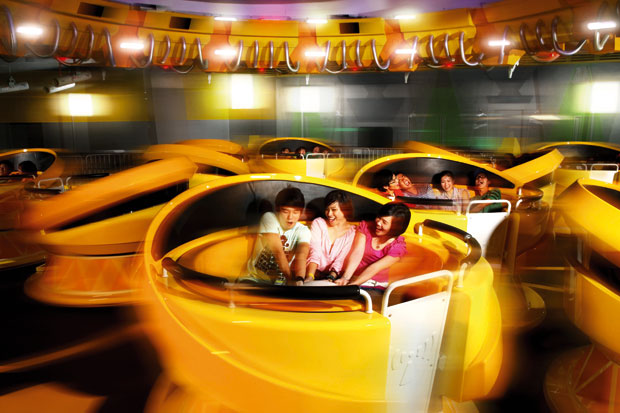 All the zones are meticulously and beautifully designed
If you're not all that into rides, you can still really enjoy the sights and sounds of the zone you're in. There are seven:
Hollywood – lots of shops, cafes and restaurants, Mel's Drive-in diner and doo-wop 50's shows
New York – live theatre shows and street performances
Sci-fi City – Accelerator, Battlestar Galactica, Transformers
Ancient Eqypt – Revenge of the Mummy, Treasure Hunters
Lost World – Jurassic Park Rapids Adventure, Canopy Flyers, Dino Soarin', Waterworld
Far Far Away – Puss in Boots' Giant Journey, Shrek 4D Adventure, Enchanted Airways
Madagascar – Madagascar: A Crate Adventure
There are loads of activities and eateries and shops in each zone so you'll never get bored. Here's me waiting for the team to finish their rollercoaster. I was official bag and junk holder for the day because I had been on all the rides before and screaming my face off once was enough for me.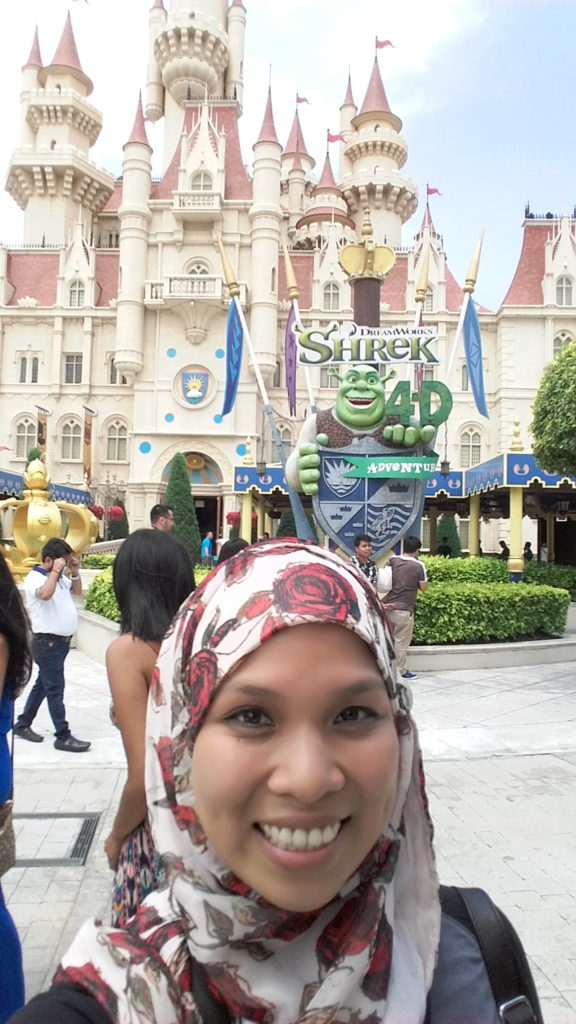 Waterworld is a super awesome live show
We got caught in a crazy thunderstorm in the evening so all the outdoor rides were closed because of the lightning. It's a shame. But that just allowed us to ride 'Revenge of the Mummy' and 'Transformers' again. Hohoho.
When you go to Universal Studios Singapore, you HAVE to watch 'Waterworld.' IT IS SO GOOD. I don't have pictures. Just imagine it in your head.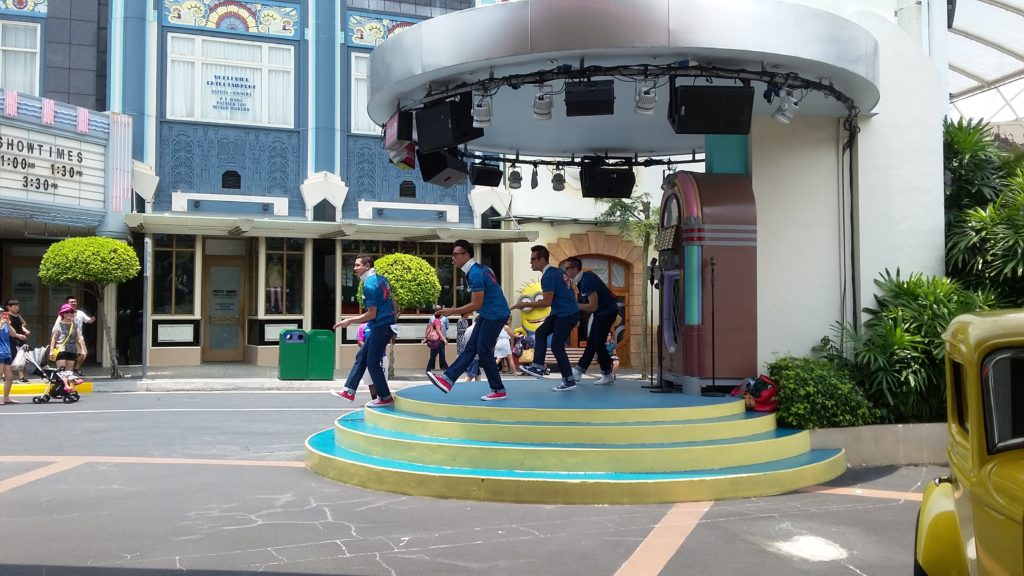 We did manage to watch 'The Cruisers' perform a medley of hits from the 50's, which made my heart very happy. Here was our giant lunch at Mel's Drive-In: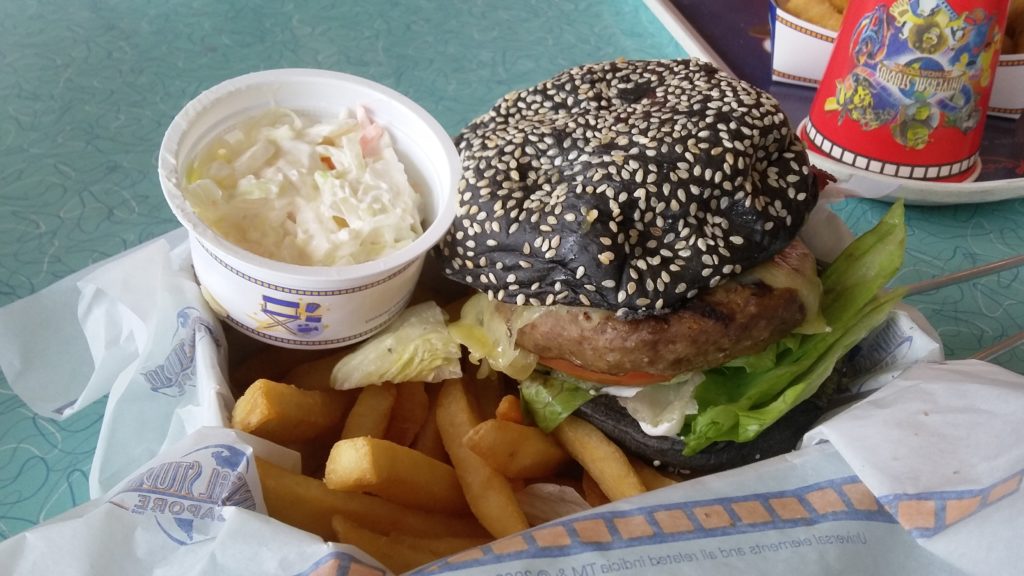 Gowri is a smol girl so she ordered the Dino-nuggets and fries from the Kid's menu: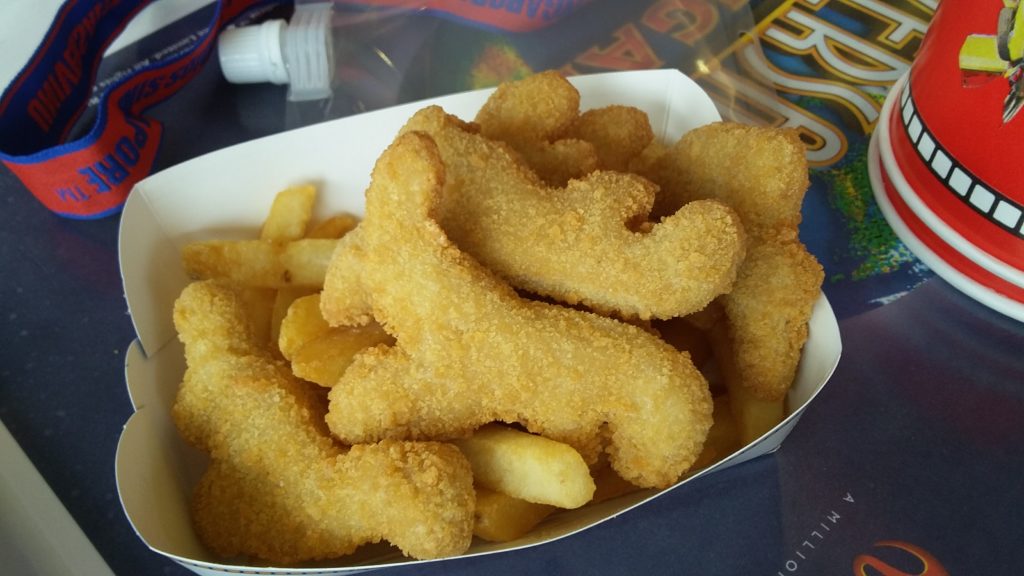 Hello smol girl!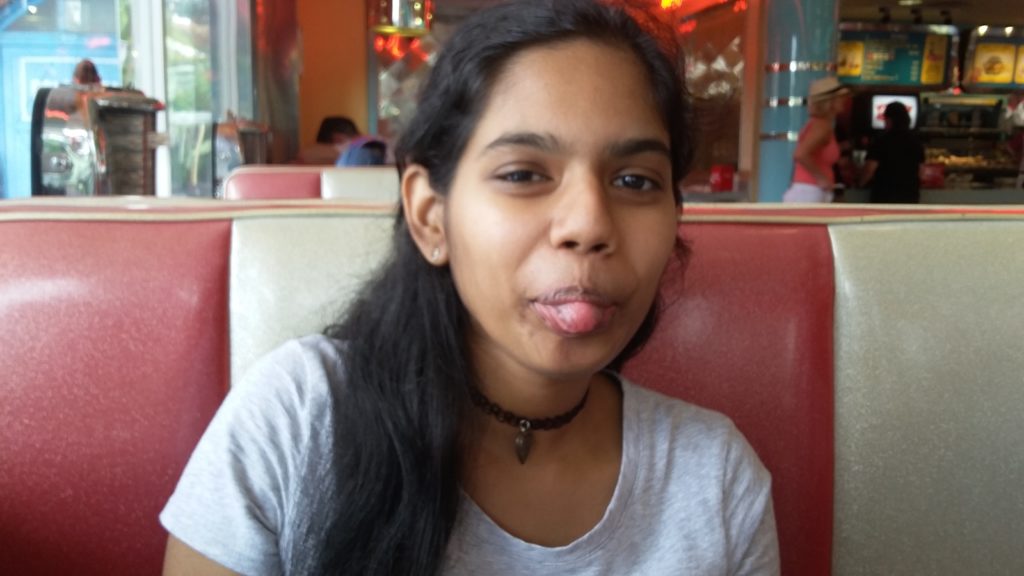 And that's about it. I saw Gru from 'Despicable Me', Optimus Prime, and ELMO!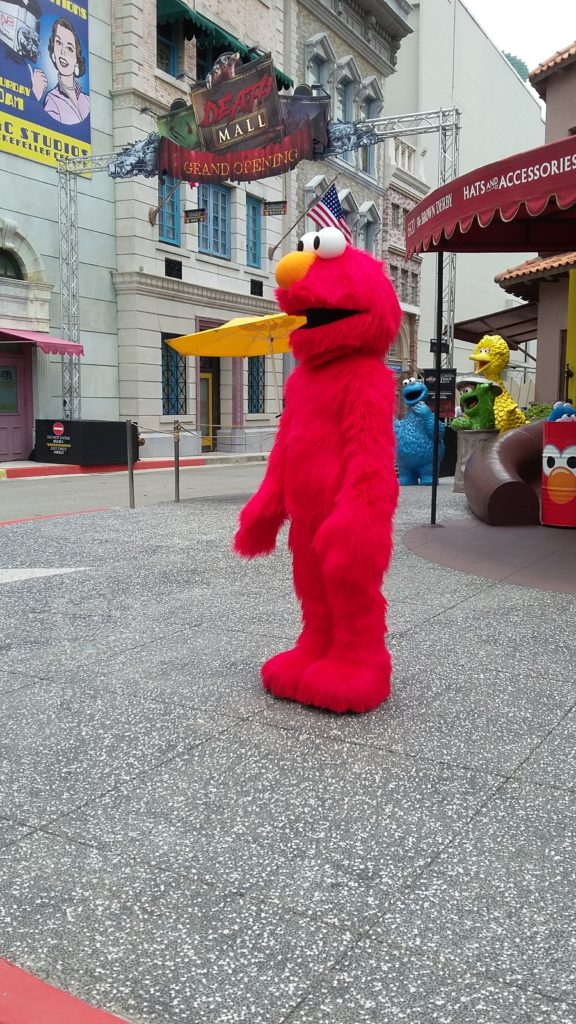 Universal Studios Singapore details:
Location: Universal Studios Singapore, Resorts World Sentosa, 8 Sentosa Gateway, Sentosa Island, Singapore
Opening hours: 10am – 6pm (Monday – Sunday)
Contact: +65 6577 8888
One-day ticket price: Adult (S$76), Child (S$56), Senior Citizen (S$38)
Express pass price: Starts from S$50 (I don't know what that means)
Get more info from their website thanks spanks!
Facebook Comments