Ben is Dung Krappi Dong Dong
Ben is a handsome boy. But he is incapable of taking normal pictures of himself. He always looks like a caricature. He's a monkey. I love my Benny. While everyone else is taking 'sexy' duckface poses in the car, his turns out like this: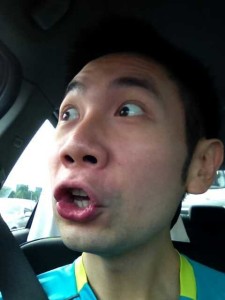 During our team meeting Ben set up his own Low Yat plaza and was configuring one of his handphones for me. He then took it upon himself to add his own contact photo. I had a giggle to see this face calling me a few hours later: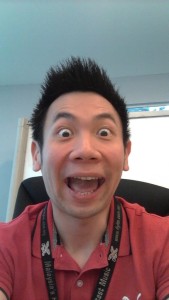 Okay this one is not so bad. But look at Rachel's wtf face. It says it all. Did you know that Ben has a younger sister who looks exactly like him but attractive. Haha. No. Seriously. His sister is so pretty and sweet. Phat Fabes says she's hot and he wants to do her. Ben is not amused by that.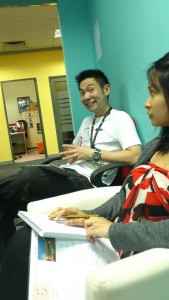 Dear Ben. I miss you. We used to have breakfast and lunch together everyday. You were my Fly best friend. You always paid for everything. You came with me to pick up my car from the workshop after I crashed it and drove my mum's car all the way to Putrajaya to send it back. You picked up my son from his nursery and brought him to the studio for me. I accompanied you to the immigration department when you needed a new passport. I carried your shit for several hours when you went diving with sharks at Aquaria. Including your wedding ring. Then you went to pick up your wife. And I took the train back to Putrajaya. And we forgot about the ring. And you suffered from heart palpitations all night because you were afraid Stella would find out that another woman had your wedding ring. Lol. Then you met Alex. And now you only lepak with him instead of me 🙁
Facebook Comments