Best Malaysian Breakfast
We usually have breakfast after the show because we start at 5am and don't stop until 10am. And seriously, who has the time and the stomach to eat before 5am? One morning the boys were extra hungry for something unhealthy. It's been awhile. Since Hafiz is getting married this week he's been on a 'diet' of boring stuff and Prem has been worried about his tummy since the start of the year.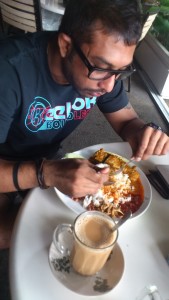 So nomnomnom we went. It was gooooood. Prem was Malaysian truly Asian with nasi lemak, kari ayam and teh tarik. Fuyoh. Syokness. That's all. Blog filler.
Facebook Comments