Bringing Home Baby
I hate hospitals. Was SO happy to be discharged early. Adam had to run around the hospital getting all the paperwork done and talking to whatever departments and paying bills or whatever. [On a side note, did you know children under 12 are not allowed to visit anyone on the weekend? How stupid is that? My poor Ayub came all the way to see me and Sulaiman and wasn't allowed in. Don't they know that patients heal faster when happy, and what makes a person happier than seeing and hugging and kissing their children?]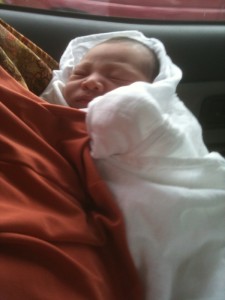 Sulaiman and I were discharged on Valentine's Day and came home to a very warm reception…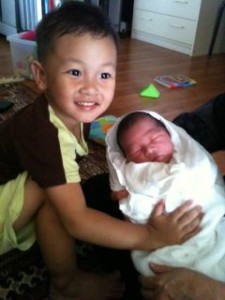 Ayub was the first to greet the new baby, and was so excited to see him.
Sulaiman slept for 4 hours straight from the hospital. After that it was feedings every 2hours of just 1 ounce of milk and a lot of poopy diapers. Through the night. Exhausting. My stitches hurt. Lying hurt. Sitting hurt. Moving hurt. There was a lot of hurt. But so worth it.
At first, Ayub woke up at every cry and would pat Sulaiman's tummy and say 'Don't cry, don't cry'. Until eventually he was so tired he ended up crying too.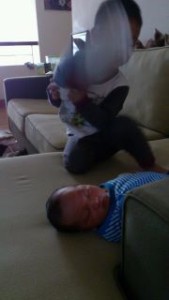 The next morning, brotherly bonding.
First few days were difficult. Sulaiman was adjusting to life outside the womb and would fuss and cry very often. Drink a little here and there, sleep at the strangest of times, hated having his diaper changed and bathing sounded like torture. Meanwhile, Ayub had his fair share of meltdown moments. Waking in the middle of the night, sometimes he would cry when he saw me feed the little one, or he would walk around the room bringing toys to Sulaiman to stop him crying.
Ayub hasn't been jealous of his little brother, he always wants me to be the one to feed and carry Sulaiman. But at the same time, he wants the same amount of attention that he's used to receiving.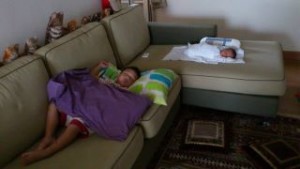 Lovely babies. I love my babies.
Comments
comments