Dumbass Malaysian
Last night I received a missed call from a phone number I didn't recognize. So I messaged the number. This is what happened.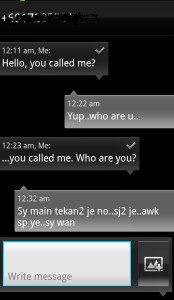 Translation: "I just pressed whatever number… just for fun… who are you… I'm Wan"
What a fucking dumbass. Who the hell does that? Calls random numbers for fun and then tries to befriend them over text messages. You really expect me to reciprocate and waste my time and money? It's not a big deal but it really irritates me.What a loser. Really. Dumb. Ass.
Only in Malaysia.
Facebook Comments