Family Review Of Angry Birds Activity Park At Komtar Johor Bahru
This is the second time we visited the Angry Birds Activity Park at Komtar in Johor Bahru. The first time was a few years ago when it had just opened. Everything was clean and new and the staff were excellent.
A couple year and one baby later, the Angry Birds park isn't nearly as good as it once was.
Despite my disappointment as a parent, the kids still had a wonderful time.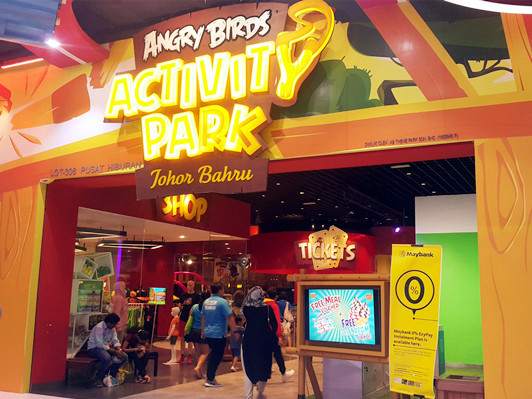 Here's what they have on offer:
Five different play areas – Danger Zone, Utopia, Classic, South Beach, and Red's Jungle Run
Snack bar cafe – with a comfy lounge area overlooking the park
Angry Bird shop – for official merchandise including clothes, toys, LEGO sets, magnets etc.
At first I didn't know what to expect from this "park." It's not really a park. It's actually a huge indoor playground inside a mall. The play areas include a trampoline park (like a small version of Jump Street), go-kart track (the cycling type, not motorized), a large jungle gym thing (lots of slides), a small cinema room (they play Angry Bird cartoons non-stop) and much more.
There are a lot of things to do for kids of different ages. I would say it's best for kids aged 3-10.
The trampoline area at Utopia is the best part
There's a shooting range where you load foam balls into an air gun and shoot down piggies. Like a carnival game. It's fun. There are only three guns. You should go to this park only on off-peak days.
Then there's a super fun trampoline area that is pretty big and pretty awesome. Watch Aisha and Sulaiman bounce around on one of the trampolines.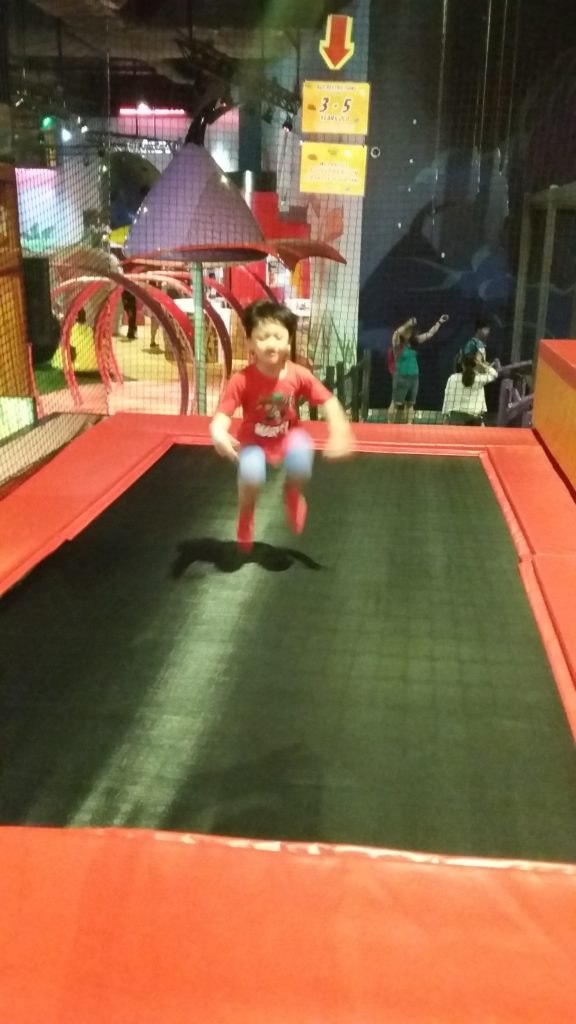 There are three medium-sized trampolines that are separated by age to keep the jumpers safe.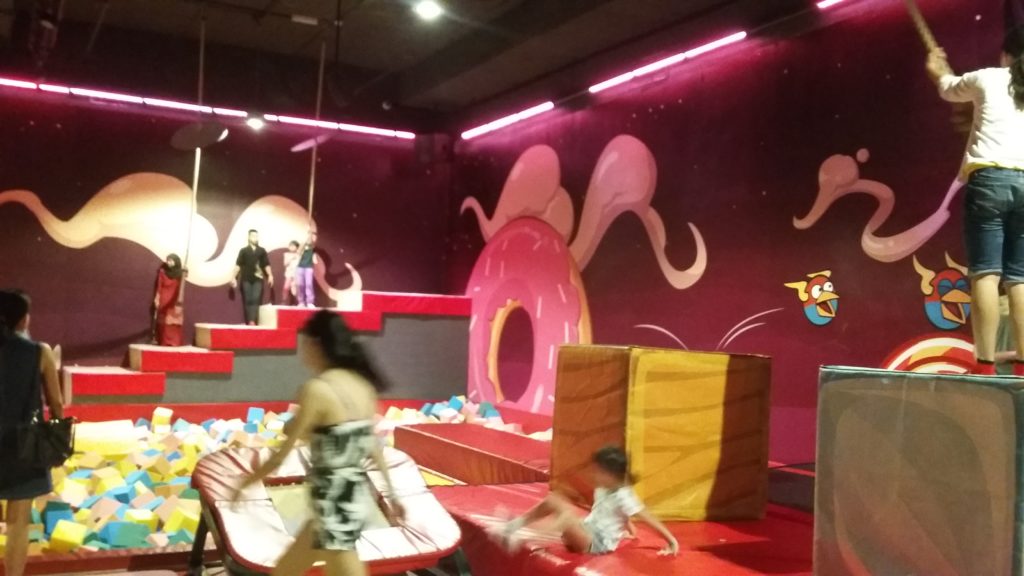 There's this big foam pit that you can jump into using a long rope or bouncing off that small trampoline.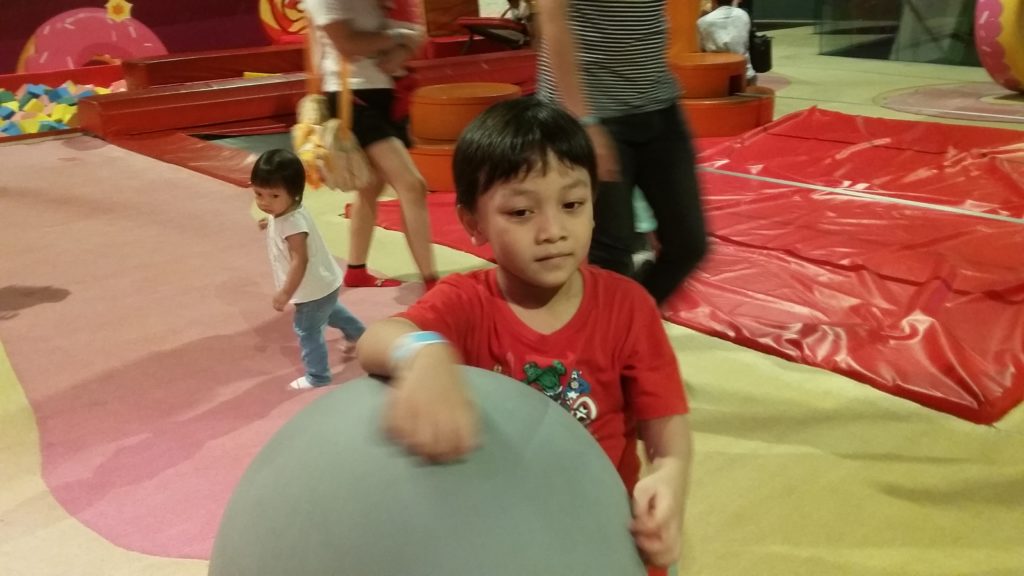 Sulaiman playing with a giant foam ball. Zip lines to walk across (totally impossible) and Aisha dancing to the blasting music. So cute.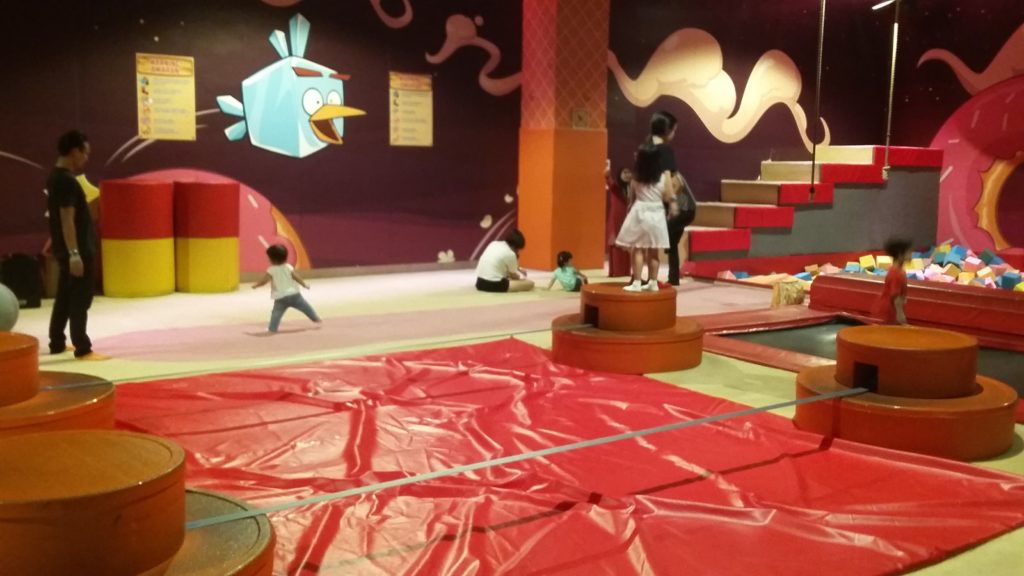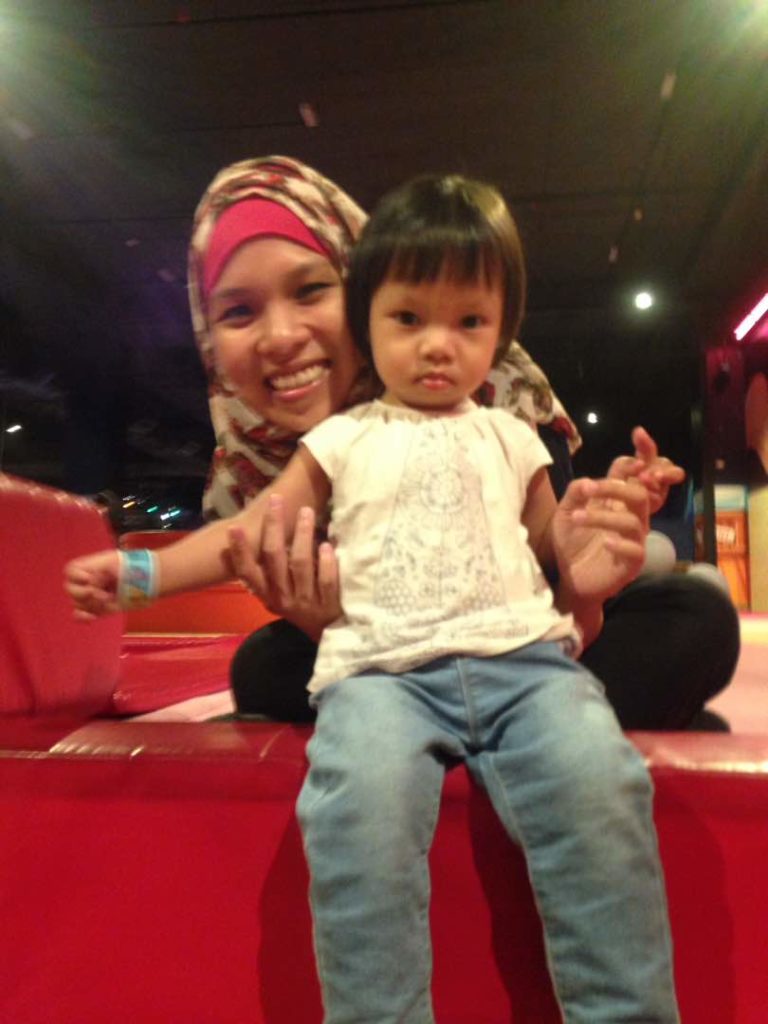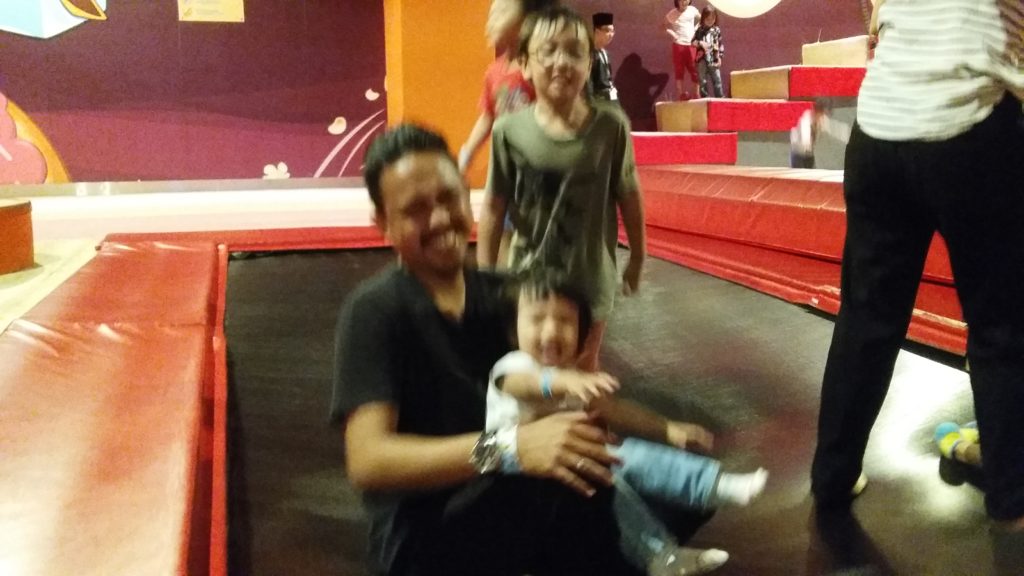 Even though the trampoline area is super super fun, I gotta say the staff (or management) really need to step up their game. There were only two people supervising the area and the area is huge. Kids were breaking rules, being rowdy, acting dangerous, potentially hurting themselves and others… I mean, kids are kids. They were all just having fun and getting excited. And they don't know the rules. Hell, I don't know the rules. They didn't write down any rules anywhere.
That's why we need adults to supervise them. And no, it's not just up to the parents to supervise their kids in a park like this. It's up to the staff as well.
Jump Street is amazingly efficient and strict when it comes to safety. They keep everyone in line and people stay safe. Not so at the Angry Bird park.
But anyway, here's a video of Aisha in the "Spinning Time Machine" like seriously, it's a wheel.
The Danger Zone is the worst zone
As you can see from the pic below, the Danger Zone is basically a small platform you jump off on to a giant air bag. There was no one supervising. Not a single member of staff. Mr Ninja and the kids went up. Ayub jumped down. Poof! Yay so fun.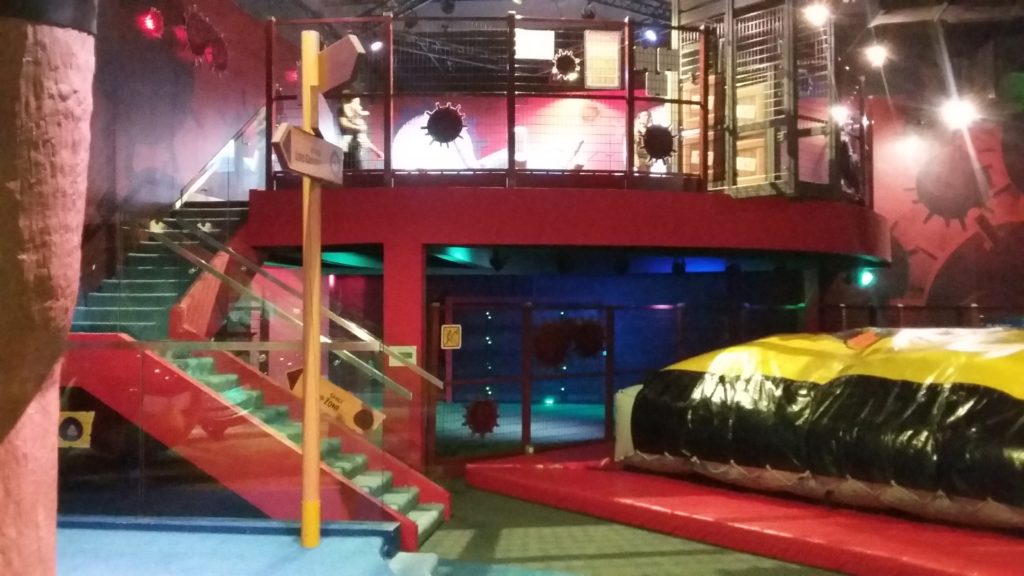 Sulaiman was about to jump when one of the staff came running and shouting at us. Apparently this jump is only for older children, not five-year-olds. If there were signs saying that, we didn't catch them. And if we hadn't been there, and it was just a bunch of kids running around and having fun, there's no way they would have seen a warning that it was not meant for younger children.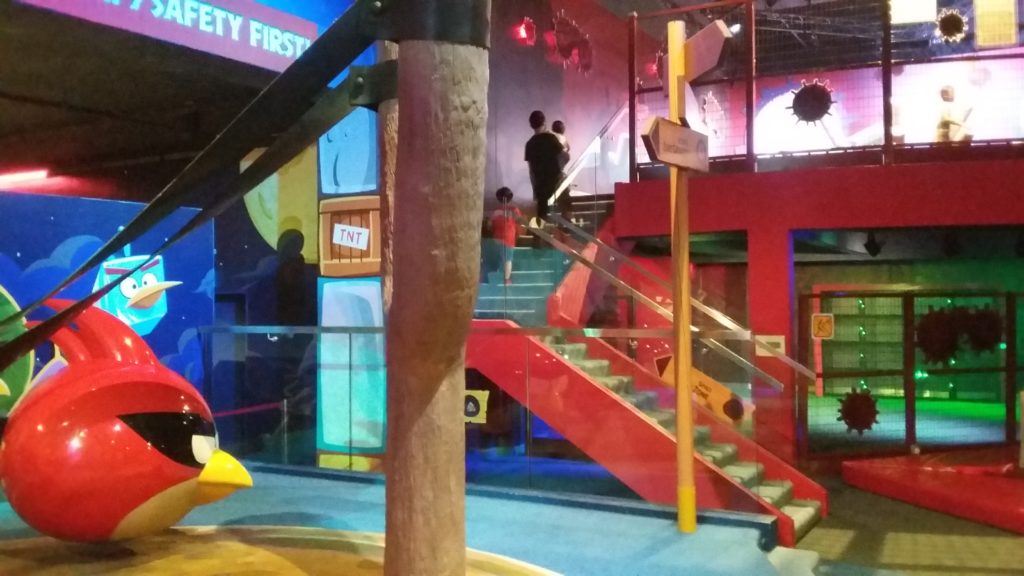 The best part is, after the guy was done explaining it was not for young kids, he turned and left. The jump was again abandoned with no supervisor. If it really is dangerous for young kids (and I believe him when he said it was), they really need someone there at all times to help the big ones jump without injury and the stop the small ones from trying.
There's a football area below the jump. You score points based on accuracy.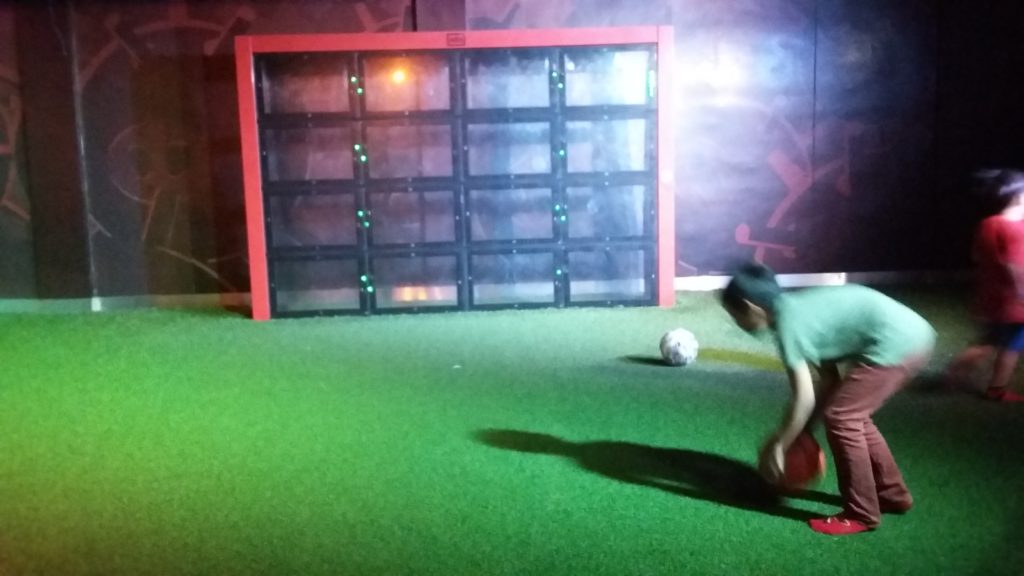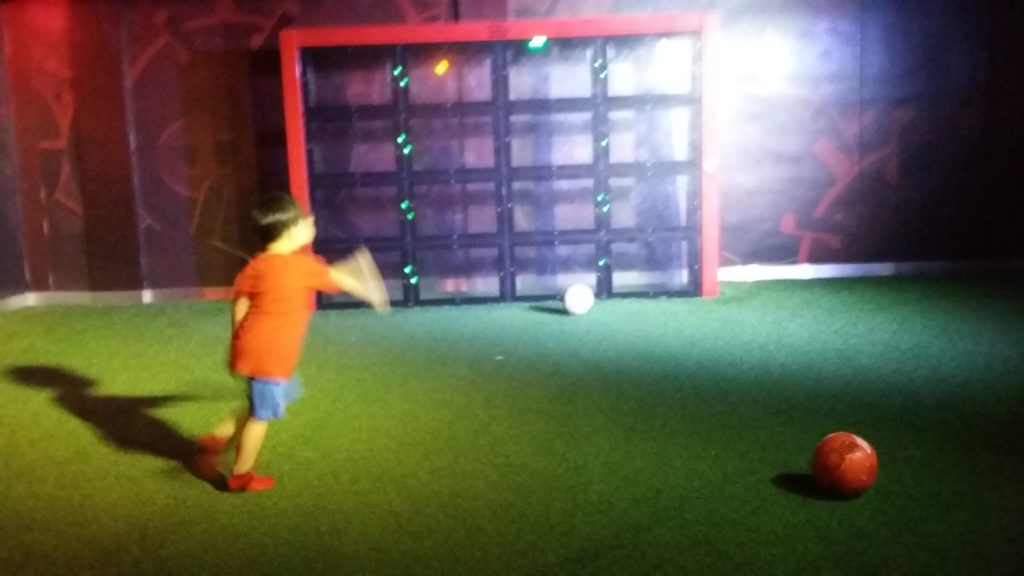 The Classic area includes a jungle gym, slides, and a go-kart track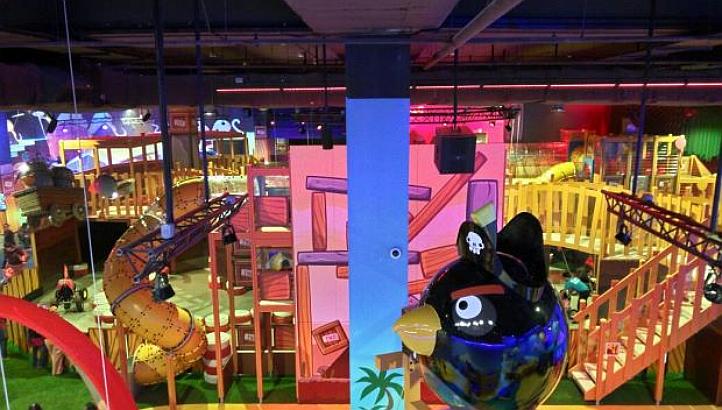 It's a bit sad that they didn't have the creativity to come up with a better name but the "Classic" area is very fun. It's a regular playground with lots of tunnels and slides.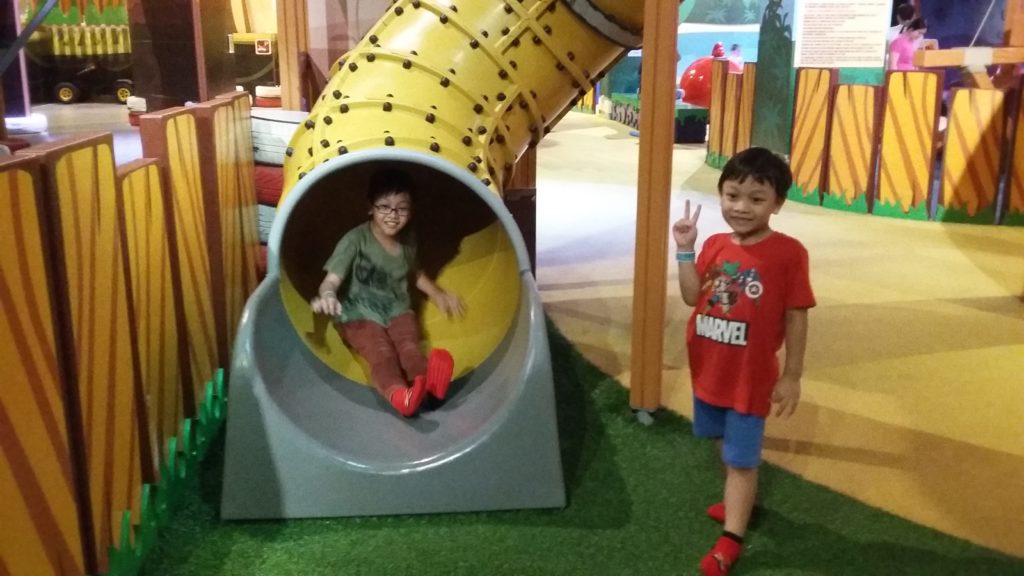 Ayub had a good time peddling around the go-kart track. The slides are too big for Aisha. So she just walked up and down the stairs. She likes doing that.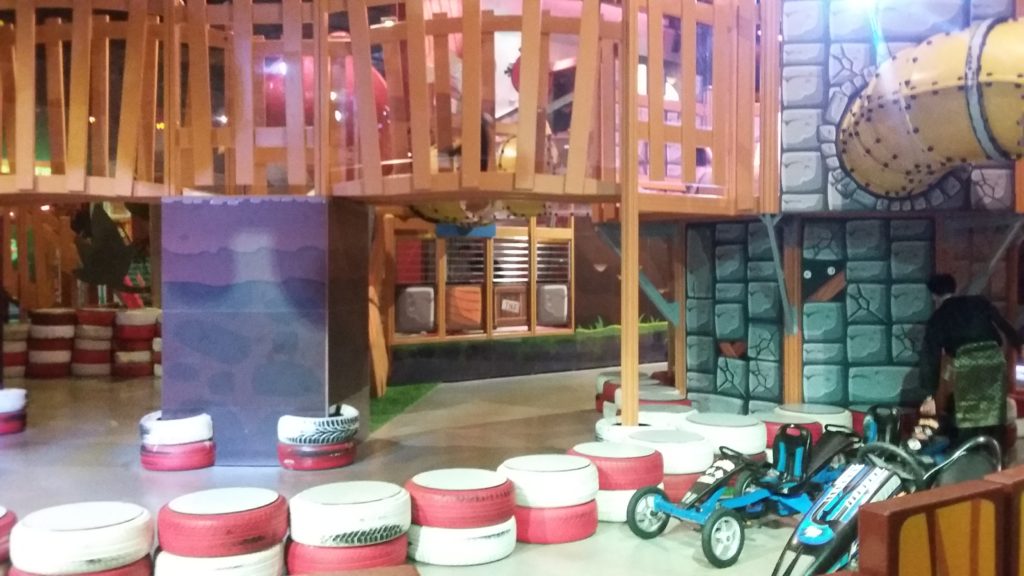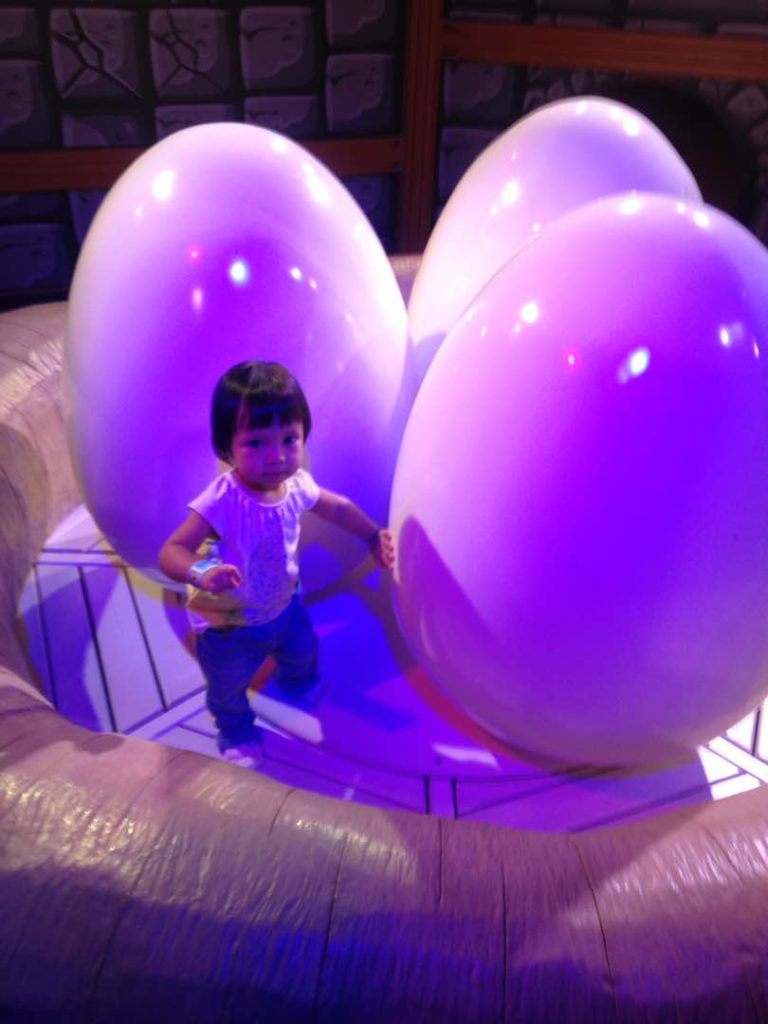 South Beach is the most toddler-friendly area of the park
For the most part, the activities at the Angry Bird park are mostly designed for bigger kids. All the giant slides, big trampolines, football, laser room, go-kart riding… South Beach is more suited to little ones.
There's a little jungle gym designed as a pirate ship with a small slide. It's Aisha-sized.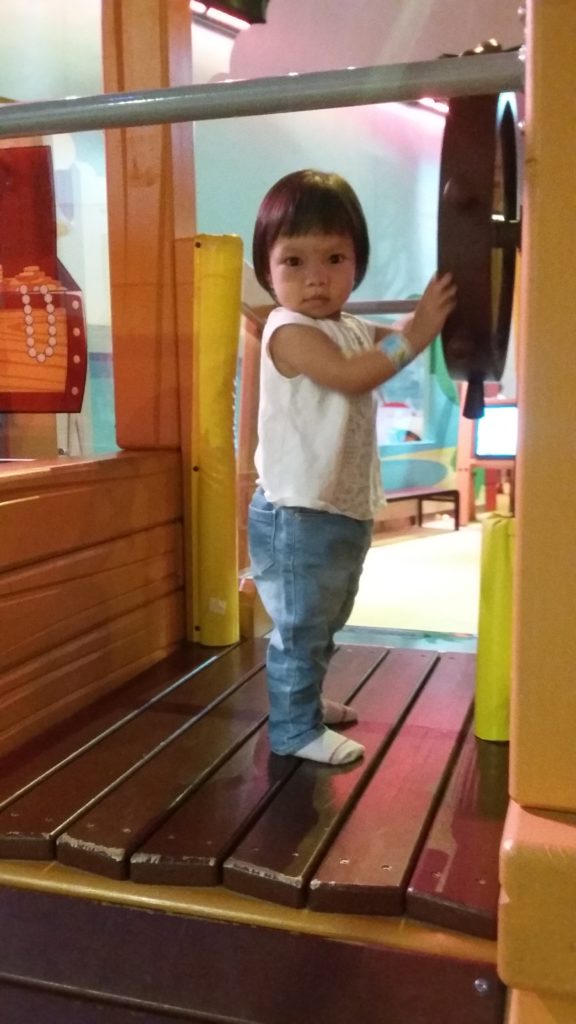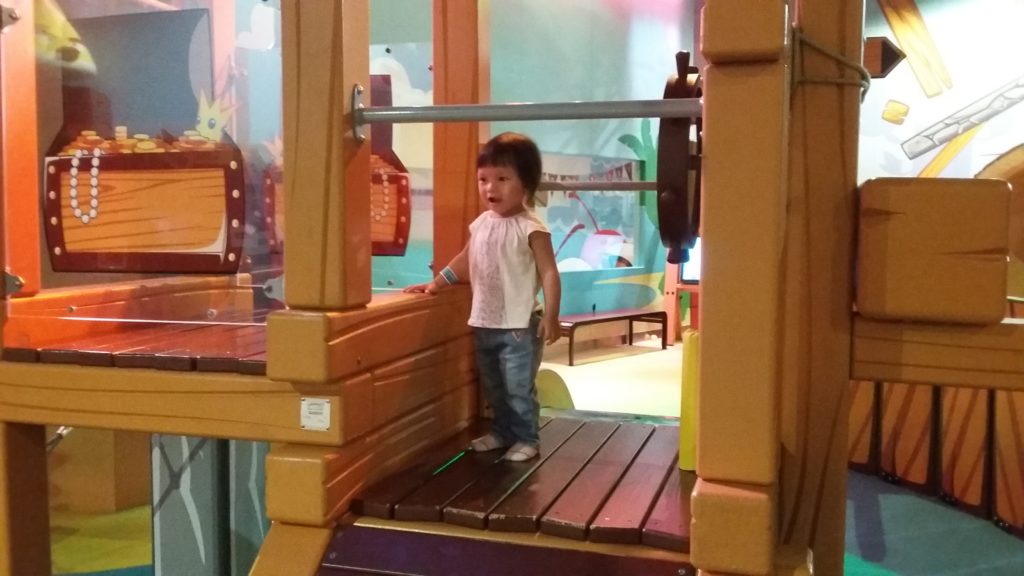 This is also the area where they have a small room set up to play Angry Bird cartoons. It's nice for the kids that wanna take a break. There's also an open area with giant foam blocks to build stuff. Ayub is excellent at this part.
Then there's this balance bike area, which Sulaiman loves. It's only for kids below 5. Just grab a balance bike and off you go, zooming up and down the slopes. It's super slippery because of the socks. Little ones will fall. Mr Ninja and I both fell. Aisha fell. Sulaiman fell. It's fun. Falling isn't fun. But this balance bike area is fun.
Here's a video 🙂
Red's Jungle Run is new and located outside the main park area
It's super dark inside and stupidly not part of the main Angry Bird park. I don't know what they were thinking. You have to scan your wristband to exit the Angry Bird park then walk to Red's Jungle Run and scan your wristband again to get in.
Of course, there's only like one person manning the front desk. So that person has to get out from the counter, scan you out, then follow you to the other side to scan you in to Red's Jungle Run. Much smart. Very plan.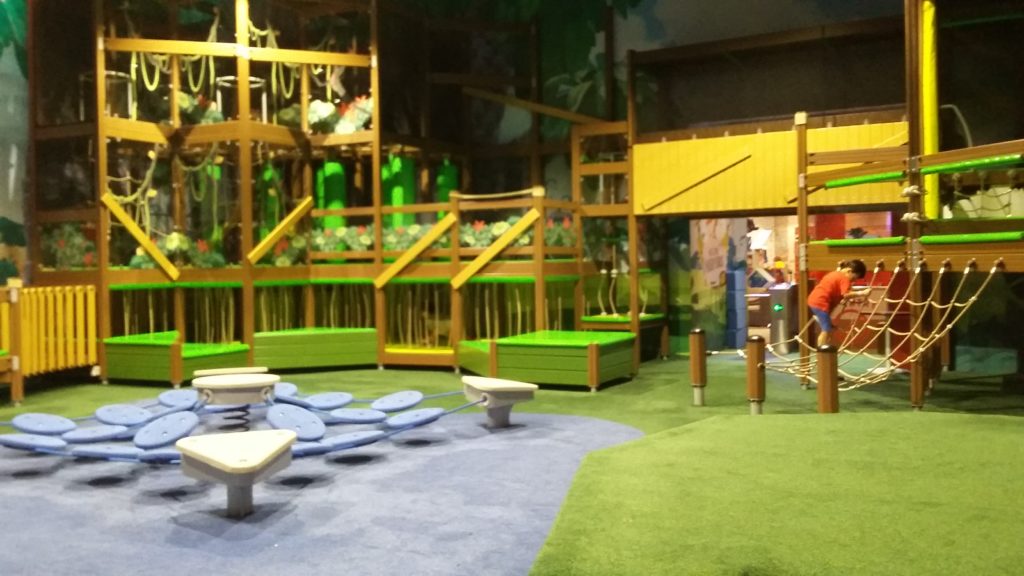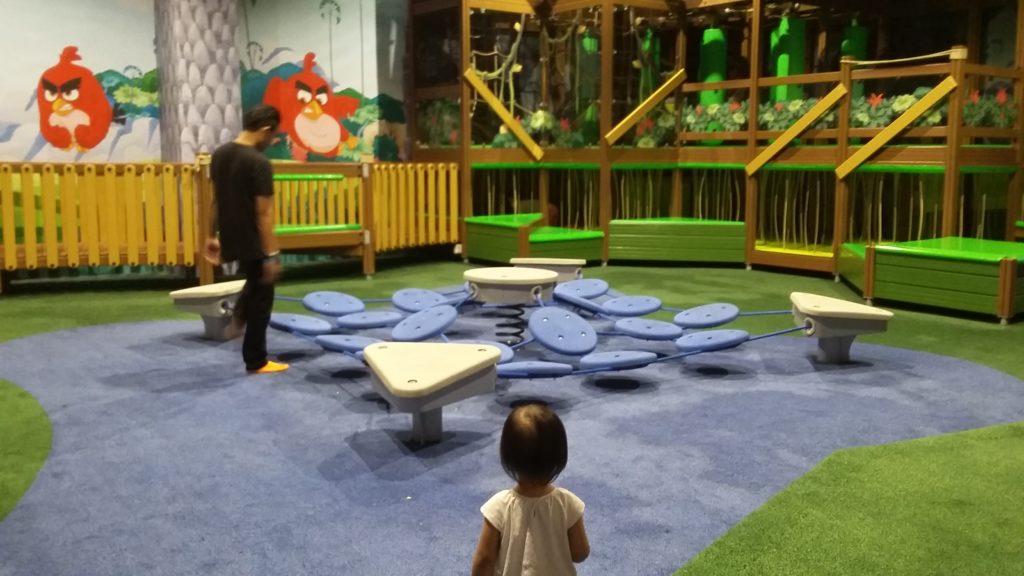 It's nice because it seems nobody knows this place exists. It's not so nice because it's so badly designed that it's really just not fun for kids. You climb up the rope ladder and there's nothing to do once you reach the top but to climb down again.
You get to the top of the slide and then this happens:
Tis the saddest slide in the world. Hahahahaha. We went back to the main park after that.
We received free ice cream and discount vouchers when we bought our tickets
I don't know if this is a thing or if they were just having a promo at that time. But yeah. Free ice cream who dowan. The discount vouchers were for their cafe unfortunately, which didn't really interest us. They had some sad muffins and lonely slices of cake and overpriced drinks.
The lounge area that overlooks the park is really nice though.
We ate Boat Noodle opposite the Angry Bird Activity Park. It cost us less than RM50 to feed five hungry peepol.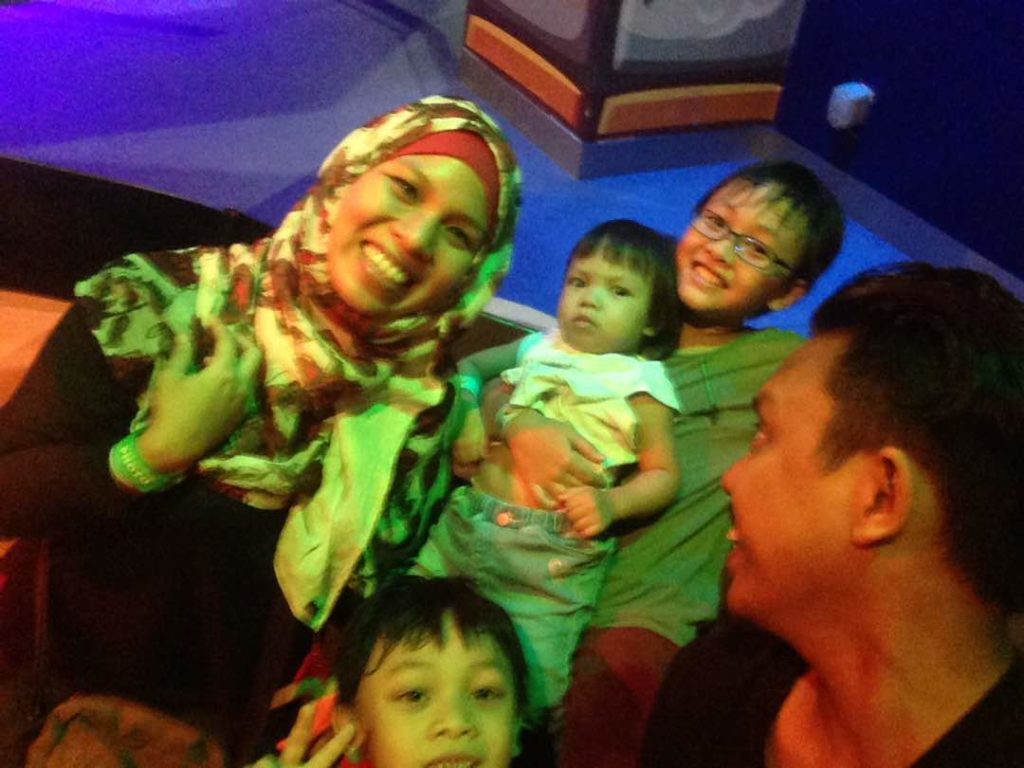 There are looooong queues and the staff are kinda incompetent
The park opens at 10am. We were there at 10am. There was already a queue of people buying tickets. Go there early. Their ticketing system is TERRIBLE.
You queue and queue and queue and once you reach the counter they hand you forms to fill out. Takes an unnecessary amount of time. Everyone moves at a snail's pace. Printing the wristbands takes forever. Putting the wristbands on takes even longer.
Then you have to take your shoes off before you get into the park. It's ridiculous. Just let us in and we'll take our shoes off at the shoe racks located in the park. But no, you have to take your shoes off first. So here we are, taking off our shoes, then trying to get our wristbands scanned while holding our shoes, and the baby, and pushing the stroller, holding all our bags, walking through the turnstiles.
Such a mess. And everyone has to do this. And you can see how annoyed the parents are. Despite all our differences, one thing that parents have in common is being efficient when it comes to time and children. You don't ask a 5 year old to take off their shoes (they always need to sit down to do this) while someone is putting on their wristband and scanning it, then asking them to hold their shoes and walk through the turnstile. Ugh.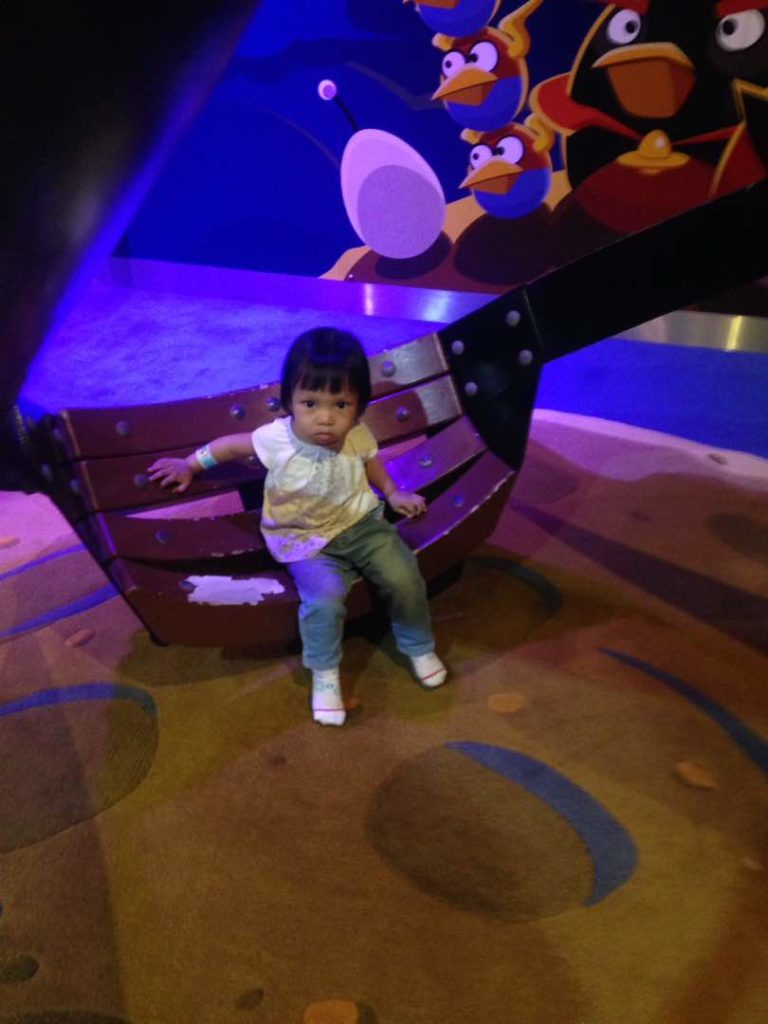 Ok, calm down. Here's a cute picture of Aisha on a catapult.
Would I go back?
Despite my complaining, I do like this park very much. I mean, it's basically a really big indoor playground. It's worth it for the trampoline area with the family pass. And the kids love it. I bought a babi magnet. It's very cute.
But they seriously need to hire more people and train them properly. Otherwise someone is going to get hurt.
Angry Birds Activity Park details:
Location: Level 3 KOMTAR JBCC Centre, 80000 Johor Bahru
Ticket prices: Single entry – RM60 (MyKad/MyKid) / Family pass with four people – RM218
Opening times: 10am – 10pm (Monday – Sunday)
Facebook Comments