Trekking Through The Jungle With A Baby At Father's Organic Farm In Batang Kali
We had a family field trip to Father's Organic Farm in Batang Kali, 4km from Genting Highlands. Ayub and Mr Ninja will be going back to camp there overnight in a week's time. I'll get Ayub to write that blog post. Hoho.
Anyway, the Ninjas are not really outdoorsy-jungle-organic-farm-kampung-wilderness-camping-type people. We like hotels and resorts and toilets that are in bathrooms that are in buildings.
Driving to Father's Organic Farm
There were 49 of us in total I think. All families from Acton KL. Met up at school early in the morning to convoy. Two middle school kids carpooled with us so there were seven of us in the car and I was like "OMG this is what it will be like when we have two more babies!" And Mr Ninja was like -_- no.
Father's Organic Farm is about an hour's drive from KL. So not so bad. I mean, Putrajaya is further away ok. Alamanda is the best mall in the world.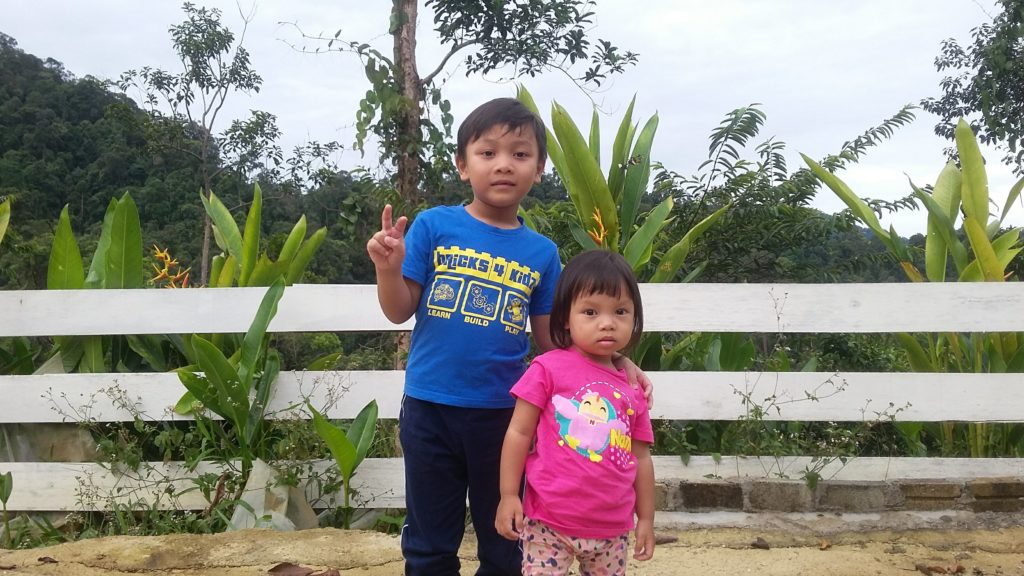 Aisha got a bad haircut the day before so she looks extra cute and naughty.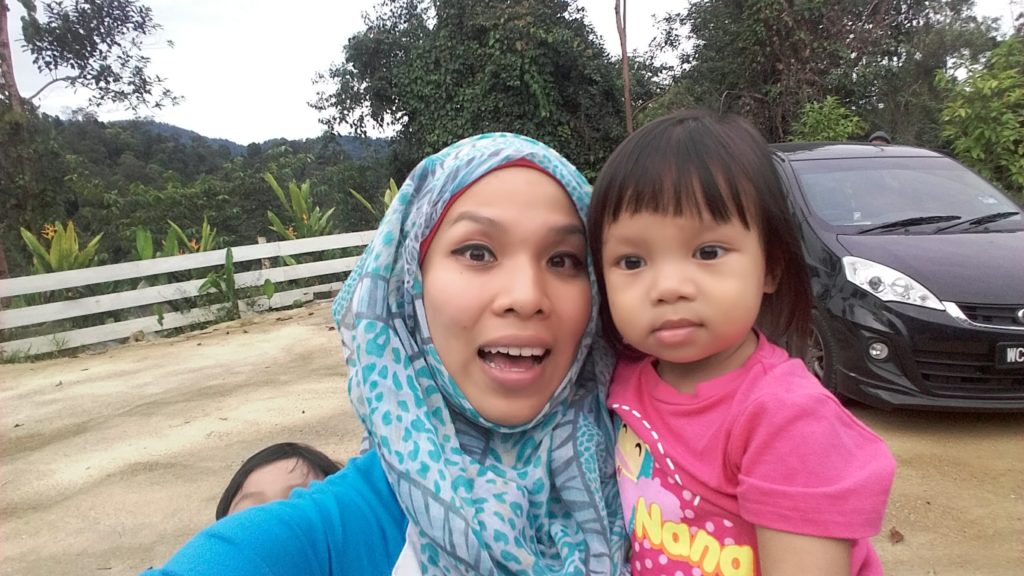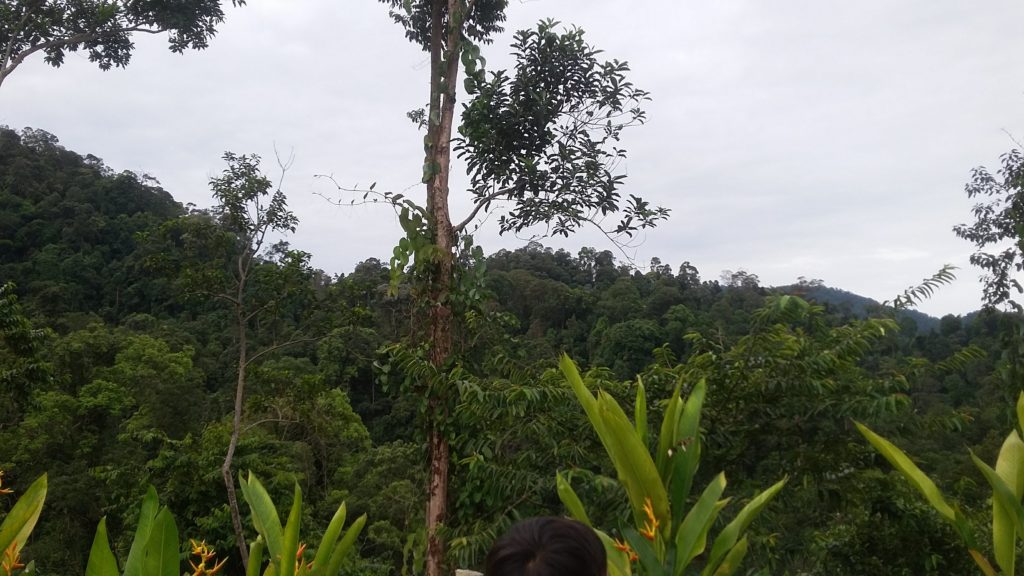 Everything is so jungly. Mr Ninja was feeling apprehensive. He was stressed that there was no cell reception and internet. Lol. He cannot live without tech. He's so sexy I love him look how cute he is.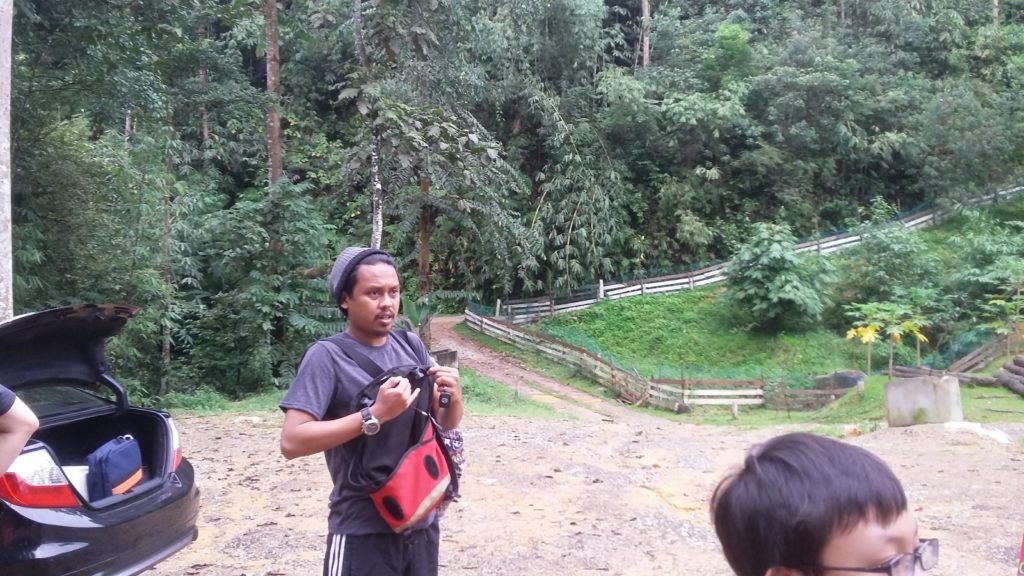 The farm is really big and very kampung
Well, it's kampung to me anyway.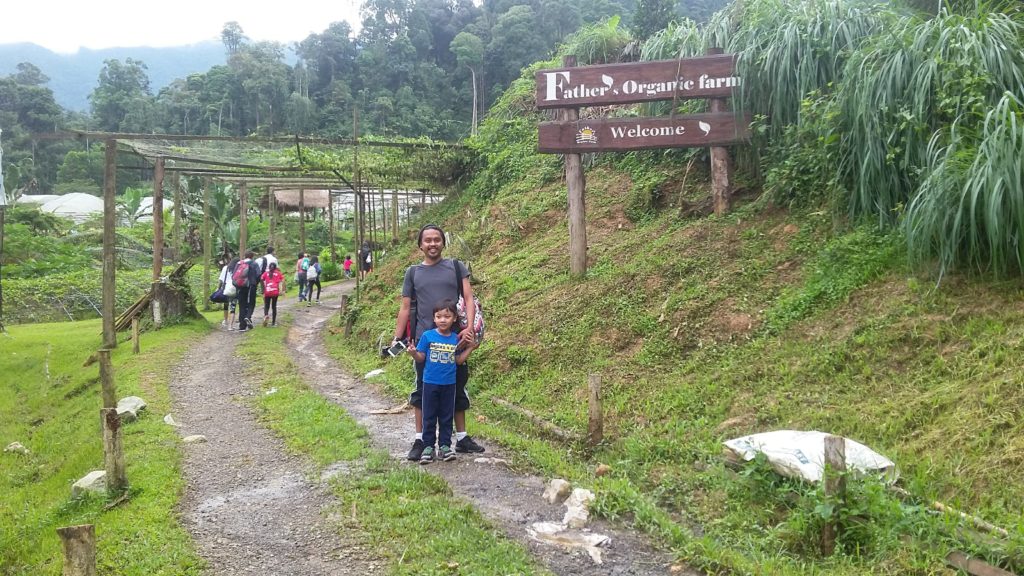 The land is huge. You have to walk up a steep slope to get to the main farm where the camping site is. On the other side is the trail to the waterfall. Very very steep uphill and downhill. You either have to walk it or the farm workers will drive you there on their 4×4. We walked it. The kids stood on the back of the pickup truck and screamed their way there later that day.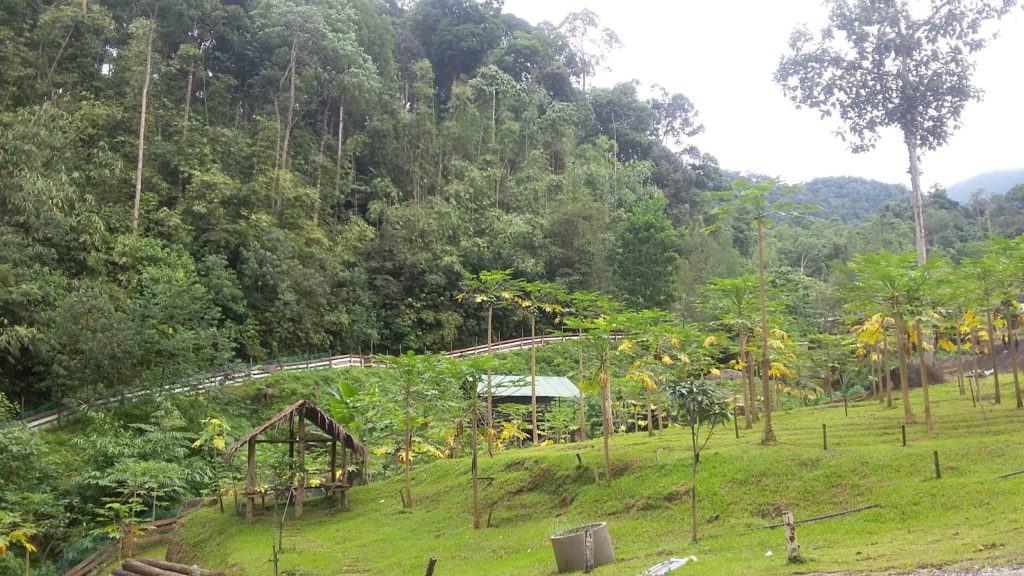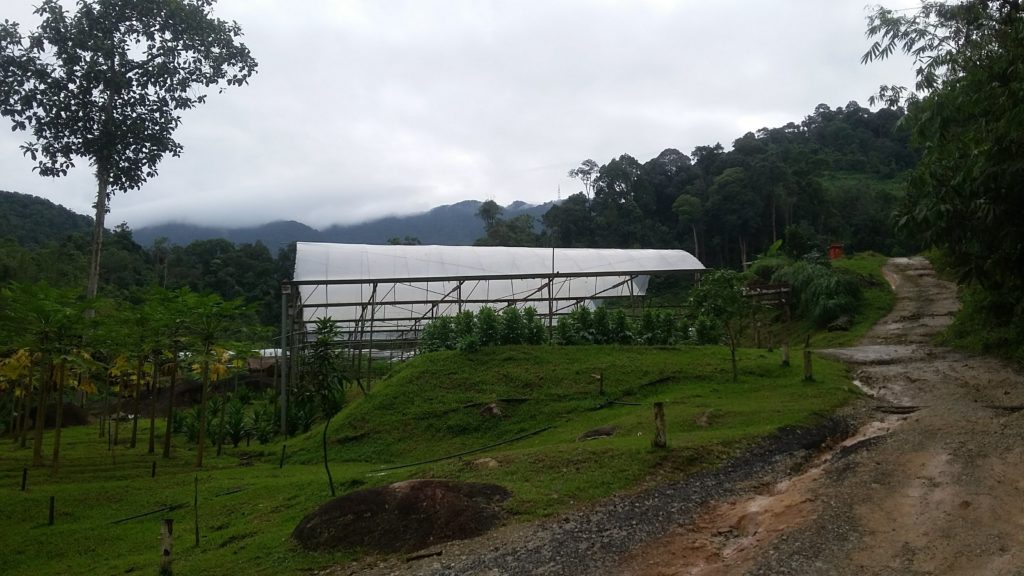 It's only about a 5-8 minute walk to the farm from where the cars are parked. Along the way you'll see all the fresh, organic vegetables growing in the fields, as well as some fruit trees. It's very quaint and organised.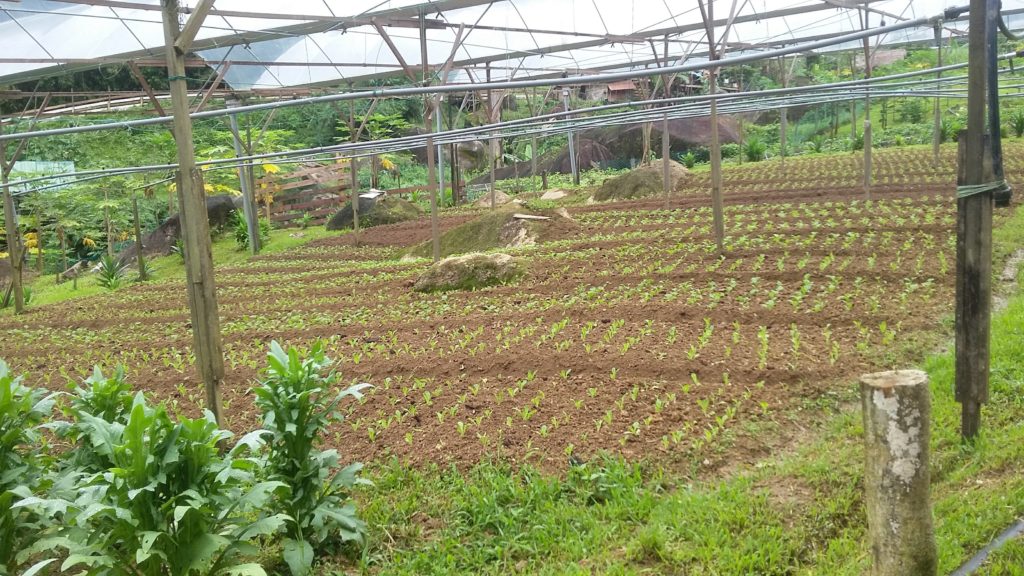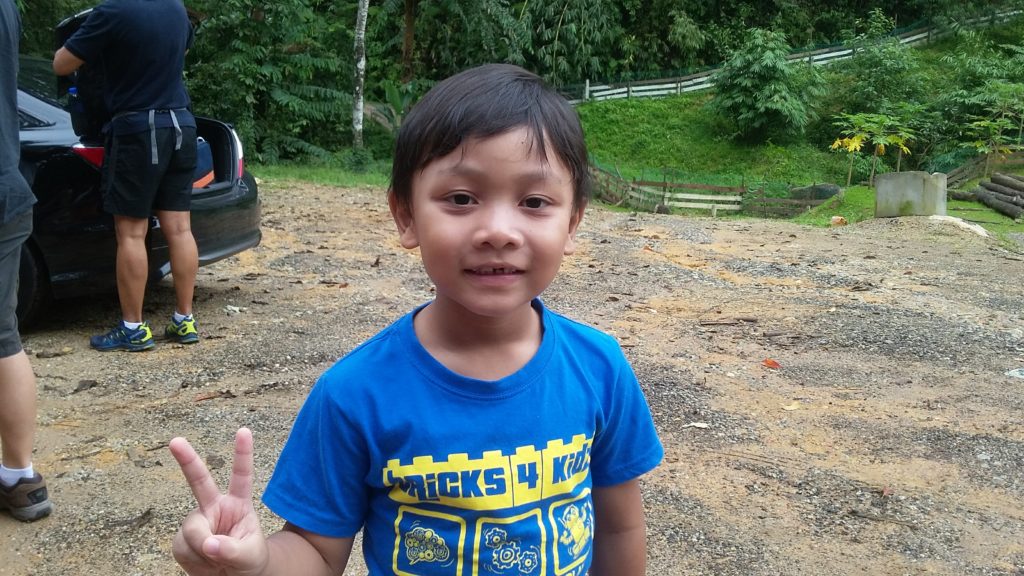 Ayub ran up the slope and I pretty much didn't see much of him for the rest of the day. He was busy with his friends. So I just hung out with Aisha. Aisha not interested in stopping for a picture. Little miss bossy boots. Had to carry her everywhere.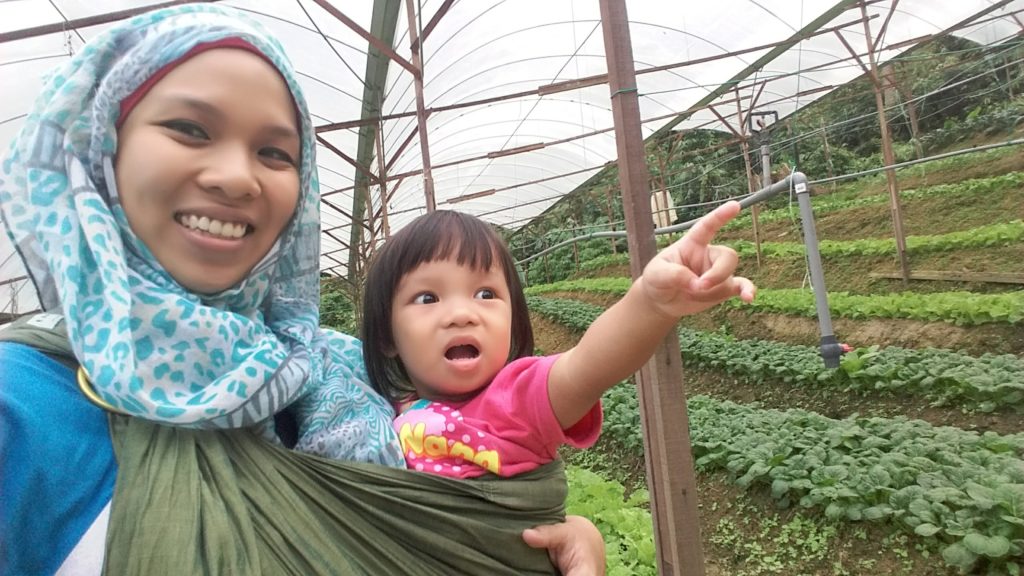 Exploring the land while waiting for the tour to start
You have to pay to enter Father's Organic Farm. It comes with a tour and lunch. We arrived around 9.20am and the tour was supposed to start at 9.30am. The owner and his family didn't arrive until 10.30am. We explored the camp site and oohed and aahed at the scenery.
Once they arrived, everything was cool. But making us wait 1 hour was super not cool.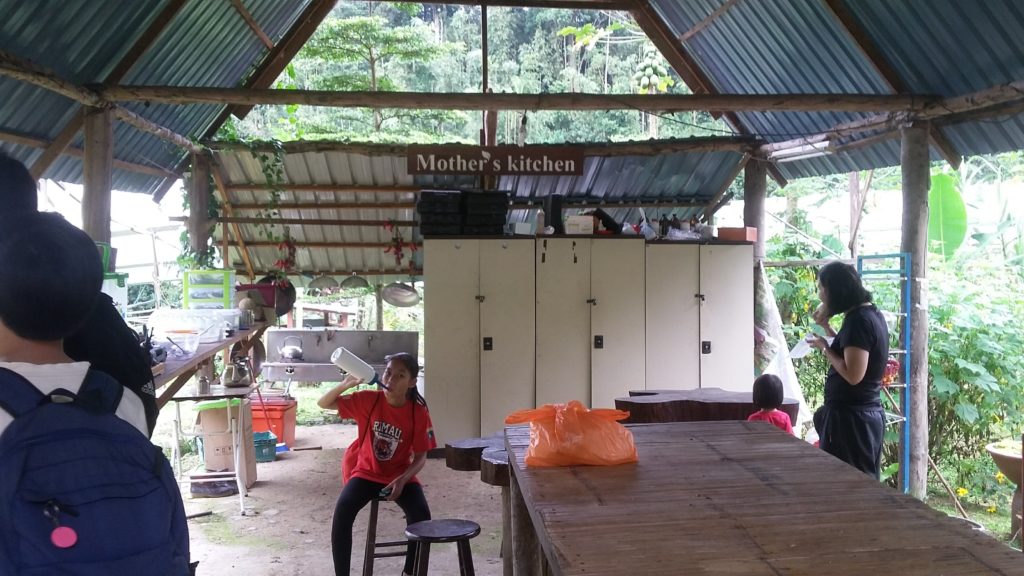 At the main farm there's Mother's Kitchen. Where they will prepare lunch for you. Up a steep slope to the right is the camping area.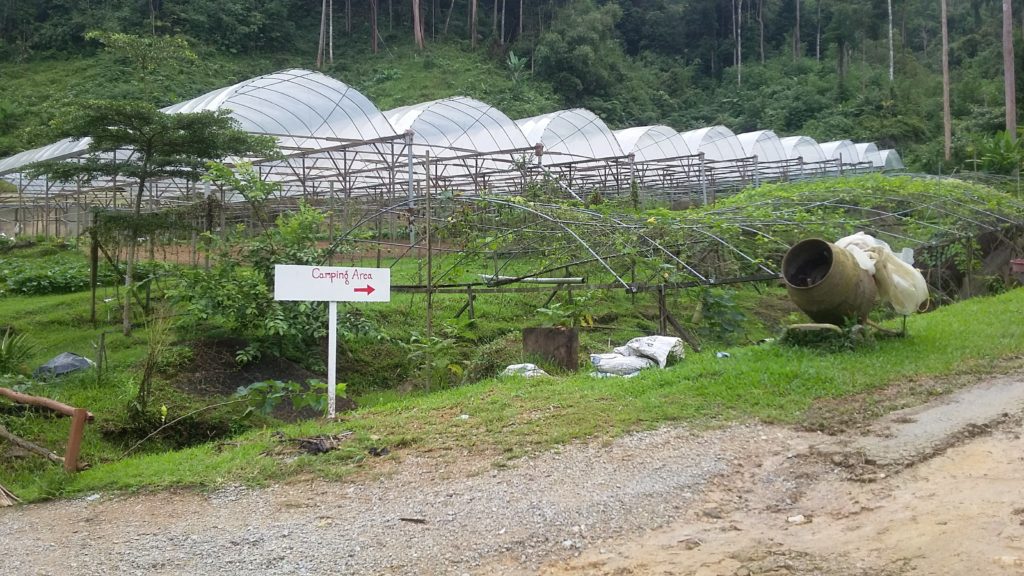 And up an even steeper slope is the toilet. After a 1 hour car ride, Mr Ninja really had to go. So he made the climb to the scary toilet. Don't worry, I'll show you what it looks like after. This is called "clickbaity content". (Hi Gowri and Esther!)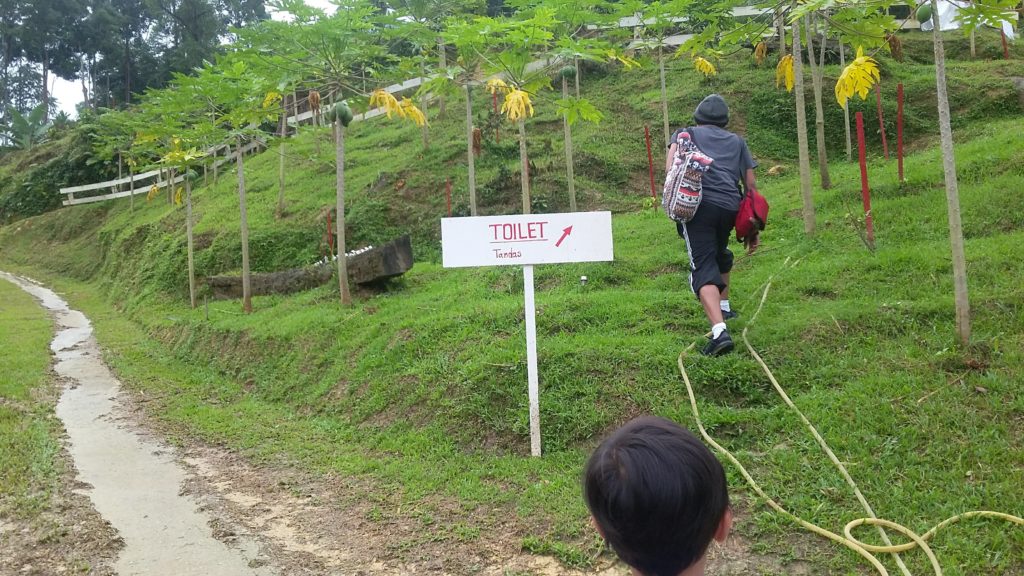 The camping area is high up and has a lovely view
You can pretty much see the whole farm from the camping area. Lots of vegetables being grown, surrounded by lush jungle.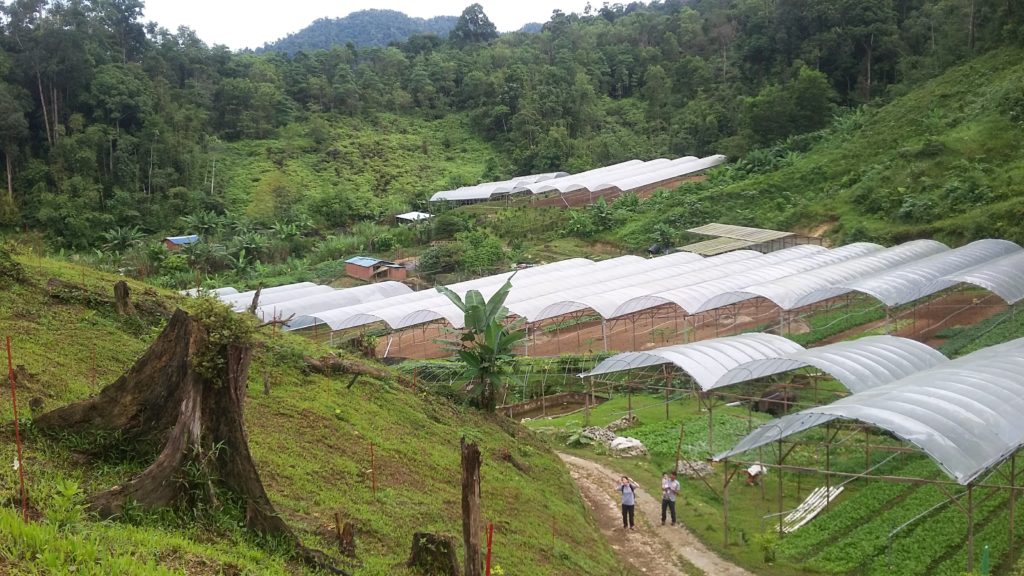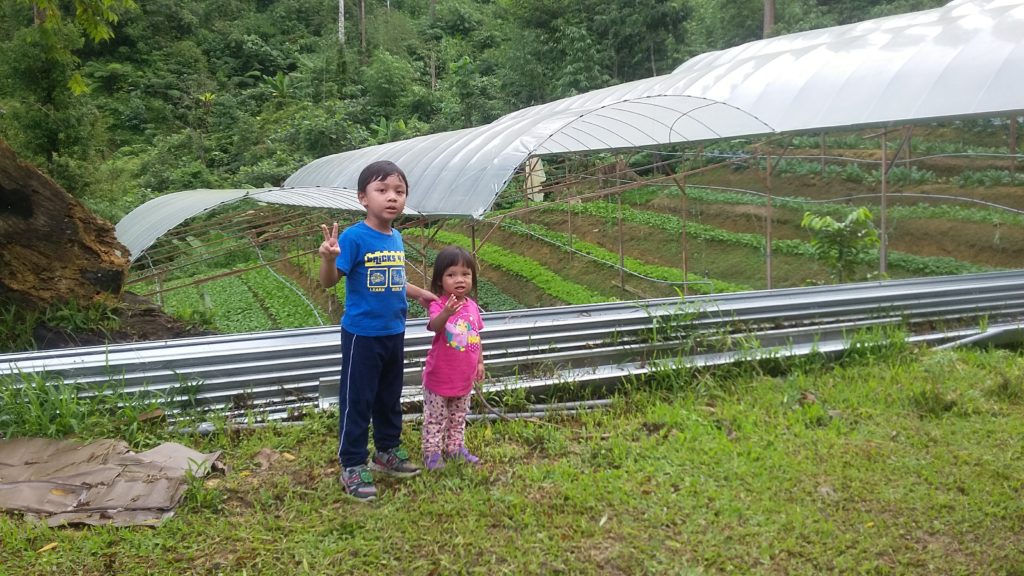 There's a big shed thing with tables and chairs, as well as an area where you can sit around a campfire. It's really comfy camping.
When I was a teenager I used to go camping on the mountains of Switzerland with friends for several days at a time. We didn't have all this fancy-pants stuff. We would hike all day through the woods and up the mountain, dig holes in the ground to do our business, cook sausages and beans over a fire, and sleep in tiny tents.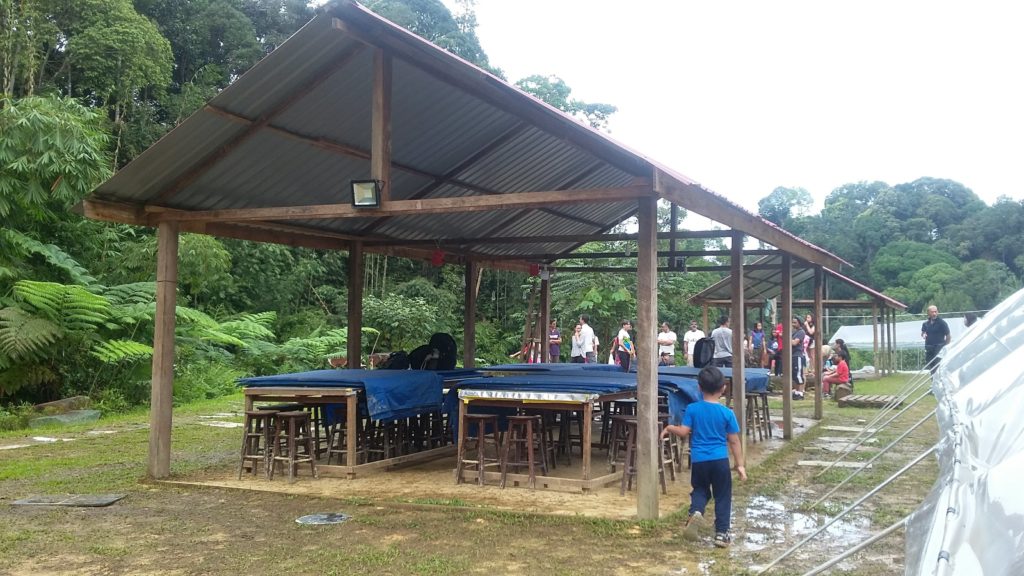 I think this is the thing they pitch the tents under? I've no idea. I didn't pay attention at all to the briefing. Because I don't have to come back to camp overnight. Hahaha. Anyway, Aisha loved this thing. She kept running in and out of it and asked me to take a picture of her. So I did. Here is the picture.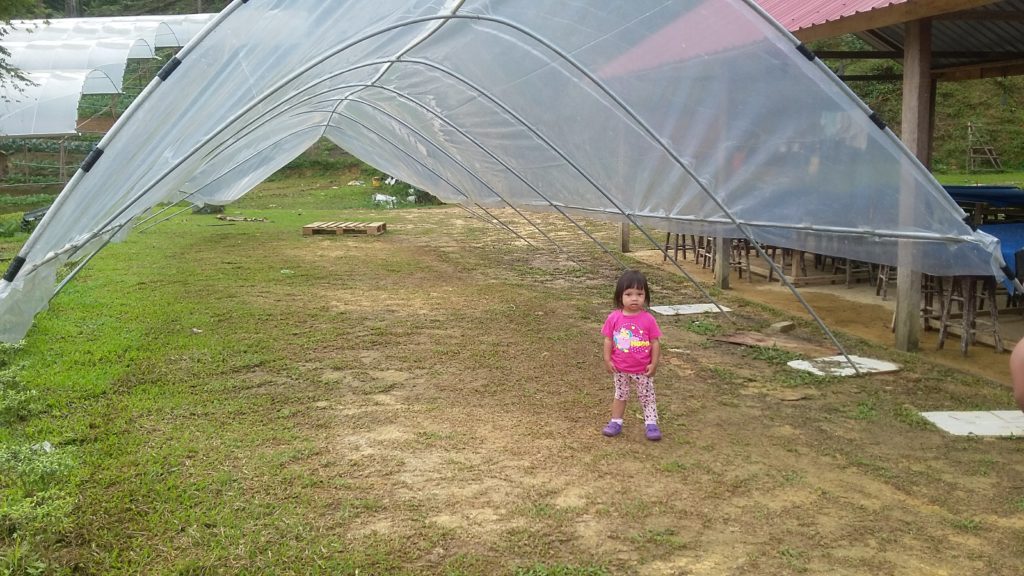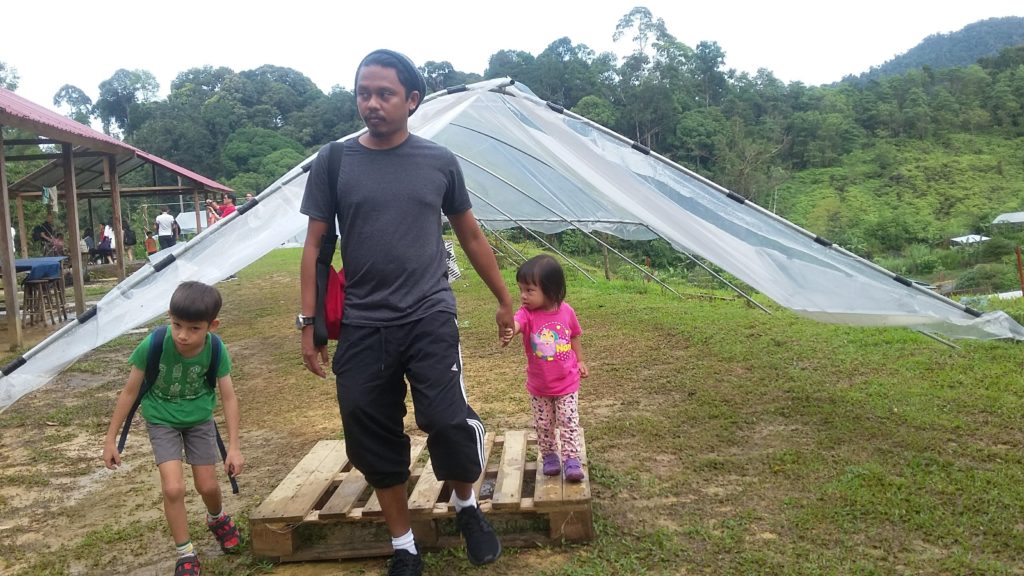 On the left is the kitchen with gas stoves that campers can use. I guess? I'm not sure. Like I said, I didn't listen to the briefing. On the right are the scary toilets. I held my pee in for a long time that day.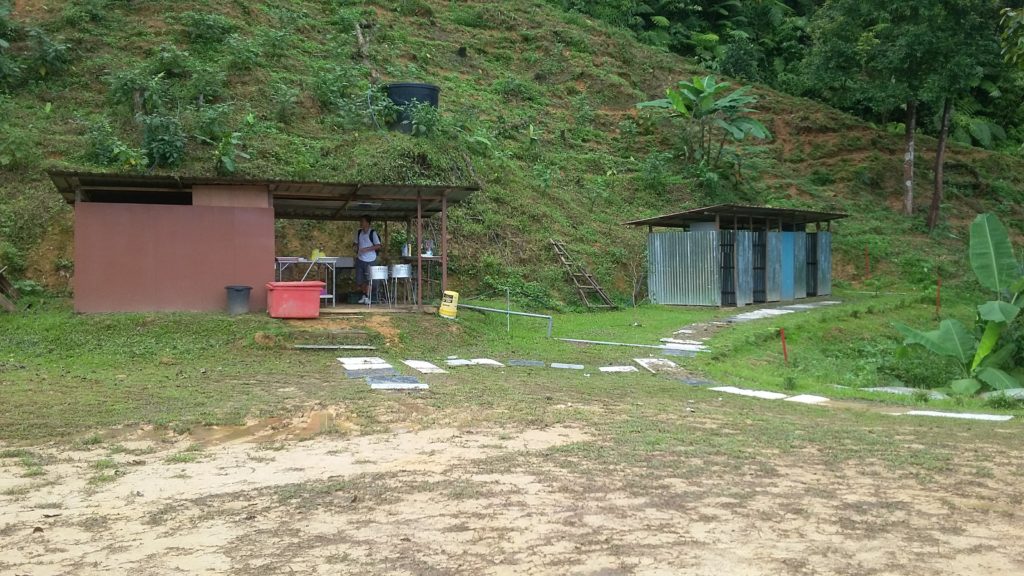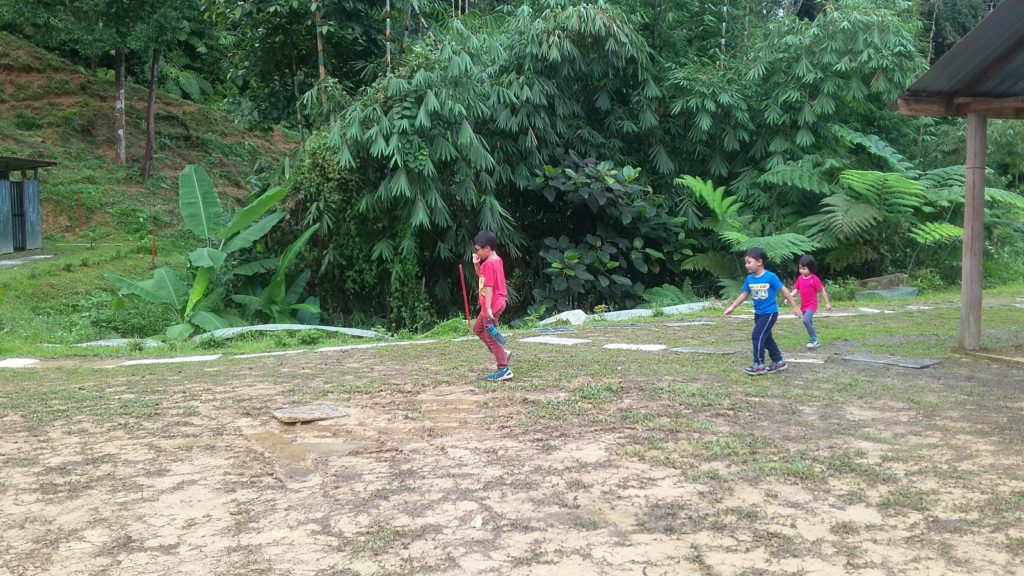 Here's the campfire area. Very cute. The human not the campfire area.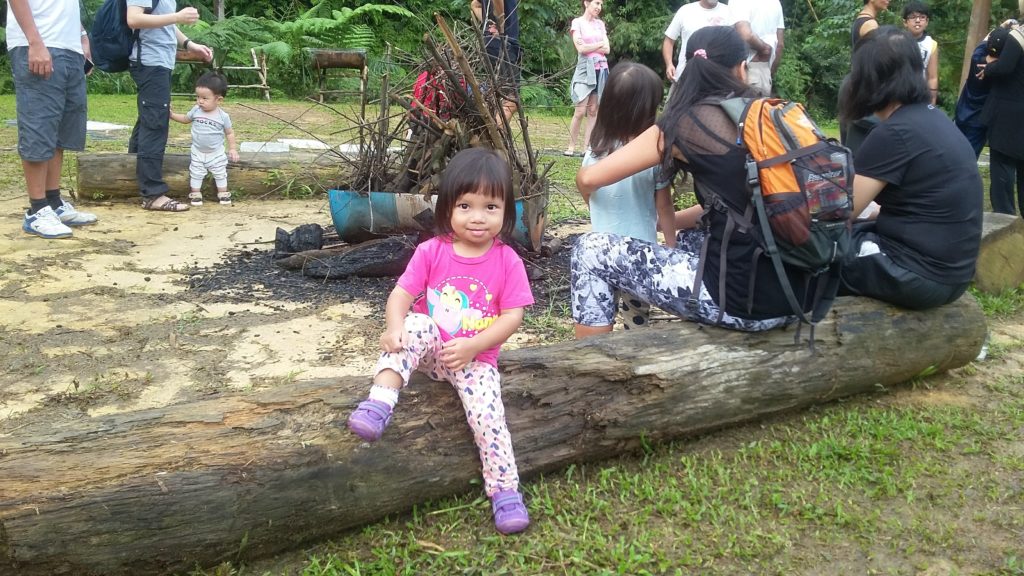 Learning how to harvest organic vegetables
Once the owners arrived, they brought the kids to one of the many vegetable patches to harvest the veg. Mr Ninja looked on nervously as Ayub sliced through veggies with a knife. We weren't worried about him cutting himself. More worried that he would cut someone else. He kept waving the knife in the air. This child. So easily distracted. No sense of danger. But he did really well.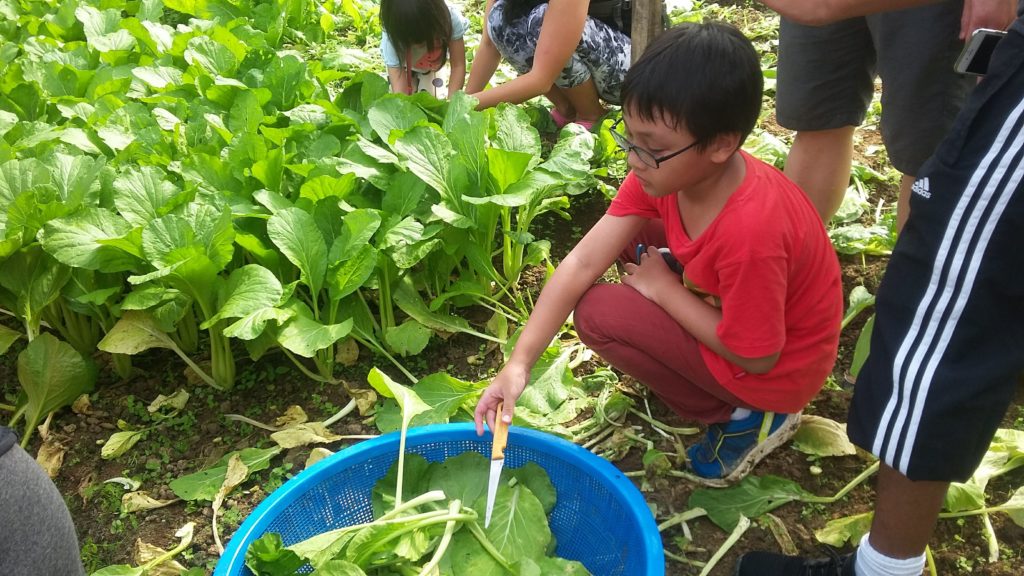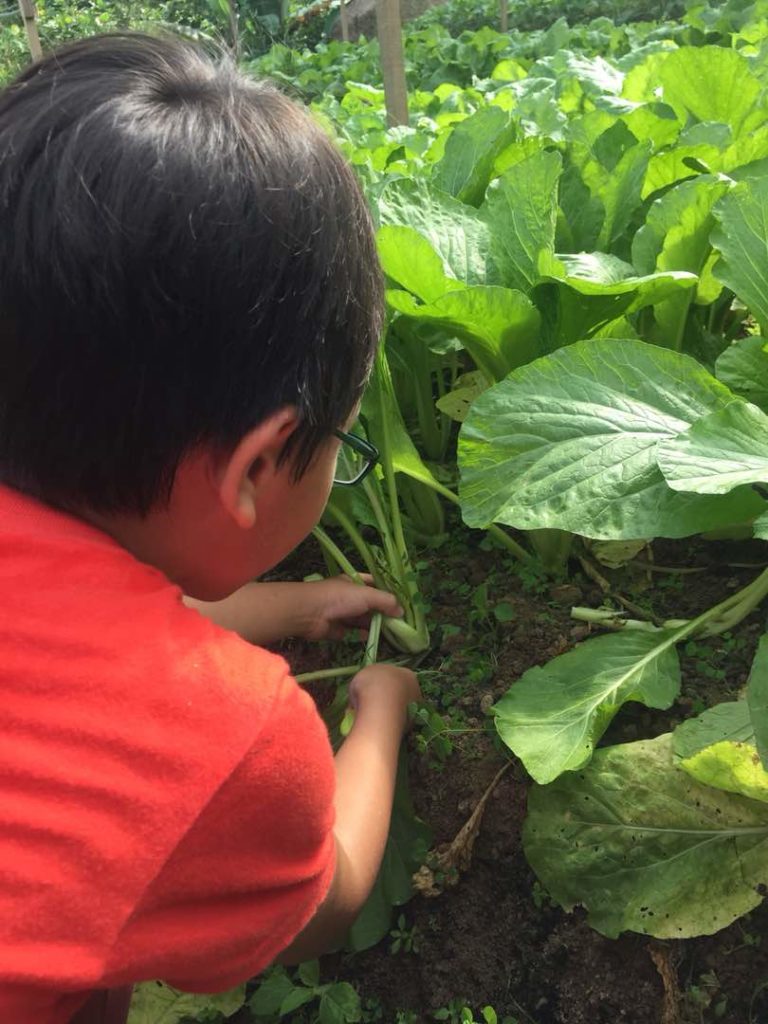 All the organic vegetables that the kids harvested that morning were later cooked for our lunch. They were delicious. Seriously yummy. And I don't even like leafy veg.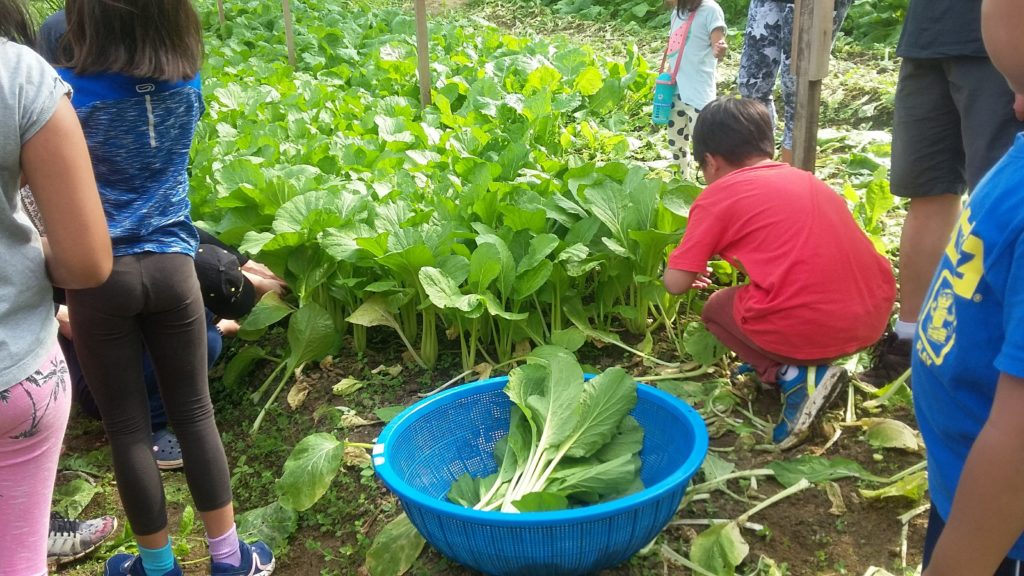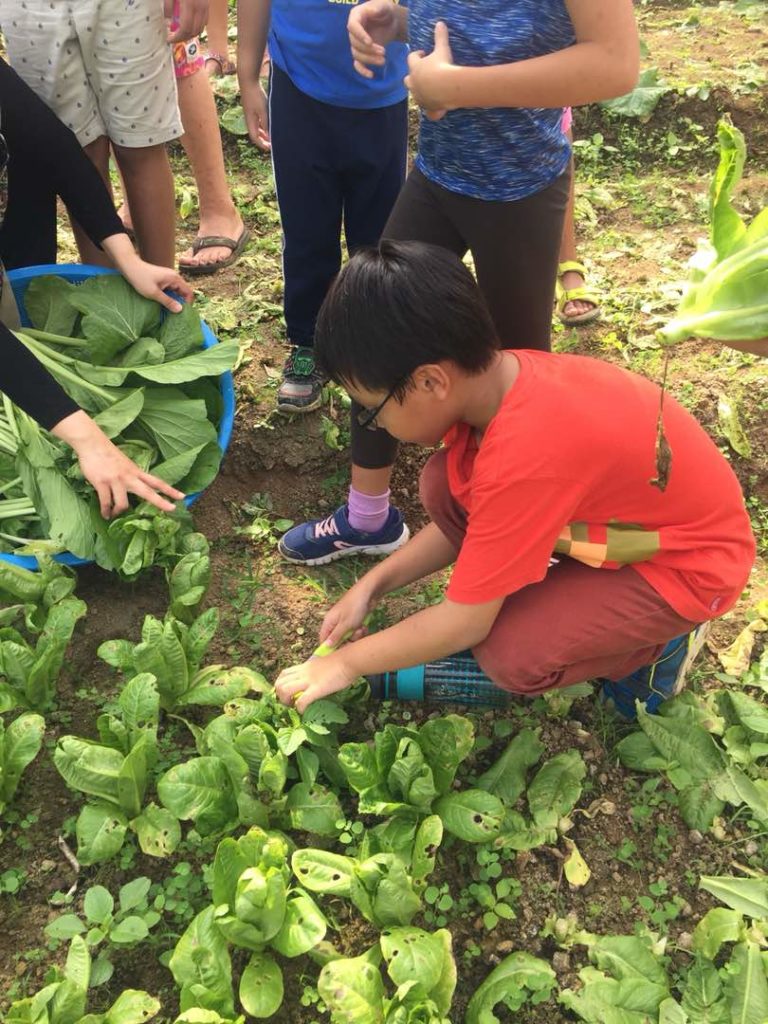 Swimming in the waterfall
This is the kids' favourite part of the day. After harvesting, they piled on into the back of a pickup truck to make their way to waterfall. We could hear them screaming as the truck went up and down super steep slopes. Ayub and Sulaiman still talk about how fun the truck ride was. The parents were left to walk to the waterfall by themselves.
Mr Ninja complained the whole time, while I did it with Aisha in my arms. I am so awesome omg. Anyway, it's about a 15 minute walk? I don't know, I don't own a watch.
Once we arrived, Mr Ninja and I just looked at each other like -_- because our boys were the only ones completely soaked from head to toe and literally lying down in the water. All the other kids were wading knee-deep.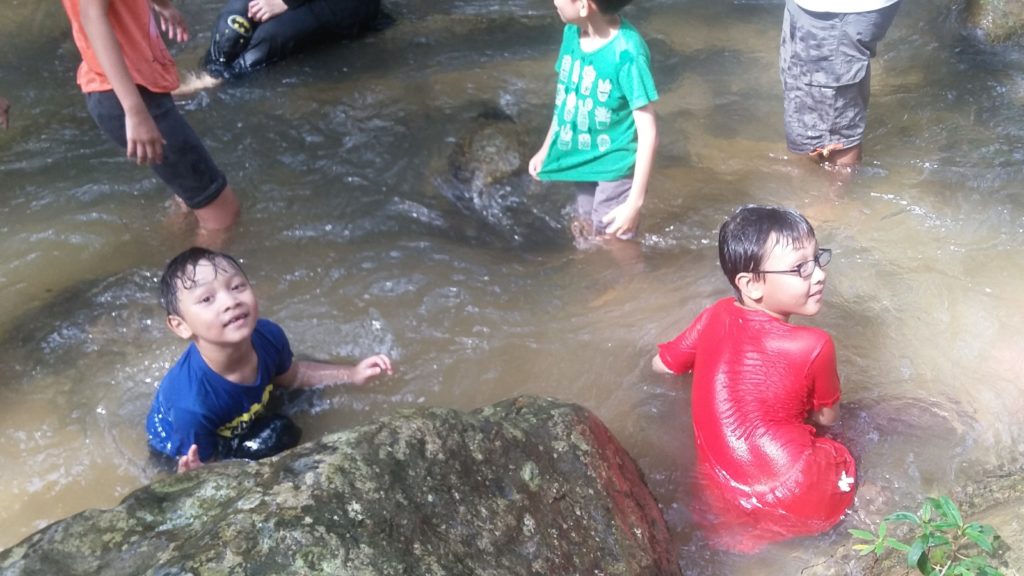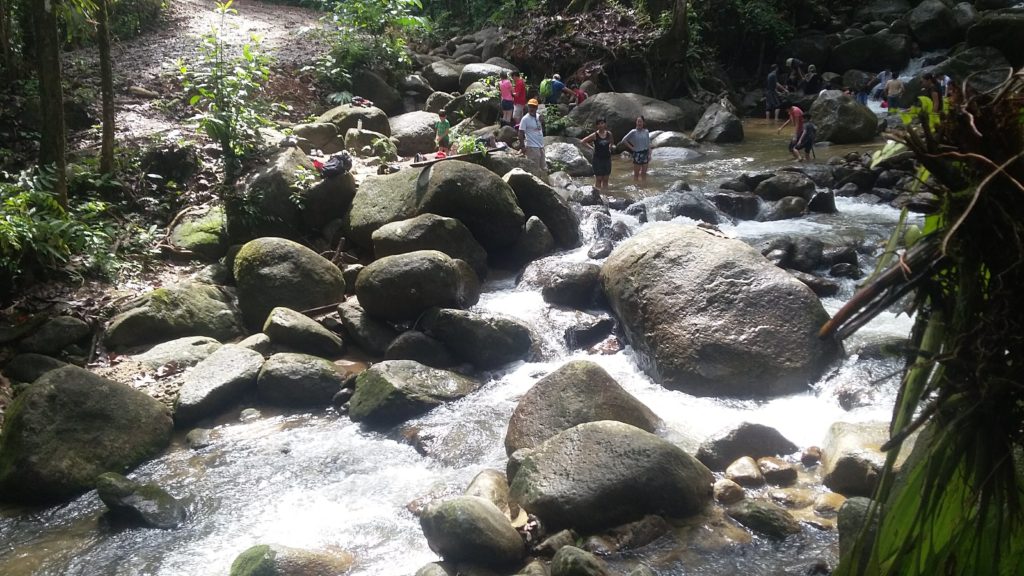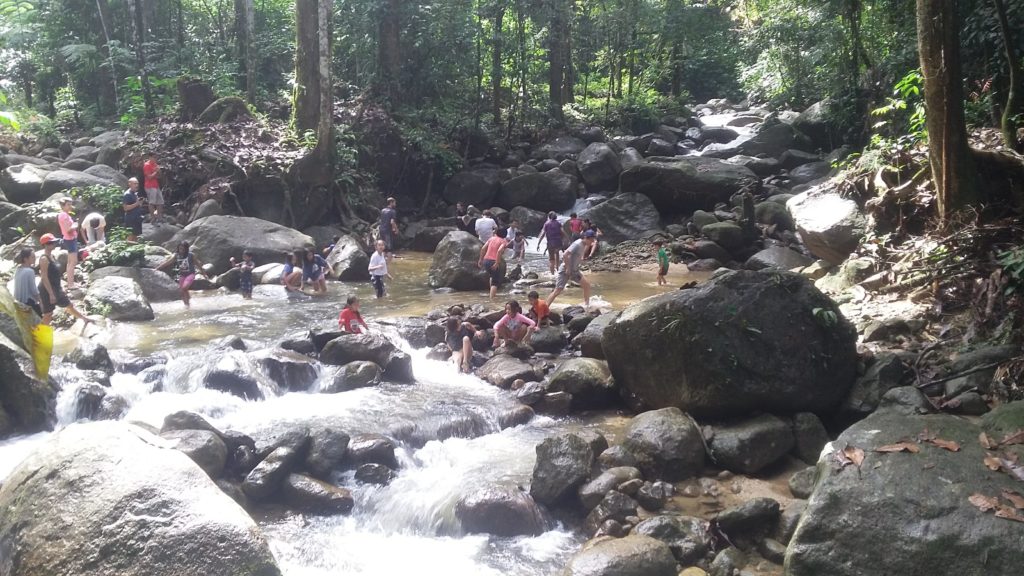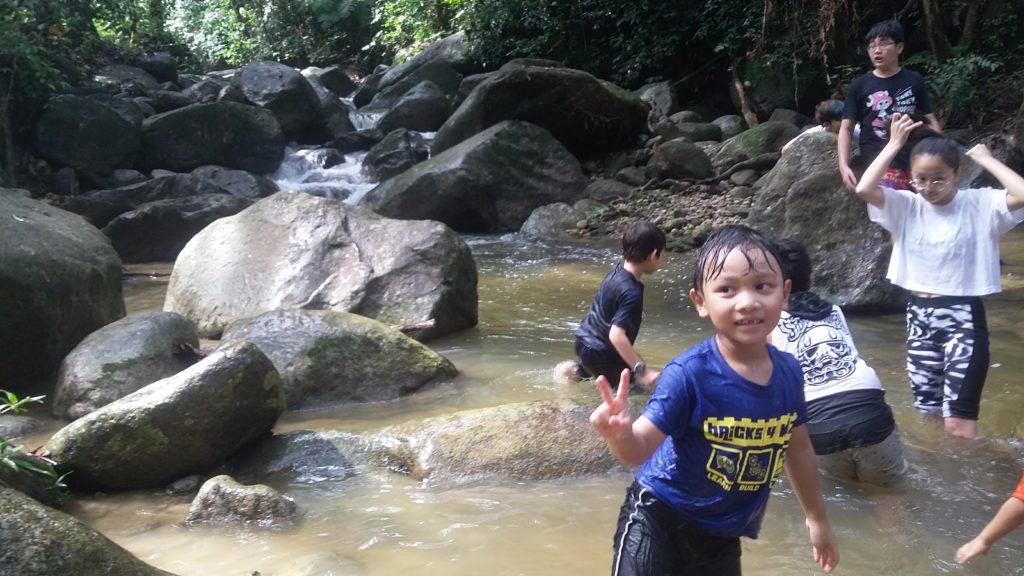 Aisha insisted on taking off her shoes and going in. The water was freezing cold.  She screamed and came out immediately. Played with the water from a trickling stream instead. The water is seriously so cold and refreshing.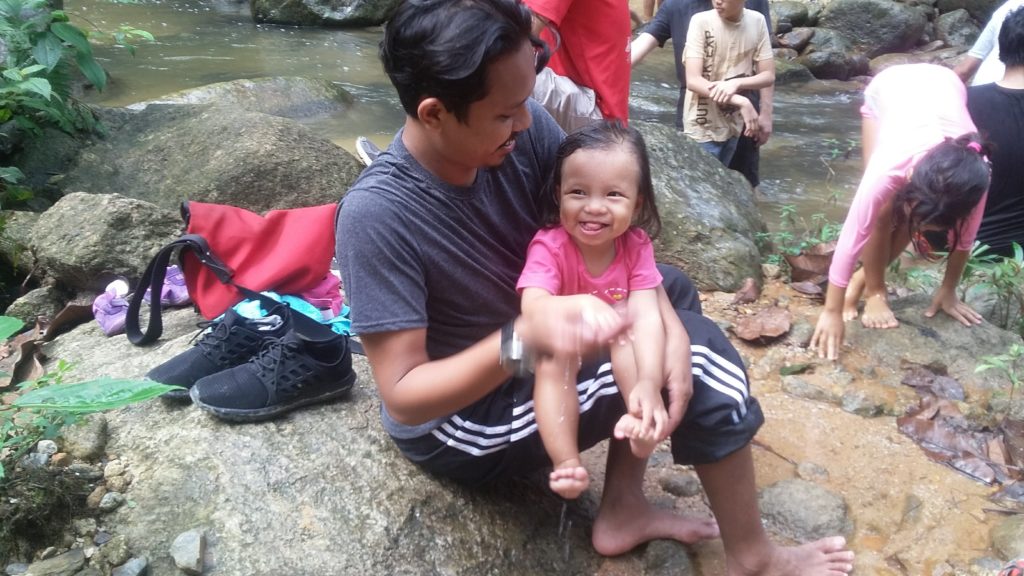 There's a little bridge that leads to a wooden patio kinda thing with tables and chairs. It's nice. We sat there and watched the commotion below. One of the dads got bitten by a leech. So there's that too.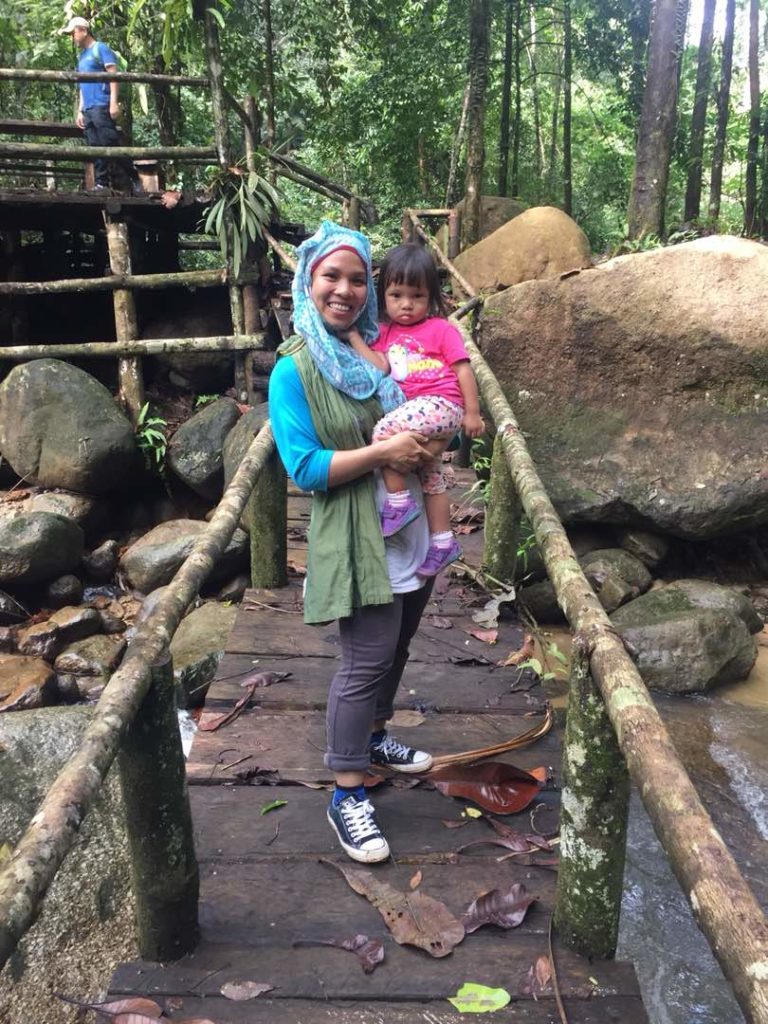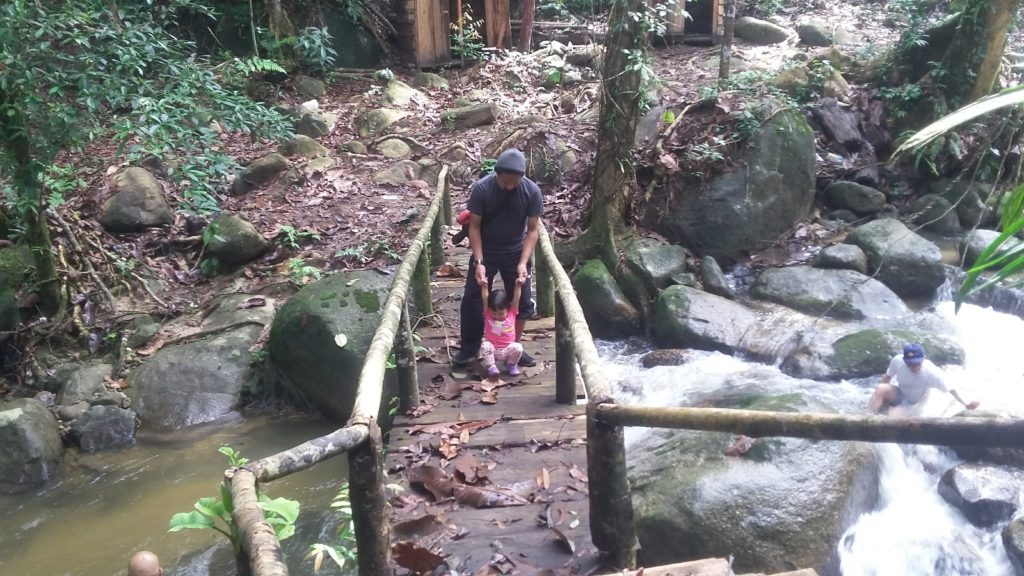 Scary looking changing rooms. Maybe toilets. I didn't go anywhere near those things. Nope.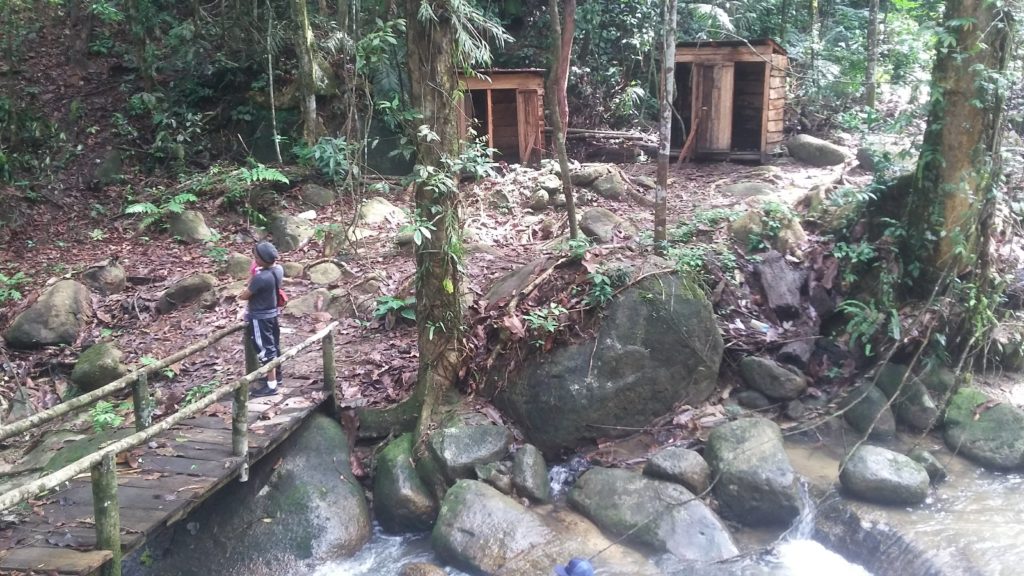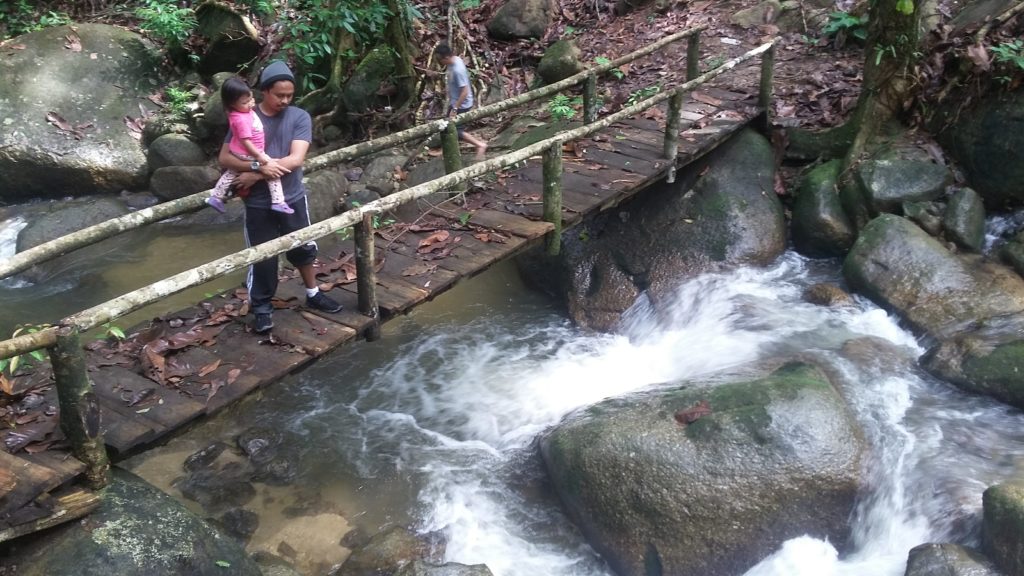 After an hour or so we made our way back to the main farm. Super duper steep climb uphill. Could hear Mr Ninja complaining the whole way that he couldn't do it. Did it anyway. While carrying Aisha. Ho ho ho.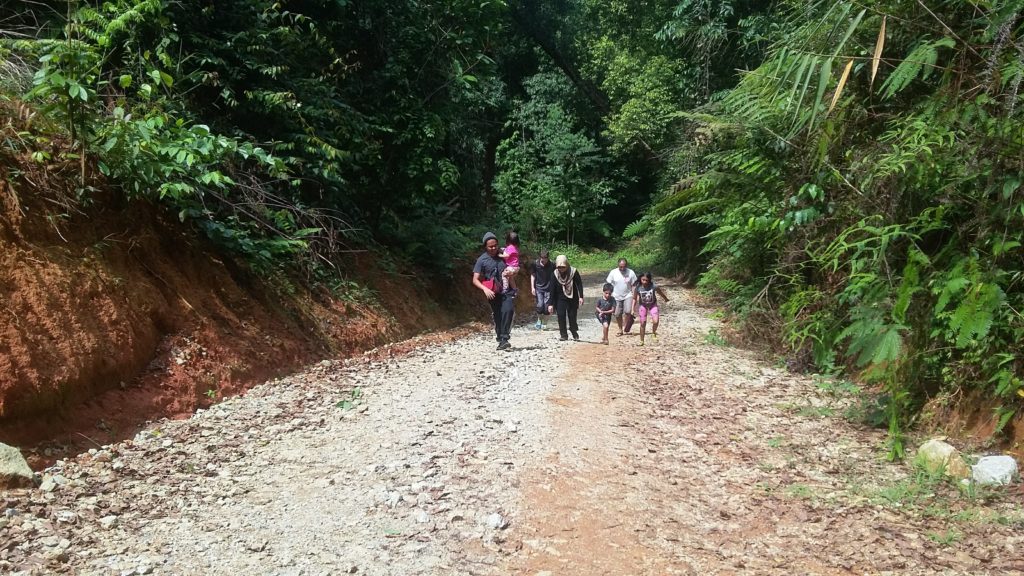 Hot lunch from Mother's Kitchen
The admission fee we paid includes a hot lunch. So it's a bit disappointing that it wasn't halal for the Muslims, nor was it particularly vegetarian for our vegetarian friends. I guess someone didn't specify when the order was made. Anyway, the food looked good (it didn't taste as good as it looked).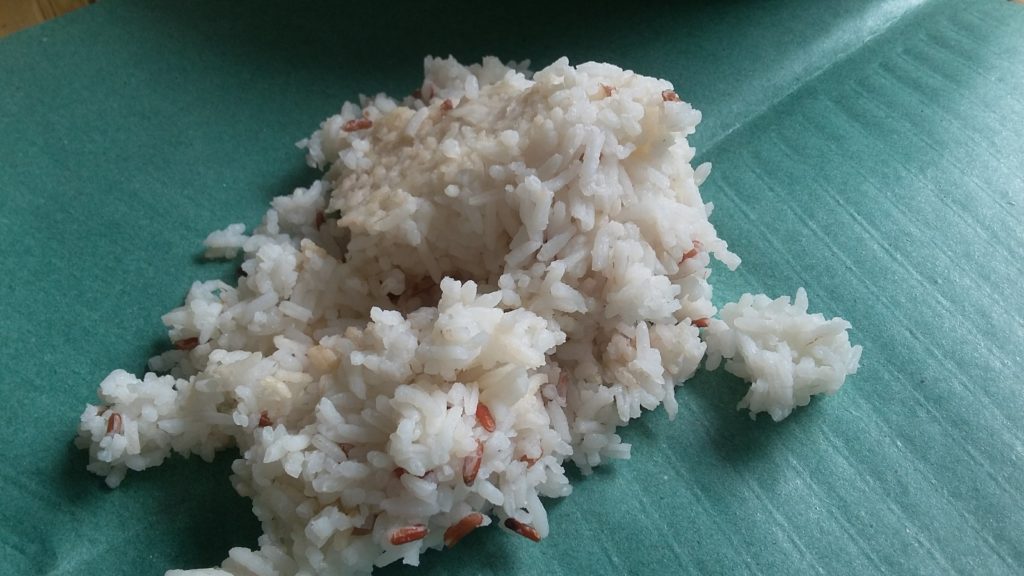 They cooked two types of vege that the kids harvested earlier that morning. Tasted super yums. I LOVE IT.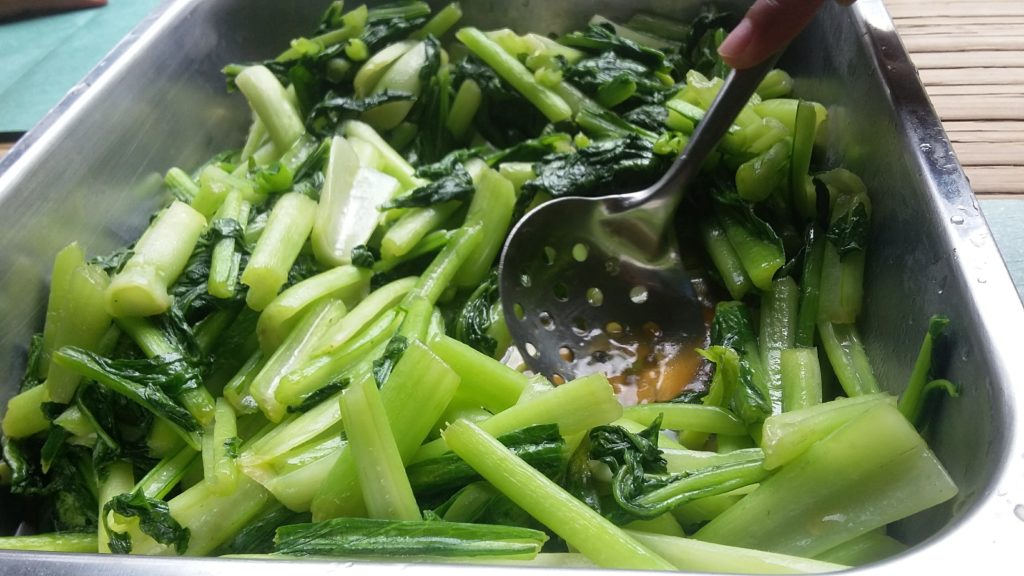 Scrambled eggs with carrot and onion. Gowri would die.
Chikin.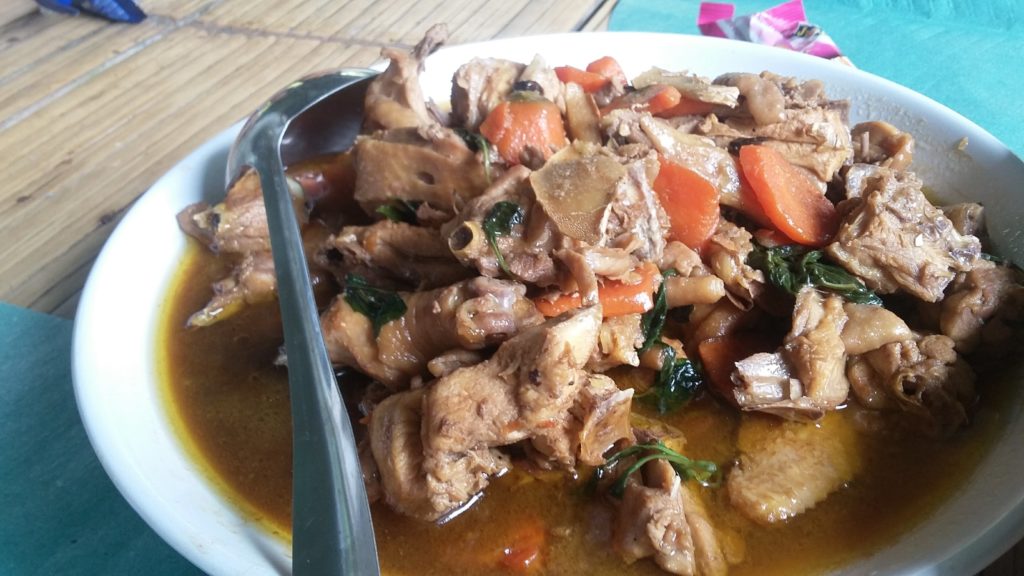 The tour of the farm with animals and stuff
We were taken on a tour of the farm, led by the owner. It was hard for me to listen to what he was saying because Aisha didn't have the patience to stand still. But the parts I did hear were very fascinating.
He talked about the struggles of farming organic vegetables, how he got started, the process of harvesting, how to build a salt water filter, raising farm animals etc.
First up we went to see the chickens. The kids were given a slice of bread each to feed them. It was havoc. The chickens ran away to hide. There was one angry goose. Which led to Mr Ninja's confusion over goose and geese, duck and dick.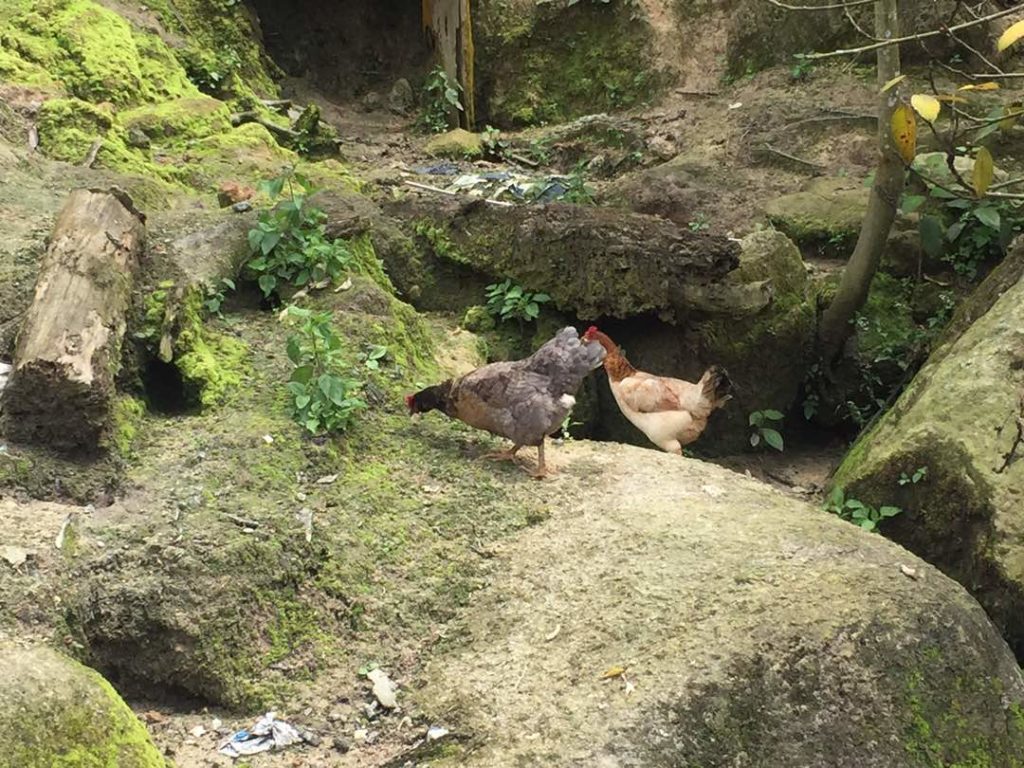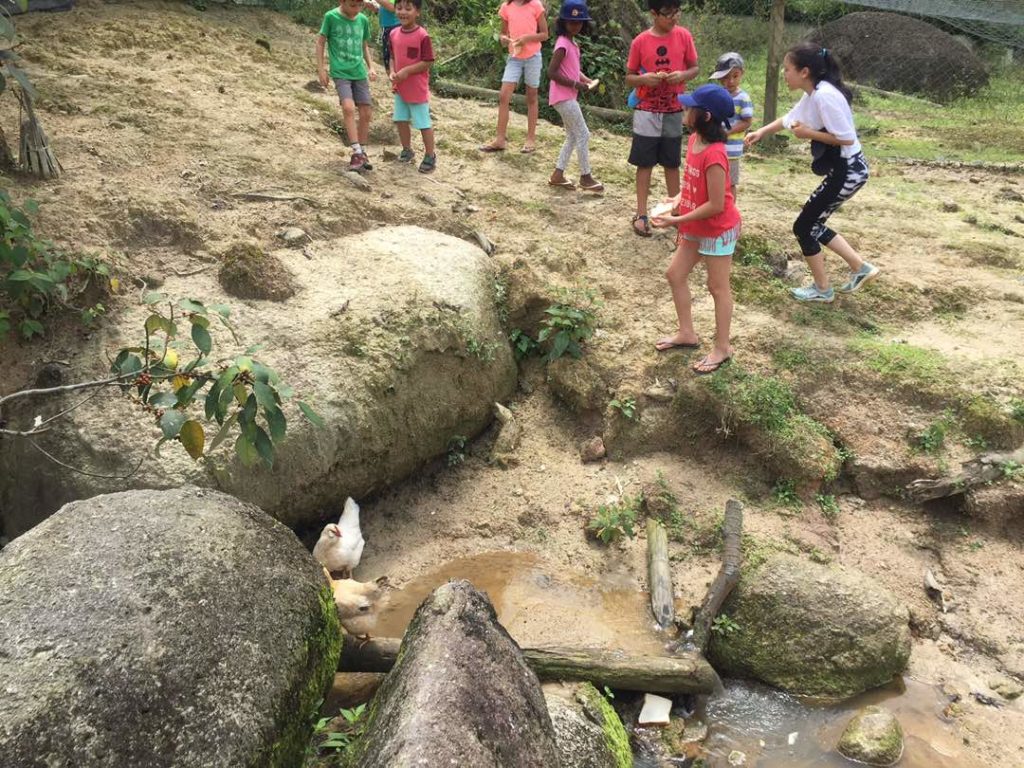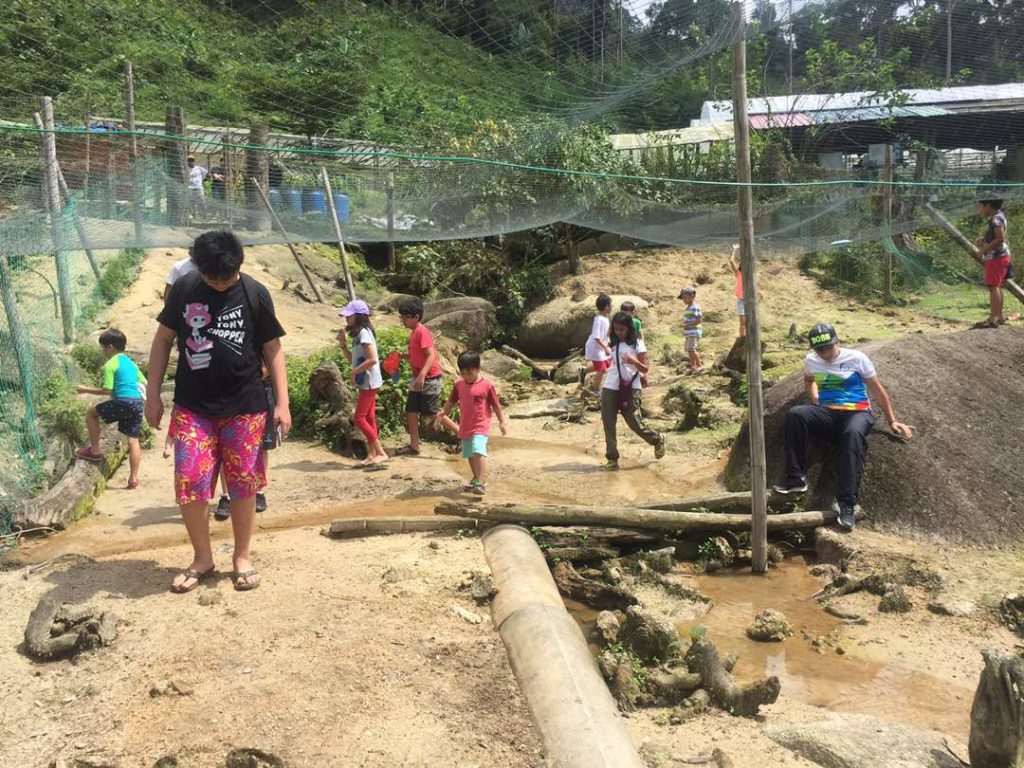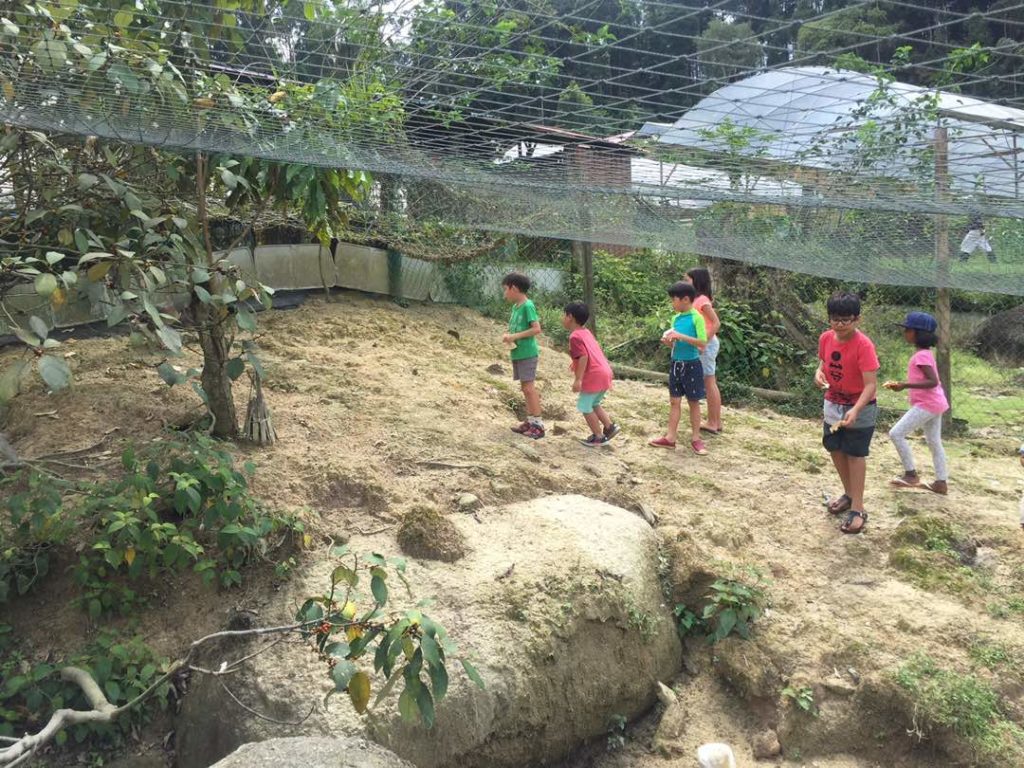 There are also goats, wild boar, tons of puppies, and other animals on the farm. My phone died so I couldn't take any pictures. Mr Ninja's phone died near the beginning of the tour so… there's only this.
Crossing this bridge with is just a felled tree across a stream.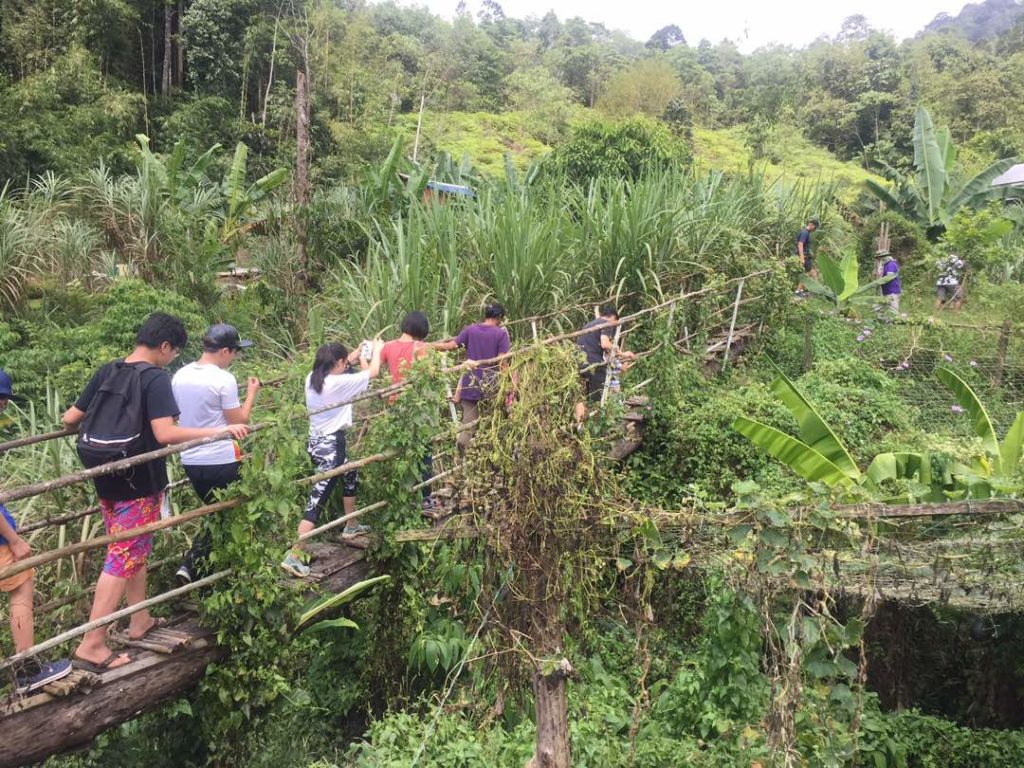 The farm workers live on the farm in these small wooden houses.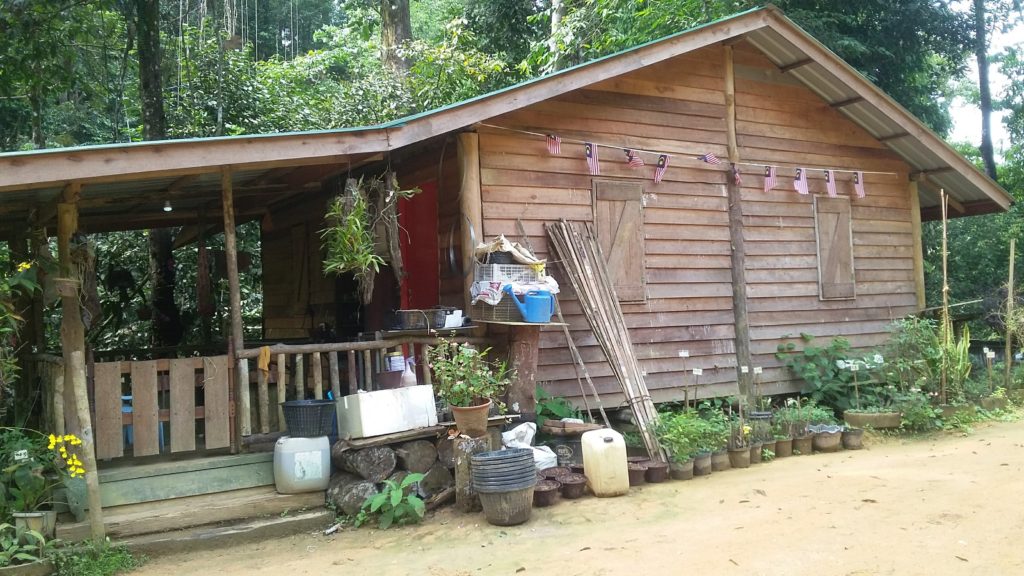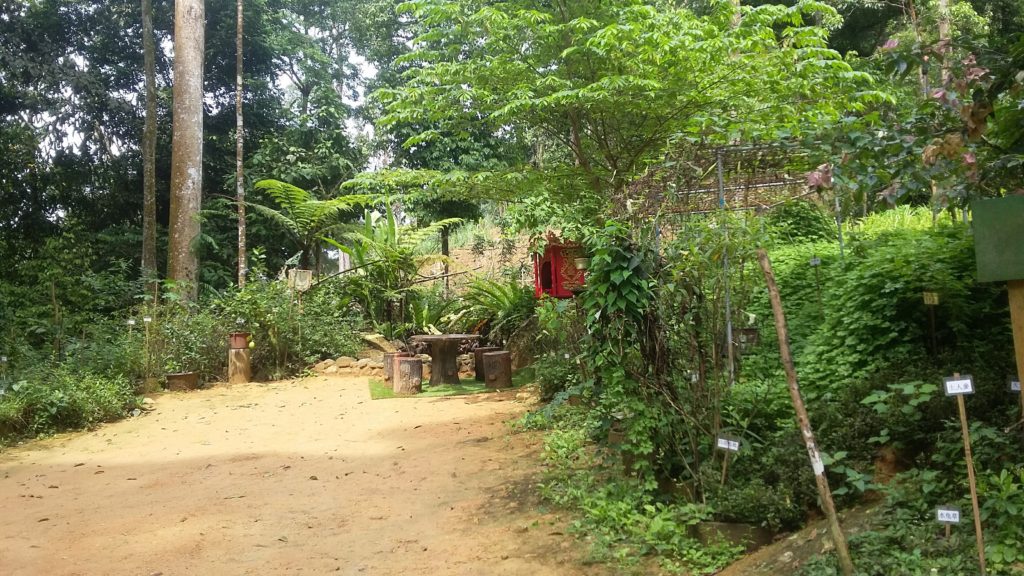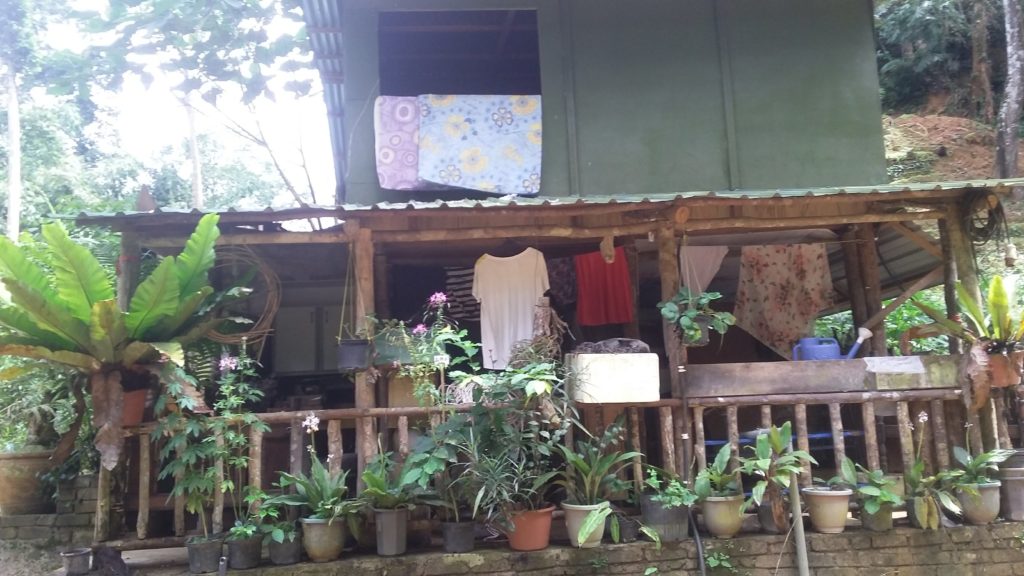 I think the tour lasted around an hour? We walked all over the farm. Saw giant spiders and different breeds of chickens and rows and rows of vegetables.
We got back to Mother's Kitchen and they had prepared hot tea and corn on the cob. There was an ice cream man waiting with his motorbike. The kids were excited. Everybody ate. Everybody was exhausted. It was 3pm. We went home.
Omg I nearly forgot to show you the toilets
The one I went to was up a hill, halfway between the main farm and the camping site. It was hidden behind this bamboo wall…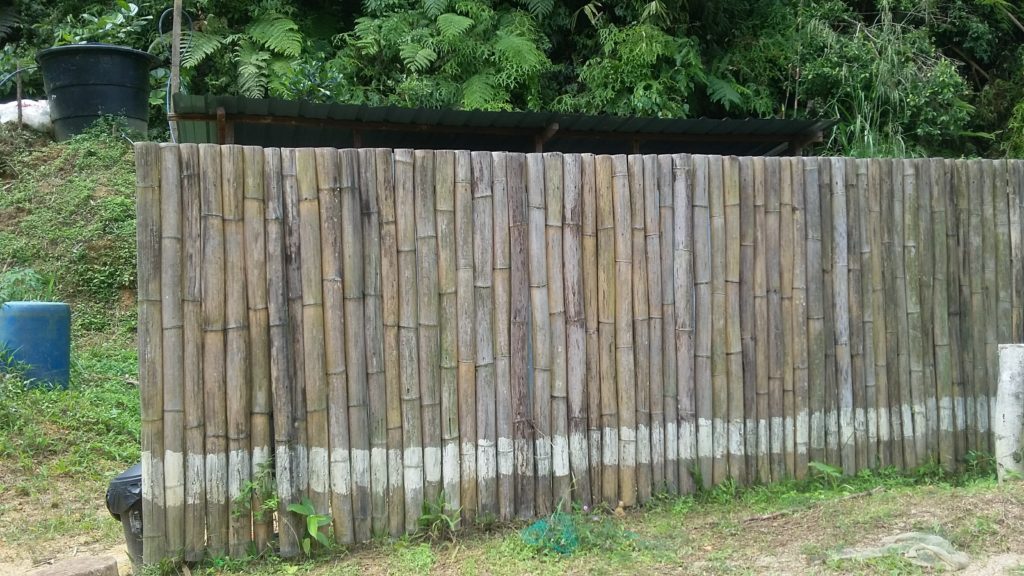 Jeng jeng jennnnng…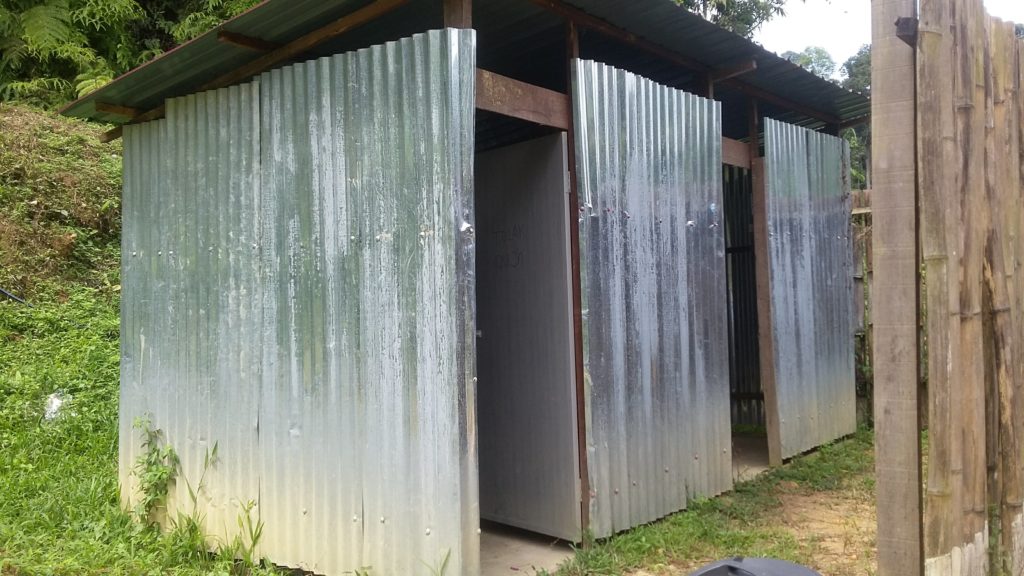 It's actually ok. Very clean with running water. One of the dads said you can only go number 1 and not number 2. But I didn't see any signs at this toilet so maybe you can? I don't know. There are showers available too. Fancy-pants camping.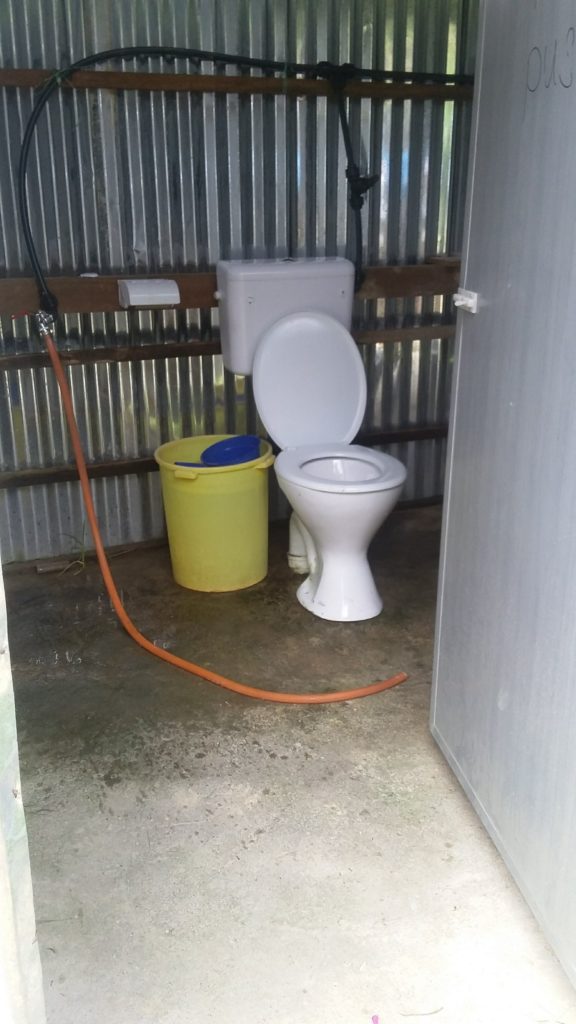 Father's Organic Farm final thoughts
This is a place that the Ninjas would never willingly visit just for fun. But, since we had to go, we did have lots of fun. The farm is beautiful, the waterfall is ace, the tour was great, the food was meh. The owners are very friendly and helpful. They were an hour late to show up though, which I still think is not so cool. But maybe something unexpected came up that morning that caused them to be late.
It was good. I like it. Not going back though. But I like it.
Details:
Father's Organic Farm
Location: Jalan Batang Kali, 4km from Gotong Jaya, Genting Highland.
Opening times: 9am-5pm, Mon-Fri / 8am-5pm, Sat-Sun
Contact: 010-808 0998
Admission fee: RM48 per adult | RM38 per child (aged 3-11) | FOC for children below 2 years old
Fees include: Organic lunch, farm walk, farm study, animal feeding, jungle walk to the waterfall, and bee farm (we didn't get to see this why?)
More information at the Father's Organic Farm Facebook page!
Facebook Comments