Hafiz gets married :)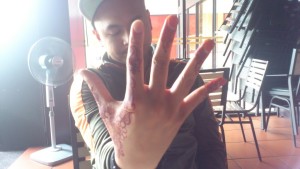 Hafiz got married last week. Was it last week? I can't remember. He came to work with inai. It's pretty. For privacy issues I can't post a picture of his beautiful wife. She is beautiful.
Last week my family and I went out for dim sum lunch at One World Hotel. I called the hotel in advance to check what time they opened. The guy said 11am so I pack the babies in the car the next day and my parents met us there at 11, only to find it only opened at noon. Such bad hotel service. Don't know what time your restaurant opens? Really? Anyway, we walked around One Utama for an hour and I brought my mum to Garretts to see their awesome popcorn. She was so excited and wanted to buy a pack. So we queued up behind a lady. Shortly after my mum whispered to me in a voice far too loud to be considered a whisper "Eee! That woman buying SO much." I looked at the woman, and sure enough the girl at the counter was scooping up heaps and heaps of popcorn from each section into what looked like a sack. I think she bought the biggest tin available. I looked a little closer at the woman and realized, that woman is Hafiz's fiancee. Haha. Popcorn hantaran!
I asked him if he received popcorn at his wedding and he looked at me with big round eyes and said "GODDAMN YEAH, BIG ASS TIN" Hahaha. He's so eloquent.
Facebook Comments