I inherited ONE BILLION FIVE HUNDRED MILLION DOLLARS – Thank you Mr Tai Bei
Last month I received this email:



Now why would Hamilah binti Kasim, who has a legitimate government email address from the ministry of health, be emailing me on Saturday evening about a business idea and state her name is Mr Tai Bei? I was so excited to be chosen for a scam. I just couldn't resist but to reply:



And then I discovered I would not be making thousands, nay, not even millions, but that I was gonna be a BILLIONAIRE!!


Here's the follow-up email: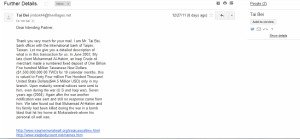 The email is so long I couldn't print screen the whole thing; I highlighted the important bits:


"After further investigation it was also discovered
that
Muhannad Al-Hakim did not declare any next of
kin in his official papers
including the paper work
of his bank deposit. And he also confided in me the
last time he was at my office that no one except me
knew of his deposit in my bank. So, the Forty Four
million Five Hundred Thousand United State Dollars is
still lying in my bank and no one will ever come
forward to claim it. What bothers me most is that
according to the laws of my country at the expiration
of Six years Six months the funds will revert to the
ownership of the Taiwan Government if nobody applies
to claim the funds.
Against this backdrop, we still have about two more
months left for someone to come up and claim the
funds as next of kin to this fund. My suggestion to
you is that
I will like you as a foreigner to stand
as the next of kin to Muhannad Al-Hakim so that you
will be able to receive his funds and for the money
be pulled out from my bank and out from my country
.
WHAT IS TO BE DONE?
I want you to know that I have had everything planned
out so that we shall come out successful. I have
contacted an attorney that will prepare the necessary
documents that will back you up as the next of kin to
Muhannad Al-Hakim , all that is required from you at
this stage is for you to provide me with your details
as below:
Full Name:
Contact Address:
Occupation:
After you have been made the next of kin, the
attorney will also file in for claims on your behalf
and secure the necessary approval and letter of
probate in your favour for the move of the funds to
an account that will be provided by you.
There is no risk involved at all in this matter as we
are going to adopt a legalized method and the
attorney will prepare all the necessary documents.
Please endeavour to observe utmost discretion in all
matters concerning this issue. Once the funds have
been transferred to your nominated bank account we
shall share in the ratio of 70% for me, 30% for you.
Should you be interested
please send me your full
names and current residential address
.
Finally after that I shall provide you with more
details of this operation. Your earliest response to
this letter will be appreciated.
Kind Regards,"
Notice how he used a different email address? Basically, a super rich crude oil merchant from Iraq died in the war and left no heir and Mr Tai Bei wanted me to take the money as a next of kin. Imagine that. Tsk tsk. Mr Tai Bei, you so naughty. 

I wanted to see what kind of 'personal details' he would come up with. I really wanted a relationship with Mr Tai Bei. Ahh… But alas, it was just not that kind of scam.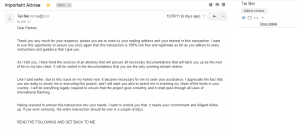 This is the following from the email:
I need your total devotion and trust

to see this through. I know we have not met before, but I am very confident that we will be able to establish the necessary trust that we need to execute this project.
I shall advise you on the bank I want you to open an account in which has corresponding working agreements with my bank and shall have no problems with regards to the transfer of the funds to your account there.
You shall also need to open a new account in your name
in your country and this must not be your existing account,
the two accounts must be new accounts
. The funds once transferred from my bank to your offshore account, I shall advise you on how the funds can be transferred to your account in your country using the bank's online facility. This is the best way I have found, it will protect us from my bank and the monetary body. I want us to enjoy this money in peace when we conclude. So I advise that you follow my instructions religiously.
Also you have to know that I cannot transfer this money in my name as my bank will be aware that it is from me. This is where I need you. I will not request any up front charges from you to me over-here in Taiwan. But
you will be in charge of providing the minimum account opening balance that is needed to activate the offshore account.
Setting up an offshore account is not expensive as I have inside knowledge, as one who has being in the banking firm for over two decade now. I will obtain a certificate of deposit from my bank and letter of administration from the Probate registry, it will be issued in your name. This will make you the bonafide owner of the funds. After this, the money will be transferred to your offshore account and then you can transfer the funds to your newly opened account in your country.
We can then instruct your bank after the money has been transferred to your newly opened account to transfer our various shares into our respective home bank accounts. I will also perfect the documentations with the assistance of my attorney to give the transaction the legal right.
Kindly
provide me with a copy of your identity(driver's license or international passport
). I will attach my Identity card to you after I have seen yours for your perusal and trust.  Our local telephone lines could be intercepted easily, so they are not safe for this transaction. For this reason I am arranging for a more secured means of communication.  Meanwhile, you can reach me via this email pending when all arrangements for the confidential phone number and fax number has been completed.
Ensure that you keep this project confidential because of the nature of this transaction and my work.  Please reply soonest.
My sincere regards,
My favourite part is when he says phone lines can be easily intercepted and are not safe, but emails are super secure 🙂 

Well, it turns out he doesn't like reading either. Because his next email was still crazy long.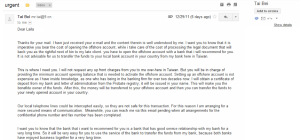 I want you to know that i have planned everything out, so i suggest you follow my instruction and let conclude this transaction without the monetary body of my bank raising eye brown. Please see attached for certificate of deposit and my family photos. I also need yours identity passport too for my perusal view.
I need your consent so that i can send you the contact details of the bank to setup the offshore account.
I look forward to your swift response to my mail.
Tai B.
I was so disappointed that he copy/pasted several paragraphs from his previous emails. No creativity. Like hello? You're trying to steal several thousand ringgit from me and you can't even change up the emails a bit? Hmpf. Mr Tai Bei. You lazy asshole.
And then, right at the end of the email, were these attachments: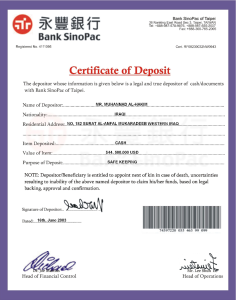 So fake, one can only lol. LOL.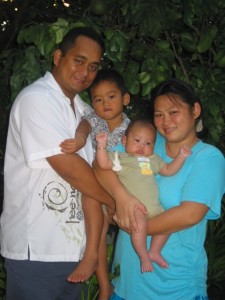 This was titled 'Happy Family'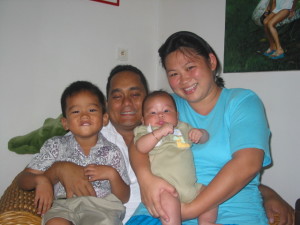 This was titled 'Happy Day'
I am so intrigued to know who this family actually is. Do they know they are being used as part of a scam? I wonder if they get a cut?

Perhaps that was his real baby. And he was offended. Because he never replied after that 🙁 Lol.
Facebook Comments