Internet losers.
This is what people have been searching for in the past week to end up at my silly blog.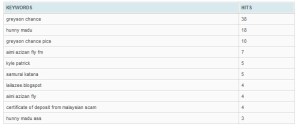 I think Pagi Rock Crew made Aimi Azizan a superstaaaaaar after Hafiz and Prem pranked the creep that stole her phone number from a P&C slip then started stalking her. Dude, if you are reading this, you are a loser. Don't take down phone numbers of random pretty girls then continually text and call them when they DO NOT reciprocate. If you like someone, introduce yourself face-to-face and ask for their number. If they don't give it to you, that means they do not like you. Get over it. Loser.
And people, 'hunny madu ass'. Really? I mean, really?! Hunny does have a fantastic ass but what exactly are you hoping to find when you enter 'hunny madu ass' into a search engine. An article about her ass? Pictures of her ass? You, too, are a loser.
Last week someone searched for 'Hafiz, Hunny Madu and their sister'. Stalker. Why are you looking for their sister? Loser. She's very cool by the way. And a back up dancer for Hunny. You can see her shake her stuff in Hunny's music video 'Miss Strong'. Go google that. She looks like Hunny.
Up to now there are 8 articles about Hunny Madu on here if you are interested. I warn you though, they are retarded like me.
I never knew Greyson Chance had so many fans. Most of them seem to be from the Philippines. If you are reading this and you are from the Philippines, magandang araw! Mahal kita. <– that's funny, because in Malay that means 'we are expensive'.
That's all.
Facebook Comments