You HAVE To Go To Kiddomo Universe In Starling Mall. It Is The Coolest Place Ever!
Today, we went to Kiddomo Universe in Starling Mall and IT IS AMAZINNNNGGGG!!!
It's a combination of an educational theme park, activity zones, play areas, and all-round mindblowing super fun I cannot stress enough how much you have to bring your kids here. It is so cool. And now they have a Baby Gym inside too!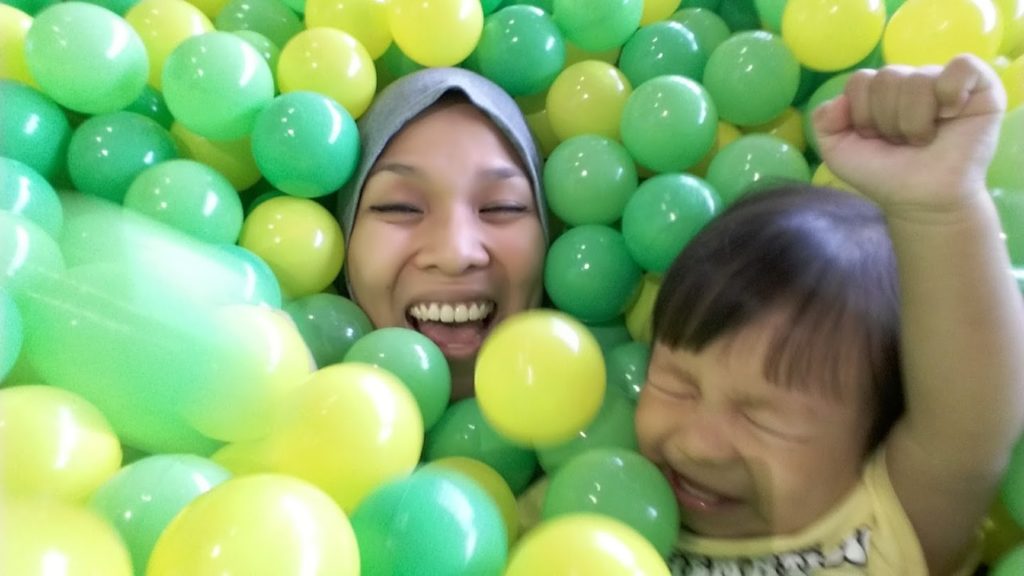 Kiddomo Universe details:
This is a super long post so I don't want you to miss out the vital info!
Location: 3rd Floor, Starling Mall, Uptown Damansara Utama
Opening Times: Daily, 10am – 10pm
Price:
Normal price – RM65/child, RM15/adult, free for kids under 2 and senior citizens
VIP Member price – RM45/child and I didn't listen to what the guy was saying because I was busy filling out the membership forms and cannot multitask, plus there's a special promo now and membership is free so you better go and sign up.
Hello Kiddomo!
The kids ran to Kiddomo and were instantly ooh-ing and aah-ing over the entrance.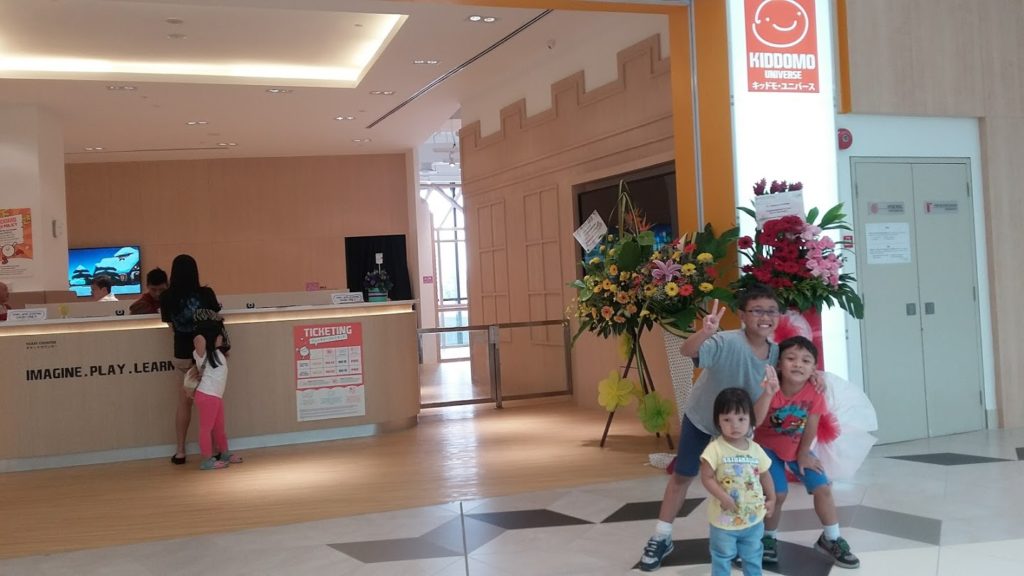 Mostly because there's a Baby Shark family area. By the way, the real Pinkfong and Baby Shark are coming to Malaysia to perform a mini concert, you should bring your kids to that too.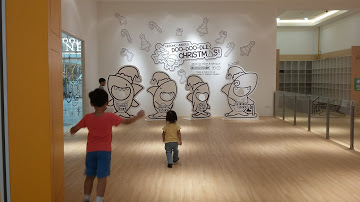 Oh, I just realised from looking at this picture that there's some sort of contest going on. They didn't tell me. I want to know and enter and win. I don't even know what the prize is. Kiddomo Universe, if you are reading this, let me know how to enter lol.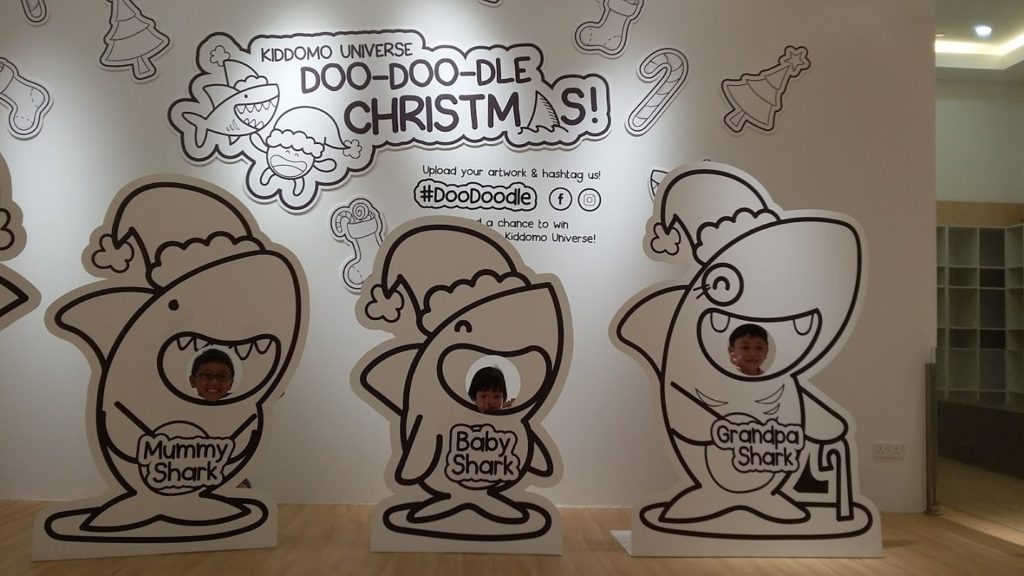 Getting our super cool smartbands
Kids under 2 are free, yay Aisha! The boys were RM65 each (RM45 each for VIP Members), and my ticket was RM15. The paying guests each receive the coolest wristband in existance – the smartband.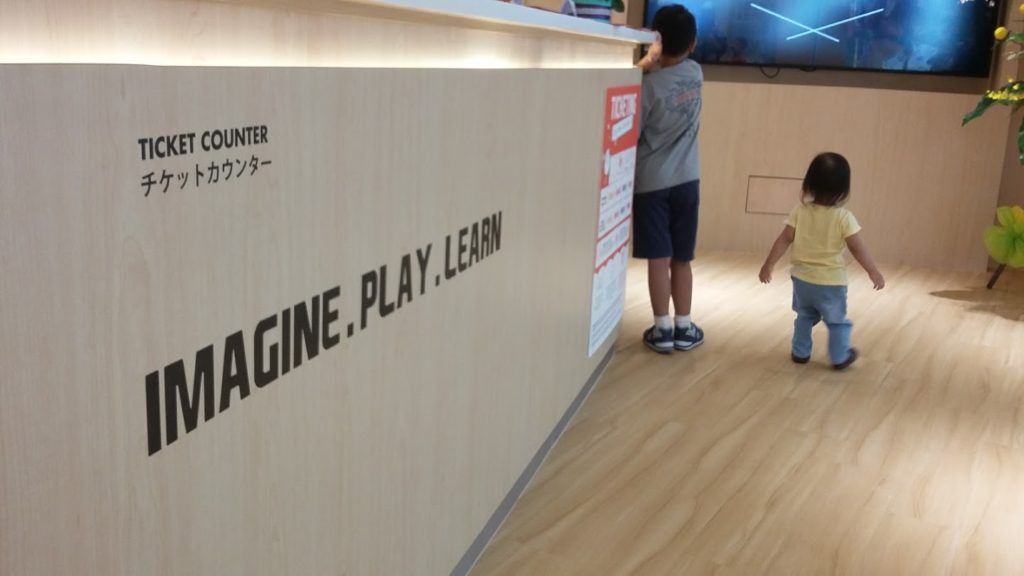 Aisha not invited to the picture because she doesn't get a smartband haha.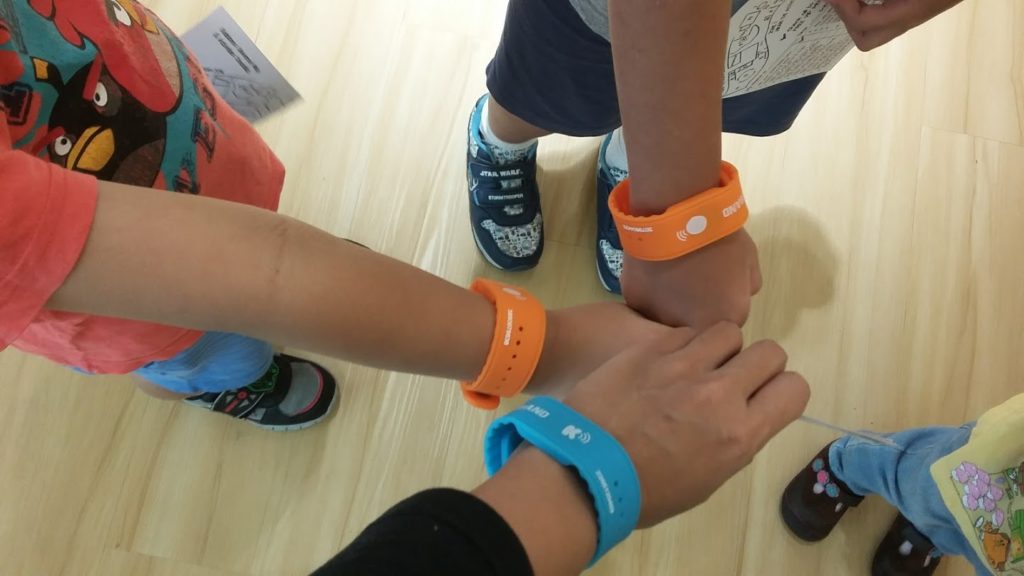 This is so much more than the usual paper wristband ticket you get at other playgrounds. This silicone (I assume) band has a sensor inside it. It's like an ID tag for you, for the rest of the time you spend in Kiddomo Universe. I don't know how to explain it because I don't know how it works but it's cool ok. Just trust me.
There are A LOT of things to do at Kiddomo Universe with two main zones – Hikari (The Active Zone) and Yume (The Dream Zone). You have to start with Hikari, there's a sequence to the activities. So here's the breakdown of Kiddomo Universe:
1. Create your avatar to start the journey
Be sure to wear socks because this is a shoe-free universe and socks are a must. The first stop is Selfie World! Sounds a bit meh but actually it's just where you create your avatar that will follow you throughout the day.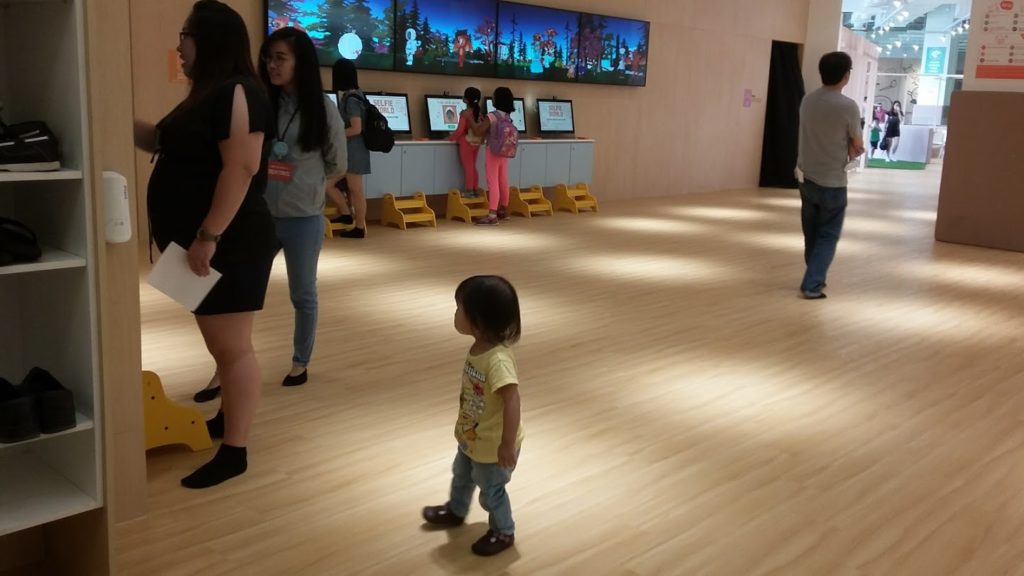 There are plenty of super helpful staff members at every stop to help. You will definitely need help the first time you go. It's a bit confusing. Anyway, you scan your awesome smartband at the orange sensor, then take a selfie and choose a costume. Ta-daaa the cutest avatar in the world. That's assuming you're cute. If you're not then it'll just be an avatar of your un-cute face.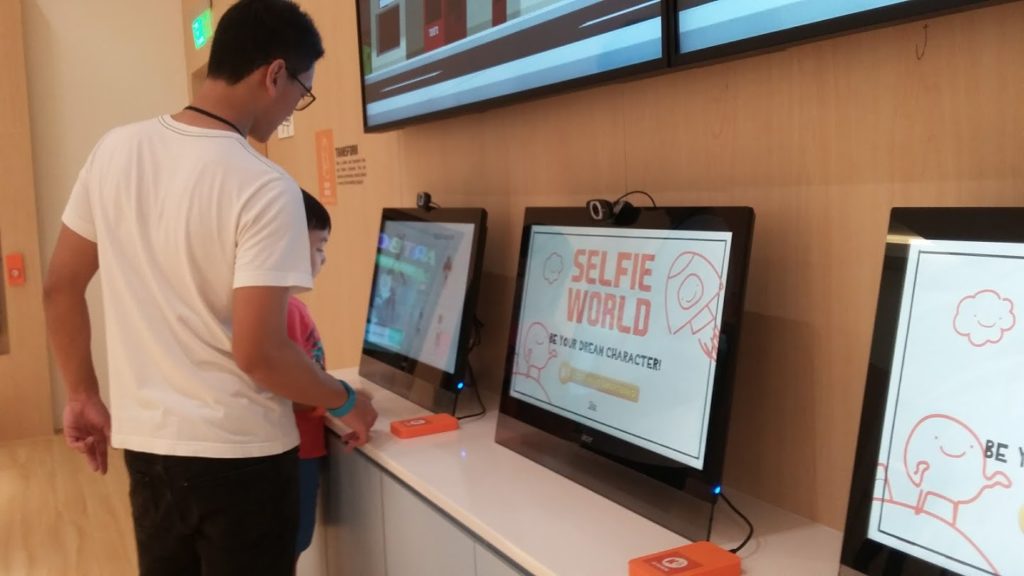 Aisha and Ayub's avatars appeared on the screen above once they were done and it was the funniest thing. There are so many costumes to choose from, most of them of people in careers (like Ayub's policeman), and Aisha chose a dragon. Sulaiman didn't know what to choose so he copied Aisha and chose a dragon too.
2. Becoming an artist by destroying actual art
The next station is Art Box.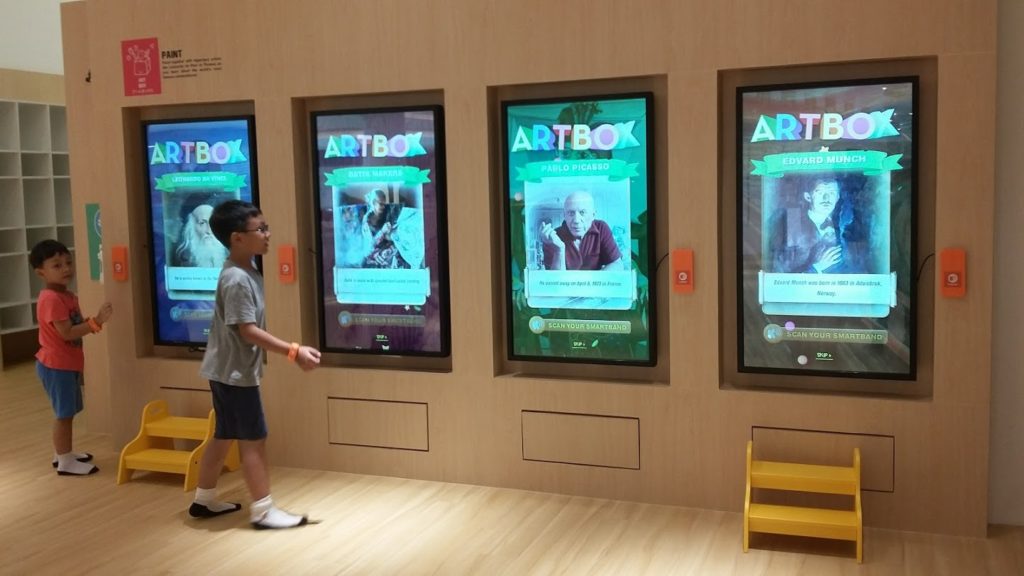 There are four touch screens, each with a different artist. Scan your smartband to get started. Then a painting will pop up and you can customise it with stickers and stuff. Once you're done, you save it and it's stored in your avatar profile. So you can see it laterrrrr.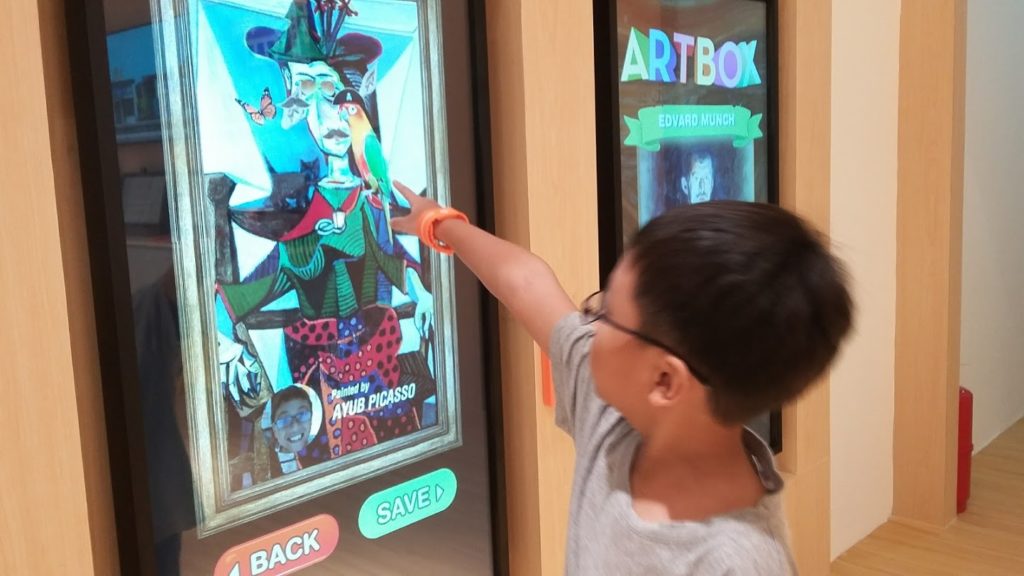 Ayub did something to a Picasso, though to be honest it still looked very Picasso-esque at the end. Aisha played with batik patterns and Sulaiman defaced the Mona Lisa with multiple stickers of Saturn.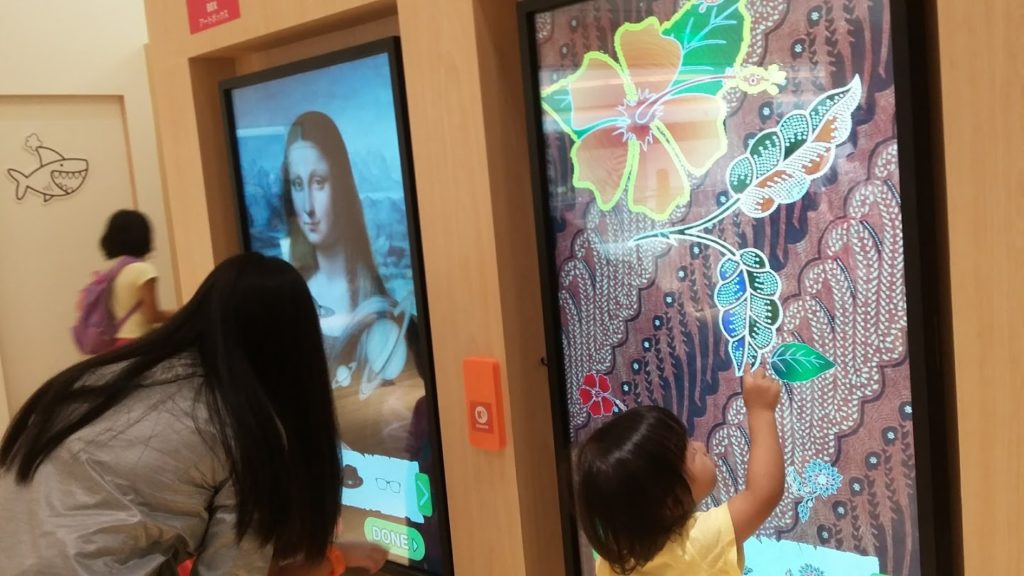 3. Watch your 2D colouring transform into a 3D animation
So up til this point, the kids and I were like "ok this is nice, we like it". But once we entered Toon Planet… totally mindblown. I do not use that word lightly. MIND. BLOWN. Maybe I'm just super noob but it was the start of the coolest day ever.
You enter a dark room with animations projected on the walls of a cityscape. Then you choose a vehicle to colour on paper. Sulaiman took a rocket (he likes outer space), Ayub went with the hot air balloon (he recently learned the word and says it all the time), and Aisha took the van (she loves cars and trucks).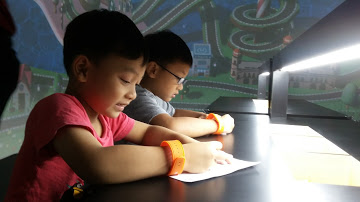 Colour your creation with the crayons provided. Check out Sulaiman's masterpiece below: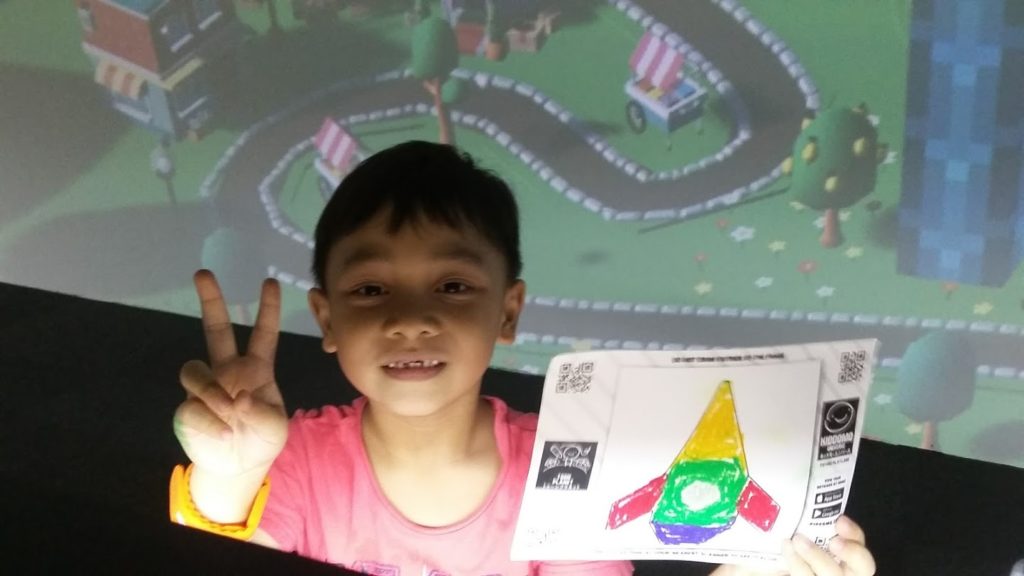 Thennnnnn… you scan your smartband at the orange sensor and that machine scans your coloured-in drawing.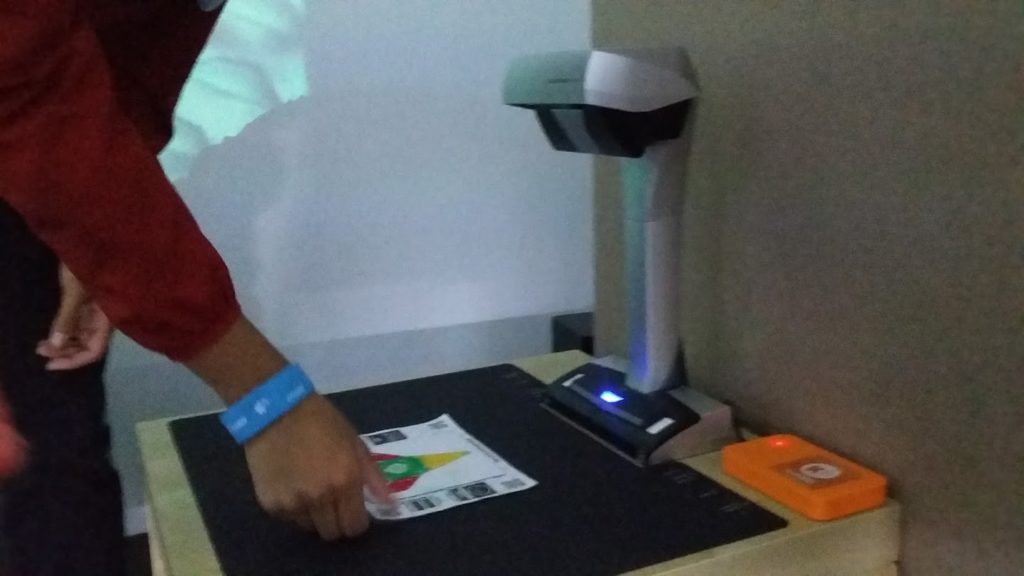 AND THENNNNN it becomes a 3D animation that's projected on the walls and flies (or drives) around OMGOMGOMGOMG.
That's Sulaiman's rocket flying around! Seriously, I have never seen anything like this before. If it's really common then I apologise for my noobiness. I am so noob. And this was the coolest thing ever. The kids and I were collectively losing our ish.
We were the most excited with Aisha's van though. Here she is looking adorable with her empty van template .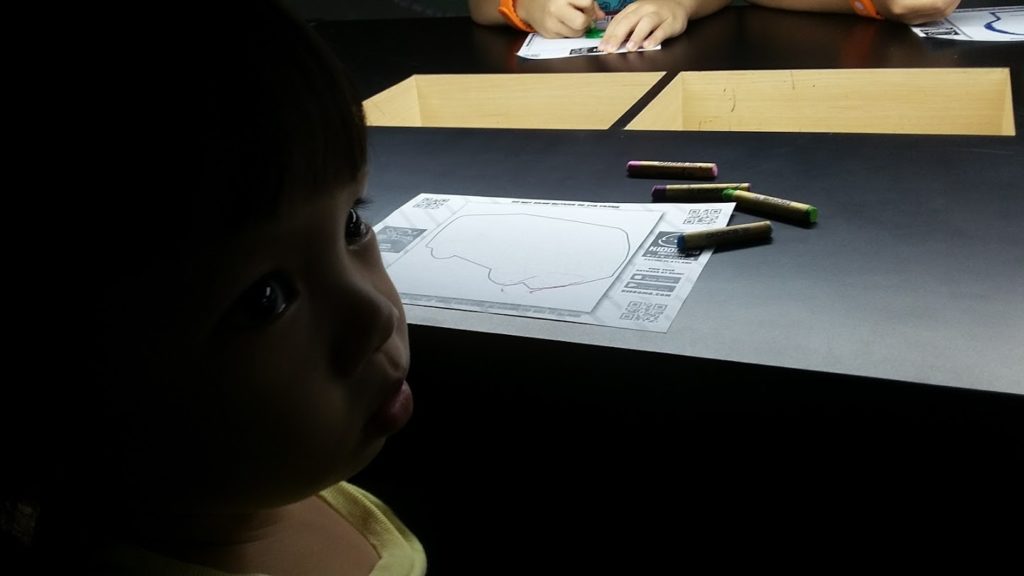 After colouring in: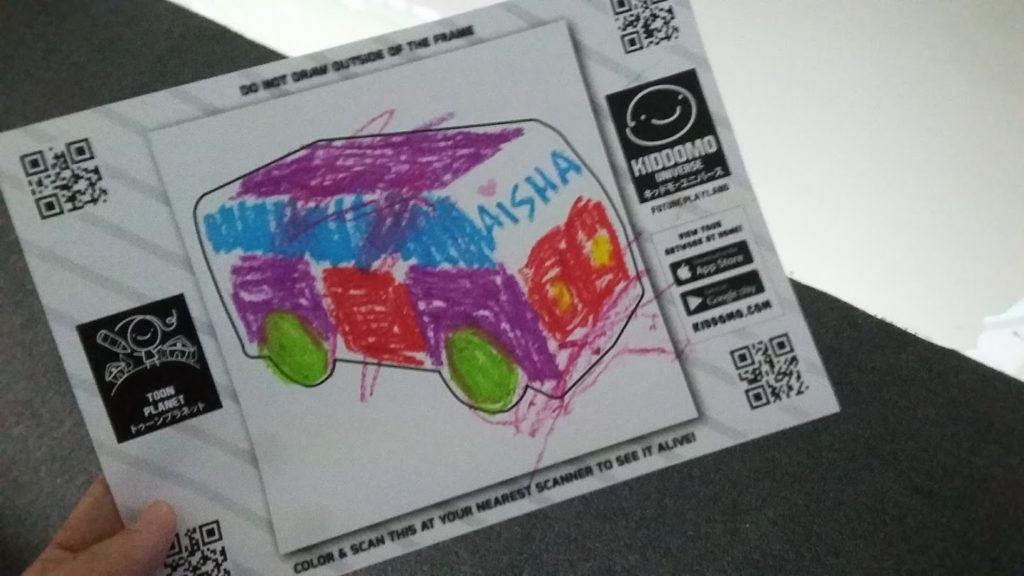 Scanning: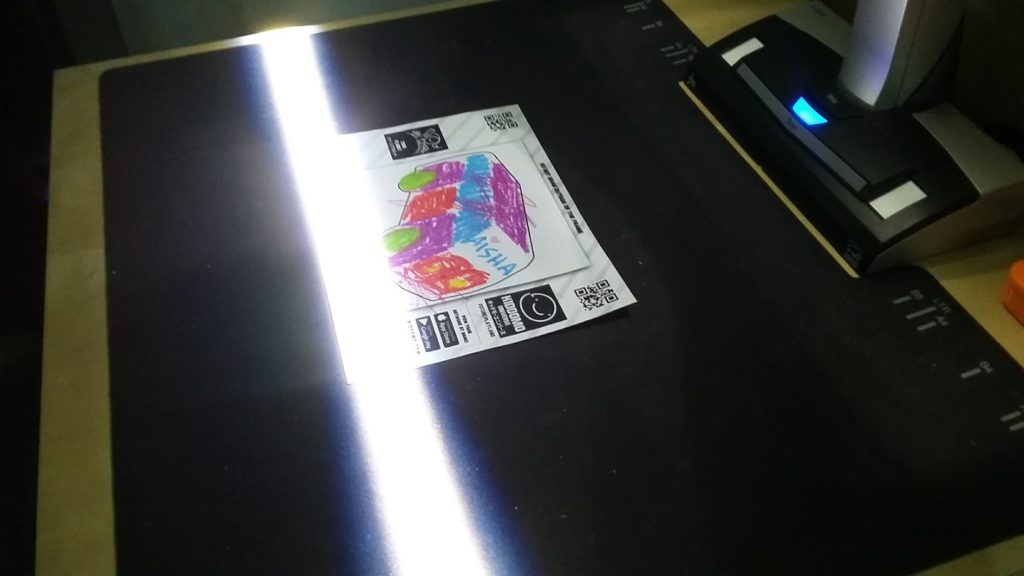 Get ready to see how ridiculously cool Kiddomo Universe is:
Ayub going cray and chasing Aisha's little purple van around the city: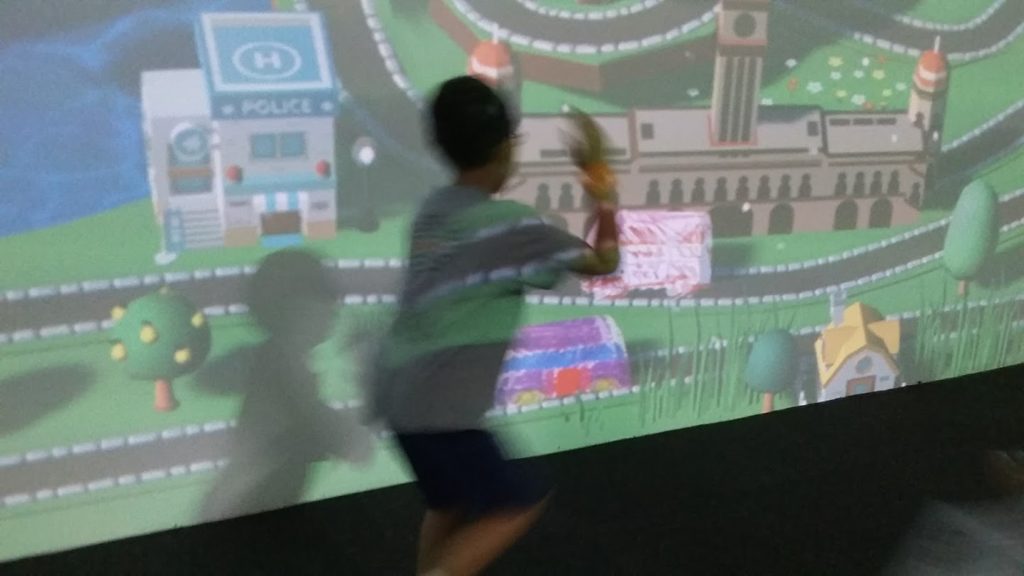 4. Making a 3D model of your creation
You can colour as many vehicles as you want and continue scanning them to join the cityscape. Then you can print it out to create a 3D model of it.
5. Looking for dino eggs in the giant ball pit
The kids LOVE the ball pit. Especially Aisha. It's quite deep. Aisha is completely covered when she sits down and is generally unable to walk in the pit. But she still loved it the most.
The super cool thing about Dino Discovery is that it's not just a playground in a ball pit, there are large hidden "dinosaur" eggs in the pit. Once you find one, you bring it to a special egg scanner and you have to work as a team with whoever is there to press giant buttons that light up, in order to find out what dinosaur you found. Something like that.
It got all the kids talking and working together to search for eggs and scan them. Amazing. None of the adults had to do anything. It was their own initiative.
6. Yume (The Dream Zone) has tons of different activities
This post is getting super long so I'm just gonna wrap it up and put all the activities from the Dream Zone in one pointer. There's seriously a lot of fun things to do here.
Magic Mirror
You can't see what's on the screens but basically you're controlling your avatar and you have to pop as many balloons as possible. Sulaiman's high score was 17. Ayub got 11. Aisha was too small to be detected by the camera lol.
Musical Maestro
Ayub is conducting an orchestra. Not sure what was supposed to be going on but he said it was super awesome and he was super good at it. Sulaiman didn't try, he was too busy trying to get on the leaderboard for Magical Mirror.
Fantasy Space
A large circular area with giant rubber balls that light up and change colours every time you roll them. Super pretty. Very fun.
Ocean Alive
Colouring different sea creatures with crayons and scanning them so they can swim around in the giant animated aquarium on the wall. The kids were so pro by this point, they were colouring and scanning multiple creatures at a time. Ayub's fish, dolphins, and penguin were either super realistic or zombies. Sulaiman's aesthetic was to write his name all over as many creatures as possible.
Aisha and I made a special seahorse for Ayah.
Ayah's seahorse lives!
Luna Slider
You gotta slide a certain way to pop as many shapes as possible and get a high score. Aisha forced me to do this with her and I nearly died we slid down so fast because I'm so fat.
Magic Academy
You have to break into a castle and slay a dragon by following the commands on screen and using a wand. It's much harder than it looks. My little Gryffindor and Ravenclaw did their houses proud. Baby Slytherin was more interested in watching and judging her brothers.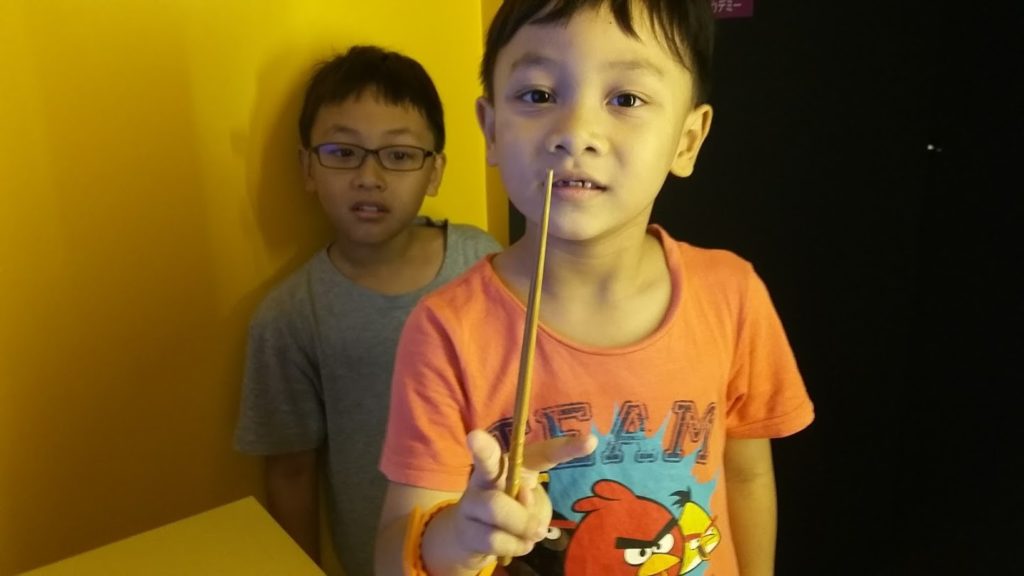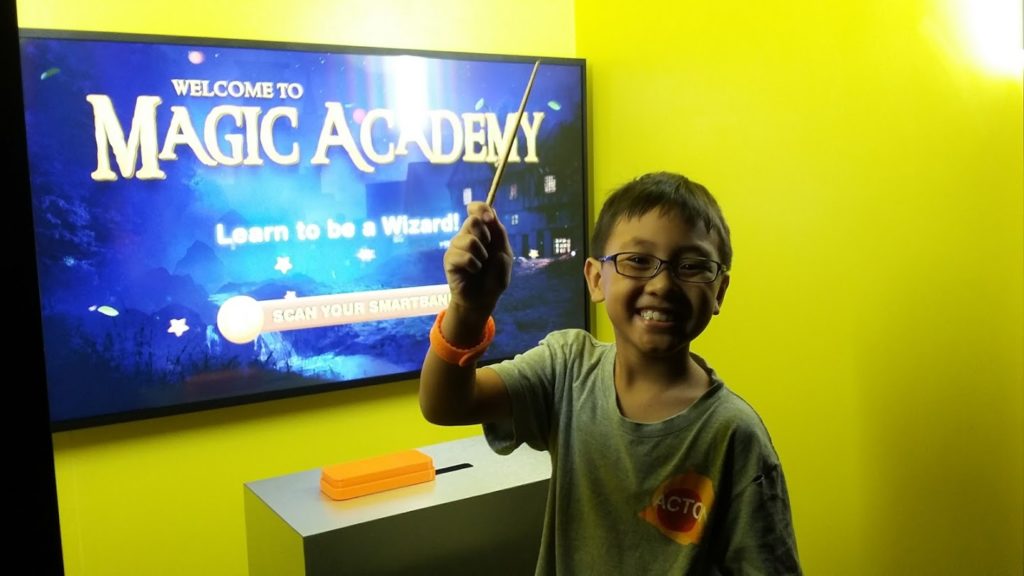 Kara O Kid
You pick a song and background, then karaoke in front of a green screen to create a music video. Sulaiman loves singing but he was too shy. So me and Ayub sang together in perfect disharmony with many wrong words and giggles and it was so fun until I realised that what we were doing in the studio was shown on a giant screen outside WITH SOUND. Hahahahaha.
Pro tip: Do not choose a Justin Timberlake song. Falsetto is no joke.
The only bad thing about Kiddomo Universe is their lack of lunch options
There's a cute little cafe next to the dinosaur ball pit but they only have cake and cookies and like 3 tuna sandwiches. It's a shame because the kids were having so much fun and we would have loved to stay longer to play, but it was 1pm and they were super hungry. It wouldn't be a big deal if you were allowed to leave then re-enter, but their policy doesn't allow for re-entry. So once you leave Kiddomo, that's it. You'd have to pay that RM65/kid to get back in.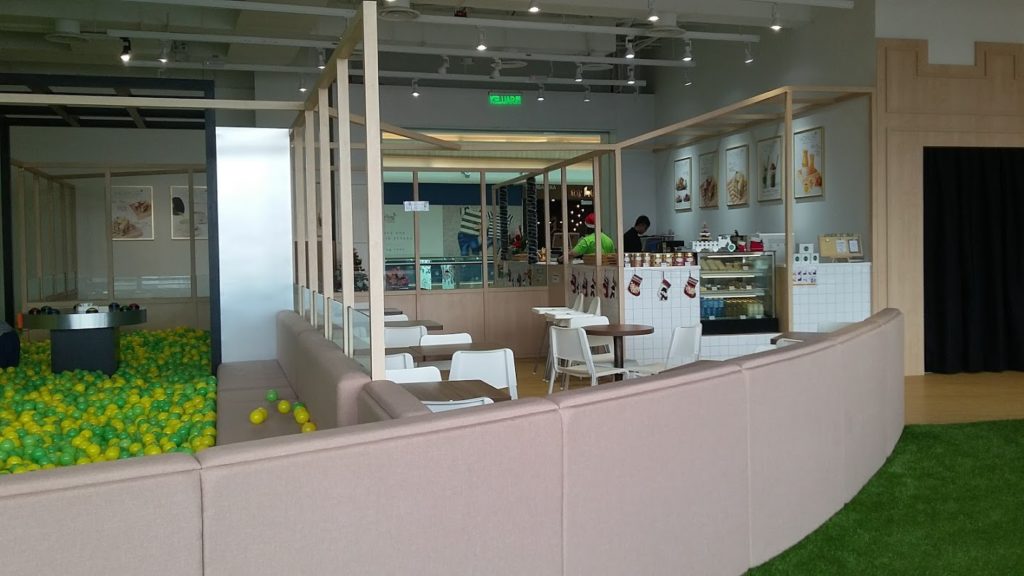 I told the staff that the whole place was awesome and recommended they introduce simple kid meals at the cafe. Easy pasta or a simple bento box. More revenue for them and happier kids at the same time. I hope they do.
Anyway, we had to leave because we were really super hungry after all the many activities. Luckily Kiddomo is right next to the food court so we had Lim Fried Chicken and the boys wiped their plates clean. Aisha had half a mound of rice, two boiled eggs, and a chicken drumstick. Power.
Final thoughts
I really really super love Kiddomo Universe at Starling Mall. I've never experienced anything like it. The boys said they had fun and it was "sooooooooo awesome." But they added that they love Jungle Gym and Dreamworld Playland the same amount. I guess they just don't see how cool the whole scanning and 3D-fying and animating your picture is.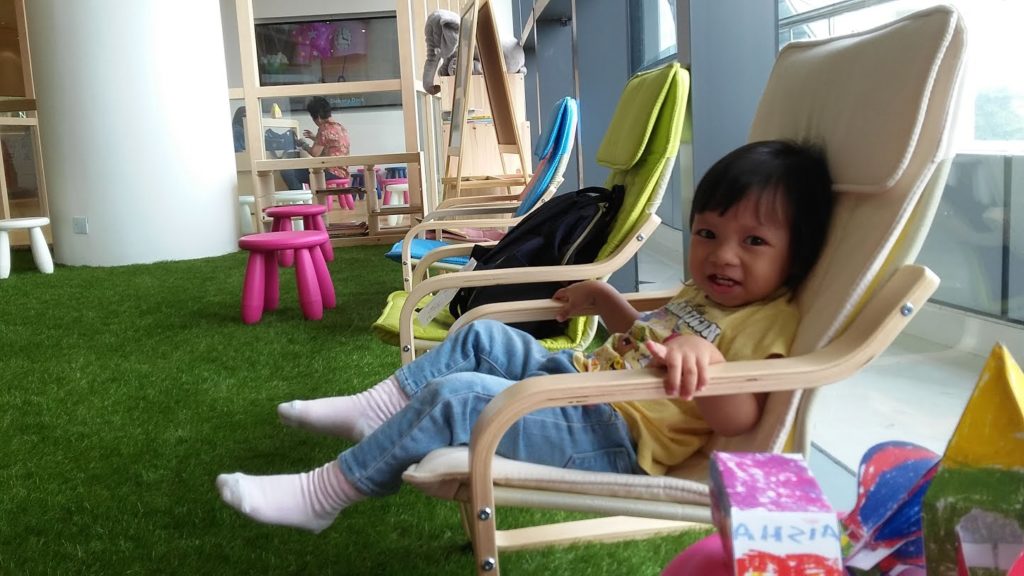 100% recommend Kiddomo Universe. It is so cool. Loads to do. Staff are super helpful, friendly, and well-trained. The whole place is so clean with hand sanitizer readily available. So so good. 5 stars from the Ninja Housewife. Find out more at their Facebook page here.
Facebook Comments