Mama's Playground Review – Dreamworld Playland @ Starling Mall
I love Starling Mall because it's new and very rarely crowded. Dreamworld Playland is an indoor playground located inside, designed to be a sort of winter wonderland. If you're planning on going, be prepared to have their theme song stuck in your head. They play it on repeat. Non-stop. Throughout the day.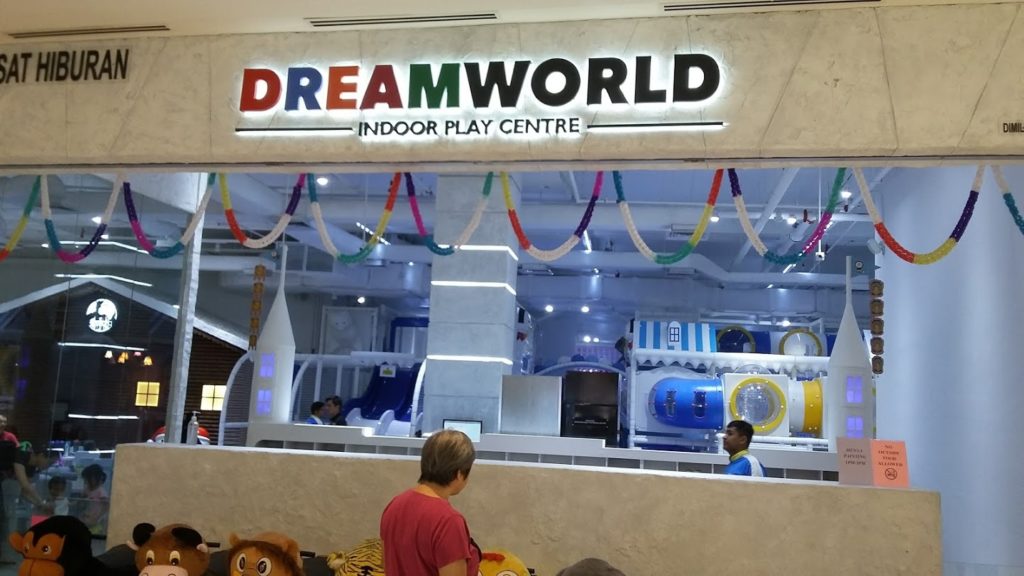 Variety of Activities
There's not a lot of variety. It's a big three-level jungle gym with four different slides and lots of obstacles and climbing. Not very toddler-friendly. It's quite small but still provides several hours worth of solid entertainment and exercise for the kids. The boys LOVE it.
What's inside?
Slides
Crawling tunnels
Three levels to explore
Fun obstacles
Lepak area
Block-building area
No designated toddler area.
Lots of climbing and exploring to do!
With three levels to explore in Dreamworld Playland, I hardly saw the boys as they disappeared into the jungle gym. It's a very nice playground but I really don't think it's worth the hefty price tag, simply because it's very small with limited activities.
Toddler-friendly activities
It wouldn't be so bad if toddlers were allowed entry for free. I mean, there's really very little toddlers can do in general. But for an indoor playground that doesn't have a toddler-designated area, paying any entrance fee is a bit ridiculous.
Free "henna" for Deepavali
As today is Deepavali, they were having a special "henna" session for two hours. It was more of a random face-painting thing but anyway, I thought it was awesome.
Lots of little boys got tiger faces while the little girls got an assortment of pretty flowers across their foreheads.
See Aisha!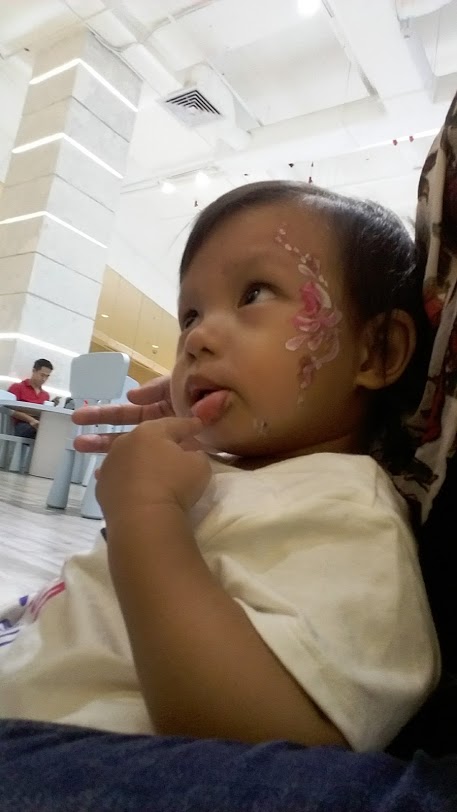 Entry tickets come with a free animal ride
Aisha used to be super scared of these animals but now she loves them so much we had to top up RM10 for a second ride. Ayub zoomed off and overtook his Ayah and Aisha. Then he rode pillion to Sulaiman when it was his little brother's turn. I gotta admit, it feels much faster than it looks. And there's no brake so… I nearly smashed into several people several times.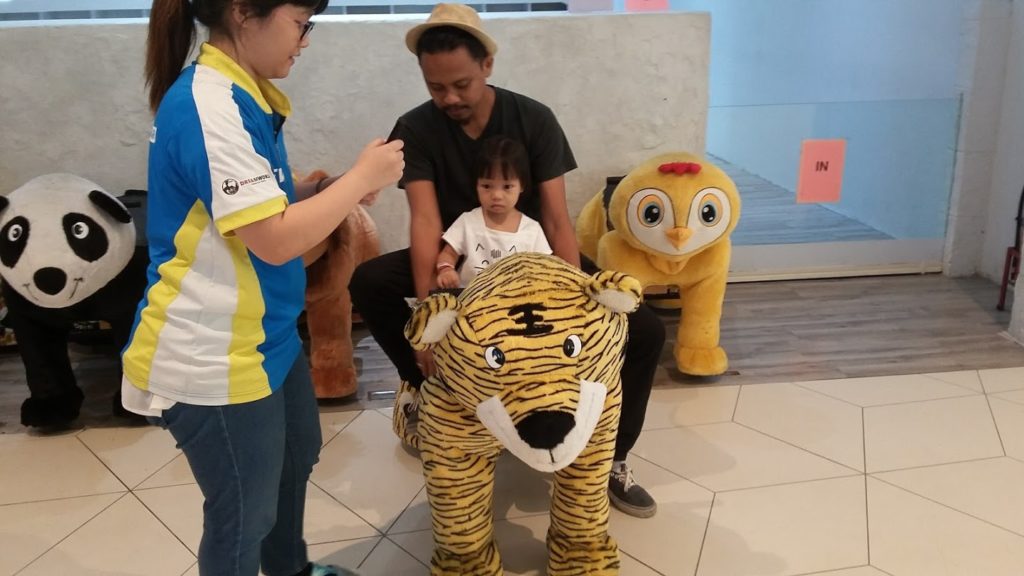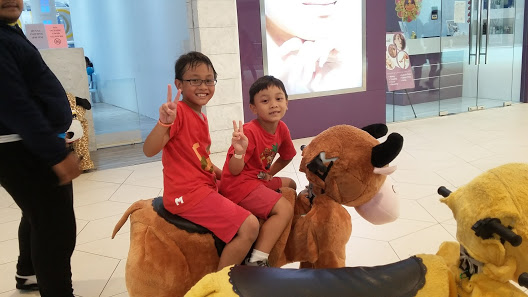 And that's about it!
Cleanliness and Hygiene
Dreamworld Playland is still relatively new so everything is still shiny and clean. They take the children's temperature at the entrance to ensure everyone is healthy before issuing tickets. I appreciate that very much.
There are no toilets in Dreamworld Playland but luckily the public restrooms are just next door. They're quite lax about allowing you in and out. Not sure that's such a good thing. But when you have a Sulaiman who suddenly realises he needs to poop, I guess it's a good thing they don't ask for receipts to check wristband codes or whatever.

Service and staff
The first time I brought the boys here, they were severely understaffed. I mean, there were like two people manning the ticketing booth (which is outside the actual playground) and nobody inside. Today was much better. There's someone watching the largest slide. Usually someone watching the entrance and exit.
Hmmm… they're all very nice and friendly.
Food and drinks
Every adult receives a free bottle of mineral water. The last time I brought the kids, each child received a box of milo. I guess they ran out of milo.
This is all they provide in terms of food and drinks: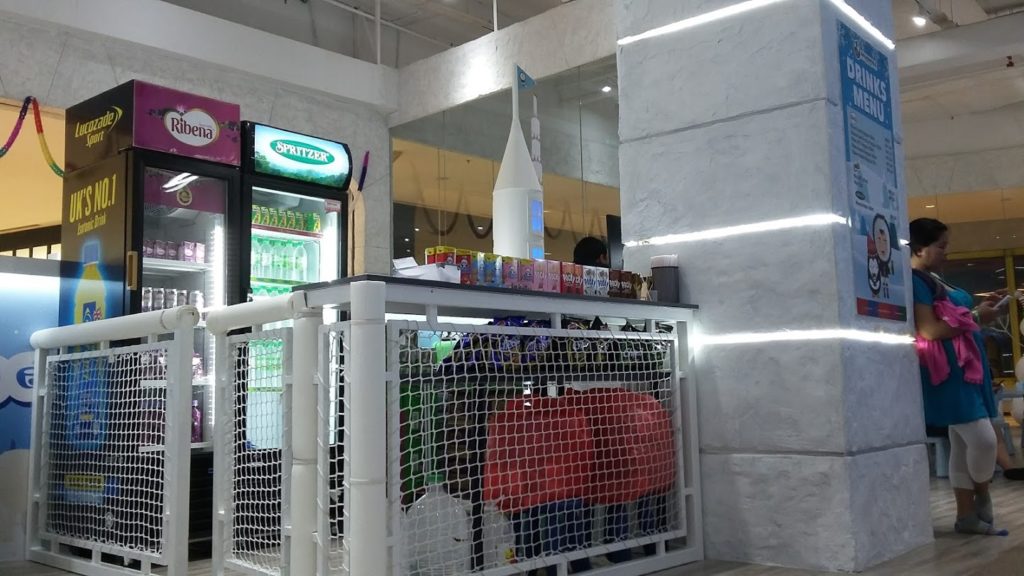 Water, Ribena, Milo, and Pocky. Lol. This the lepak area: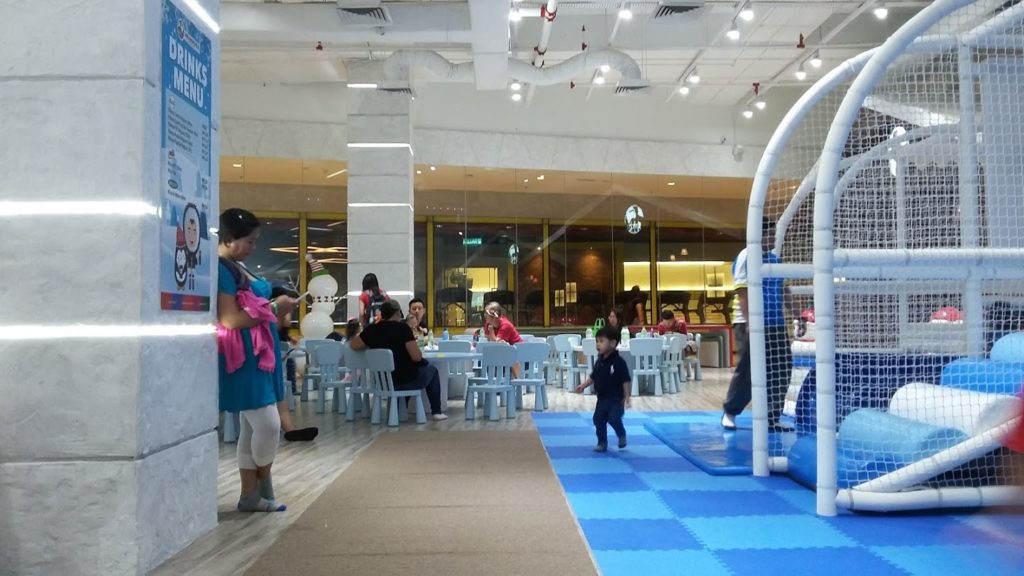 Pricing
Weekdays:
 RM48 for kids above 2 years old
RM25 for kids below 2 years old
Adults FOC
Weekends & Public Holidays:
RM58 for kids above 2 years old
RM35 for kids below 2 years old
Adults FOC
So expensive for such a small indoor playground with limited activities. I mean, they charge the exact same rates as Jungle Gym @ Atria and Jungle Gym is like 10 times larger with MANY MORE activities for kids of all ages.
Overall – DREAMWORLD PLAYLAND @ Starling Mall
Variety of activities: 2/5
Cleanliness & hygiene: 5/5
Staff: 4/5
Food & drink: 1/5
Pricing: 1/5
Total: 2.5/5
Dreamworld Playland is not the best indoor playground around. Unless you live close-by, don't bother driving far to visit it. I like it. It's nice. But it is seriously not worth RM58 per child per entry.
Details:
Opening times: 10am – 9pm
Address: S-202, The Starling Mall, No.6, Jalan SS 21/37, Damansara Uptown
Facebook Comments