Mama's Playground Review – Jungle Gym @ Atria
I think it's been around 7 years since I last wrote a playground review. My 2011 review of Starship Galactica puts the price as only RM20 per entry. Now it's RM35. Homai.
Anyway, here's a Mama's Review on Jungle Gym at Atria Shopping Mall.
Variety of Activities
Of all the indoor playground we've been to in the Klang Valley, Jungle Gym is the best. There are tons of things to do for kids of various ages.
It's basically three floors of climbing, tumbling, jumping, rolling fun.
Sorry about the crappy camerawork.
This includes:
Huge slides
Crawling tunnels
Air gun area
Trampolines
Lots of things to spin on
Cinema area
Birthday party area
Lazy parents sofa area
Toddler play area – tiny slides, mini ball pit, giant blocks, wall games, bouncy pool
Watch this video of Aisha spinning because it's cute:
Shooting soft sponge balls with air guns
The boys love playing in the air gun area. From the ground level you can shoot the soft sponge balls upwards (see that giant blue thing behind Sulaiman below).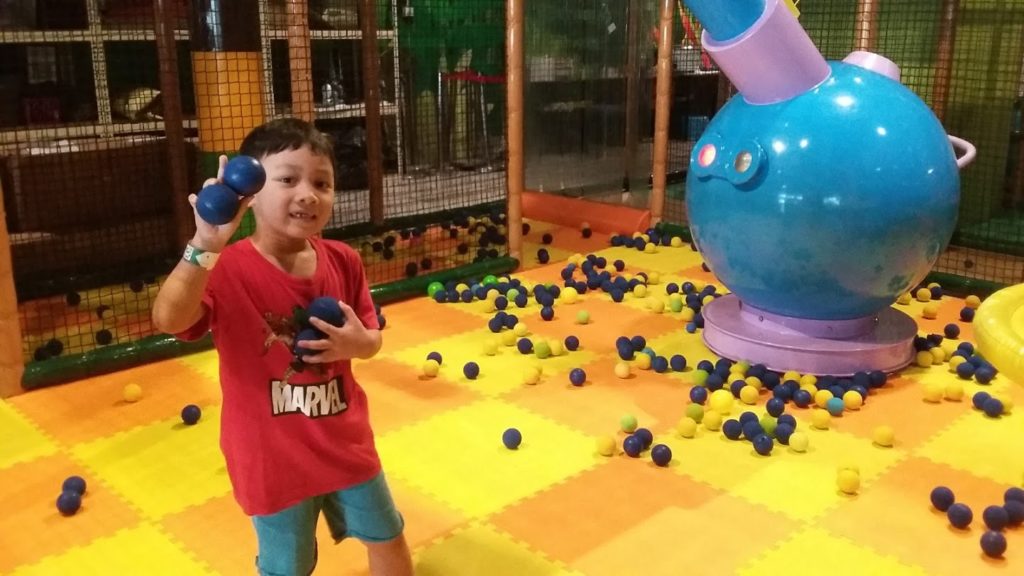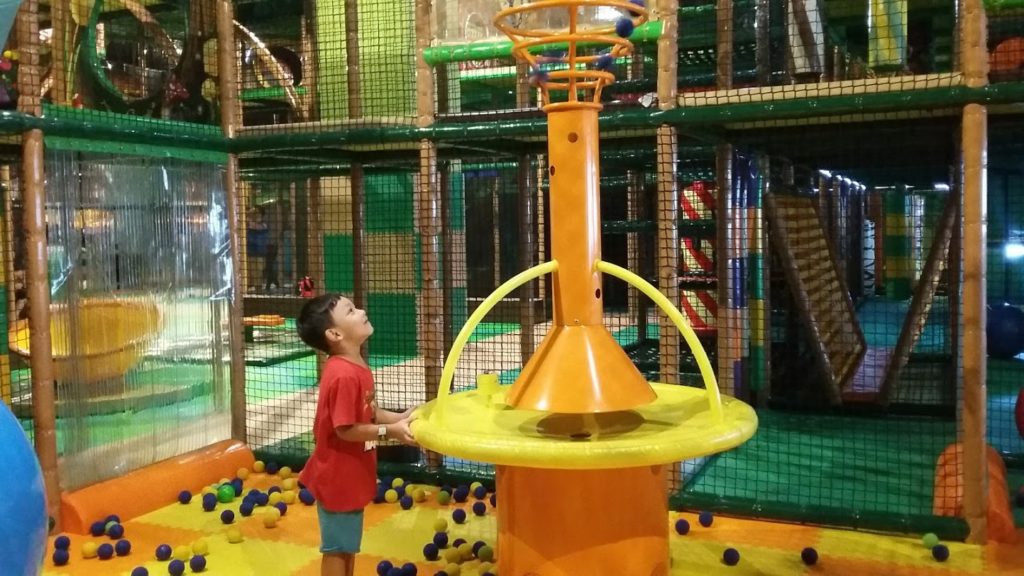 You place balls into the bottom yellow bit and they float to the top like ooooh magic!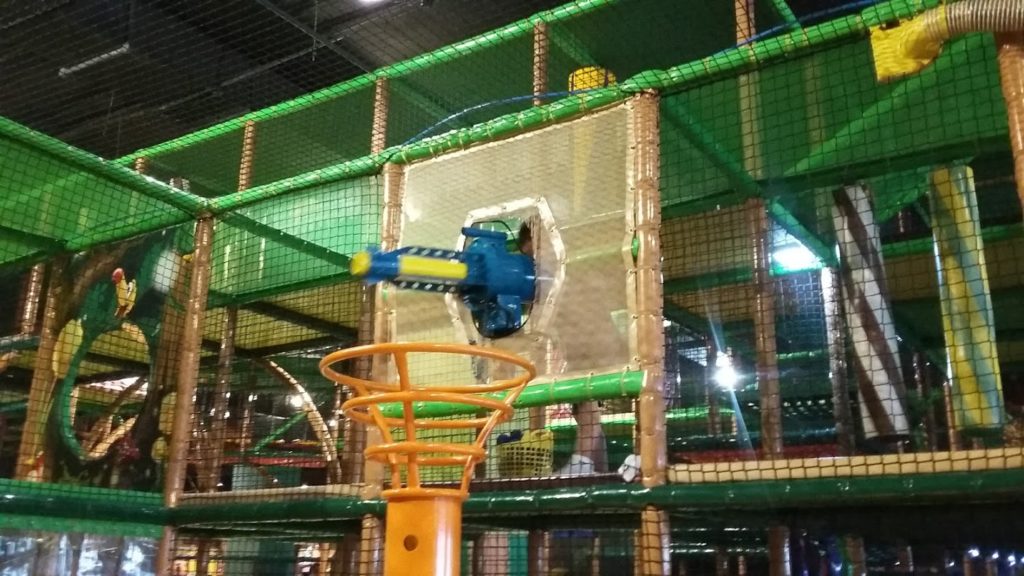 From the second level you can shoot down into the main arena. Ayub had a lot of fun attacking me. Evil child.
There are other games you can play in here. It's sponge ball heaven.
Hanging off giant coconuts
Just jump on, spin around, and hang on for dear life. Aisha was pretty good at it, little monkey. Ayub was the best. Sulaiman was terrible.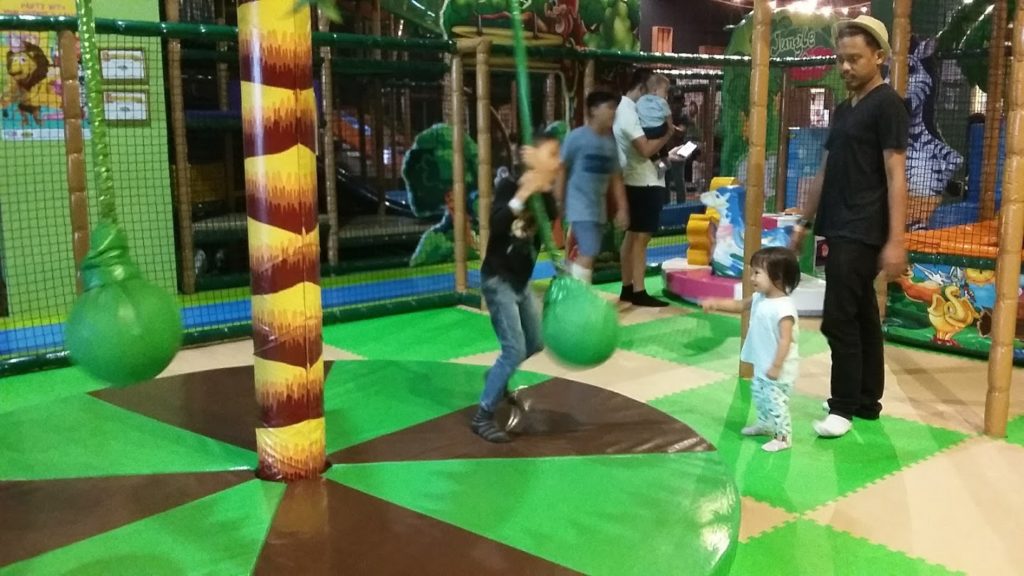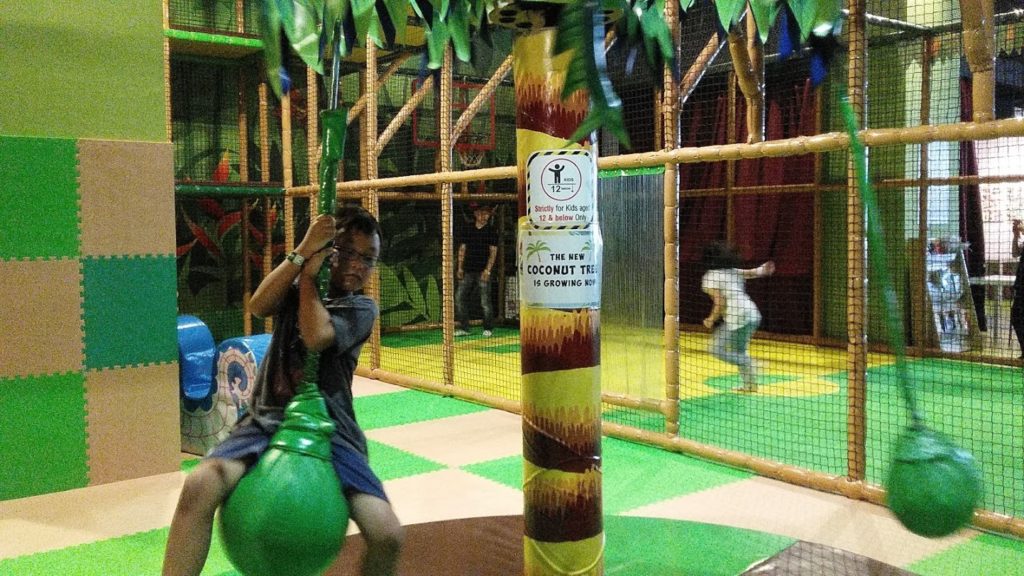 Lots and lots of climbing and running around
As I mentioned, there are three levels of climbing. I barely saw the boys the whole time we were there because they were up in the tunnels above. Even Aisha climbed up to chase after them.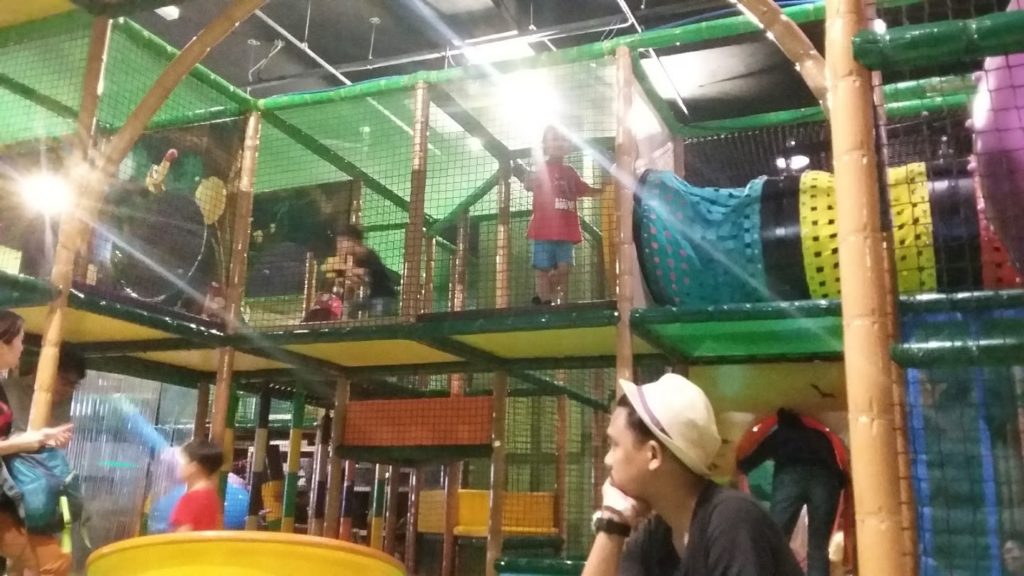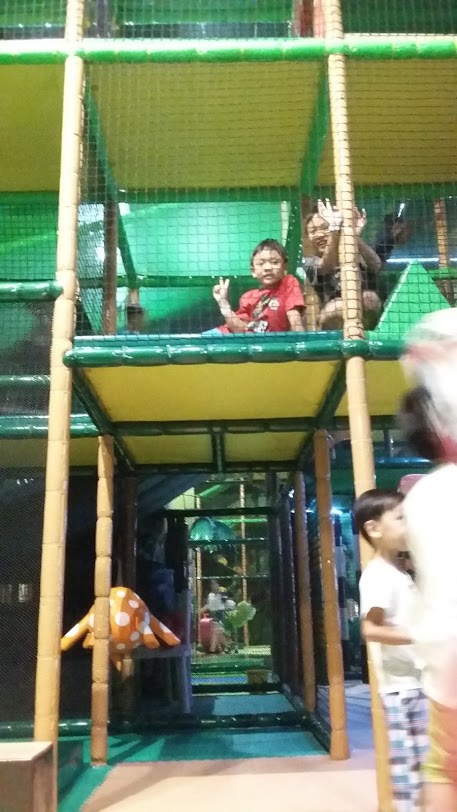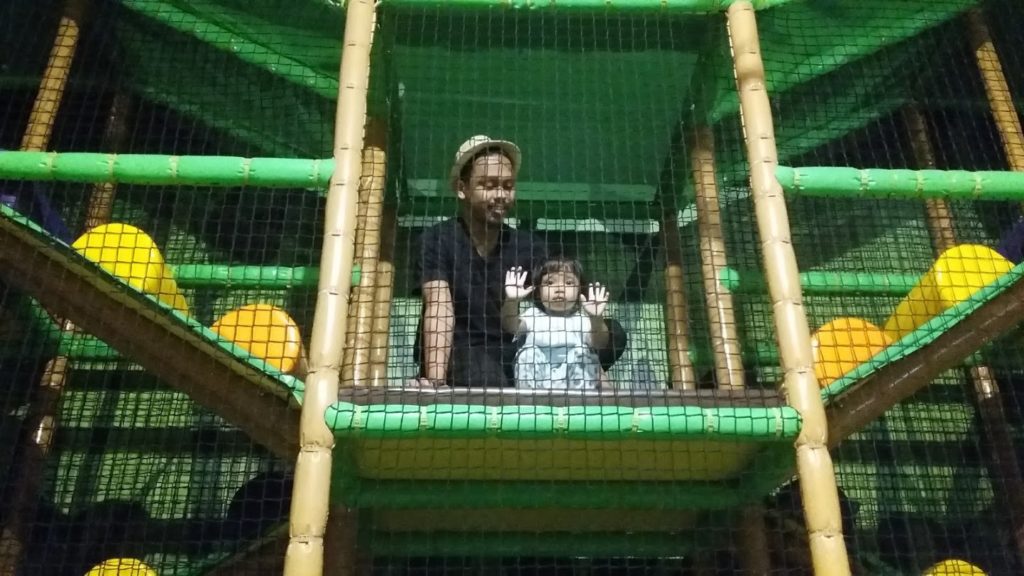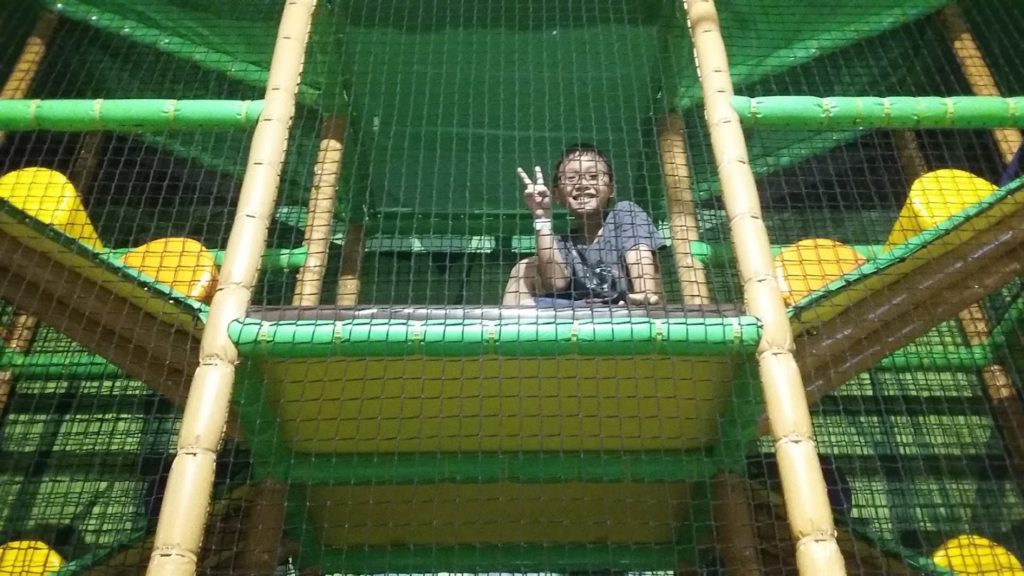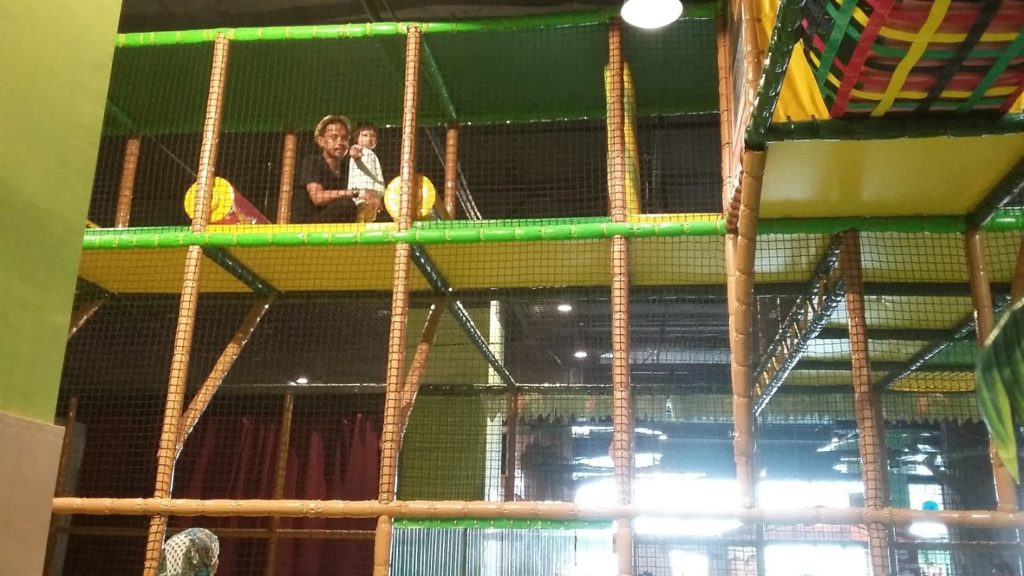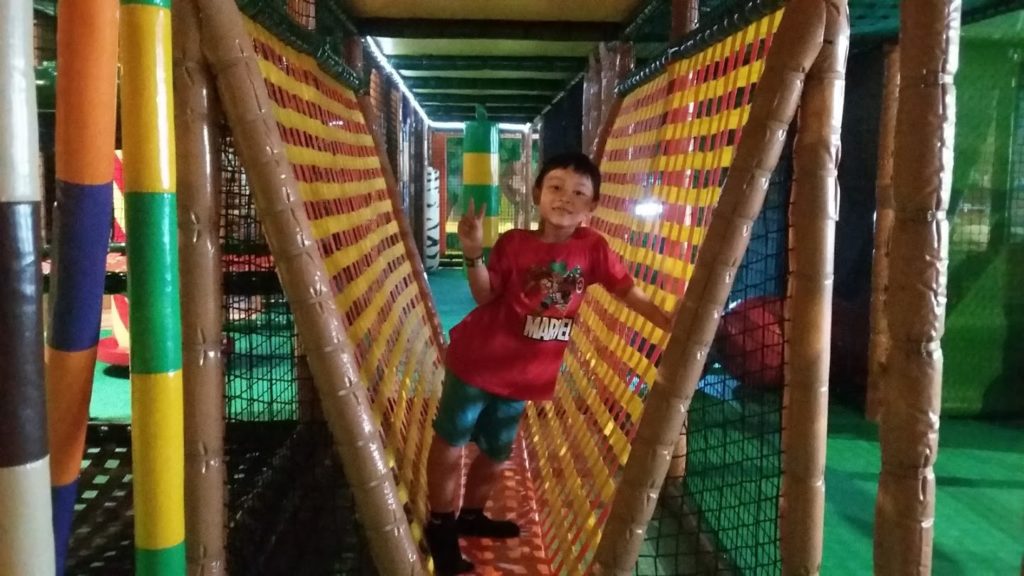 Football and basketball court
We were the first family to arrive so the playground was empty for the first 2 minutes that we were there. That meant we had the football and basketball court all to ourselves. Otherwise, not advisable to bring a toddler in there. It's mayhem once the bigger kids arrive.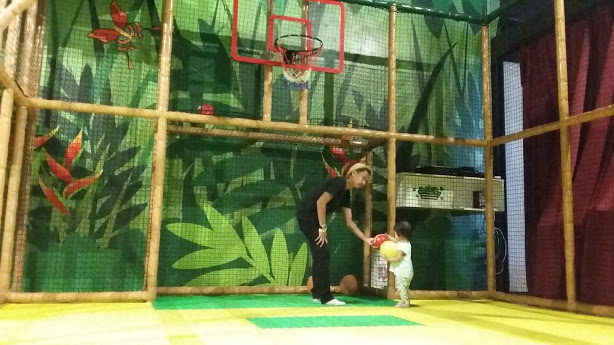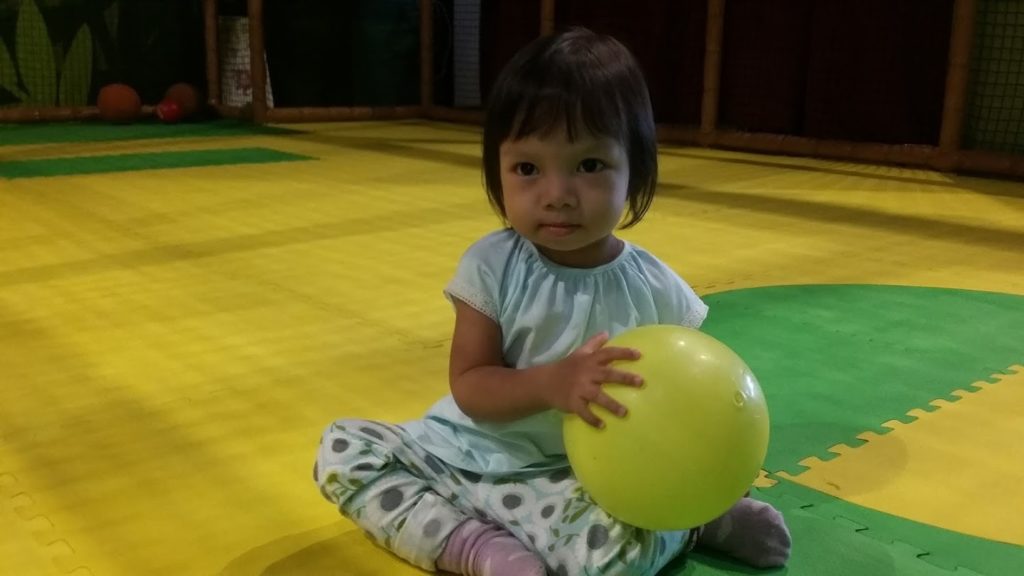 Giant bouncy ball area
Sulaiman really loves this small area. Every so often I'd find him there bouncy around on his belly like a spastic frog and tumbling all over the floor. Silly fella.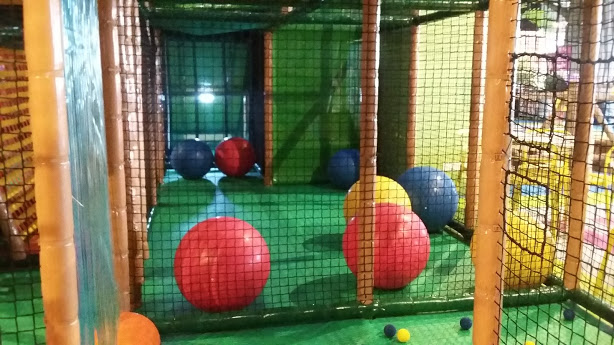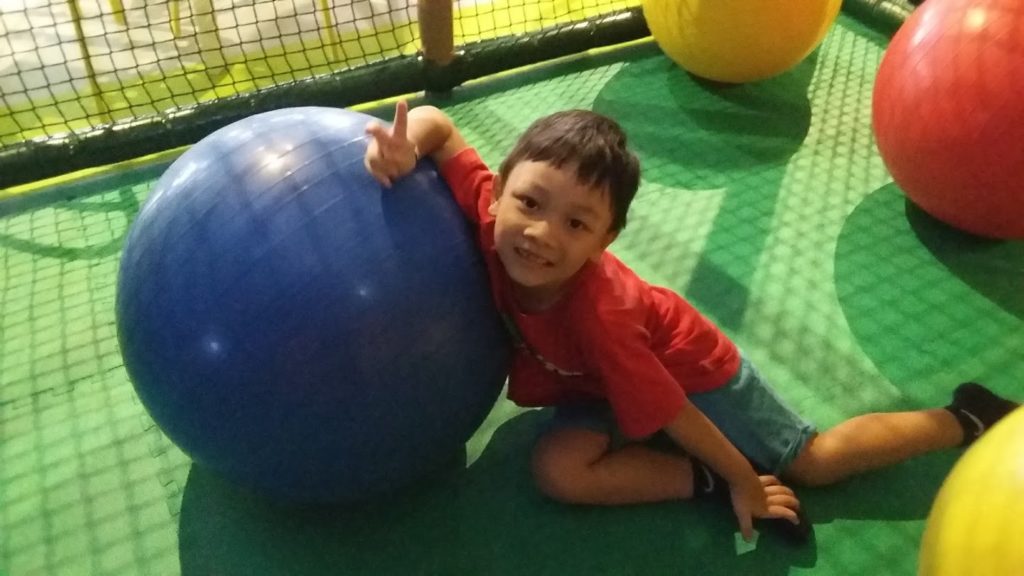 All the slides!
There are three or four big slides for the big kids and a bunch of tiny ones for the toddlers. Here are some of the big ones:
The purple slide is Sulaiman's favourite. Looks terrifying to me.
Sulaiman has great muscle control of his butt to be able to slide down so slowly. Ayub was down in about 2 seconds.
Mr Ninja severely underestimated the speed of the roller slide. I lol. Lolololololol. I wanna say 'poor Aisha' but she doesn't seem bothered at all.
Tiny toddler see-saws and merry-go-round
SO CUTE.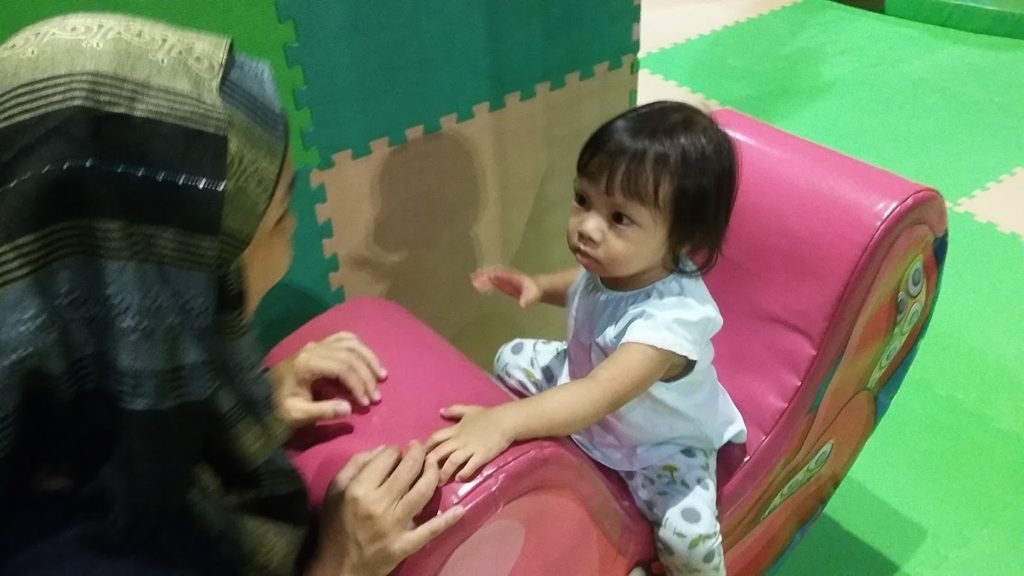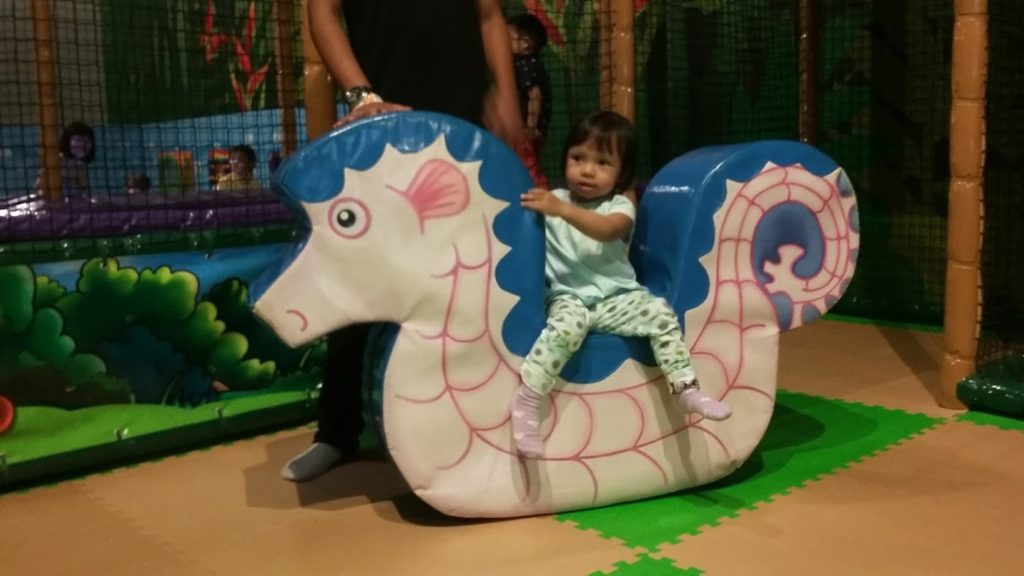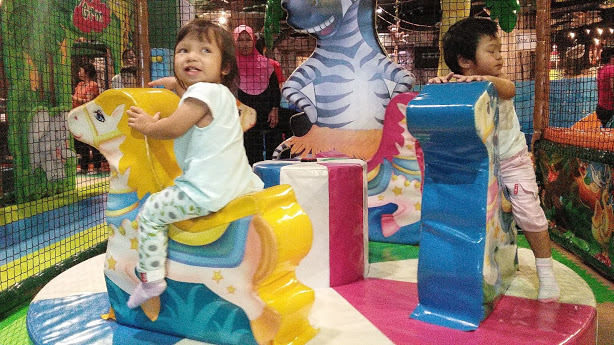 Tiny toddler area for kids below 4
Aisha spent the most time here and super super loves it. There are three mini slides, a mini ball pit, and a mini bouncy pool.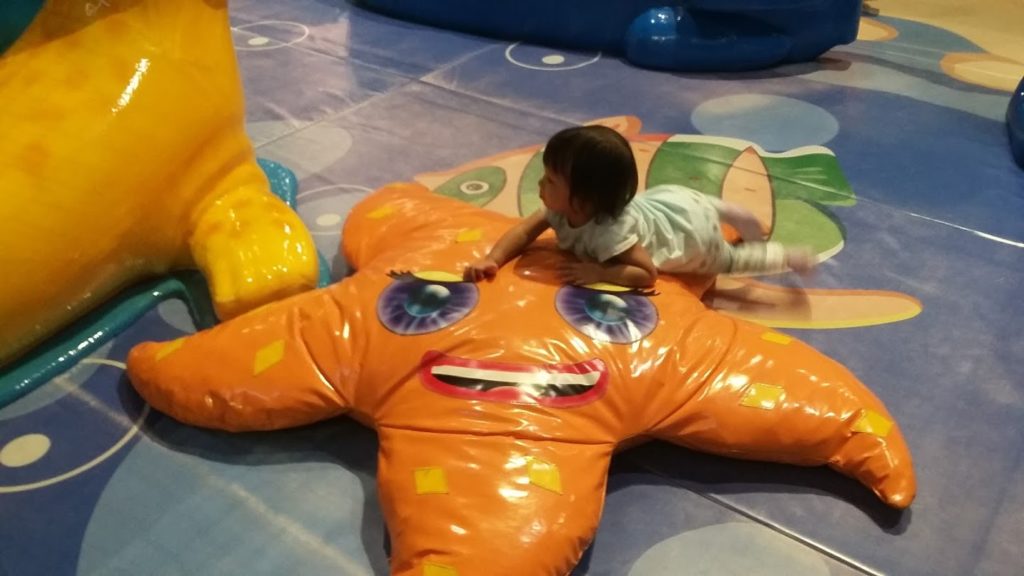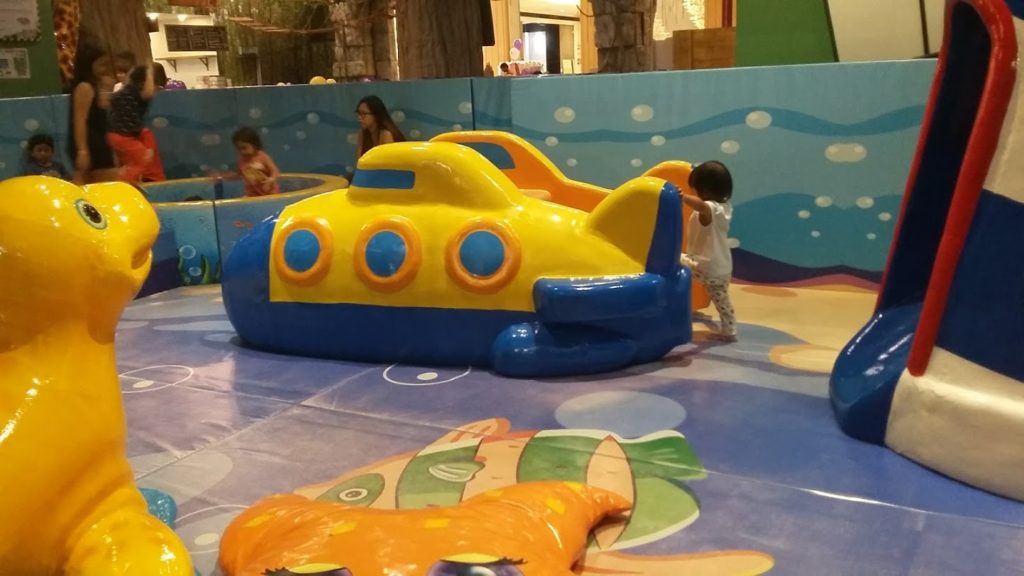 Just look at this tiny airplane slide! Homaigod. And Aisha giving me the 'peace' sign at the end of her slide unprompted. Of course, her current peace sign is just two index fingers pointed up. She learnt it from Sulaiman.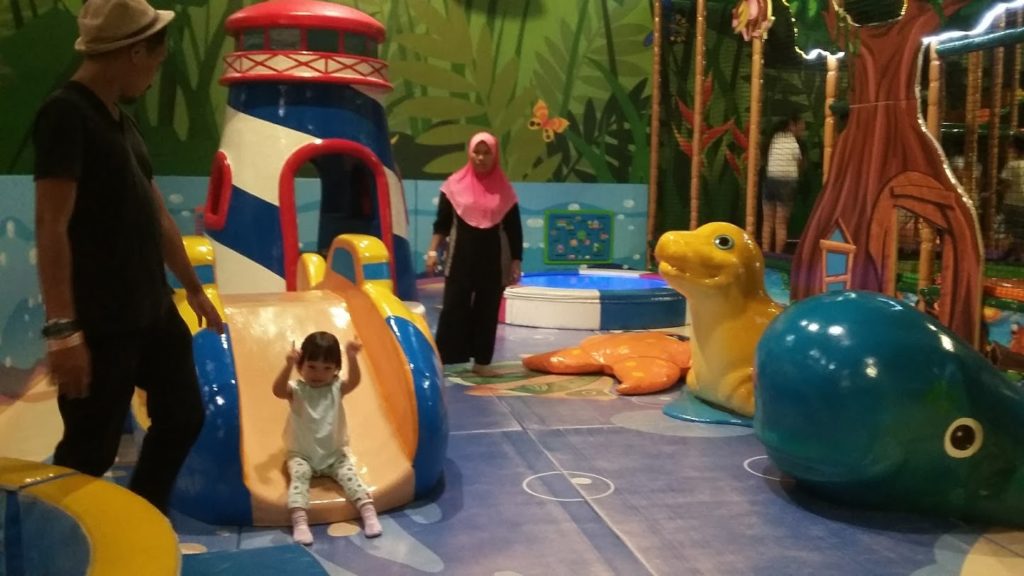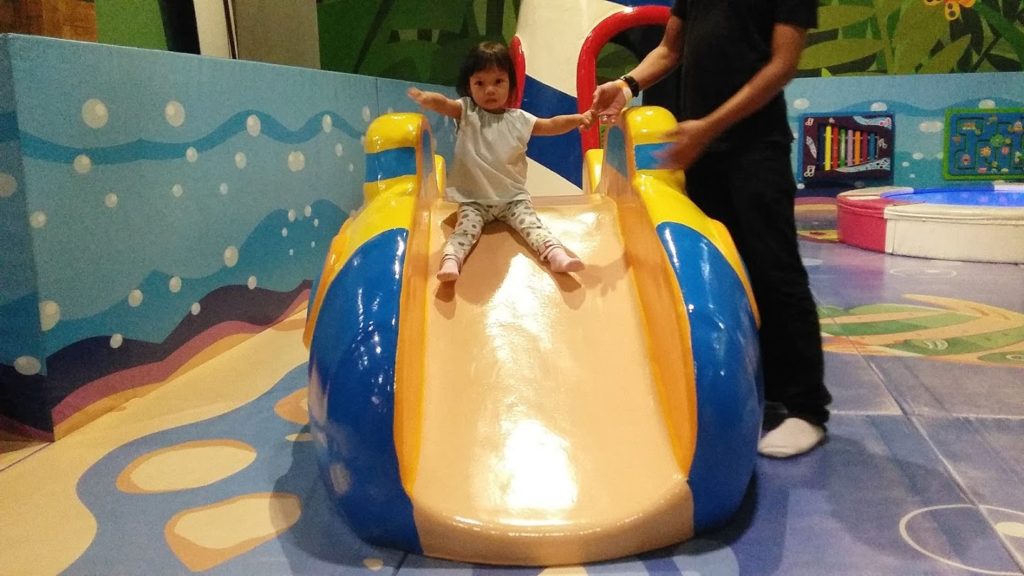 She loves loves loves the mini ball pit the most. She can just sit and chill in there all day.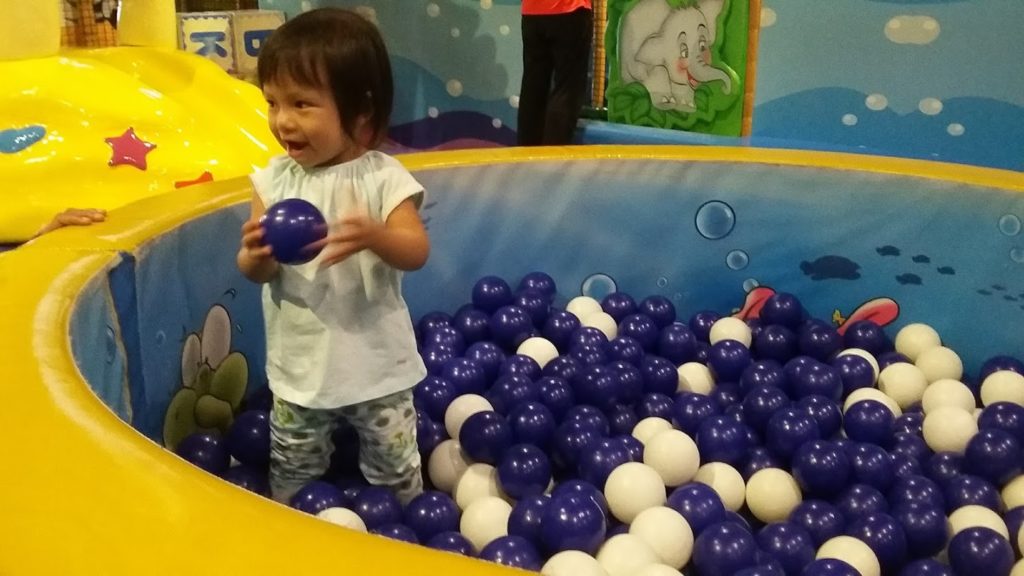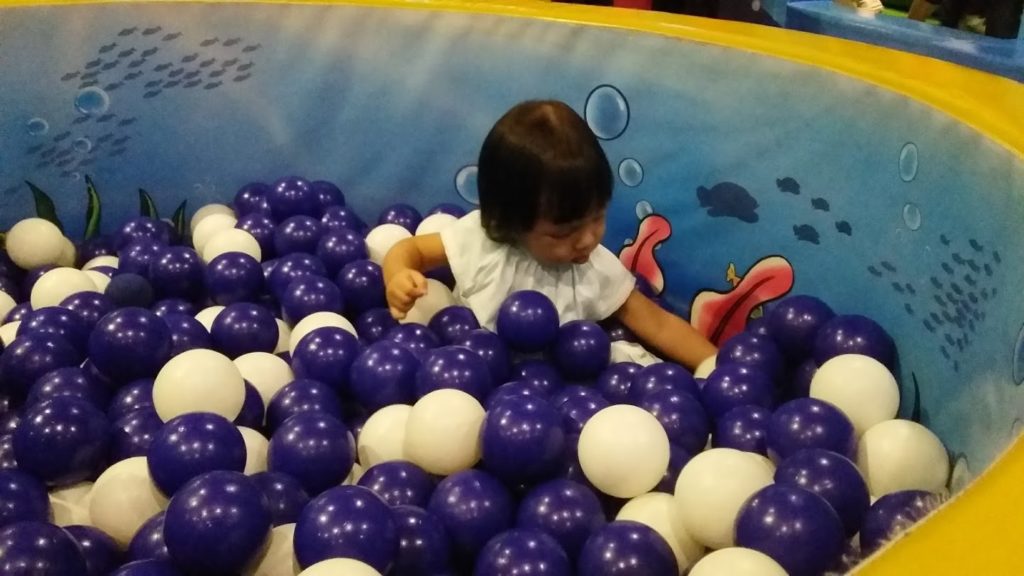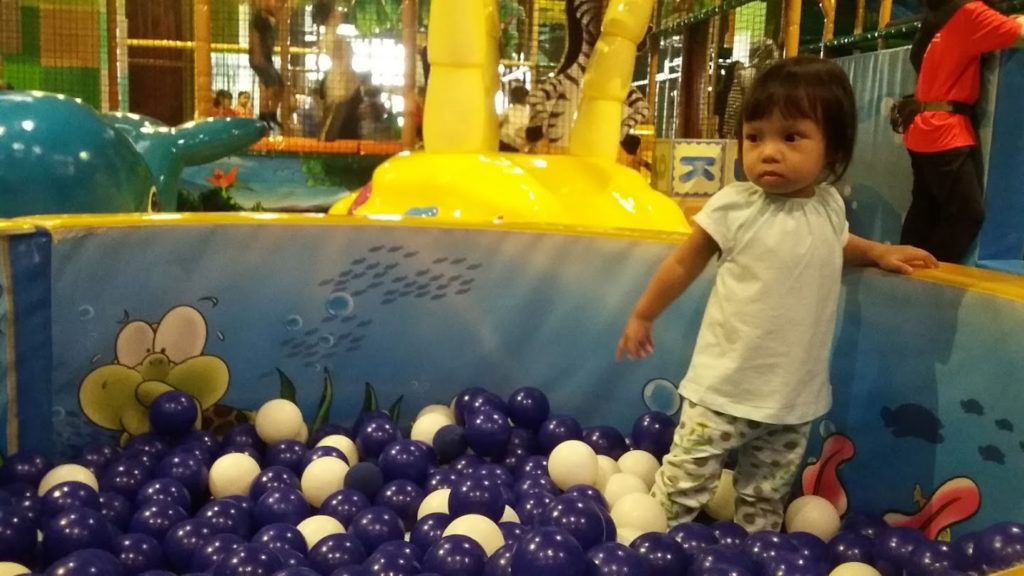 The mini bouncy pool. Aisha was scared at first and later on spent a lot of time just lying in the middle of the pool while other kids bounced around her.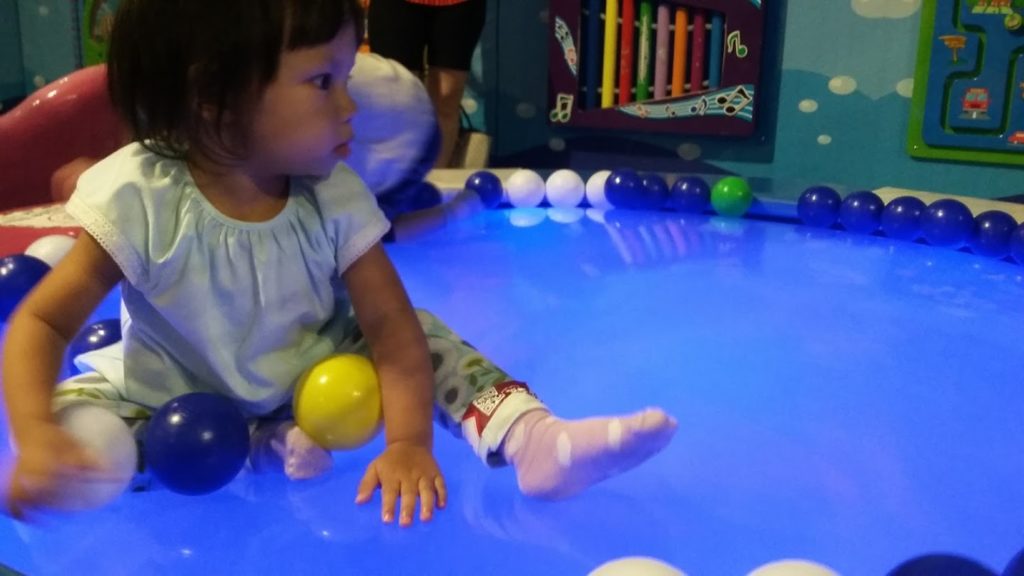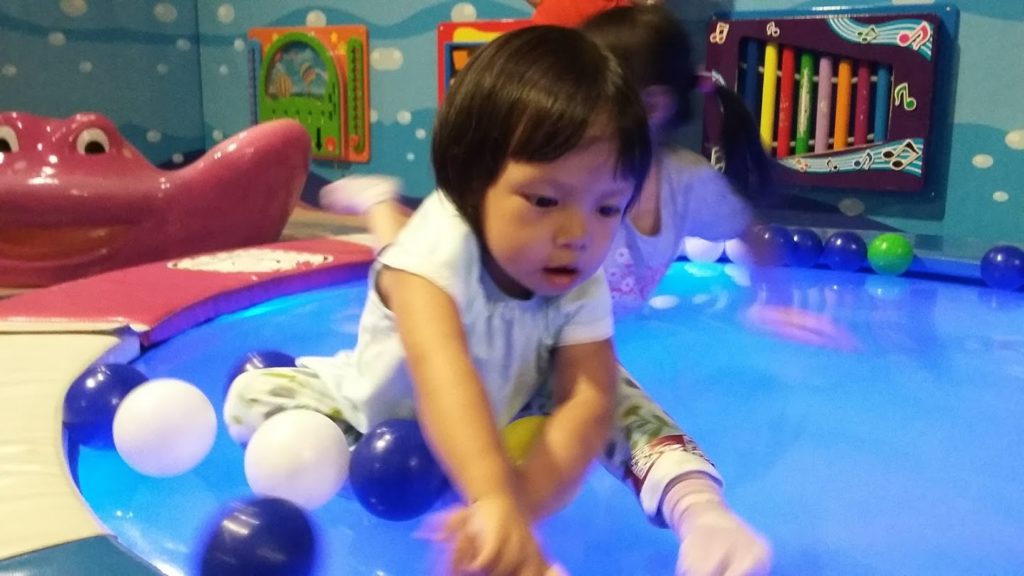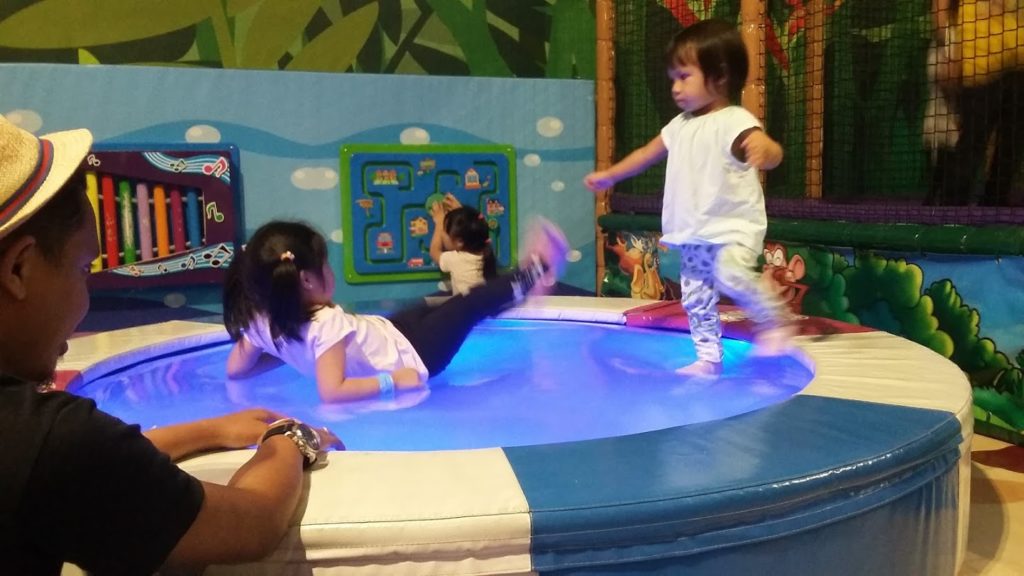 I think that's about 70% of the playground. There's more for the bigger ones but I didn't climb up to any of the upper levels.
Cleanliness and Hygiene
It's very clean and well-sanitized. There are toilets in Jungle Gym so you don't have to leave if you need to go, which is awesome when you have three small kids. Toilets are clean and include tiny kid-sized toilets and sinks that I always think are the cutest things ever.
In the afternoon, the cinema area (which is a big screen and a bunch of beanbags) is super dirty though. Too many kids eating and snacking there, with parents not cleaning up after them. Gross.
Otherwise it's awesome.

Service and staff
Every member of staff I spoke to is friendly and helpful. They take a lot of care in ensuring the children are safe, which is awesome. Although, I do wish they were a little stricter at times, especially when kids get too rowdy to the point that they endanger others.
There's always someone stationed at the toddler area to make sure none of the bigger kids get in and potentially hurt the babies and toddlers. Also, another person stationed at the large blue slide to ensure the safety of the sliders. Love that.
I really wish parents would supervise their kids better. Especially when you know yours can get overexcited and do things against the rules, can you please tell them to stop. Throwing, hitting, and kicking. C'mon. That's so not cool. Teach your kids to be good humans please.
Oh! When you want to leave the playground, they check your receipt and wristbands to make sure the codes are the same. This ensures no children are taken by adults who are not their guardians. I thought that was fantastic. They said it has never happened before, but they always check every single child with their guardian just in case.
Food and drinks
There are birthday parties going on all the time. While we were there I think there were four going on at the same time. I guess they offer catered food?
Anyway, there are two food areas where you can get drinks and snacks and food such as: Maggi hot cup, fried sausages, fried fishballs, popcorn, chicken chop, junk food etc.

Pricing
Weekdays:
 RM48 for kids above 2 years old
RM25 for kids below 2 years old
RM5 for adults
Weekends & Public Holidays:
RM58 for kids above 2 years old
RM35 for kids below 2 years old
RM5 for adults
IMO crazy expensive but the kids really love it so I have to say it's worth it. Have to go many many times before Aisha turns 2 (x_x)
Overall – JUNGLE GYM @ Atria
Variety of activities: 5/5
Cleanliness & hygiene: 4/5
Staff: 5/5
Food & drink: 4/5
Pricing: 3/5
Total: 4.5/5
Don't ask me how I calculate the final score. I don't calculate anything at all.
Jungle Gym at Atria is freakin awesome. Your kids will love it even if your wallet doesn't. It's a great way to get them out of the house, off their screens, and running around exercising while having heaps of fun.
Facebook Comments