Mama's Playground Review – Reka Zone
Ayub is super energetic and sporty, and absolutely loves physical activity. So last Sunday I brought him to  IOI Mall to play at 'Reka Zone'. Here's my review of the place based on different criteria.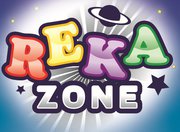 Some great aspects, some very very very disapointing aspects that will make you want to punch a hole into a stranger's head…

Variety of activities
There was so much to do!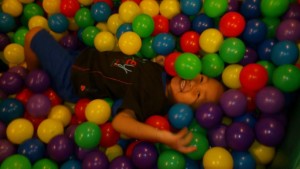 Ayub enjoying the small ball pit
– toddler play area including: ball pit, toddler-friendly slides, playhouse, reading area with assortment of children's books
– two mini-zip lines
– big foam ball arena with ball fountains and canons to shoot out the small foam balls (completely harmless)
– three climbing walls
– medium-sized bouncy castle for small children
– large play apparatus for older children including tunnels, ladders and slides
– party area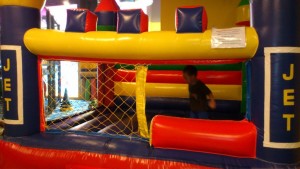 Ayub's favourite apparatus was the bouncy castle.
Cleanliness & Hygiene
It could definitely have been cleaner! We were there before noon and I saw dirt on the ground like they hadn't vacuumed… not good. No hand sanitizer present. No checking of fevers for the children before entering. There wasn't the smell of disinfectant in the air as I am used to in other play centers.
As for the toilets… All they had were two adult stalls, toilets did not flush, tissue had to be asked for at the front desk, the floor was wet and dirty (remember you and your little one are required to leave shoes at the entrance and are walking around in only socks), and NO DIAPER CHANGING STATION. For a place meant to cater for small children, to have no diaper area or pint-sized toilets is just ridiculous.
However, the play area itself is definitely acceptable and I certainly didn't mind walking around in socks.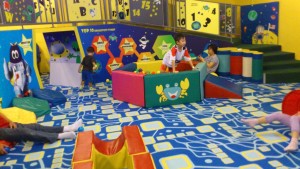 The toddler play area, at the back is a slope leading up to a large but low slide
Staff
Biggest failure of the entire establishment. Their staff were lazy, untrained and unhelpful. Three were in the play area itself, supposedly to keep an eye on things. But they simply huddled together, sitting on one of the play areas, gossiping quietly, completely oblivious to the children around them who were trying to play. In fact, the staff were in the way of the kids!
Some areas are meant for toddlers and not bigger kids, but the staff took no notice and Ayub ended up getting kicked in the stomach in the little bouncy castle by the big kid that wasn't even supposed to be allowed there! I was furious.
The staff were a waste of space.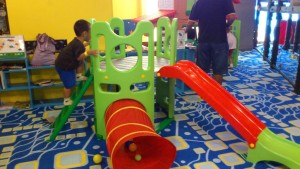 Mini slide set at the toddler play area
Food and Drinks
Soft drinks, water and an assortment of sad deep-fried frozen snacks are available at the front desk and are heavily overpriced. No eating area for children. But some high bar stools and a counter at the entrance. Genius.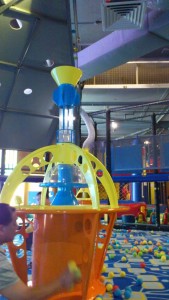 The ball fountain in the middle of the foam ball arena
Pricing
Weekdays: RM15 per entry
Weekends: RM20 per entry
Prices differ based on the age of the child, and the above rates are for toddlers like Ayub. Taking into consideration the lack of hygiene and dumbass staff, I think it is overpriced. If they improved the training of staff and cleaned up the toilets and vacuumed and sanitized the place properly, then it's more than reasonable.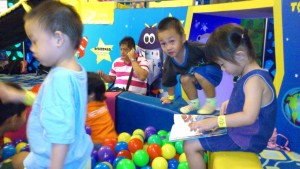 Ayub ready to jump in while a little girl reads a book provided
Overall – REKA ZONE


Variety of activities: 5/5
Cleanliness & hygiene: 3/5
Staff: 0/5
Food & drink: 1/5
Pricing: 3/5
Total: 2.5/5
It's a shame really. So much potential. The variety of things to do in a space that is really not that large is wonderful and Ayub certainly had a great time. But the staff really brought the whole place down. Even so, given its location is close to where I am, I will definitely bring Ayub again as he really enjoyed it.
Facebook Comments