Mama's Playground Review – Starship Galactica
Here's my review of another play area. Located in the New Wing of One Utama, Starship Galactica is colourful and large, with an area for parents to sit and eat while the kids play. It's not bad… not too great either…

The place is basically a massive soft ball arena, spanning three floors, and it feels like you are in a giant cube. In the center is the ball fountain and the surrounding area has different activities including a giant soft piano keyboard for the kids to jump on and make music and targets to shoot at and score points.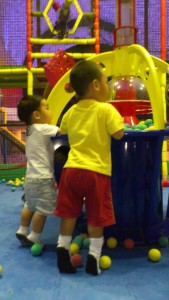 Ayub and a friend putting balls in the fountain
The second and third floors are connected by big soft steps and rather steep slides (for adventurous kids only!), and have cannons to shoot the soft balls at targets.
At the entrance are some arcade games and that picture colouring thing with sand.
Cleanliness and Hygiene:
There is no toilet available in the play center and you would have to leave to use the mall toilets. In terms of the play area itself, I have seen the staff sanitizing and cleaning so I have no real complaints. They don't check the kids for fever or flu but there is hand sanitizer available at the front desk.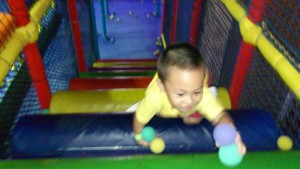 Ayub climbing up the soft steps to the next level
Staff:
To sum it up: not very friendly. I was ignored while I stood at the front desk where three of the staff were sitting and doing whatever at the table. Finally one looked up and pointed at a row of forms on the top so I filled it up. Inside the play area there is only one person who overlooks everything, including the kids and equipment. I didn't see her do much except to tell me that I couldn't bring my bag in, which was annoying because the three front desk people let me in without informing me that I had to check in the bag. Dumbasses. Oh well. Typical Malaysian service.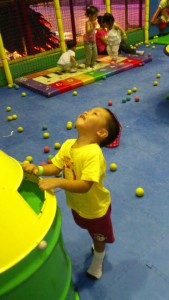 Ayub filling a fountain located at the side of the ground floor
Food and Drinks:
There is a sitting area at the entrance which is used for parties and such where parents can sit and order food and drinks. However, I haven't eaten there as it looks overpriced and uninteresting. Even so a lot of other people seem to enjoy it.
Pricing:
Weekdays – RM18 per entry
Weekends – RM20 per entry
Considering the location, the price is understandable, but I still feel there could be more on offer for the little ones to really make it worth it.
Overall – STARSHIP GALACTICA
Variety of activities: 2.5/5
Cleanliness & hygiene: 3/5
Staff: 2/5
Food & drink: 3/5
Pricing: 3/5
Total: 3/5
Overall it has a lot of space in the play area for Ayub to run around and release his energy, as well as a different things to do and explore. Worth a look. I wouldn't have Ayub's birthday party there. I would say that it's average.
Facebook Comments