MPRN Monster Day
On Sunday it was the Media Prima Radio Network Family Day at some field somewhere in PJ. Ayub had an awesome time. It was like the day was catered to him specifically. There was bowling, archery, monster target practice with Nerf guns, bull riding, bouncy castles and food. The hubby was working so Adam helped out. A lot. If ever he wanted a glimpse of fatherhood, he received a telescopic eyeball full yesterday.
Ayub doesn't like wearing hats. But because Ah Ku wore one, he wore one. The pic on the left is Prem carrying Sulaiman. It's super cute. But I dunno how to zoom in on my phone because I am retarded. Sulaiman was in a Tigger outfit. Love!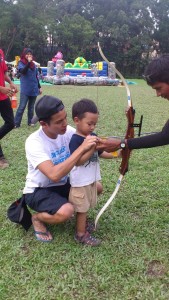 Sulaiman was the youngest person to try archery. He was so tiny, the children's bow was longer than he is tall 🙂 He did alright. Not really. But it's ok. I love his face.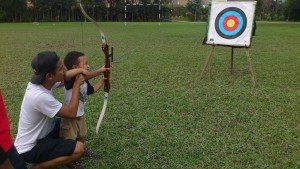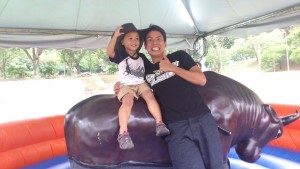 The bull ride was epic. Ah Ku looked terrified. Ayub was chilled. Ma lil cowboy. Sulaiman is such a good baby. Can see his head in the video:
Yah. It was good coz Ayub was happy. But he got into a fight in the bouncy castle coz his way of making friends is to push them down and wrestle. Which I told him repeatedly not to do but he doesn't get it. Poor kids. Poor Ayub. Stress. And his favourite favourite favourite thing to do was play bowling. Of course. Fake bowling. Cheat bowling. The ball was this super light coconut and the pins were friggin made of iron. Impossible to get them all down. But ayub managed 4. He was there so often that he ended up helping the dude manning the stall. He would pick up the coconut and pass it to the player.
Facebook Comments