My best friend Barbie
As a kid I was a girly tomboy and I absolutely LOVED my cute Barbie doll, or rather Barbie dolls. I had a suitcase of them. I think there must have been close to 50 dolls in there. When I turned 7 or 8, my parents bought me a Barbie doll house and my favourite ones would live there. Adam bought me a birthday present for the first time that year too, I'll never forget, it was a Barbie swimming pool with a jacuzzi function! How awesome is that. I can't wait to have a baby girl of my own to play Barbies with her. After two naughty boys, I think I'm pretty awesome at child care 😉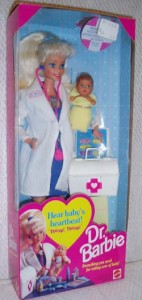 Dr Barbie was one of my favourites
The most notable ones were Doctor Barbie who was also pregnant and you could remove the outer casing of her tummy and there was a baby inside. Sounds quite horrifying, but it was really cool. Her inner tummy would pop out and she would be slim again once the baby was born. It was a boy. He had a tiny winky. Doctor Barbie even had a stethoscope that had a small button at the end of it, so if you pressed it, presumably on someone's chest, it would make a heart beat sound. I guess it's considered a vintage Barbie doll by now.
Dr Barbie was pregnant. It looks crazy freaky but it was quite awesome
Then there was Mermaid Barbie whose hair changed colour underwater. She spent many a long bath with me, living out my mermaid fantasies.
I had so many Barbies. And two Kens. One of my dolls became a client for a hair salon I opened as a kid and got all her hair chopped off because Adam said that their hair would grow back. I checked everyday with a little ruler to see if it would. It never did. Once Adam melted one of my Barbie's in the microwave. And then another perished in the heat of his bedside lamp.
Facebook Comments