Nasi Lemak Burger And Giant Bubbles At Riuh In Bangsar
After writing about Riuh on SAYS I decided to bring the family to check it out on Malaysia Day. The place is super hipster and full of good looking young people staging intense looking-into-the-distance shots with fancy-pants backgrounds.
I am not that kinda person. I take boring family pictures.
Riuh (or is it R!uh? or maybe RIUH?) was held in Bangsar. Fucking Bangsar man. There is no parking. It took us 10 minutes to drive there and 20 minutes to find a place to park. But once we reached, it's super nice.
Giant bubbles for the children
The entrance is that cute Riuh archway that you see in the pic above. As you enter there are restaurants on the sides, pop-up stores in front, food stalls on the right, and a giant bubble area for kids in the middle. Our little ones went ape-shit.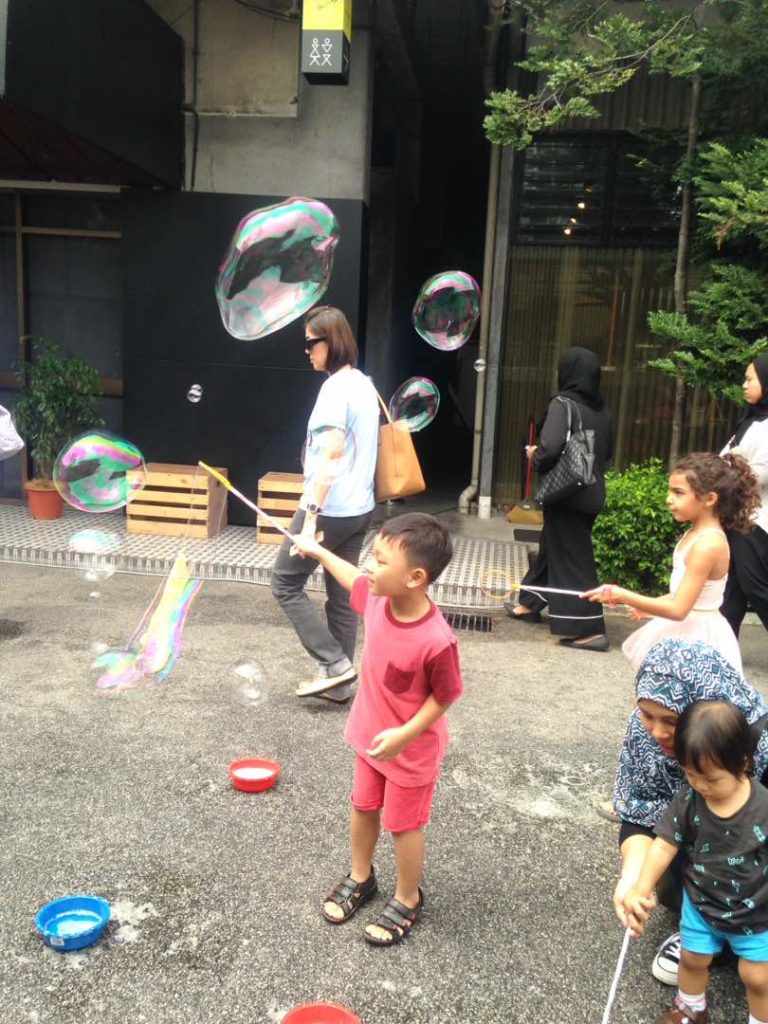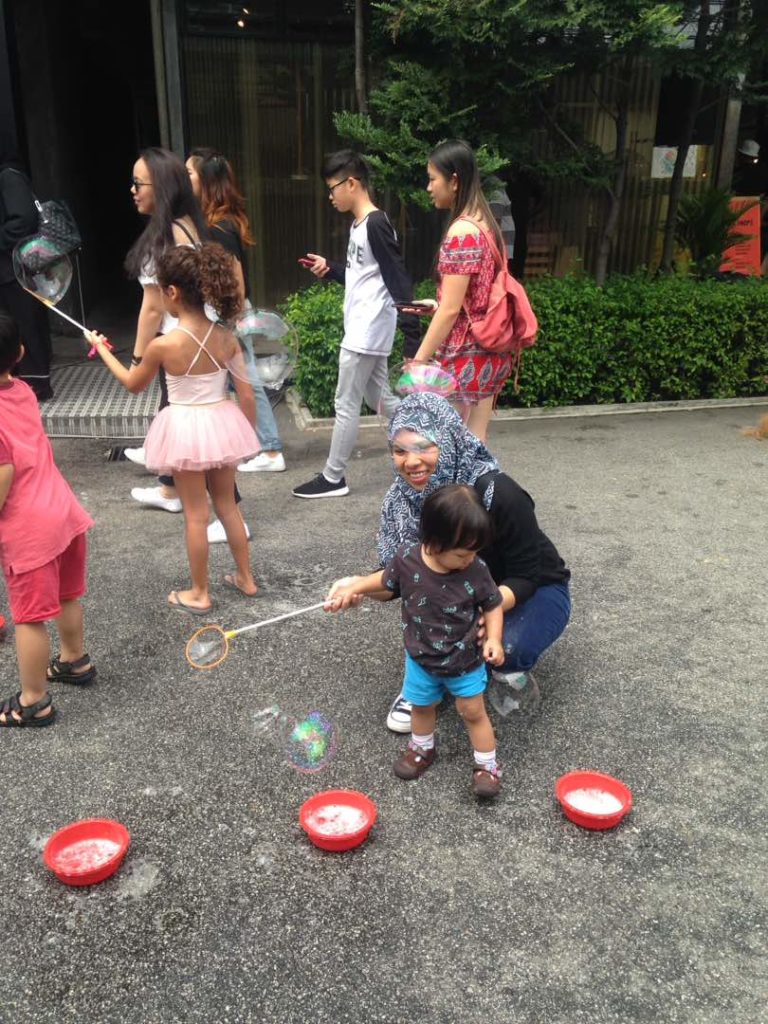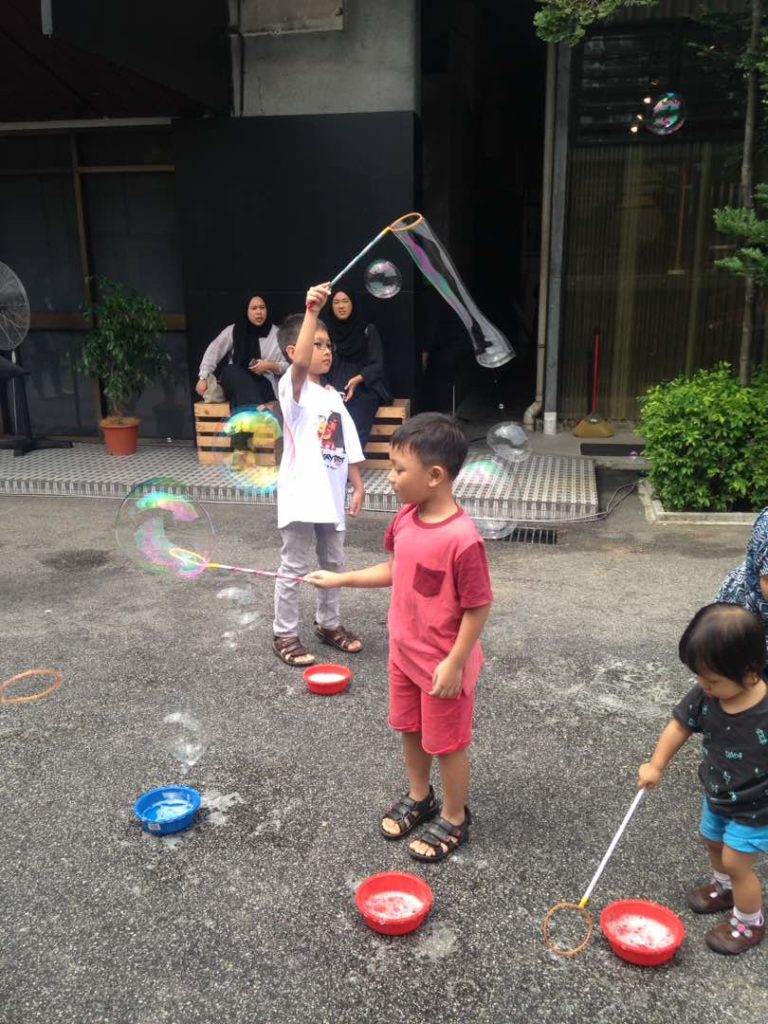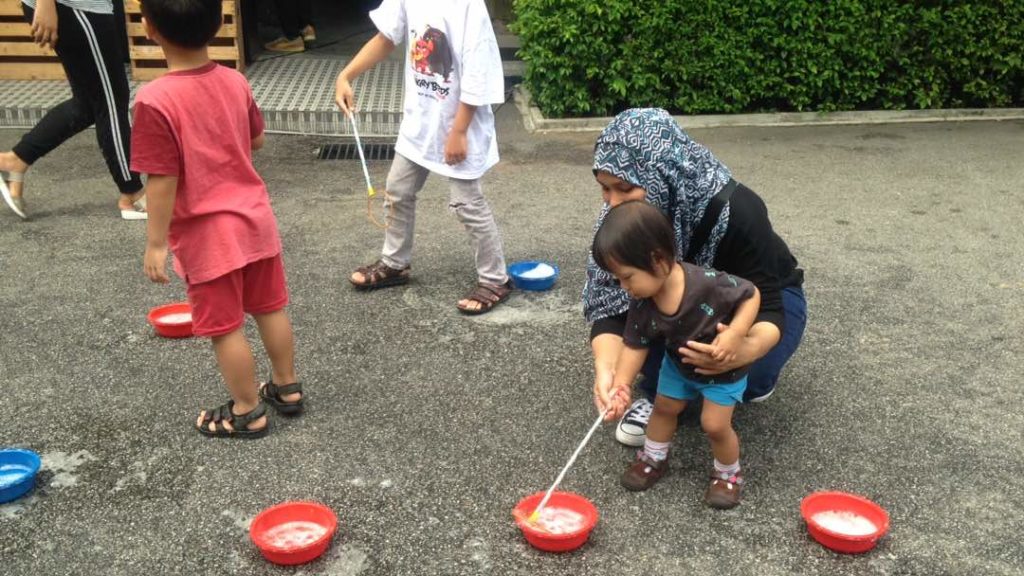 It's completely free of charge, which is so nice. The kids were so excited and happy to play under the hot sun. Aisha can only say three words (Mama, baby, and bubble), so she was totally in her element. "Buh-bul! Buh-bul! Buh-bul!"
Yummy food for lunch
We reached Riuh at around 11.30am and after bubbles we were hungry for lunch. So we made our way to the food stalls… Ok, this place is really small, when I say "we made our way" what I really mean is we walked three steps.
The selection of food wasn't as awesome as I had hoped. There were only a few stalls and most were snacks (kueh, samosas), drinks (durian coffee, Malaysian-made soda), or desserts (cupcakes, brownies). Not many actual meal options.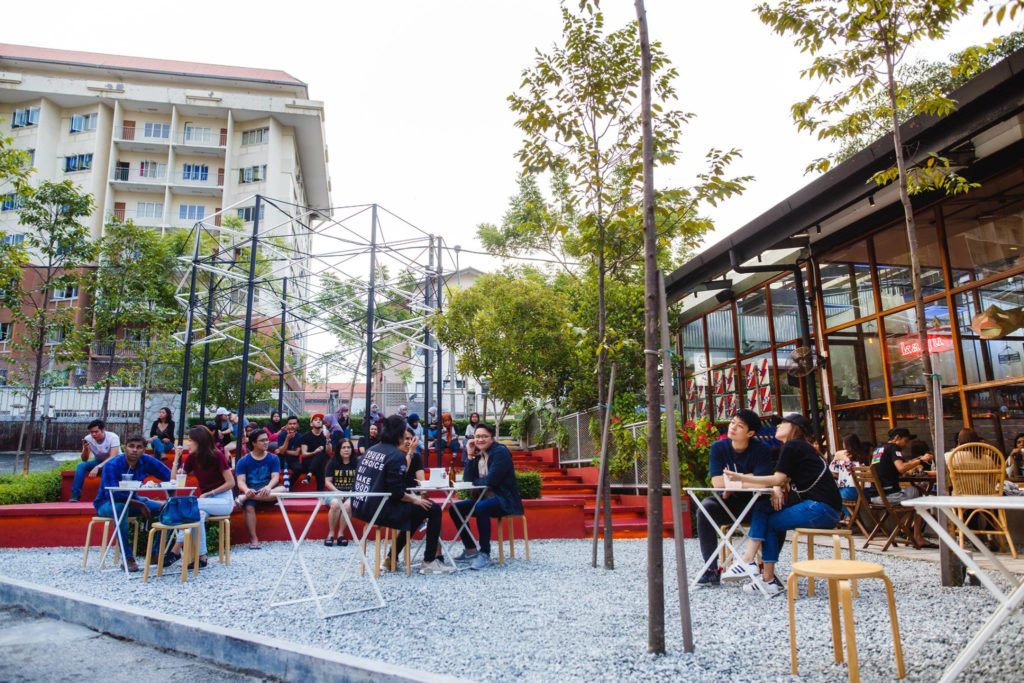 We ended up at the nasi dagang/nasi kerabu place. I wanted to go behind the table and help them scoop food. OMGGGGGGG. It took 20 minutes to get our food. They only have two dishes. TWO DISHES. They aren't serving in plates, just plastic containers. Guys, have you heard of pre-packing? The nasi is the same, only the lauk would be different. PACK THE NASI. For goodness sake. The event starts at 11am. You can wake up at 8am to pack and still have plenty of time left over.
I am so bitchy.
The food was worth the wait and frustration. It was SUPER DELICIOUS. Thank you Aunty Nasi Dagang dan Kerabu.
There aren't many places to sit. So we were out in the sun. It was HOT af.
We tried the Nasi Lemak Burger Agak Agak RIUH that is supposed to be a must-try
Mr Ninja got the nasi lemak burger that is said to be nicer than BurgerLab's creation. It is basically nasi lemak stuffed between two buns.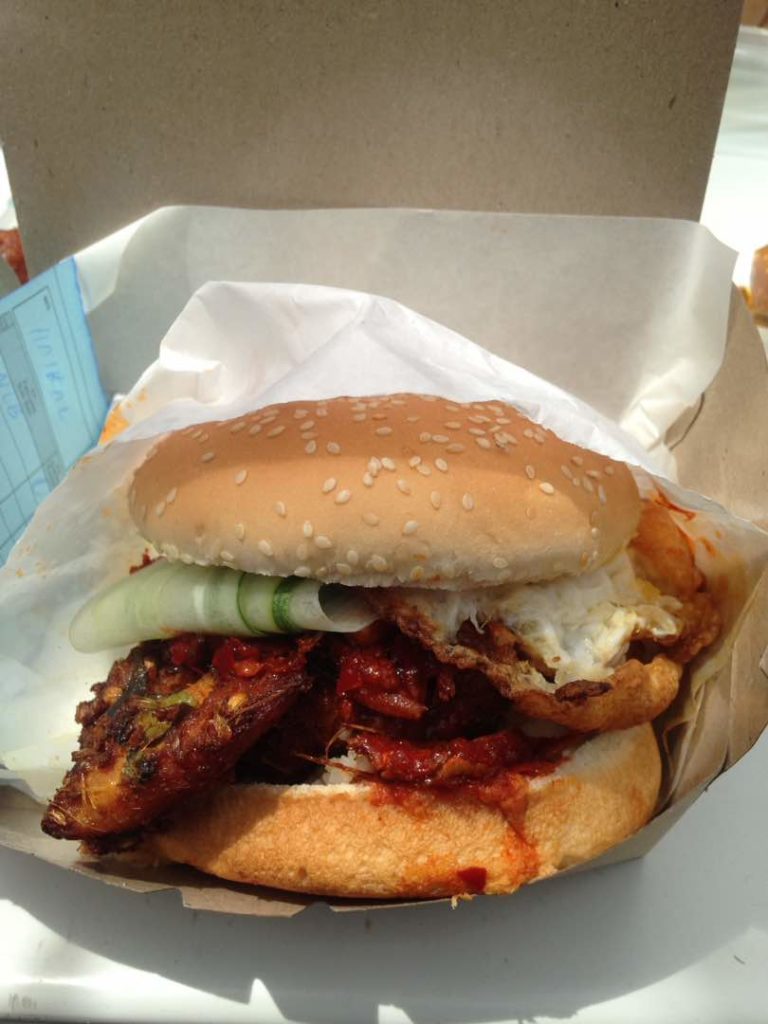 If it was just nasi lemak on its own, it would have been good. Stuck between two buns, it was still good. But BurgerLab is better. BurgerLab actually created something new, inspired by nasi lemak. This is just… nasi lemak (rice and all) between two buns.
I still ate it tho. It was good. Haha. You go try and tell me what you think.
Bring lots of money is you're planning on shopping at the pop-up stores
The goods they have are mostly local, artisanal, and super nice. So they come with a pretty steep price tag. There was a lot of really awesome things like these pillows from Noox:
Cute right? They cost around RM100 each. :O
I bought a book called 'My Mother's Garden' by Emila Yusof. I LOVE IT SO MUCH. I want to buy all her books now. And I will. Sulaiman read the whole thing and he adored it. It's super cute and educational and gives you all the feels of Malaysia too.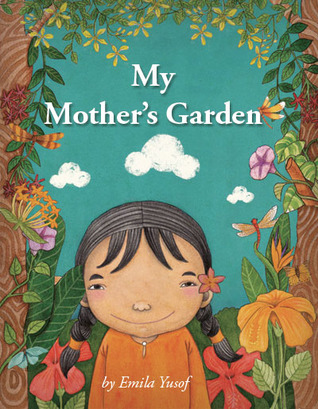 Watching a traditional dance performance
We were tired and it was crowded and we bumped into a lot of people we knew and we were all getting cranky so we wanted to go home. Then they started their traditional dance performance. So we stayed to watch.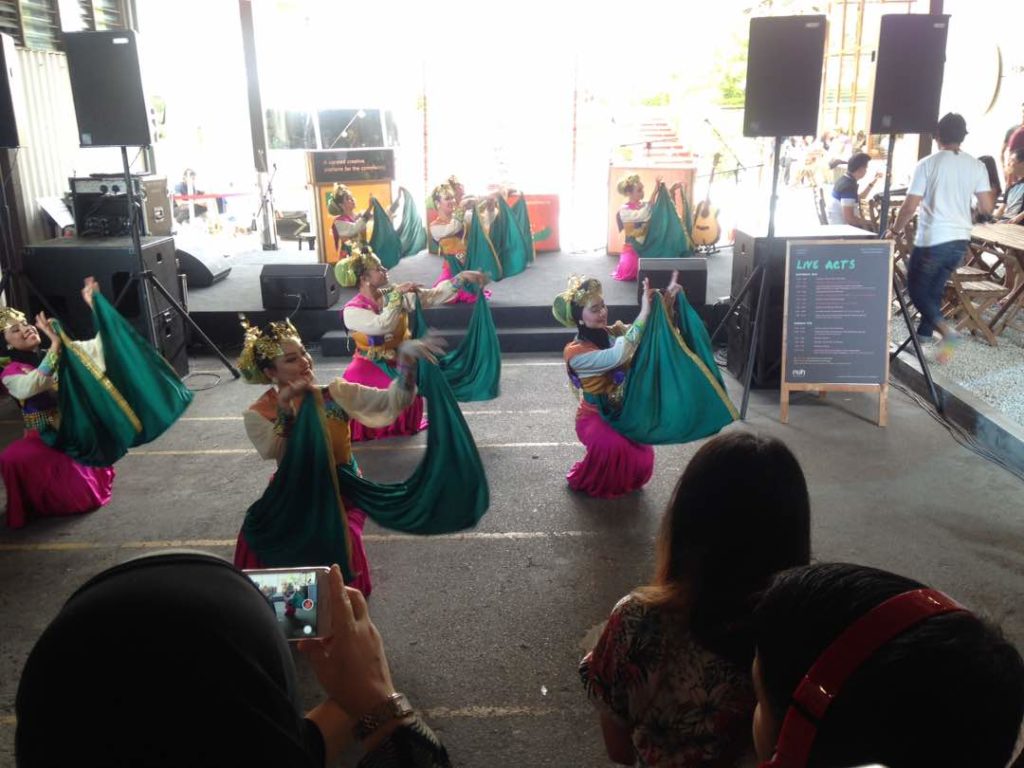 I don't know how traditional that is.
The kids had a great time with the bubbles and liked the food. I super enjoyed myself too. Mr Ninja didn't like the heat. I recommend going in the evening because there's not much shade and it is REALLY HOT.
Super fun. Looking forward to next month's Riuh!
Facebook Comments