We Went To 'Slide The City' And It Was Ok
So after feeling super pumped and excited at the announcement of 'Slide the City' in Malaysia, we got our tickets, set our date, and off we went to Setia Alam on an early Sunday morning. Here's my review of the event 🙂
Getting VIP passes yay!
We followed Waze and the GPS lady was like "you have reached your destination get out now there's no where else to drive don't forget your baby in the backseat" and we were like uhhhh… There were no signs anywhere. Boo. So we had to stop a security guard and ask him what's up. He showed us where to park and where to walk.
We were early so we sat on the floor and ate biscuits. I asked if they had changing rooms inside the area and they said "we have portable toilets!" Oh hell no. The boys got changed behind towels as we waited for the booth to open. If you're going this weekend, wear your swimsuit before you go there.
Forced to download the Monkey Theory app hohoho
The 'Slide the City' event was set up in a carpark (I think) close to the Setia Alam Convention Centre. We lined up for our VIP passes (woohoo!) then were told this is a cashless event (nice) so we had to download the Monkey Theory app (okaaaay) then top up the app with cash (wtf) in order to pay for floats to use down the slide (uh huh) which is mandatory (hmm).
But the Monkey Theory app man… what a stupid app. Monkey Theory people, I think you guys are on the right track to being super super super awesome but you gotta think this through a bit more:
I feel like an app that promotes cashless payment should be able to be linked to a credit card or debit card. This one requires you to physically top up with cash. Like what year are we in people. Doesn't that defeat the purpose of being cashless? -_-
Forcing everyone at your event to download it at the event is a bit daft. Imagine everyone lining up in the hot sun, all trying to download this app in a non-wifi area, and passing cash to this one dude behind a table who was stuffing the money into a fanny pack, then he has to top up your app on your phone with his app on his phone using a QR code. Is that efficient? Really?
It just so happened that Mr Ninja and I had RM20 cash between us that day because credit cards and debit cards are a thing. I know I know, it was our fault for not withdrawing cash first, I take full responsibility. Anyway, we could only top up RM20. It was RM5 to keep our bags in the locker area. And one float for the slide cost RM10. We paid for one float because we didn't have any cash (and there weren't any ATMs nearby). Then when we wanted to go up the slide, they said we needed to have at least three floats for the five of us. Lol.
Your "cashless" app doesn't link to debit cards or credit cards and your event is miles away from the closest ATM. Oh well. Mr Ninja and the boys went first while Aisha and I watched from the ground. K this is my only annoyance with the event, otherwise everything was pretty good 🙂
Going down the giant slide is really fun
Because we were in swimsuits and had put our bags away, Mr Ninja and I didn't have our phones and I will never be a legit serious blogger I'm sorry but that's just the way it is you just have to make do with my ugly photos!
And my fantastically bad video of the kids coming down the slide. Yes, that is my finger over the lens. Hahahaha. I'm the best.
Despite not allowing us up the slide because we didn't get three tubes/floats, they allowed Mr Ninja and the boys up and they received three tubes/floats there. (???) After that, I went up with the boys and Aisha. The baby girl sat on my lap as we went down. Wheeeeee. It's pretty slow and fun and safe for kids.
The climb up to reach the slide however was scary as shit. Narrow, metal construction steps that are high and have large gaps between each one. It's not child-friendly nor was is Ninja-friendly. Especially not Ninja-holding-a-baby-friendly. But we made it.
A lot of people freaked out climbing up because if you're afraid of heights, the steps are basically your worst fears come to life.
Yeah, so the boys had a blast going down the giant water slide over and over again. One of the perks of a VIP pass is that we get our own lane and can bypass everyone else. Like an express pass.
There's only one tent to get shade and no real sitting area
Aisha was scared of the slide after her second time because the dude spun Mr Ninja with her on his lap round in circles all the way down. She no like. She signed that she wasn't into that shit so we hung out at the main tent.
The music was blasting so Aisha danced a lot: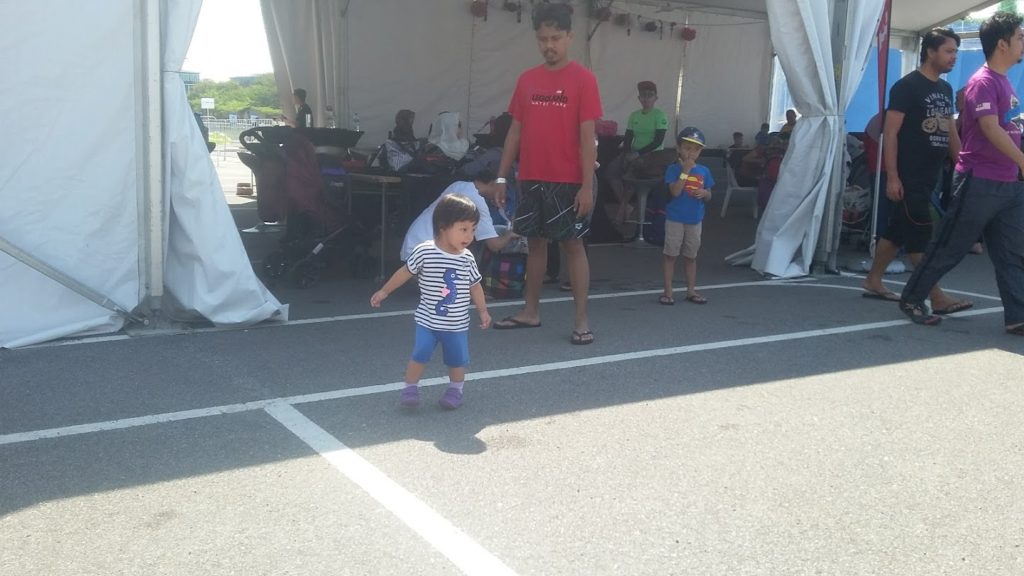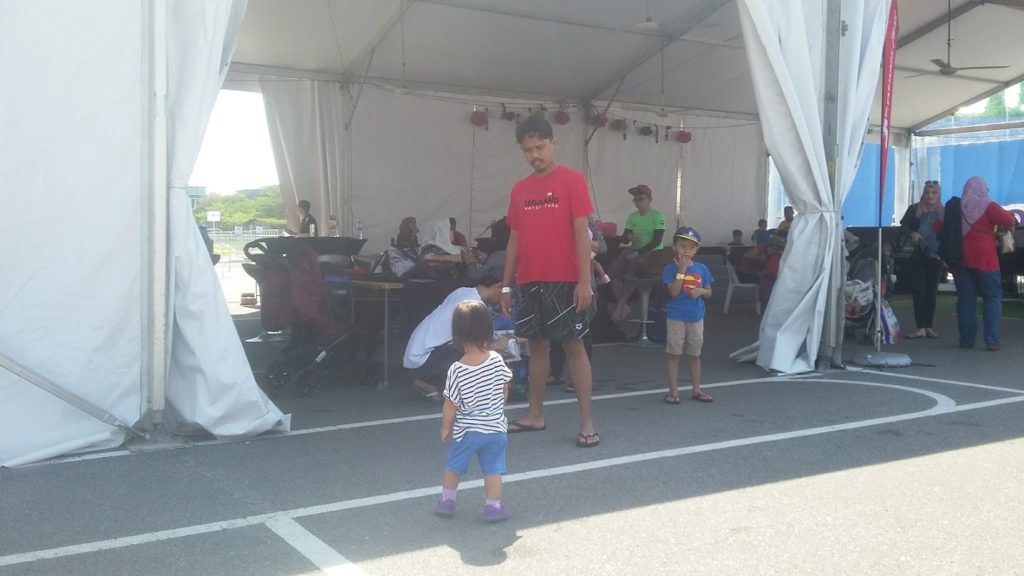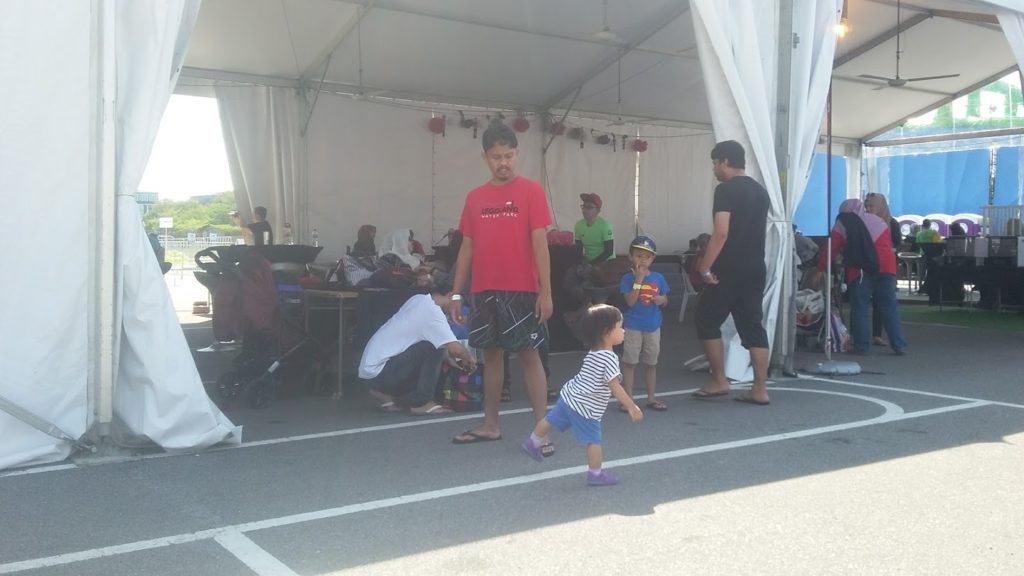 Here's the inside of tent: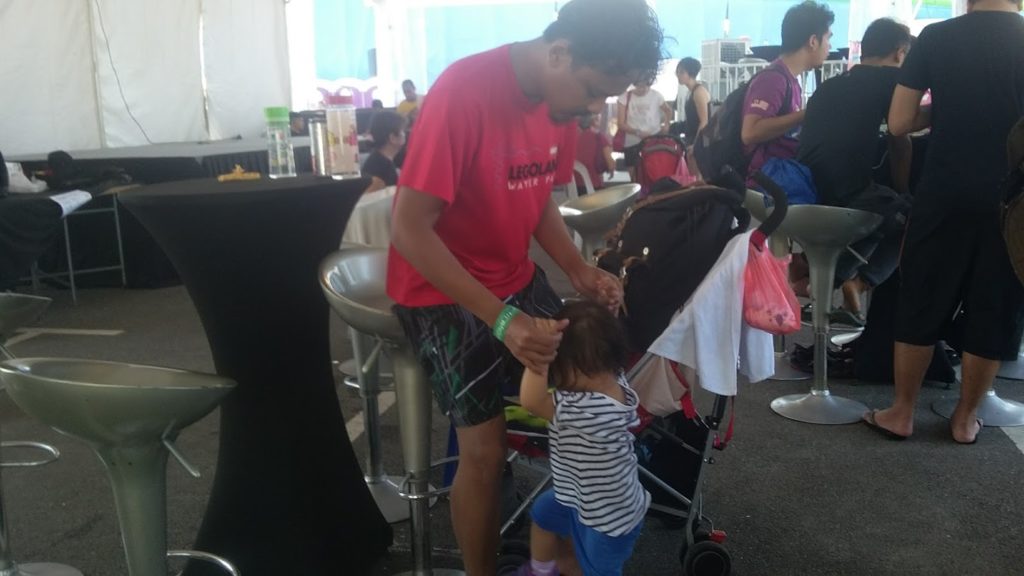 Not much there lol.
The paddling pool is the main attraction
The kiddies love this tiny paddling pool.

They were super into it. I think we should just buy a small inflatable one for our garden at home and save $$$ from going to events like 'Slide the City.'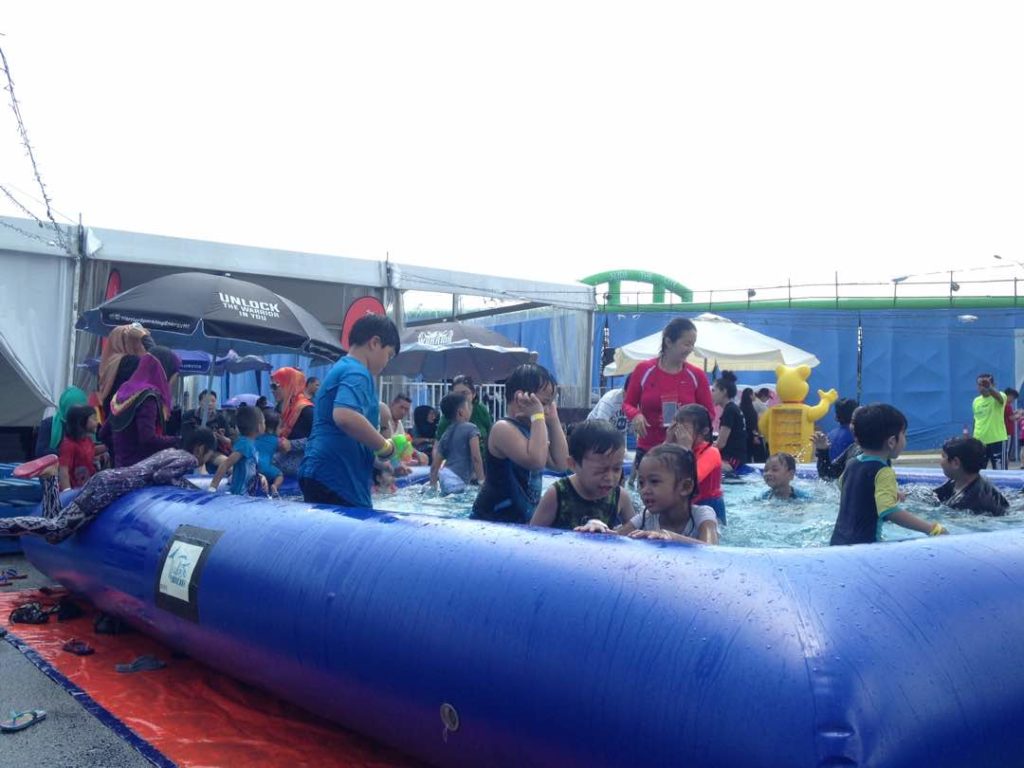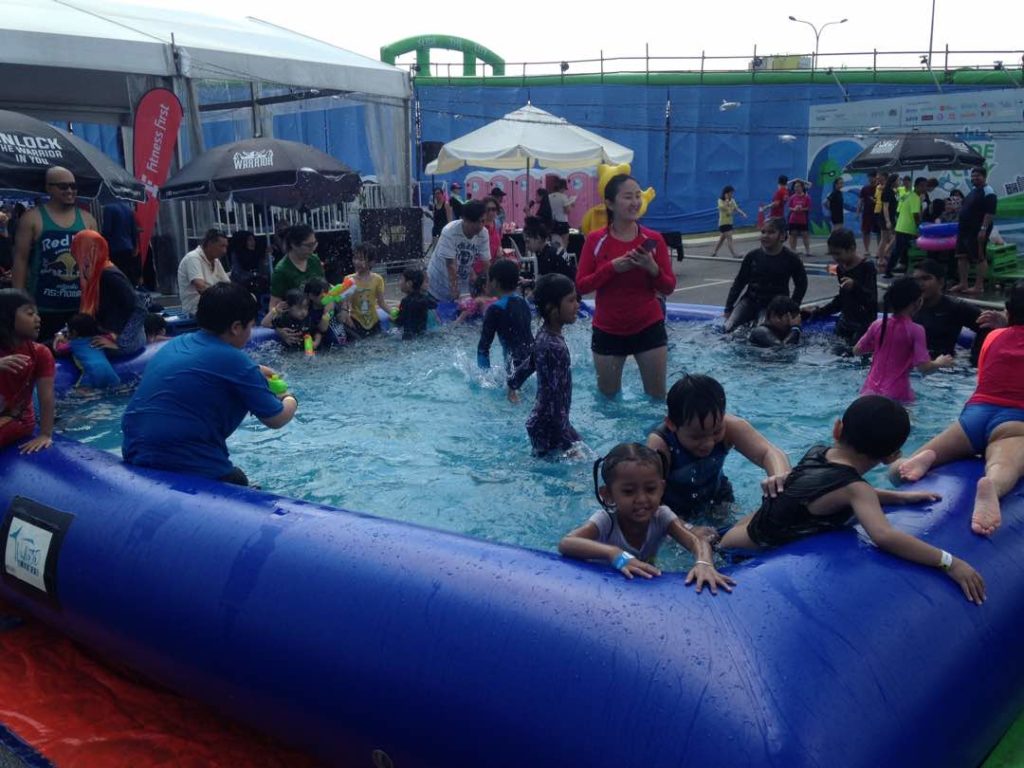 Nah, watch this cute video of Aisha swimming:
Other stuff to do at 'Slide the City'
There was this rodeo bull thing. I thought Mr Ninja took a photo of it. He did not. There was also this bungee run thing. I thought Mr Ninja took a photo of it. He did not.
Ayub really enjoyed the VR experience.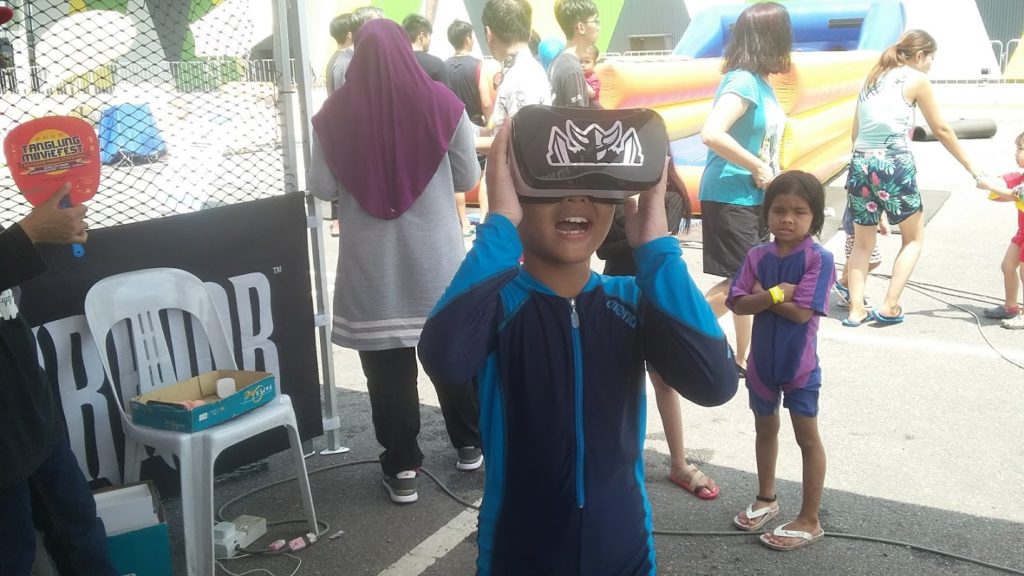 He said he was in a maze then he was in water and hiding from manta rays.
Pictures of activities at 'Slide the City'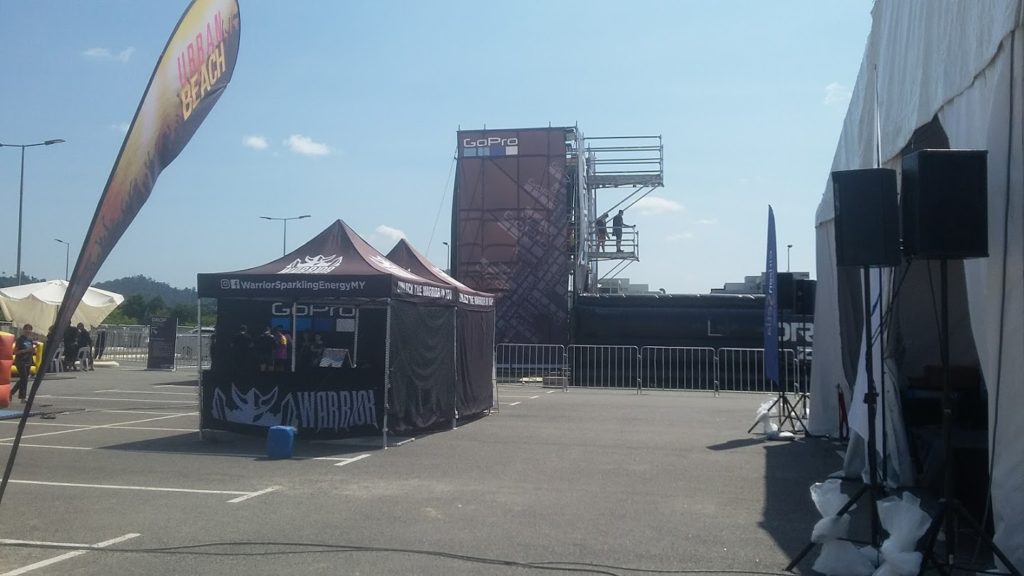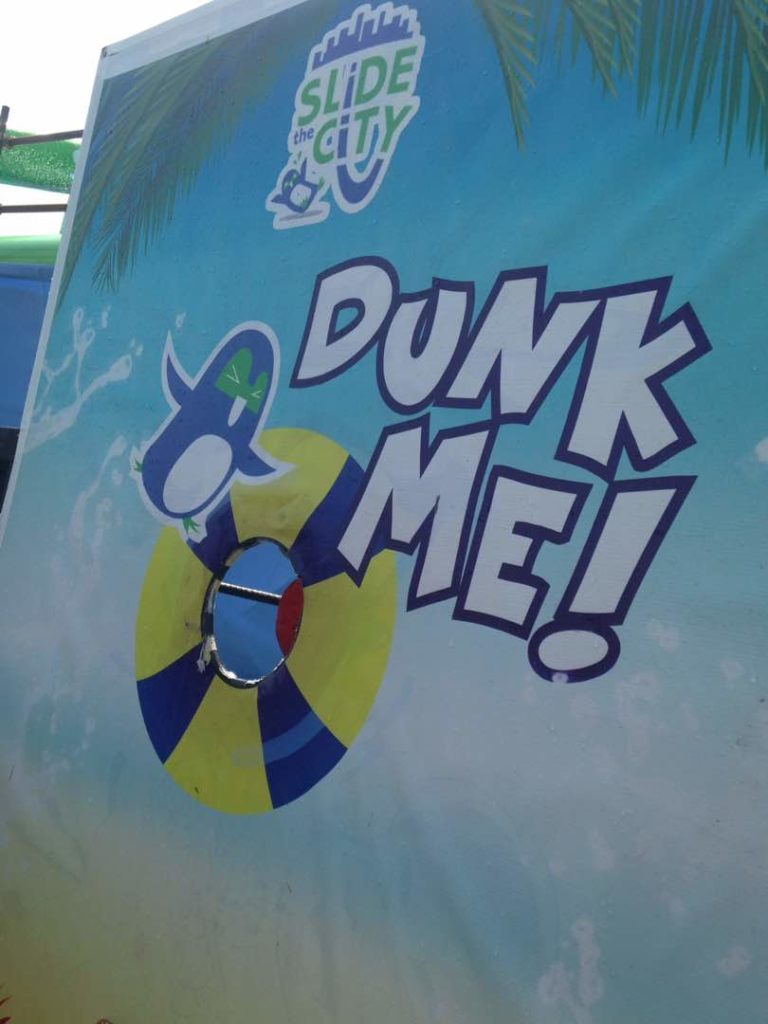 Stuff to eat at 'Slide the City'
There were some food trucks. The food seemed nice. We got free ice cream from the Setia Alam developers in exchange for my email and phone number. Haaaa…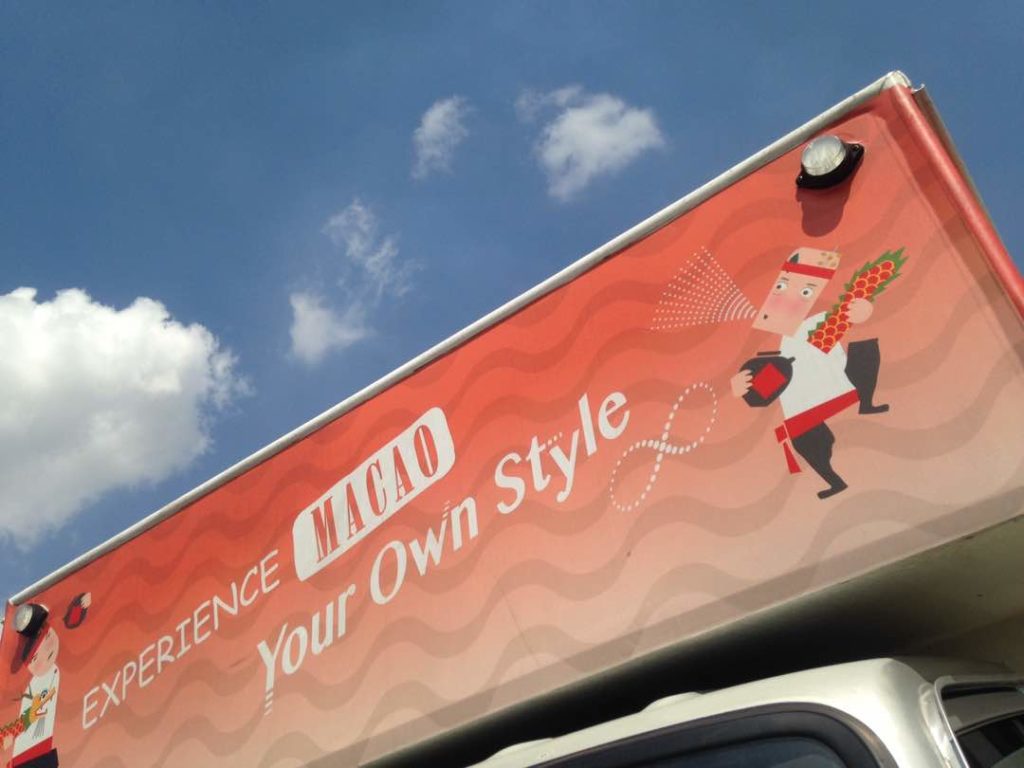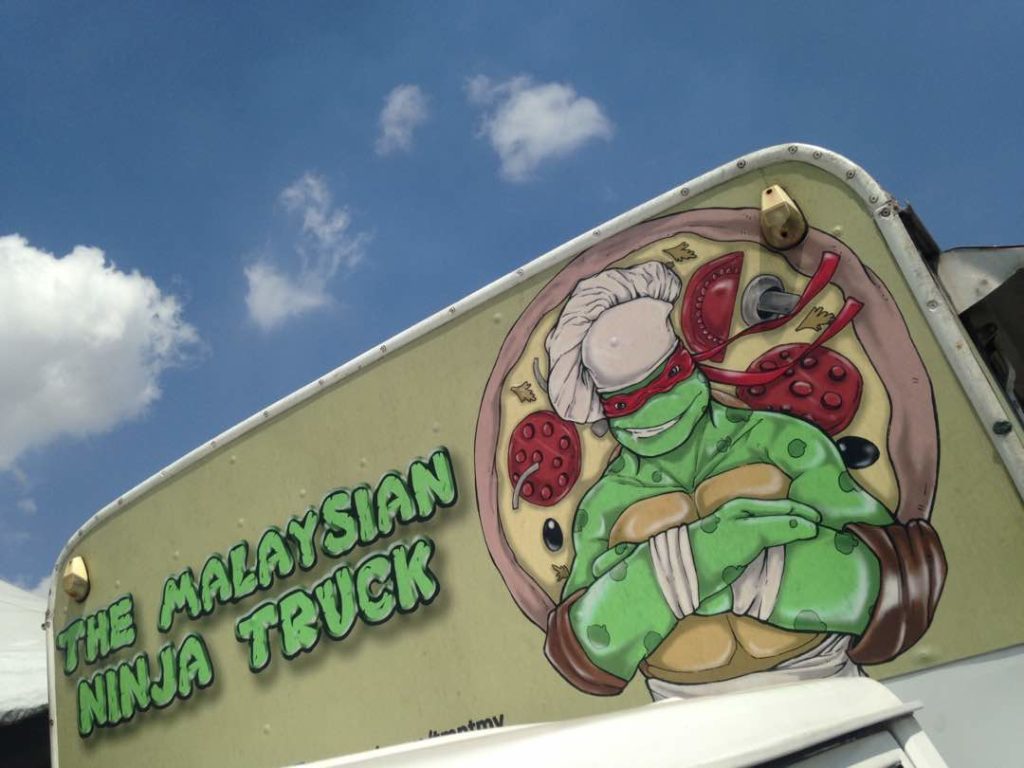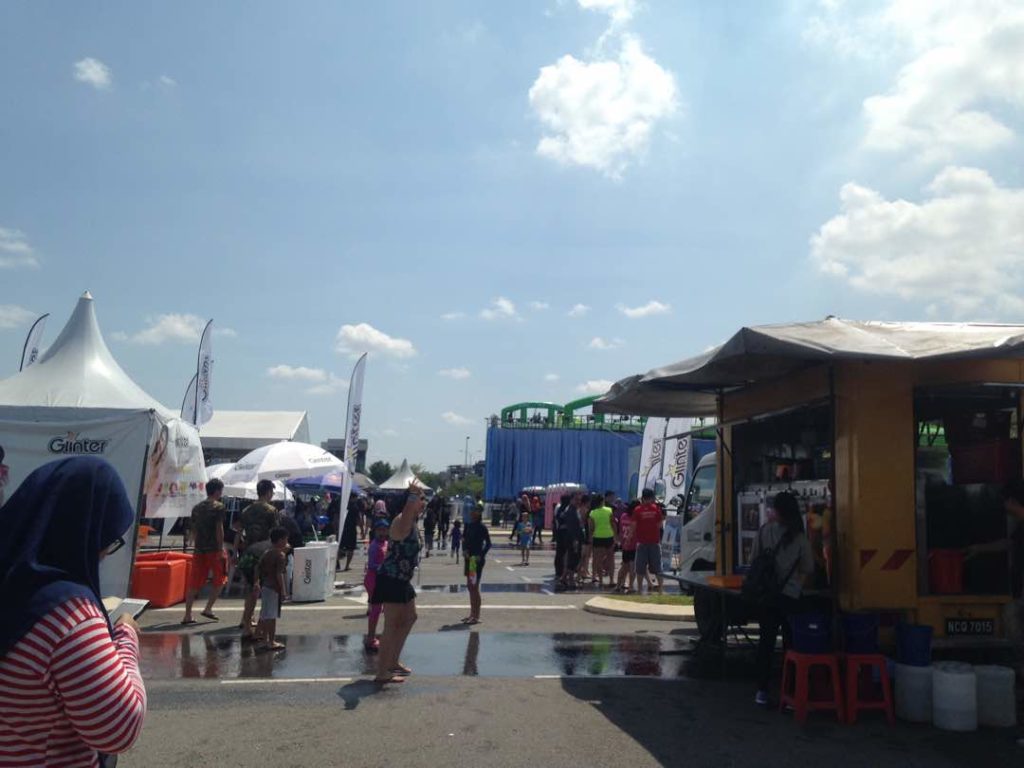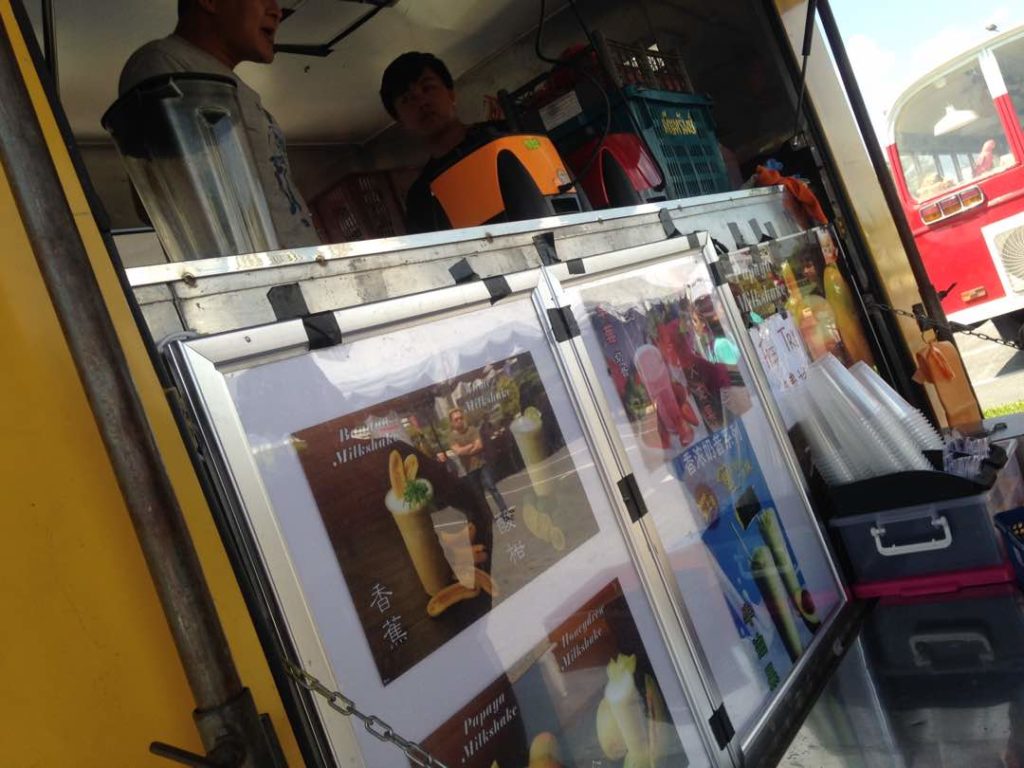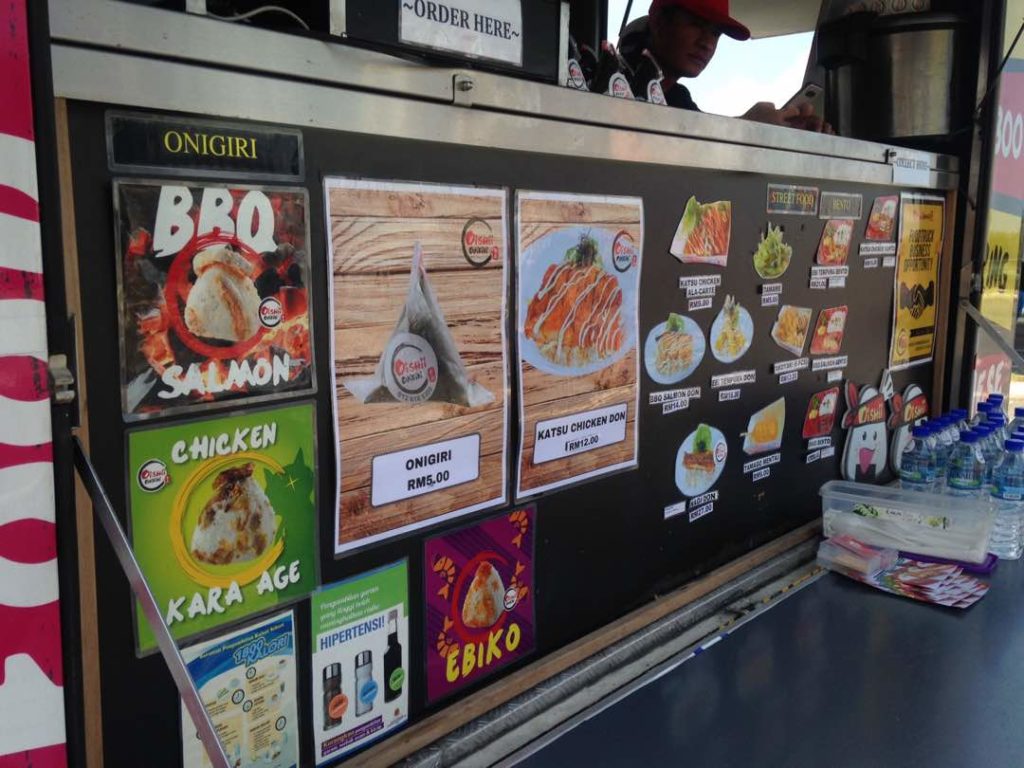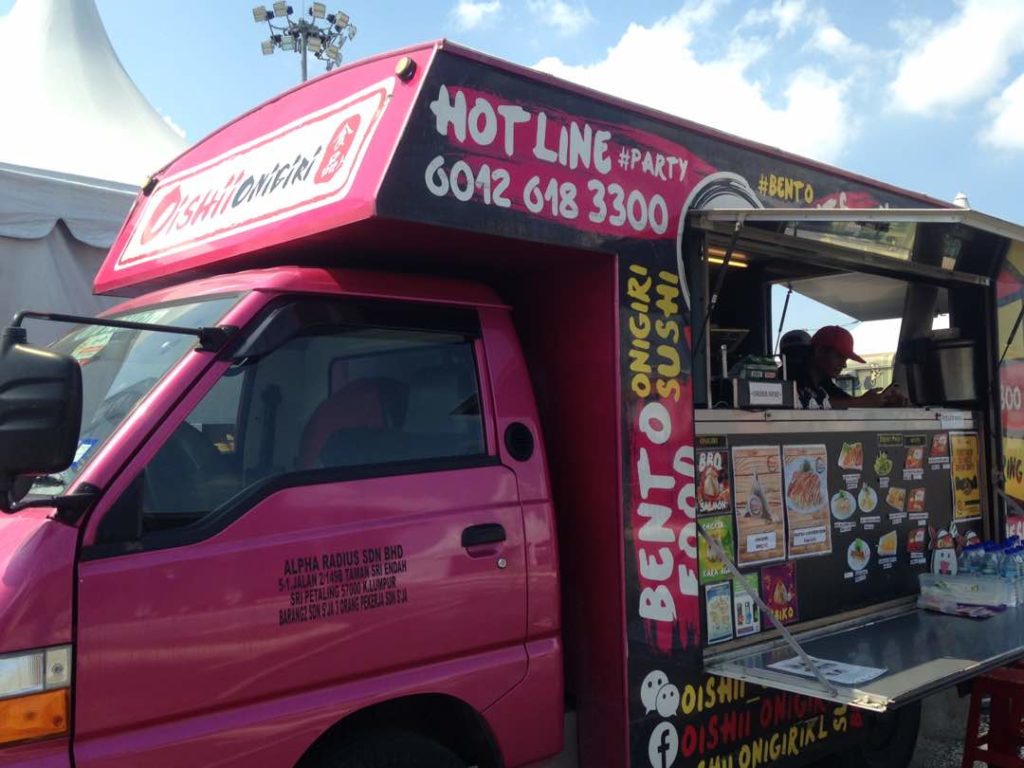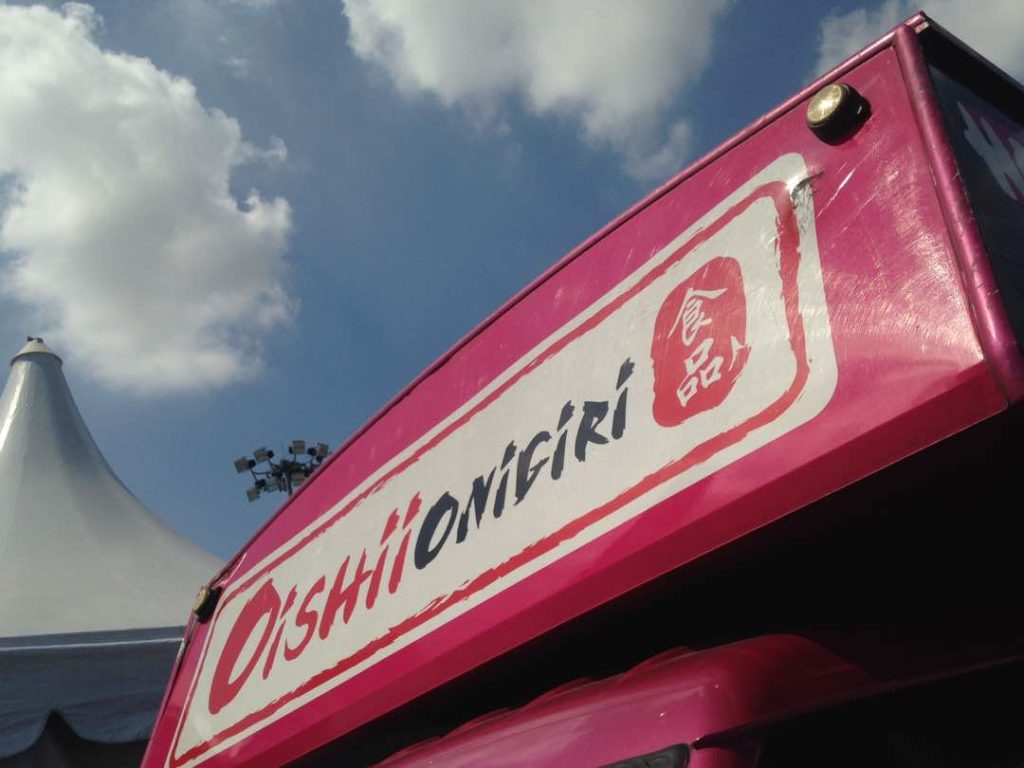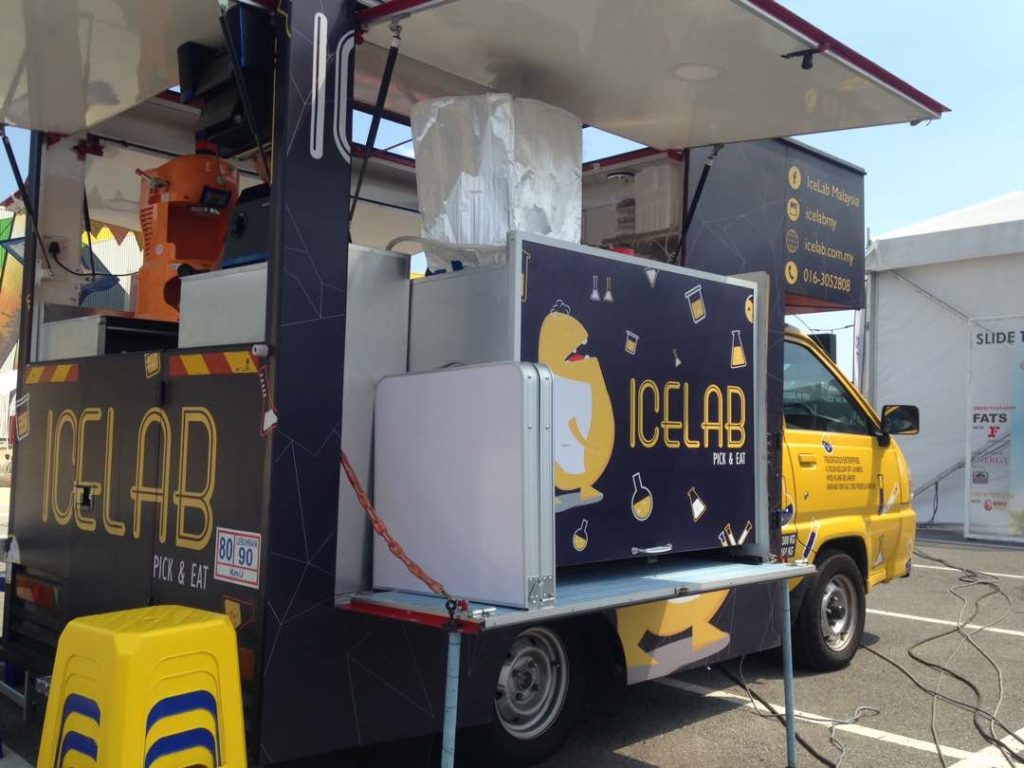 Final thoughts?
It was fun. The kids love it. The app thing is a bit mafan. But otherwise it was a good event. A bit sad. Quite empty. Hardly any people, which is awesome for me.
Oh, Ayub lost a lens in the paddling pool and had to spend the rest of the day like this: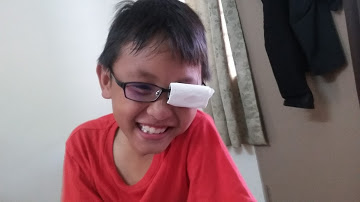 We went to Setia City Mall afterwards and had asam pedas and that was the best part of the day.
Facebook Comments