Exploring Starship Galactica In One Utama For The Millionth Time
Everybody has their mall. One Utama / 1Utama / 1 Utama / OU / 1U / however it's spelled, is my mall. And Starship Galactica is the bane of my existence. I always have to detour this way and that way to avoid it because if the kids see, they will be bugginggggg me to let them go play.
Mr Ninja and I told them it's super expensive so we can't play there anymore. But actually, it's quite affordable. Much cheaper than Dreamworld Playland at Starling Mall and Jungle Gym at Atria.

Go there early because it will be packed by midday
I am an early morning person. No matter what day of the week it is, I usually wake up before 7am. Mostly not by choice. I would love to sleep in til 8am but you know. Kids. Anyway, we went to Starship Galactica at 10am when it had just opened. So there was plenty of parking at One Utama and nobody in the playground yet.
Entrance fees on weekdays at RM30 per child (aged 1 year and above), on weekends and public holidays it's RM35. Adults are free. A bit :O that Aisha had to pay full price. Usually kids under 2 are free. But it's ok. I made sure she got RM35 worth of playing done. Asian mums don't waste money.
You can't go into the playground with your handbag or water bottles etc. They have lockers to keep your stuff, RM5 per locker.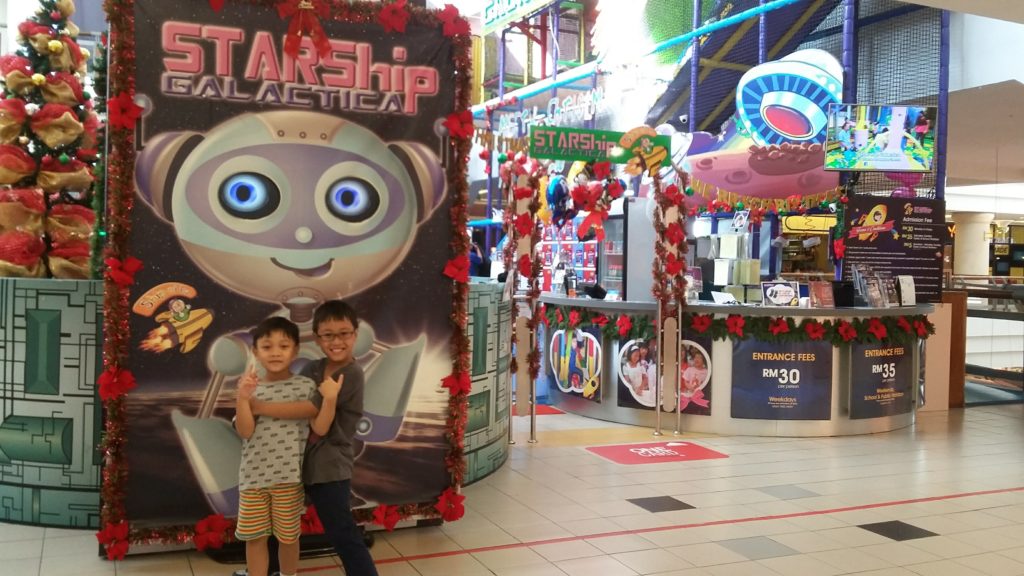 We stayed until 1.30pm. By that time the playground was super packed with kids at every corner. We had to line up to go up the different levels because there were just so many people. It was a great excuse to GTFO. Otherwise I think the kids would have stayed there forever.
The activities in Starship Galactica
There are three main levels in Starship Galactica, with different squishy staircases leading you up and down, and different things to do on each level. It's pretty small and compact, but the design is smart. Always stuff to keep the kids occupied.
The  Air Gun area is the main event
Lots of little squishy balls.
A mini ball pit that lights up
It's really small with just one layer of balls to play with. Good for younger kiddies.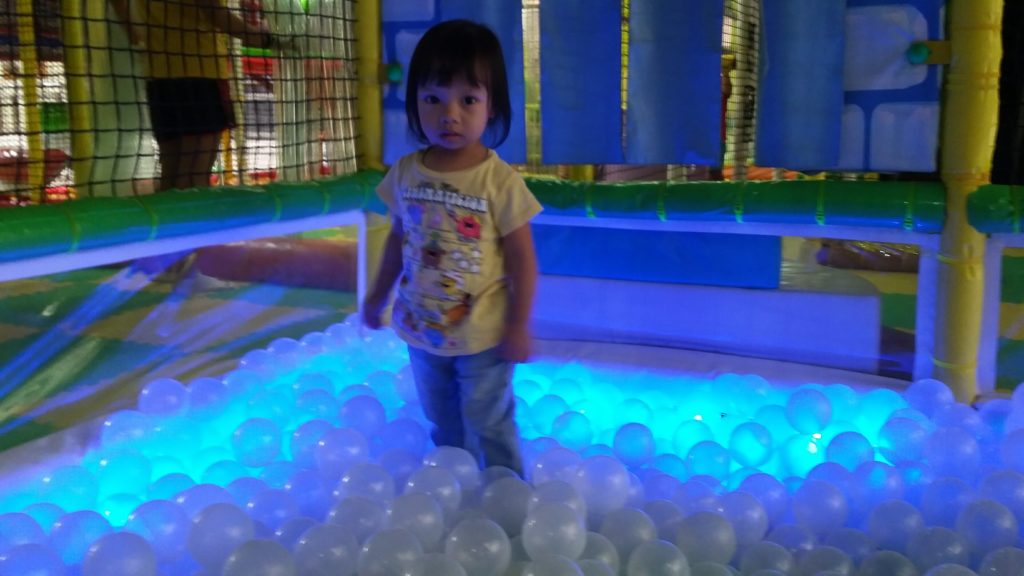 Eventually this ball pit became the meeting ground between all the older kids. Ayub, Sulaiman, and all the other kids would sit around and giggle and talk and laugh and make up the next game to play. Hide and seek, then tag, then something that they invented with very complicated rules that make no sense to a boring adult such as myself.
A bouncy trampoline
Big enough for 6 kids. Aisha loves the trampoline. Jumping is her new thing. She's still not very good at it.
Lots of climbing stuff
Basically a mini-obstacle course on every level.
A giant slide and a small slide
Area for eating and relaxing downstairs
The nice thing about Starship Galactica is that they offer food. I saw like spaghetti and stuff. We just bought nuggets, a cheesey hotdog, water, and vitagen. It's more expensive than if you bought food outside the playground. But it's ok. Kids were super hungry.
Final thoughts
It's fun. It's not too pricey. It also doesn't have that much to do. And it gets pretty packed, pretty fast. The staff are dotted all over the playground to keep the kids safe. Yeah. It's good. I like it.
Look how cute me and Aish Mish are: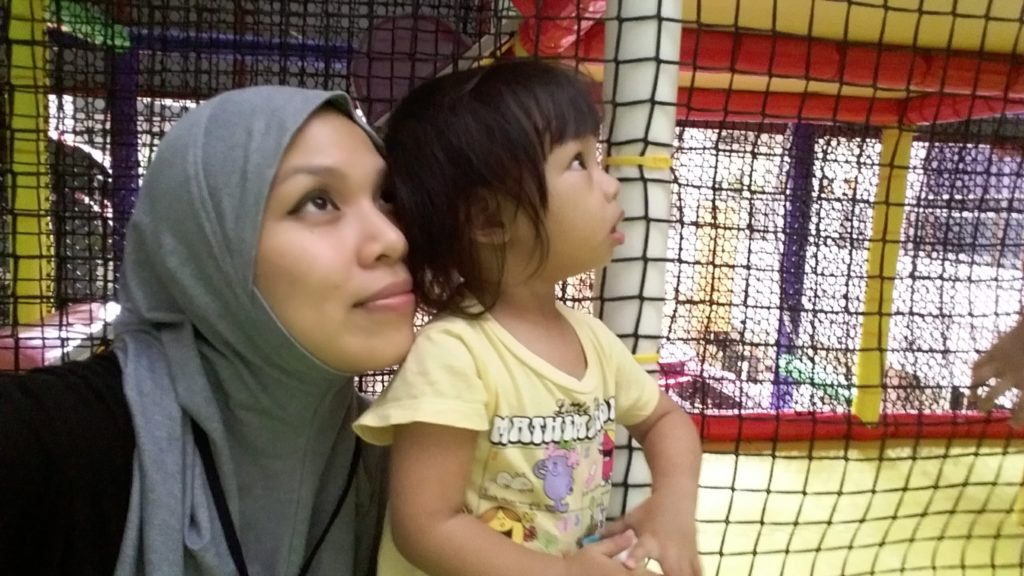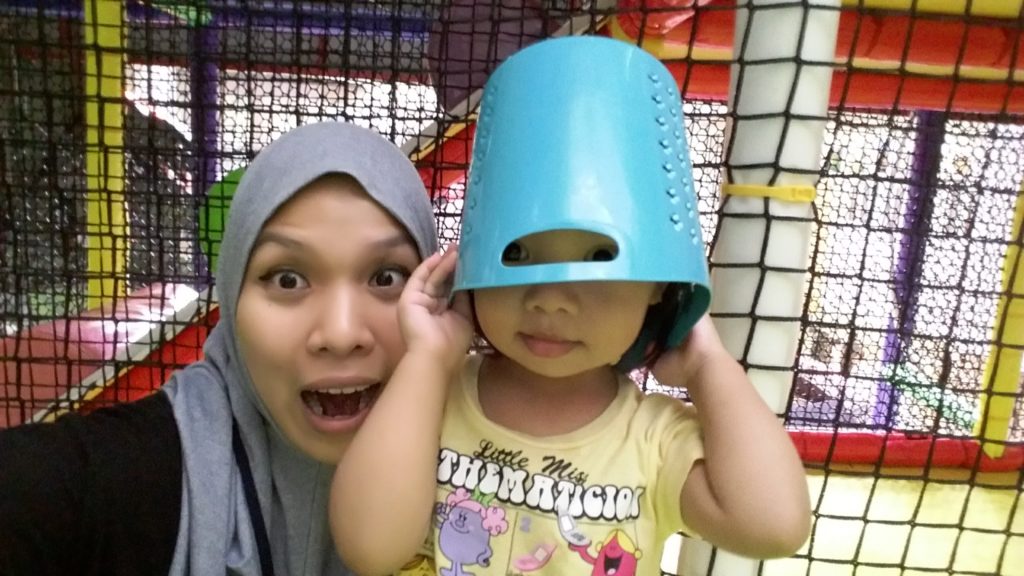 Starship Galactica details:
Opening Times: 10am-10pm
Location: 2nd Floor, 1 Utama
Fees: RM30 per child, weekdays. RM35 per child, weekends & public holidays
Facebook Comments