Sulaiman is 6 months old!
Happy Half-Birthday little munchkin of fatness 🙂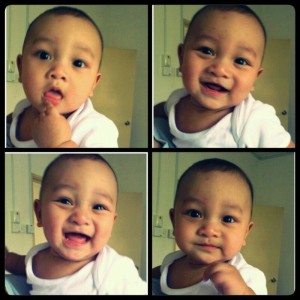 HAMAIGAAAD he is so damn cute. Masya'Allah. I love you Sulaiman. He can sit up if I put him in a sitting position, and move seamlessly to a crawling position. Can't quite crawl yet, but he's getting there. Always disturbing his big brother. Loves to grab Ayub's head and stare into his face. Ayub will say "Don't do that Shlyman! Mama, dowan baby. Mama carry baby." Lovely babies.
Facebook Comments