Super random email
A few weeks ago I received a comment on my post on the Pagi Rock Crew Roadtrip:

And so I emailed this person, crossing my fingers that it would be a scam, just because it's so fun to mess with them 😉 This is the reply I received: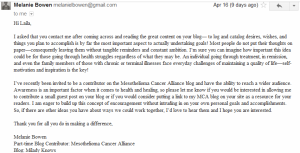 Hmm… Doesn't sound like a scam. Mesothelioma Cancer Alliance. So I replied that it was cool if she wanted to contribute an article and I would totally post it on this bloggie. I also told her that this blog is really full of crap. I guess she took a proper look at the nonsense I post here and she never replied again…
Oh rejection.
Facebook Comments