We Spent Over RM100 On Food At RIUH's CNY Weekend. See What We Ate:
We went to RIUH again. This is our third time and it was Chinese New Year-themed. Lots of red and lanterns and cherry blossoms. Some stuff lined up for the day. I wanted to watch the Lion Dance. Zooey, who was emceeing, said the Lion Dance would start at 1.30pm. She lied. It did not.
Anyway, the real reason we went was because Gowri wrote a story on RIUH for SAYS, go read. The food, guys. The food looks so good… in the pictures. And in Gowri's descriptions. So here's all the stuff we ate:
1. Amazing sambal and sad bao from The Aiden Picnic
I was really looking forward to eating bao from The Aiden Picnic. They serve bao with different fillings and their signature sambal sauce. It looked amazing. Mr Ninja and I went straight to the stall when we arrived to eat our bao.
They weren't serving lunch yet. So we tried their sambal that they were serving as testers with nachos. They have three flavours. Sambal King, Sambal Queen, and Sambal Duke. Ridiculously delicious. I didn't take any pictures because Aisha fell asleep in the car and I forgot to bring my sling so I was carrying her in my arms.
Here's a pic from The Aiden Picnic's Facebook page: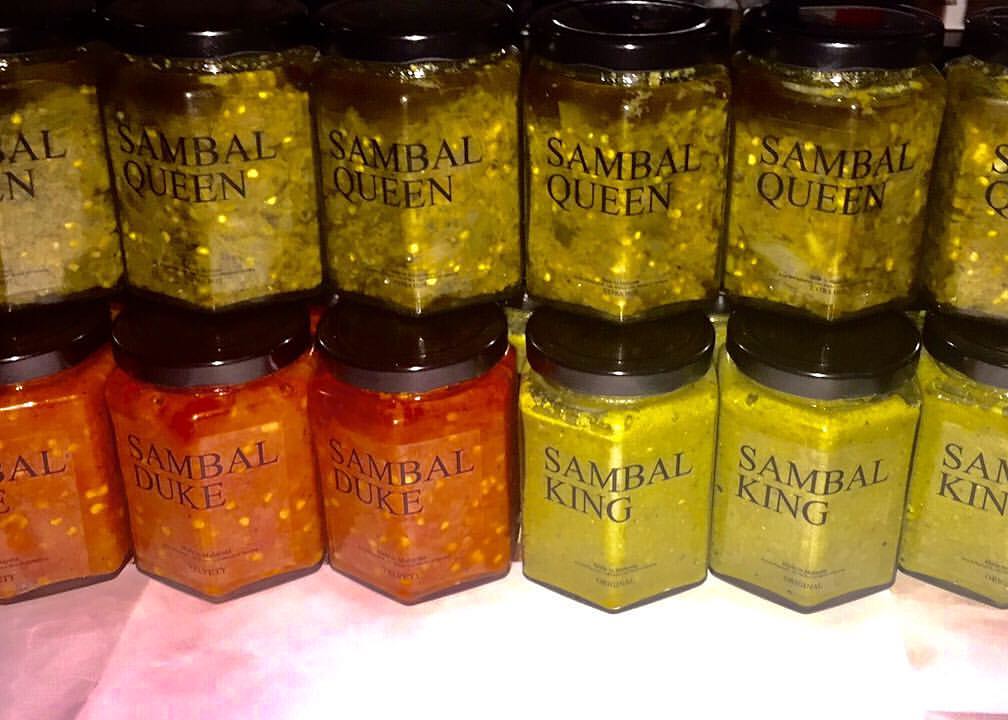 Anyway, Mr Ninja and I super super loved their sambal. We bought a jar of Sambal King for RM22 (I think?). Spicy, sweet, so packed with flavour I wanna chug the whole jar then kick myself in the face.
We pre-ordered our bao.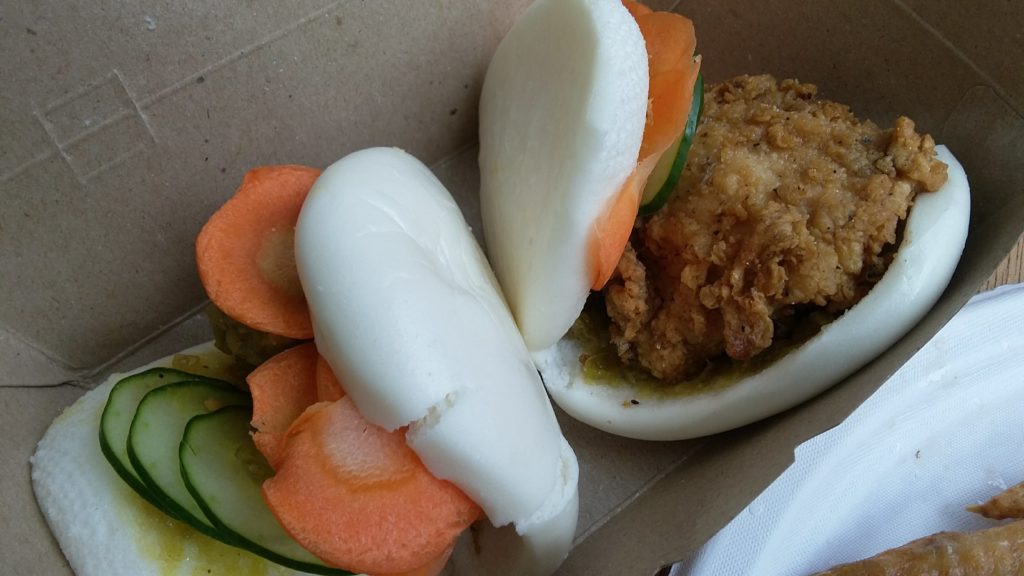 The chicken looks so sad. That carrot and cucumber 🙁 The soft shell crab looks nicer. Tasted nicer too.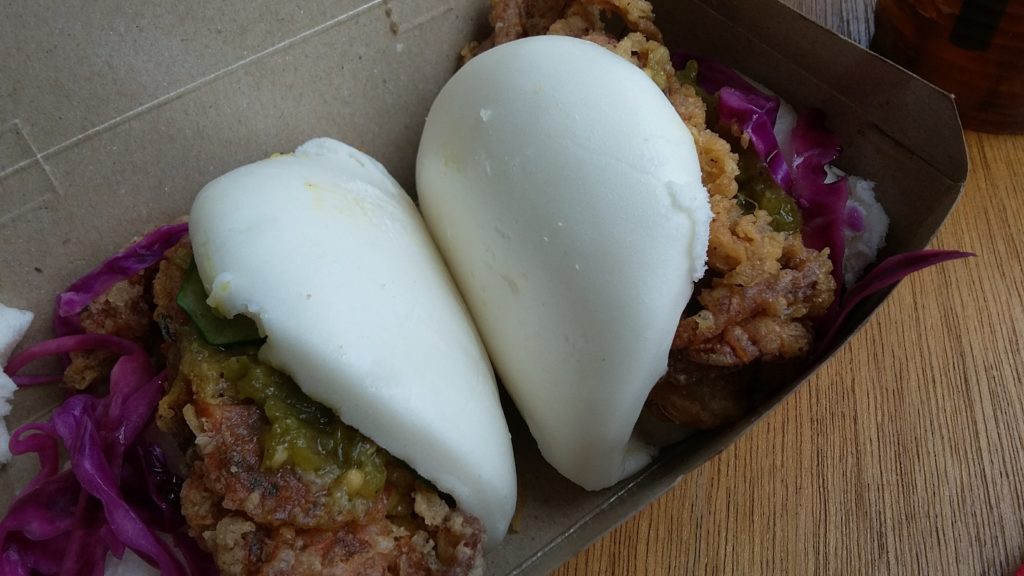 Mr Ninja ordered the soft shell crab and I got the chicken. Two bao in one serving, price range RM25-RM35 (around there I can't remember anymore sorry). My chicken was raw on the inside so I stopped eating it 🙁 All the bao fell apart. The soft shell crab on its own was nice.
I dunno. Nothing worked. Everything separately tasted nice. But together, there was no gastronomical harmony. You know what I mean? Sometimes everything comes together and you take one bite of it all and it's a party in your mouth. There was no party here 🙁 We were disappointed. The sambal was still yummy though. But they gotta work on their flavours.
2. The most expensive plain hotdog in the world from Yoohoo
So Yoohoo doesn't sell plain hotdogs. They sell yummy hotdogs with yummy relishes and yummy sauces. But when you have an Ayub, such as mine, relish and sauce is just not a thing. He asked for a hotdog, so I went to order him a hotdog.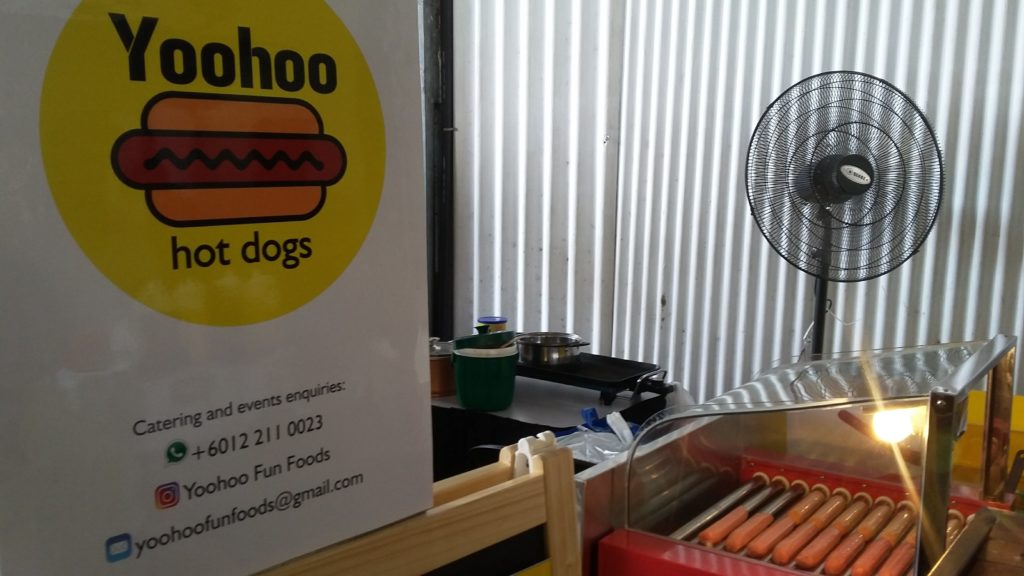 I tried to choose the plainest thing on the menu: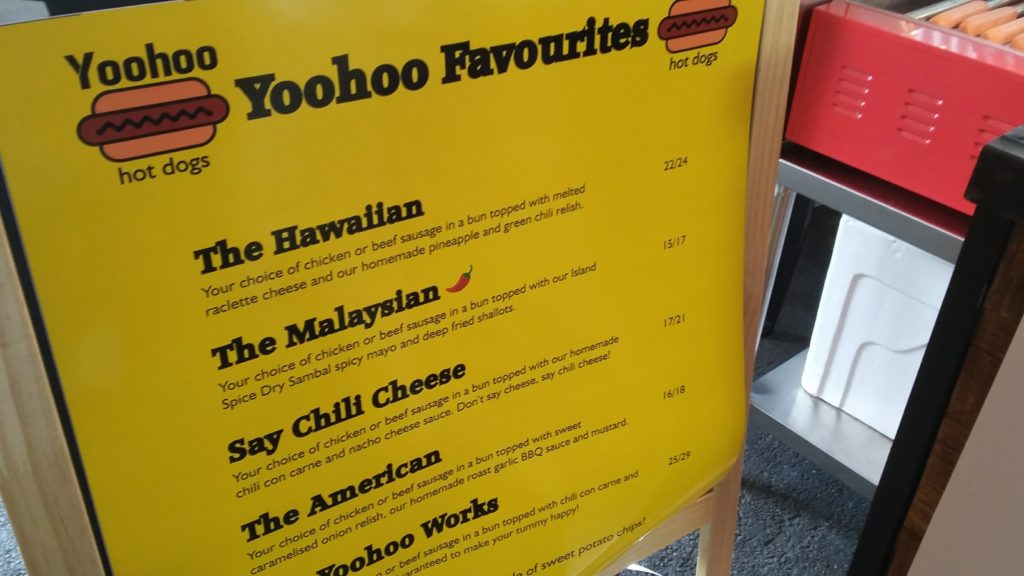 Ayub is not into spicy food or any kind of sauce (e.g. mayo, BBQ, tomato, chili, garlic, herbs), and he is not a fan of onions. I ordered The Hawaiian with the relish on the side. It ended up looking like this: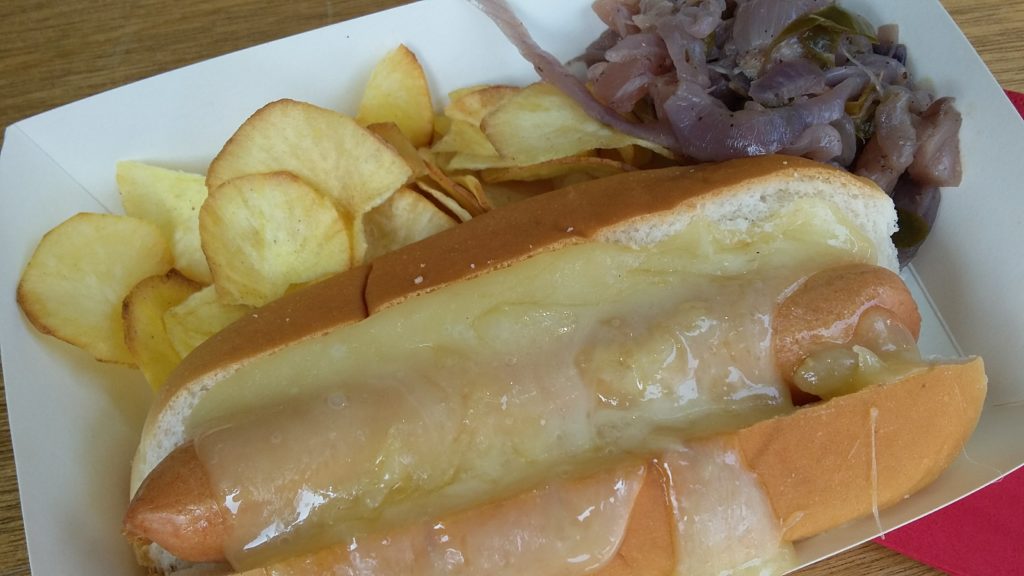 Almost the perfect hotdog for Ayub tbh. Plain chicken sausage in a bun with cheese. Nope. He pulled the cheese off and only ate the sausage and the bun.
I spent RM22 on a plain chicken hotdog and bun. Lol.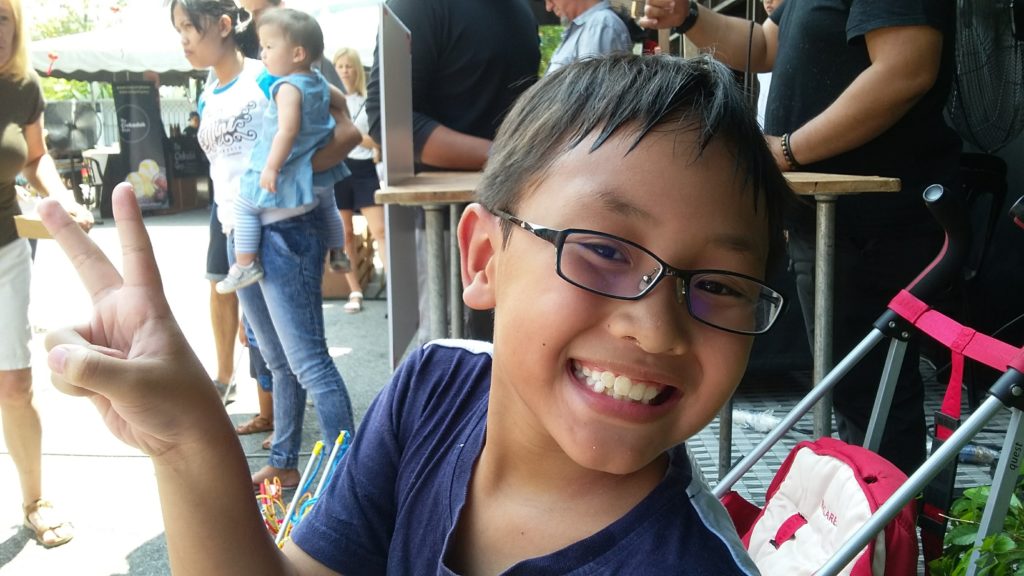 I ate a bit of the "pineapple and green chili relish" on the side and it just tasted like onion so…
3. Really tasty chicken wings from Chili Pang Pang
Aisha loves chicken so I bought her 6 wings from Chili Pang Pang for RM26. They have a selection of hot sauces but of course we went with the herb and garlic because kids.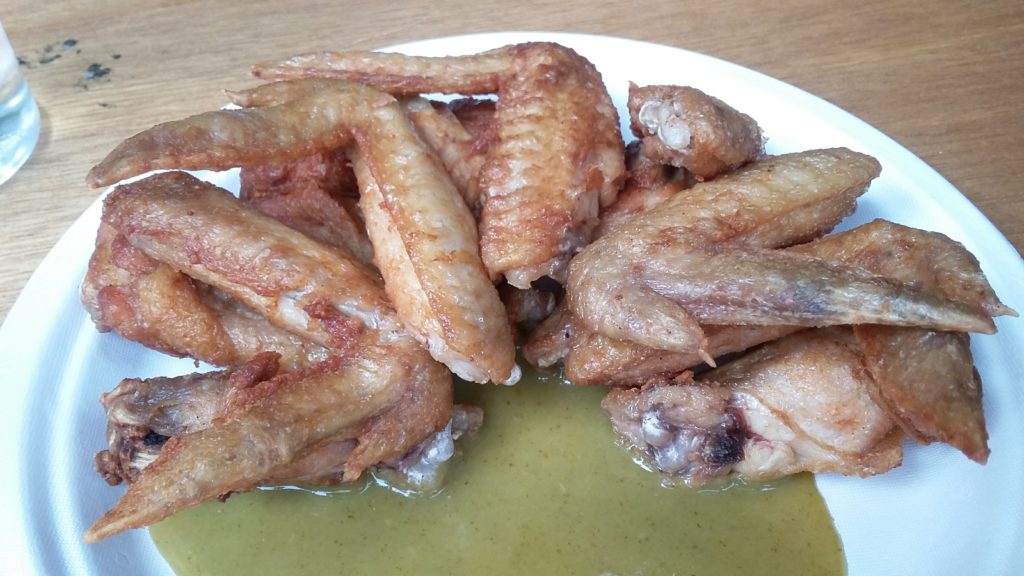 The wings were perfectly seasoned and cooked. We smashed into them without the sauce. The kids weren't into garlicky taste. Mr Ninja and I loved it though. I think Aisha ate around 4 wings. Super yum. I like.
4. Really sugary sweet air mata kucing from a stall called Air Mata Kucing
I was basically sugar water with some lychee in it and it cost RM7 for a cup. I didn't think it warranted a picture. Sulaiman and Aisha loved it though. They ended up finishing it and wanting more. So Mr Ninja had to shell out another RM7 for this overpriced monstrosity.
They also sold 'RIUH Water' for RM1.50 per tiny bottle. Yeah. It was probably the most expensive, least satisfying lunch we've ever had.
More pictures at RIUH's CNY Weekend
Ooh, the nachos from Nachoslah looked really good!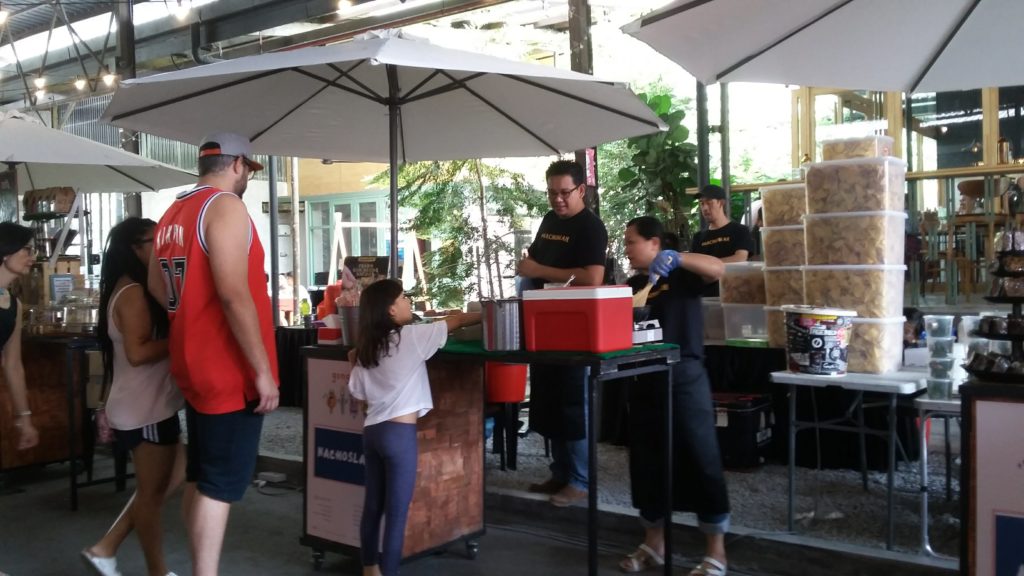 That's the stage where they were having performances and stuff. More seating and shade this time around, which is great. Super hot the first time.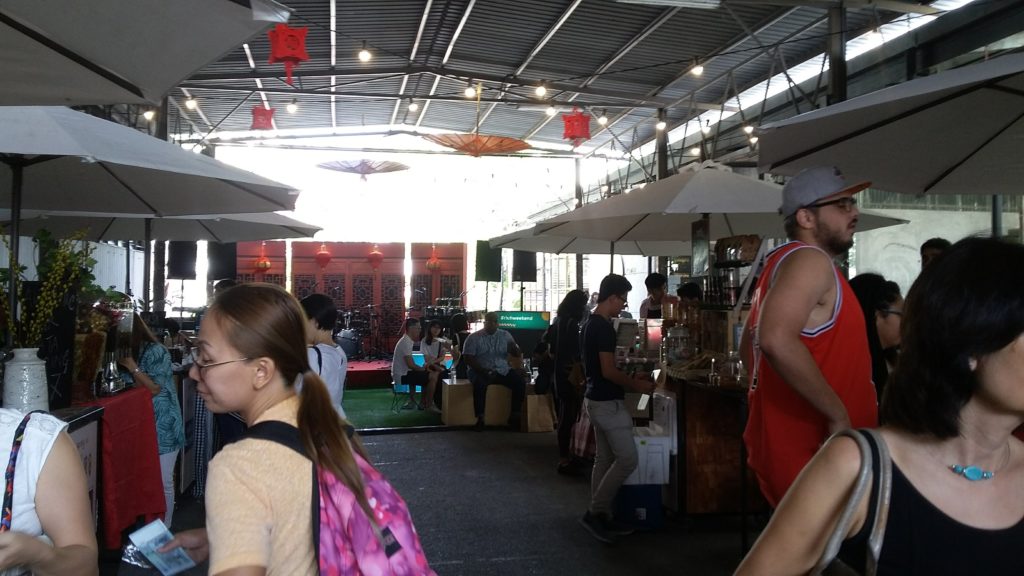 This is the horrible air mata kucing stall. Omg. I guess some people like drinking lychee-flavoured sugar water.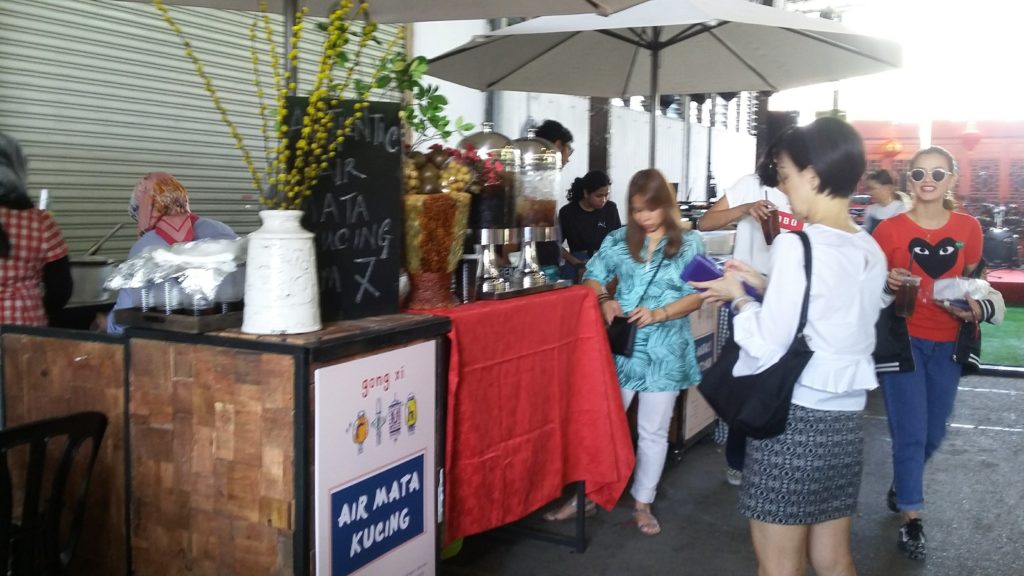 The pop-up stalls were cute as usual. Books, clothes, furniture, crafts, jewellery, pillows, and more. No magnets from TinyPinc though. And that's all that matters.
We finally saw the workshop area
Honestly the first two times we went to RIUH, I had no idea where the workshops were being held. There were no signs, or if there were I totally missed them. This time there were lots of signs. On the walls, on the floor, you couldn't miss them.
So we followed the arrows and actually found the workshop area at Uppercase and it's super spacious and bright and cooling and nice.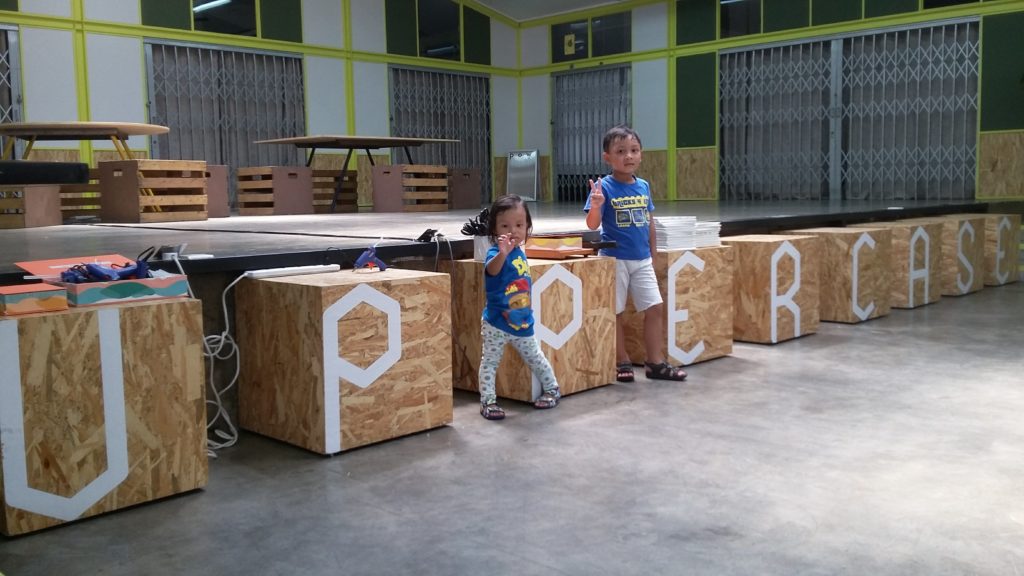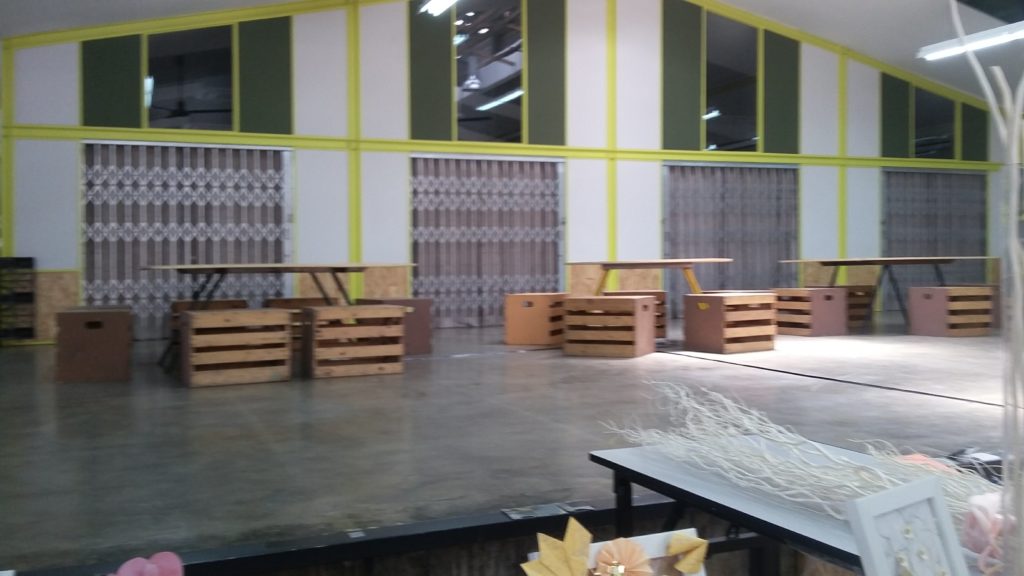 The workshop was Lunar Paper Art and they were trying to get people to join for RM30 but nobody did and it was so sad. I would have signed up the kids but we ran out of money because we spent it all on the food. Anyway, you were supposed to learn how to make this: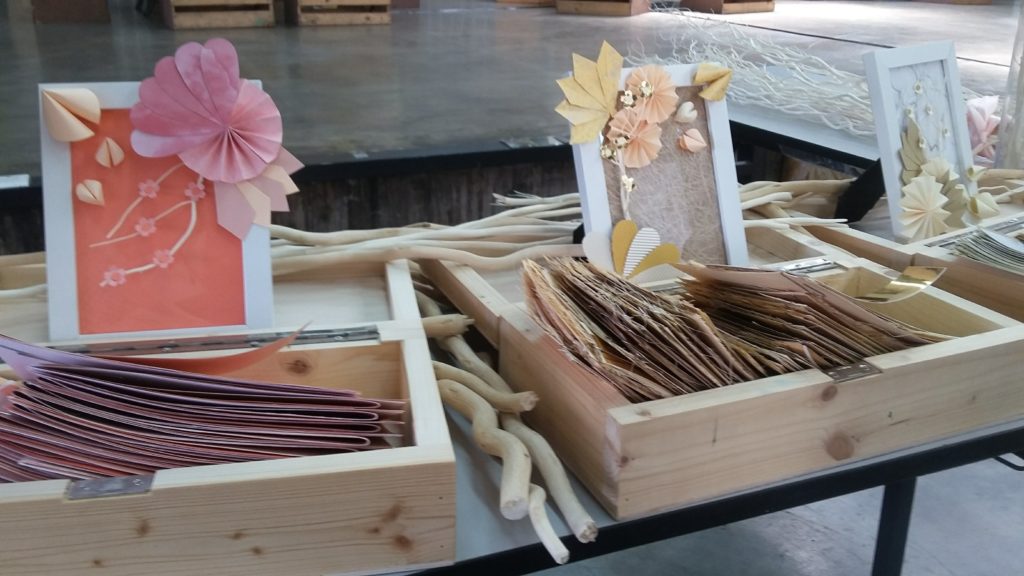 Aisha and Sulaiman were happy to go exploring at Uppercase. There's a balcony that was cute. Aisha super sweaty and couldn't sit still.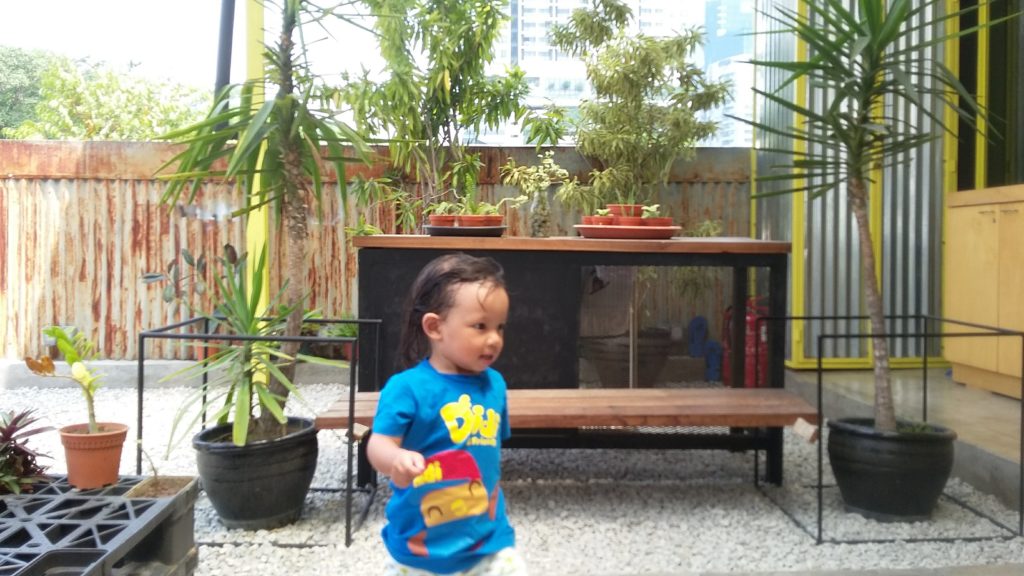 The Chinese New Year decor at RIUH
I'm running out of patience to write this post so just look at a bunch of picture ok. There was this guy: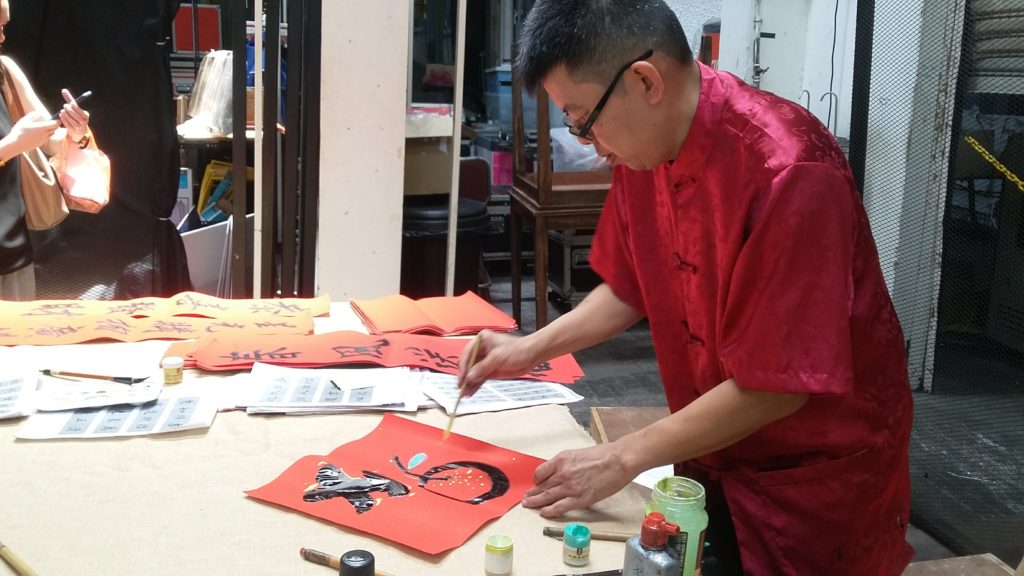 Everything was red and cherry blossoms and lanterns and bubbles are still everybody's favourite thing: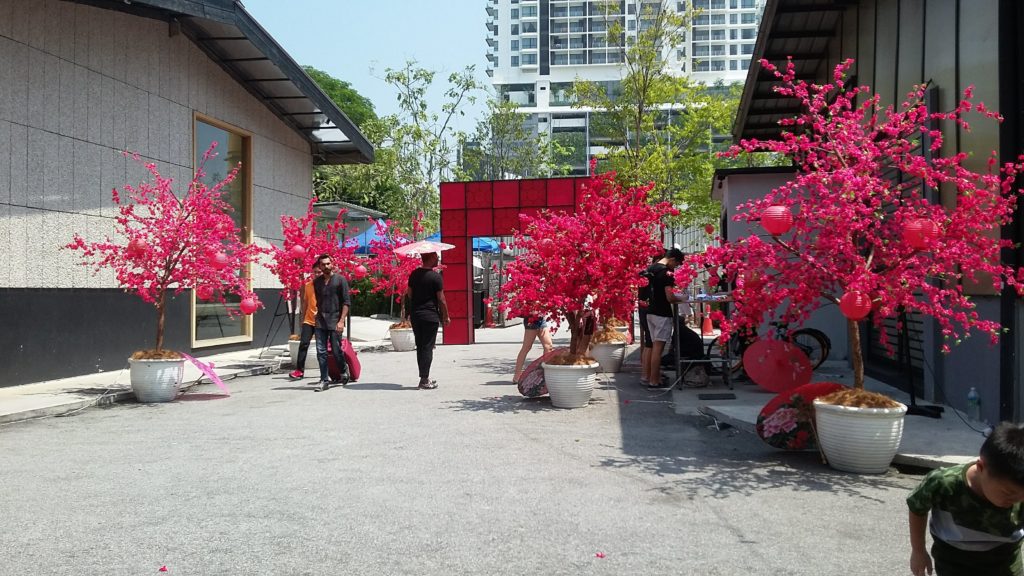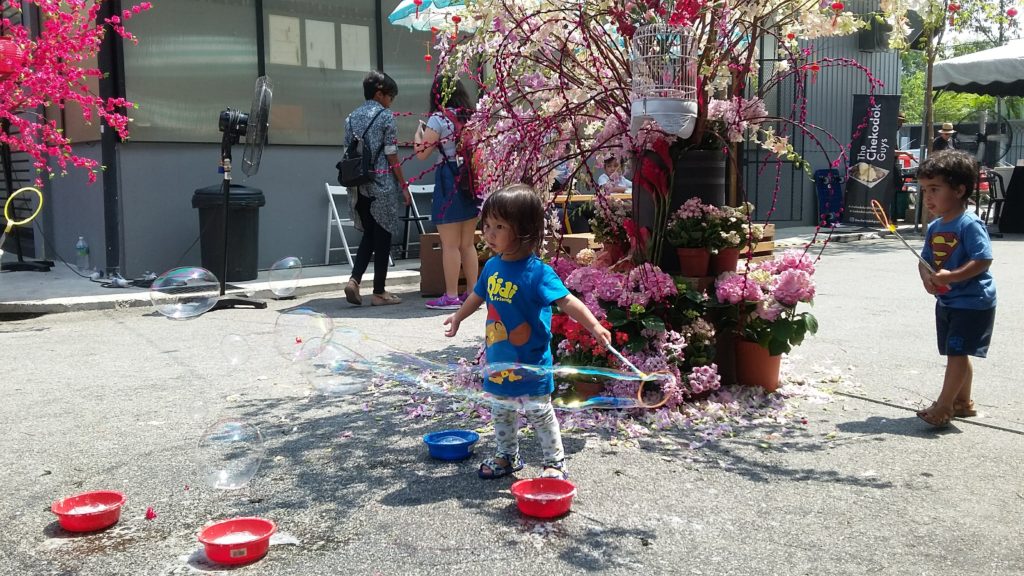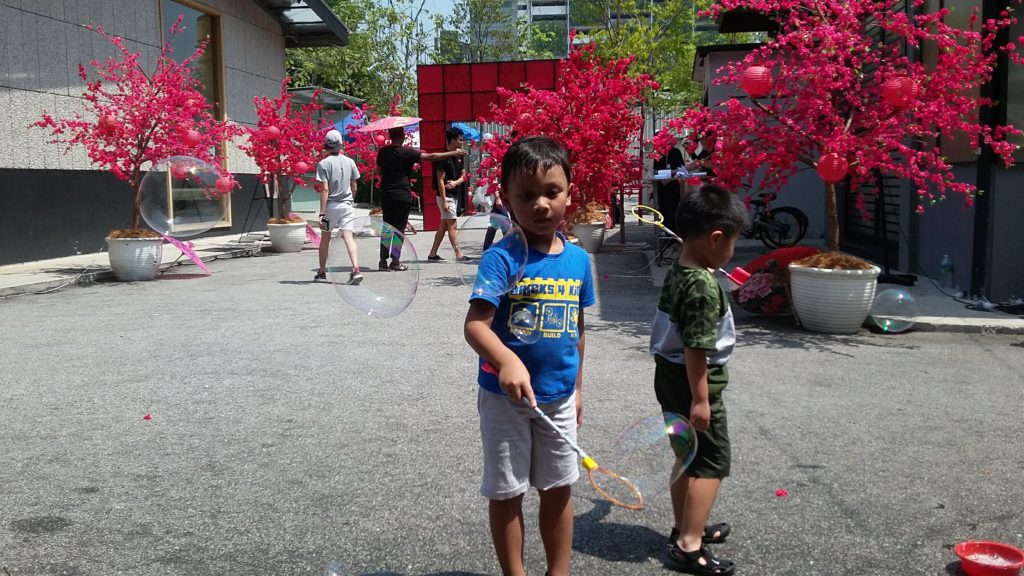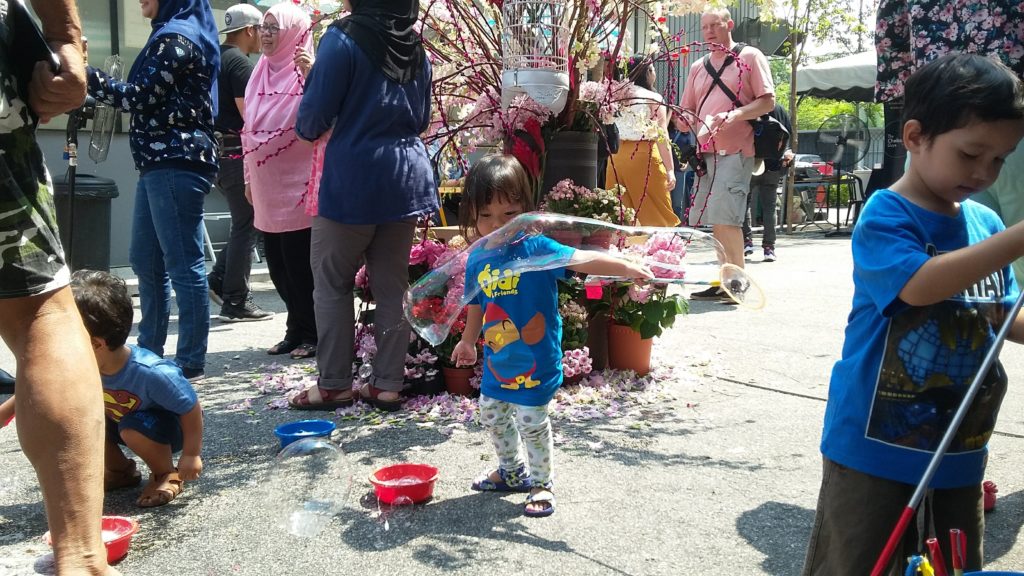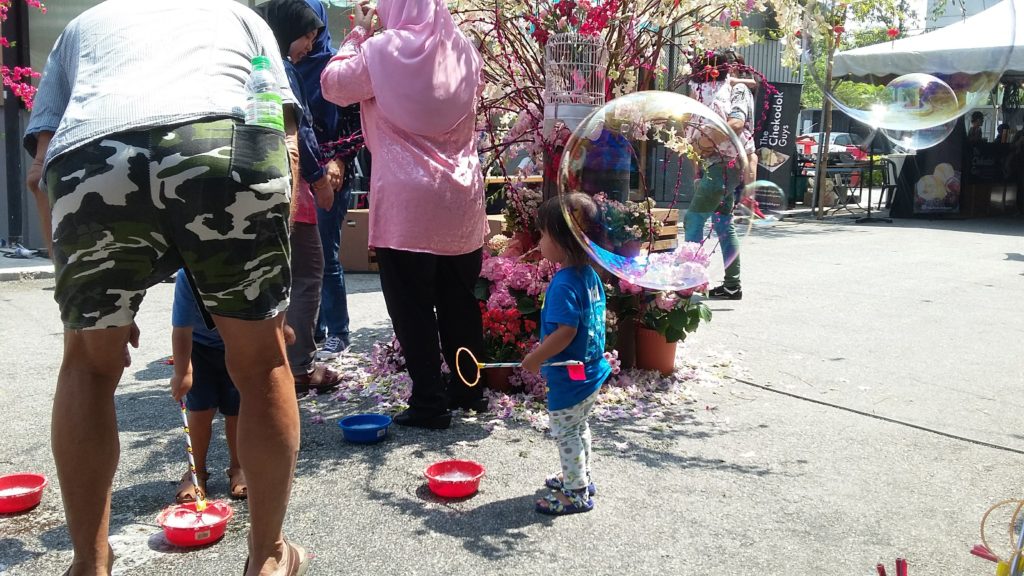 There was like a pelamin thing that was cute but all the hijabstas took over it and were taking half a billion pictures of themselves like dumbasses so me and Sulaiman took pictures at this sad lonely chair instead: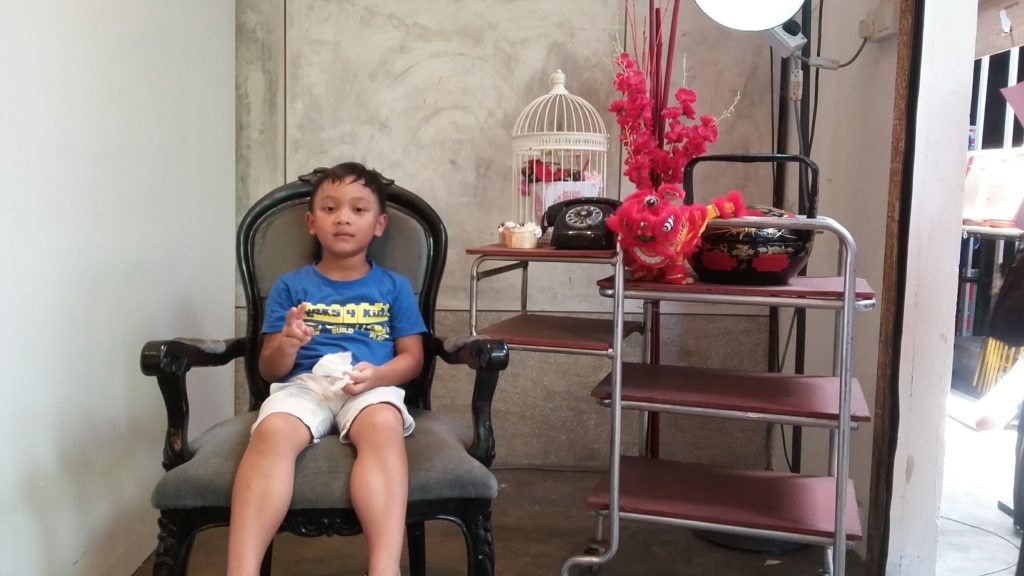 Then Aisha showed up: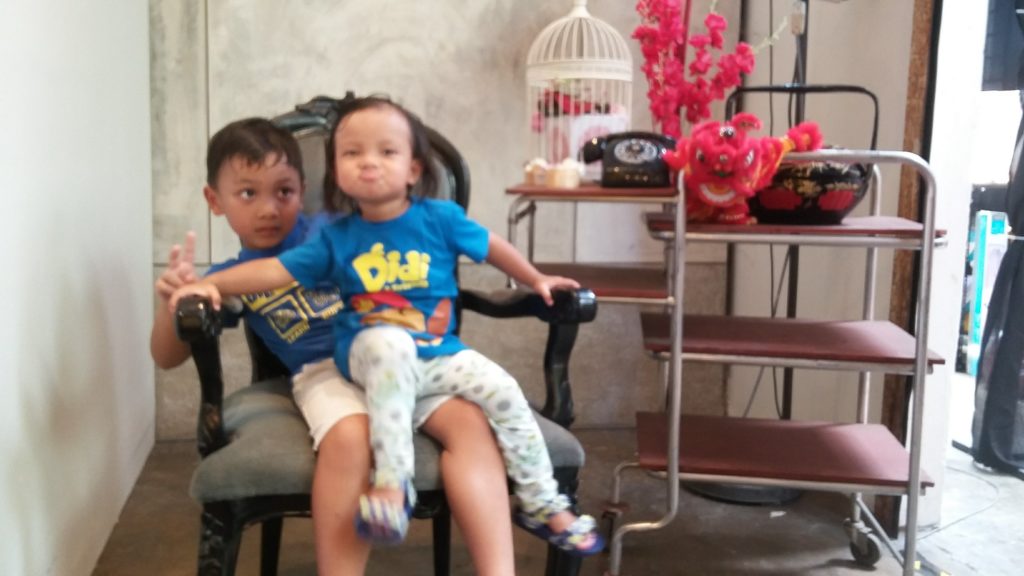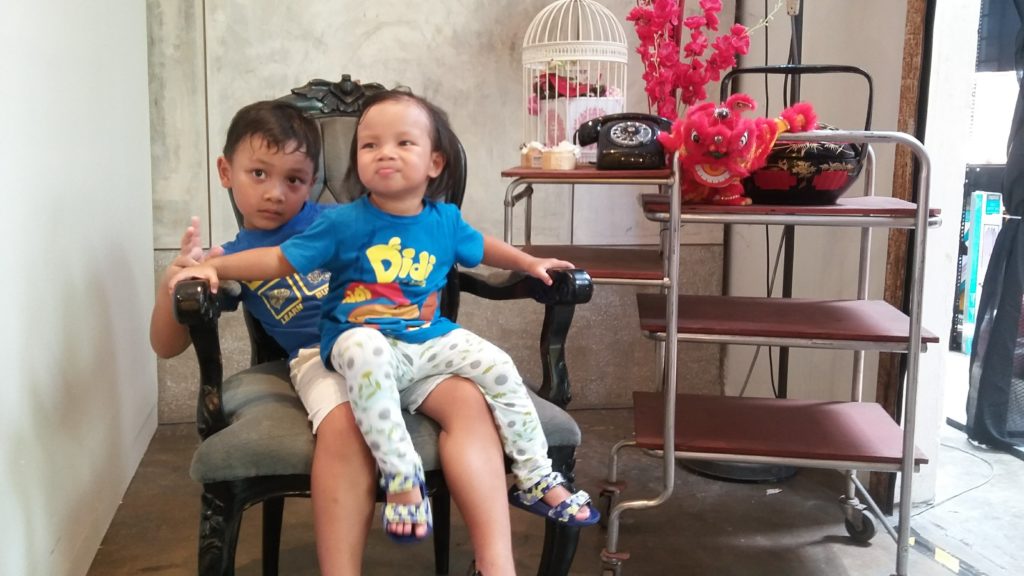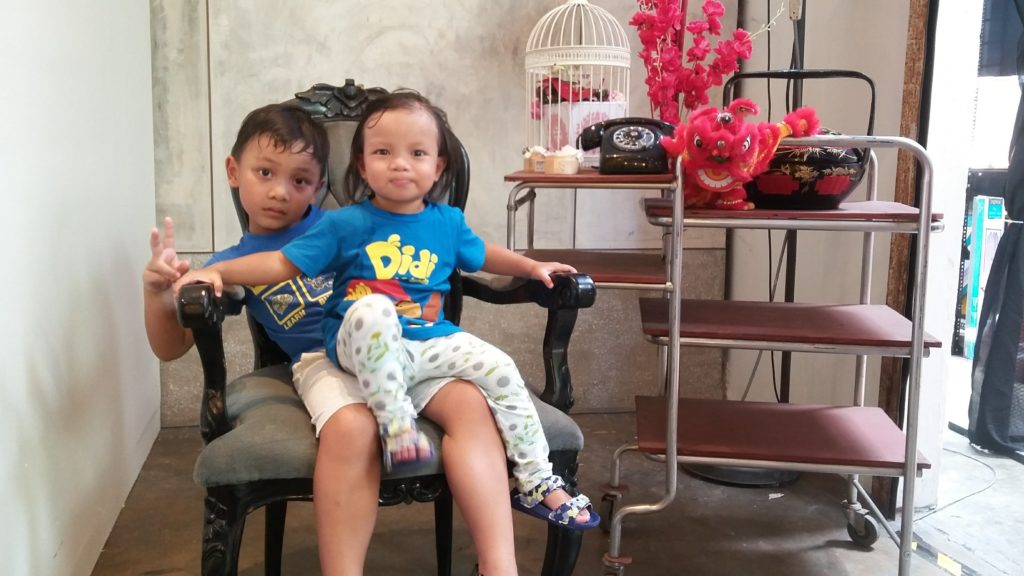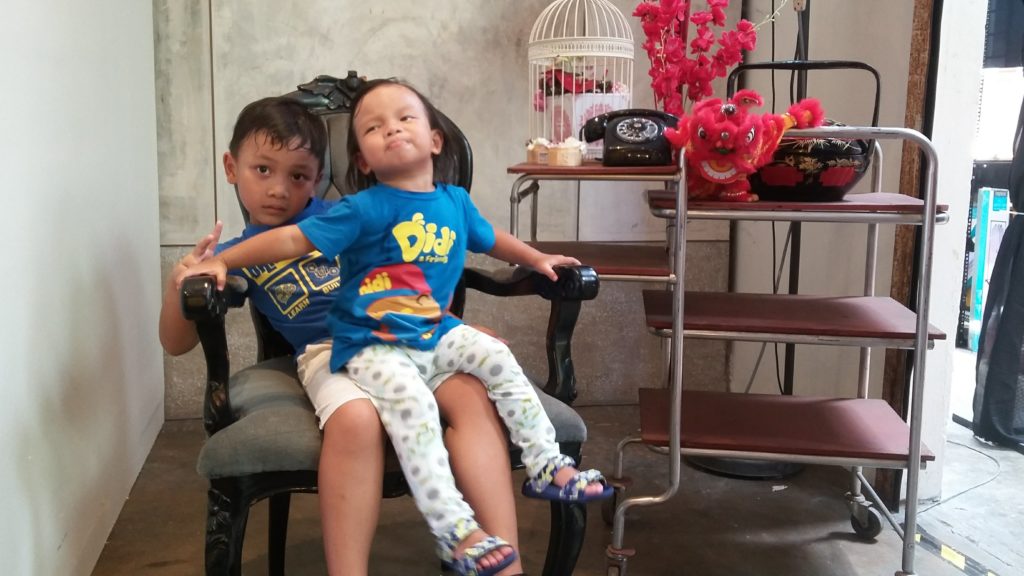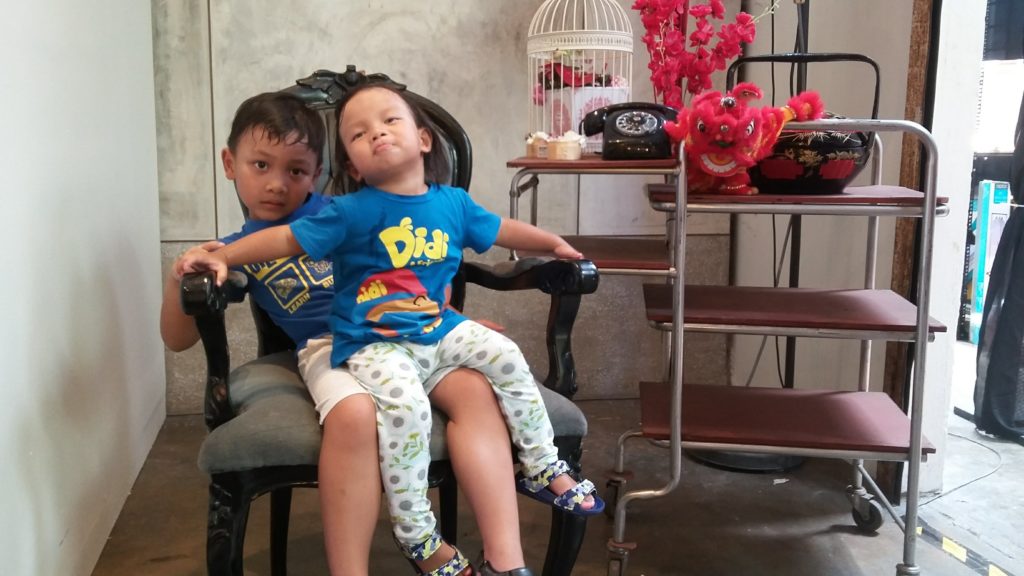 Poor Sulaiman. Aisha is so fab tho.
Yeah, that's about it.
Facebook Comments