Cafe Lafayette In Uptown Serves Yummy Pasta Dishes
Whenever someone feels like having pasta, we always go to Cafe Lafayette at Damansara Utama i.e. Uptown. Their pasta dishes are quite yummy, despite being Malaysianised for the local palette. If you want authentic Italian food, don't come here. Haha. Weekday set lunches are worth it too. Meal, drink, and ice cream for RM15.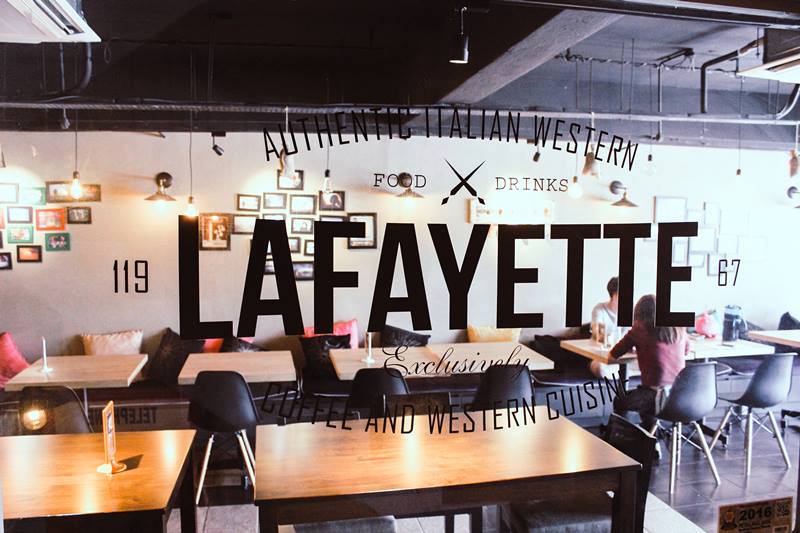 They have other "Western" mains. Unless you're really curious and not particularly hungry, don't order these.
The Food
Pasta and risotto. These are the only things you should order. I really like their pasta. I've tried the chicken carbonara, beef bacon carbonara, and tomato salmon. They are delicious. Nyam nyam.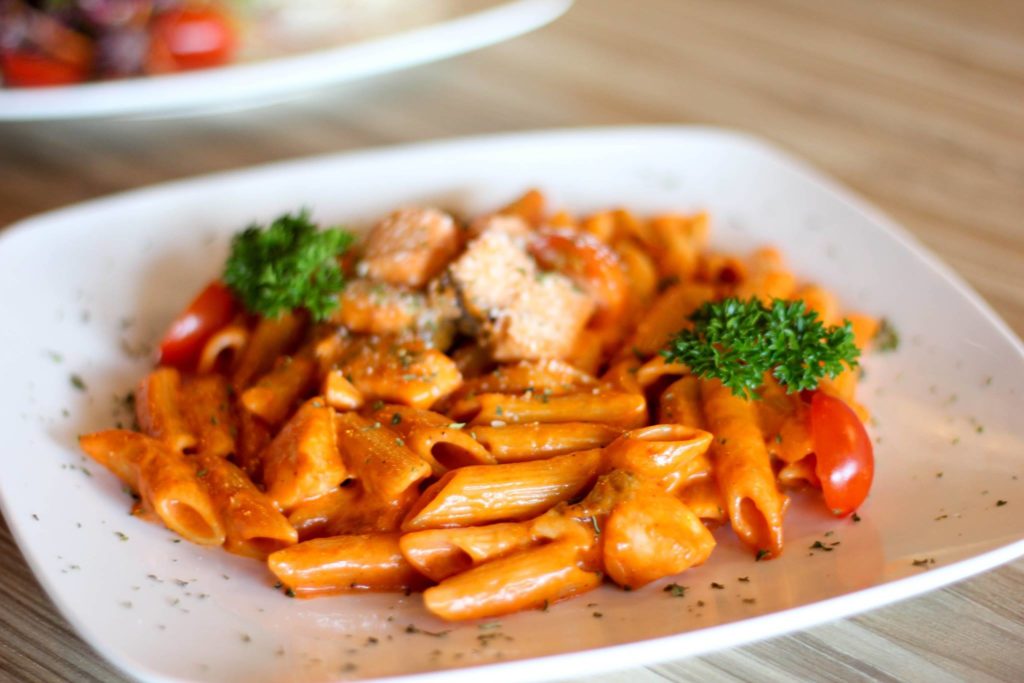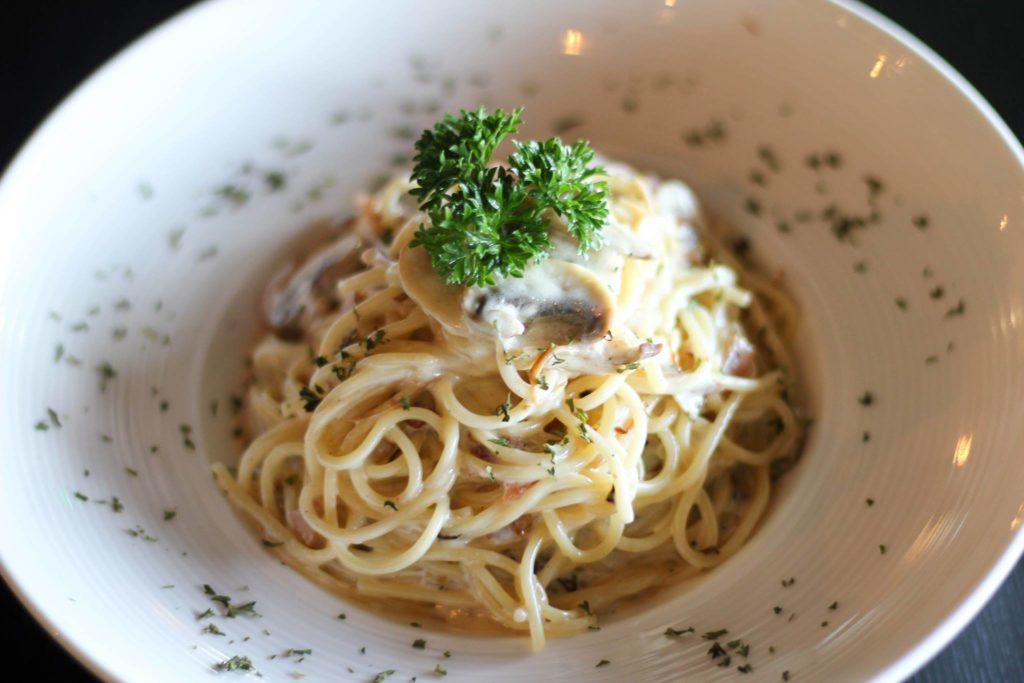 Here's their menu: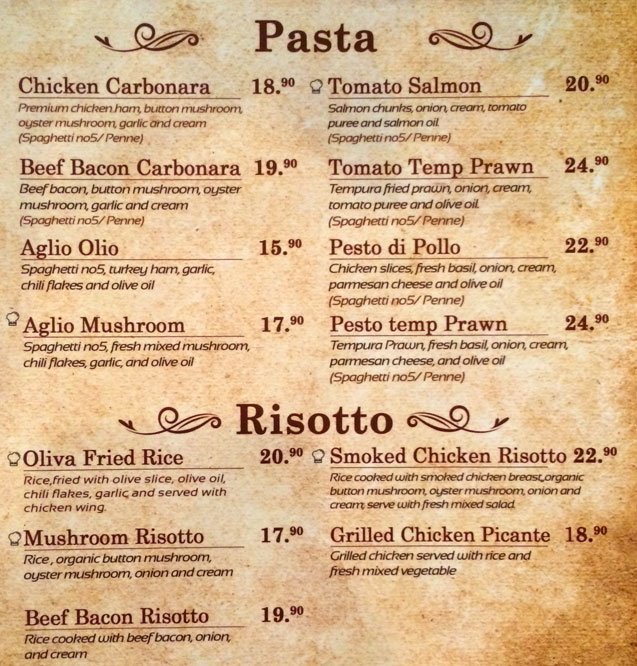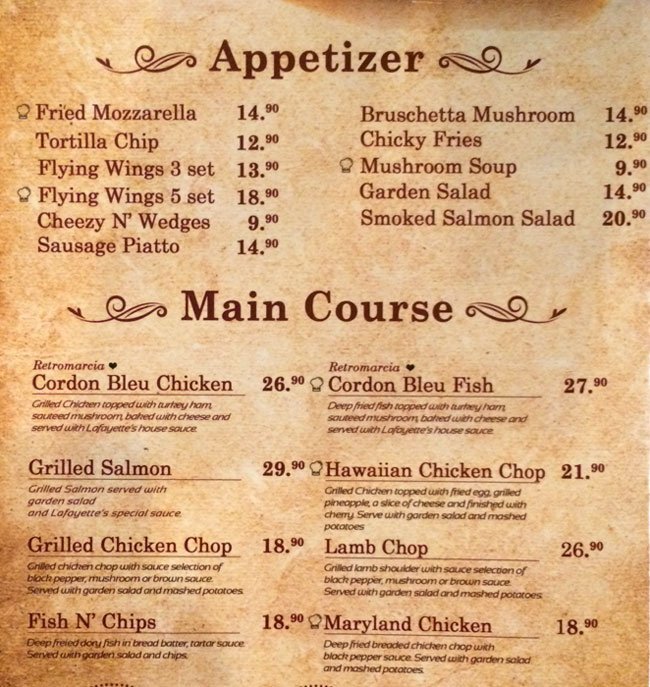 I had lunch with the team today. So we ordered more than we usually would. Because our boss was paying. That included Fried Mozzarella: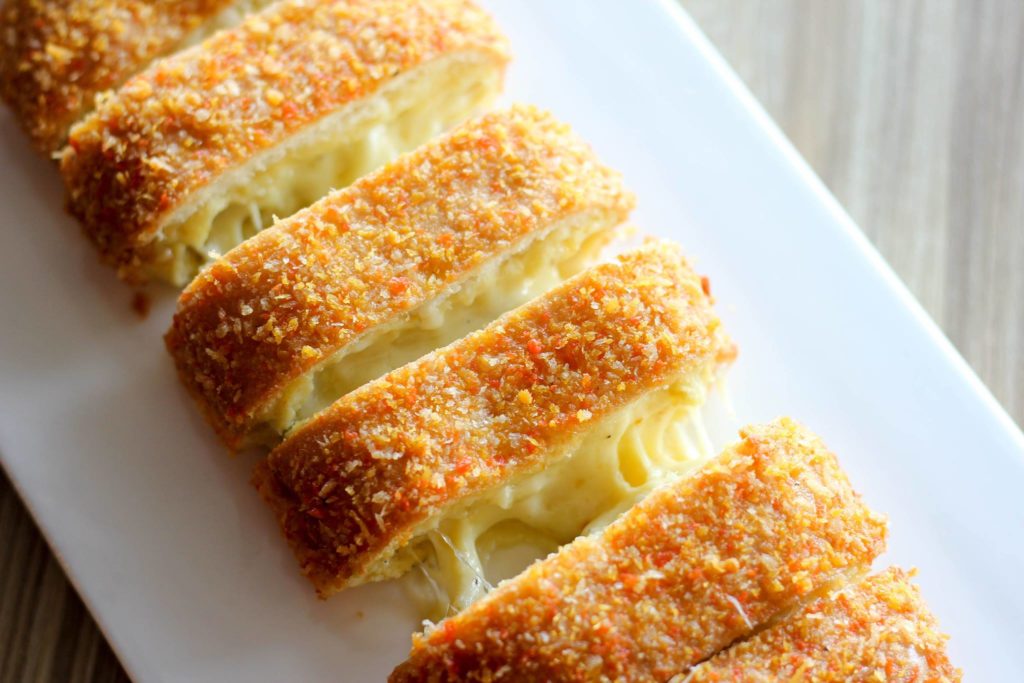 Hmmm… we assumed it would be deep-fried mozzarella cheese, which sounds divine. But it was actually bread stuffed with mozzarella. We were disappointed. It was nice but it was bread. I want that oozy, silky, molten deep-fried cheese, naw mean?
Ok, now this is why you should only order the pasta or risotto. Above: the Hawaiian chicken. Total 80's throwback with chicken chop topped with a pineapple ring, cheese slice, and glazed cherry. All of it doused in black pepper sauce. I guess some people might like this. I think it's kinda sad. My boss says it was not very good.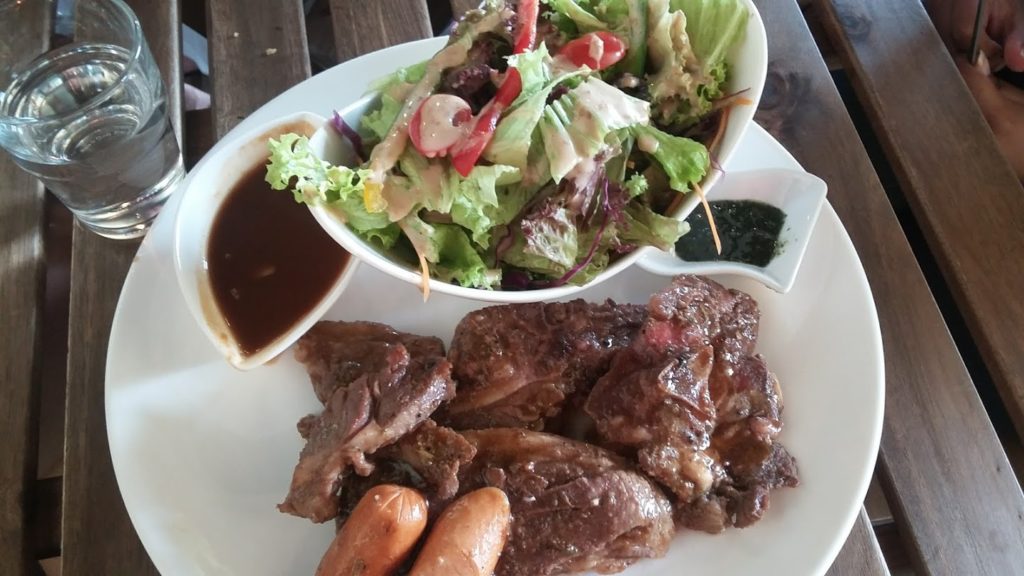 Gowri and I ordered this lamb and sausage dish. We expected real sausage with real meat. We got an instant hotdog instead. And that instant hotdog tasted nicer than the lamb. So sad. The salad was nice though.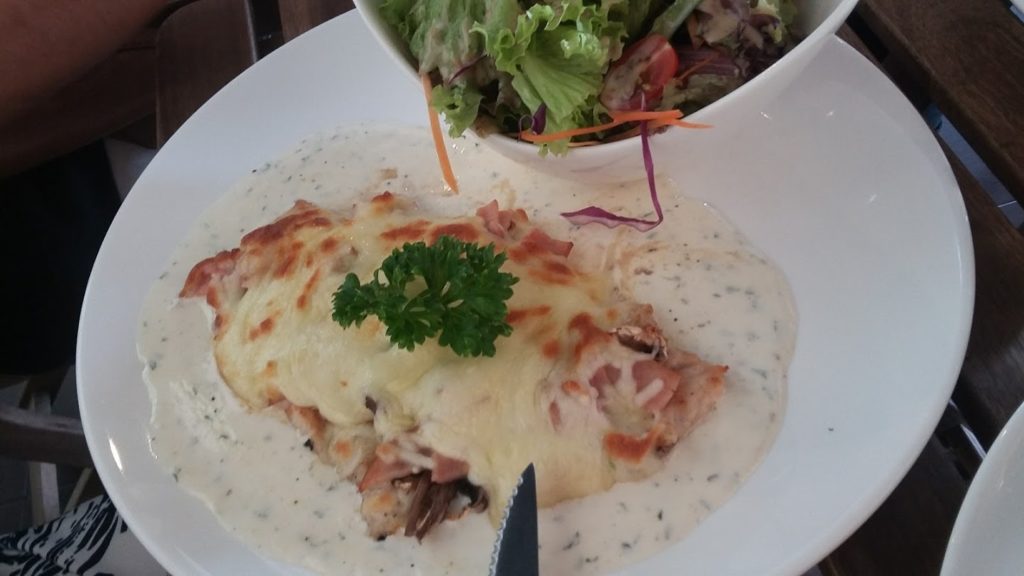 This one makes me laugh. It's supposed to be chicken cordon bleu. Only that… it's not at all chicken cordon bleu? It's chicken chop with ham on top and then cheese on top of that. It's chicken parmigiana basically. And the sauce that's all around it is some sour lemon mayo thing.
I think it's not bad tasting. But it's definitely not chicken cordon bleu.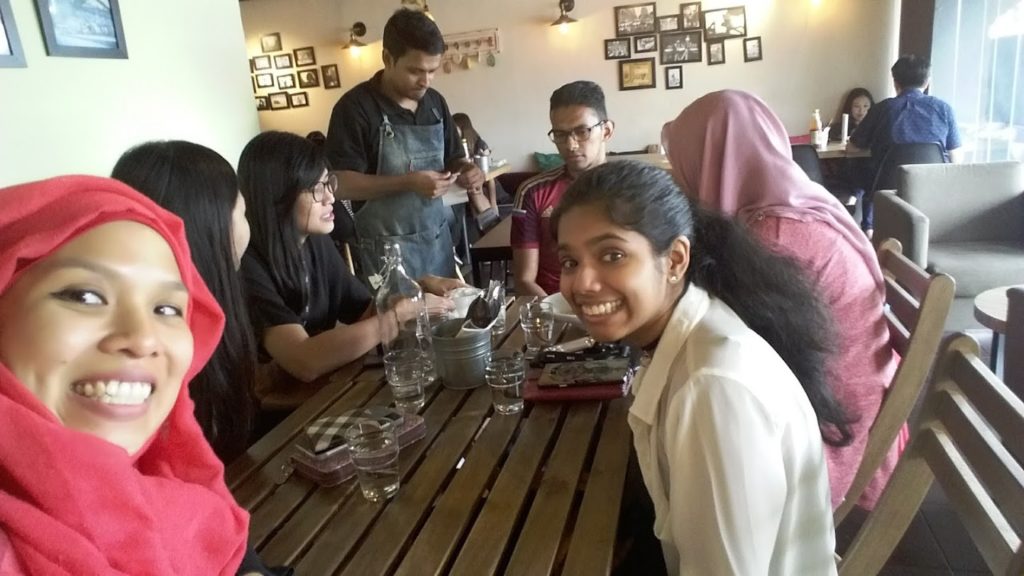 Ohm nom nom. We still ate everything anyway.
Again, just wanna stress, their pasta is really nice.
FOOD: 3/5
The Ambiance
Just your regular run-of-the-mill hipster joint.
AMBIANCE: 5/5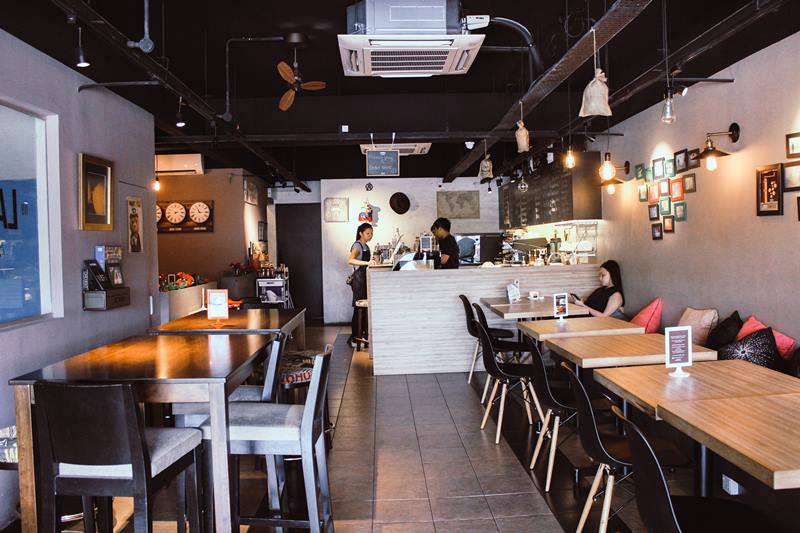 The Service
I brought the kids here for dinner once. It wasn't great. Very expensive. Service was terrible that night. Not sure what happened. But Aisha got her meal long after we all finished ours. And she just had plain pasta with olive oil. We had to tapau it. We were at the restaurant for a looooooong time.
They're much faster during the day. Staff are always friendly but some don't speak English or BM. Or if they do, we really don't understand what they're saying.
SERVICE: 3/5
Final Thoughts
It's hard to find halal food in Uptown. It's hard to find Italian food in Uptown. Cafe Lafayette is pork-free Italian/Western quite good worth it for the set lunch on weekdays don't go there for dinner it's expensive nice to take Instagram pics.
OVERALL: 3/5
Cafe Lafayette Details
Location: 75M, JALAN SS21/1A, DAMANSARA UTAMA
Opening hours: 11 am – 11 pm | Monday – Friday, 10 am – 11 pm | Saturday & Sunday
Contact: 03-7496 7044
You can find out more about Cafe Lafayette at their Facebook page.
If you'd like me to give your restaurant a Mama Review, let me know in the comments below! I write for free and pay for my meals haha!
Facebook Comments