We Went To The Earth Hour Night Walk 2017 On The Wrong Day And It Was Super Embarrassing
This is a story about the time I dragged Mr Ninja and our three bambinos to Starling Mall at night to take part in the Earth Hour Night Walk 2017… on the wrong date. Exactly one week before the actual walk. Because I'm smart like that.
It all started with a story on SAYS
WWF Malaysia partnered with SAYS to raise awareness of their annual Earth Hour 2017 Night Walk in KL. Story courtesy of Gowri. They were kind enough to extend an invitation to us to join the event for free. So me, being the cheapo I am, jumped at the opportunity and signed up. But of course, I ain't walking 3km alone. So I paid for Mr Ninja's ticket and decided to drag the three kids along too.
Everything was cool up til this point.
And then it all went to shit
Ok, so I am really bad with numbers. A few months ago, a team of us went to Singapore to experience Halloween Horror Nights 7 at Universal Studios Singapore. Well, Gowri and I had mini anxiety attacks the night before we were supposed to fly to Singapore because Gows checked us in online and realised the passport number I had given the agency was wrong. It was supposed to be like 4774 but I wrote 7447. I do this all the time.
For Ayub's 1st birthday I planned a party for the 5th. Only to later realise his birthday is actually on the 10th.
Anyway, we had to pick up our running kits before the night walk and I received a bunch of reminders about it from WWF Malaysia through email because I had paid for Mr Ninja's entry. I was also supposed to receive a running kit for free because of the invite from WWF Malaysia. But then WWF Malaysia informed us that they didn't have enough running kits to give to us for free and had to prioritise the people who paid. Which is fair.
Somewhere between the reminders and running out of running kits, I got the dates ALL WRONG.
I thought we picked up the running kit on the same day as the Night Walk
March 18, 2017. Mr Ninja, the kids, and I went to Starling Mall in the morning to get his running kit. Just the one. Because they didn't have enough to give away for free.
Mr Ninja was sad to be the only one wearing the t-shirt and getting a medal. "It's no fun," he complained. "It's the EXPERIENCE!" I exclaimed.
Later that night at 8pm sharp we were back at Starling Mall. All decked out in track pants and sneakers, Mr Ninja rocking his WWF tee solo. Ayub and Sulaiman super pumped to be participating and ready to exercise and walk and sweat and wearing their sports clothes and being super cute and excited that they were allowed to go out at night.
The whole time, from the parking lot til the moment we reached the WWF Malaysia booth where we collected the running kit earlier that day, Mr Ninja and I were totally judging everyone for not wearing the WWF tee. Like, "OMG they aren't participating in Earth Hour", "Yerrrr… they don't even care about the environment," "We are so awesome, we're saving the planet."
Then we reached the booth. And we were like, "uh, hi."
And they were like "Oh wow! You're wearing the t-shirt already!"
And I was like ohshitwhatishappening.
So Mr Ninja was like, "Umm… When is the Earth Hour Night Walk happening… exactly..?"
And the super friendly WWF people were like, "Next week!" 😀
…
HAHAHAHHAAHAHAHA.
The best part was that the person Mr Ninja approached to ask wtf was happening starting pitching to him, trying to get him to sign up for one of those monthly donations to WWF. "For just RM3 a day you could be saving the life of this plant."
I moonwalked away and left Mr Ninja giving me that when-you-wanna-laugh-and-turn-into-a-cabbage-and-disappear-and-you-also-want-to-kill-your-spouse-but-someone-is-talking-to-you-so-you-have-to-look-normal face between his "oh yeah, that's interesting, oh wow, that's cool" replies.
I am married to the most wonderful Ninja in the world
So I am super blessed that once Mr Ninja got away from the WWF sales girl and found us hiding outside, he thought the whole thing was hilarious. I mean, he was the only person wearing that WWF Earth Hour Night Walk t-shirt, got cornered by a sales person, and then abandoned by his family. It was so potentially cringey. But he laughed. And I laughed. And we laughed and laughed and laughed.
I still laugh thinking about it. I'm laughing right now writing about it.
We had to shush the kids because Ayub and Sulaiman were so LOUD like "TODAY IS EARTH HOUR, RIGHT MAMA? THAT'S WHAT YOU SAID!" "WE'RE GOING TO THE EARTH HOUR NIGHT WALK NOW, RIGHT MAMA?" no shhhh next week shhhh…
We told them it was a practice night walk. To get them ready. They passed the test. We had dinner at Hayaki, walked around a bit, then went home.
The following week, during the actual global event of Earth Hour 2017 that was advertised ALL OVER MALAYSIA AND THE WORLD, including on the social news site where I work, we took part in the Night Walk
So in the end, we all received a running kit, which was awesome. Because it meant we all got medals. Which is obviously the most important part of all this. Do you read that as sarcasm? Because it is. Yet, at the same time, it is not.
It was dark. I mean, the lights were all off. It was Earth Hour. It drizzled. I carried Aisha in the sling. She couldn't walk yet at that time. Sulaiman waved his white flag about three-quarters of the way in and continued in the stroller, pushed by Mr Ninja. Ayub powered through but was angry at me for making him power through. We finished the 3km in less than 40mins. Got our medals. High-fived each other. Drove to a food truck. Ate a bunch of burgers. Got home and passed out.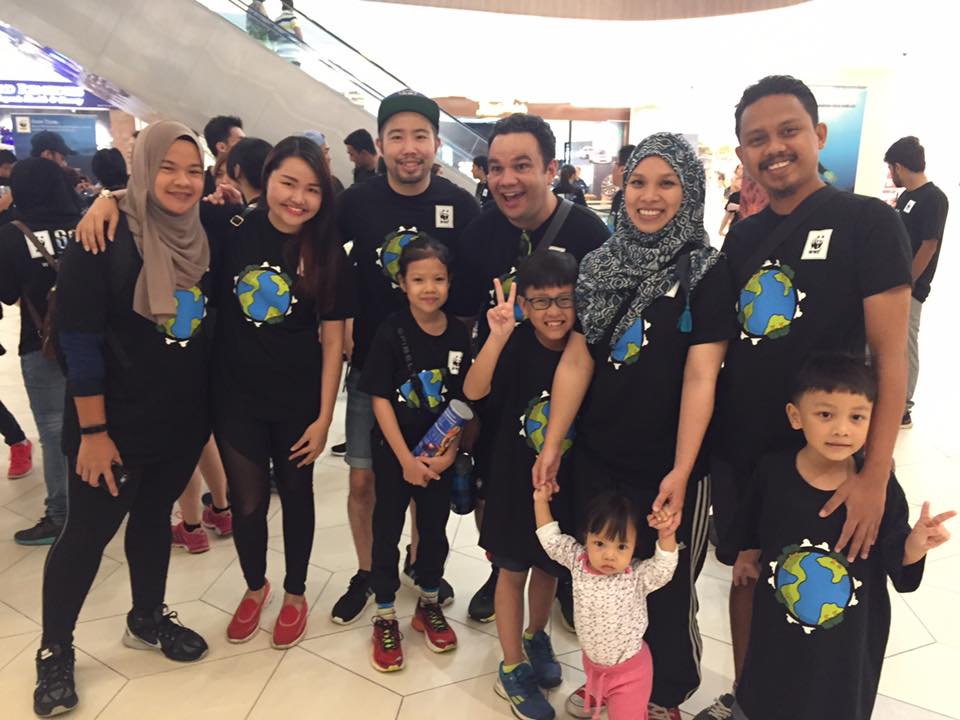 Can't wait for next year!
Facebook Comments