Woohoo! We're on the home stretch!
Actually, if you're not too particular about what your blog looks like, you can stick to the default theme that WordPress gives you.
However, if you want to be a Little Miss/Mister Fancy-Pants like me, then you can install a WordPress theme and customize it so your website is completely unique and sexy!
The first thing you need to do is log in to your WordPress.
To do this, just type your domain name in the address bar at the top of your browser and add /wp-admin.
For example, with this website I type www.ninjahousewife.com/wp-admin
You'll see this page: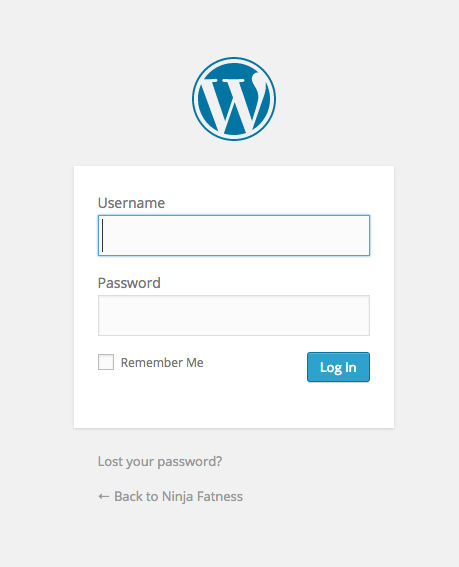 Once you've logged in, you'll be brought to the dashboard of your new blog which will look something like this: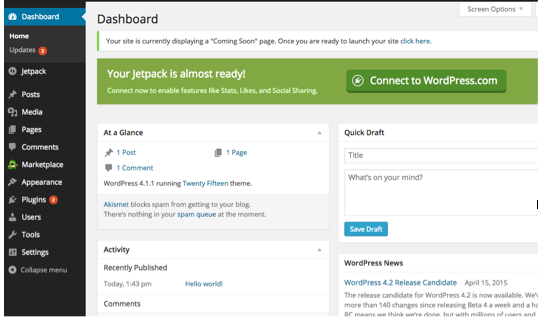 On the left sidebar, click on the tab "Appearance" and then on "Themes"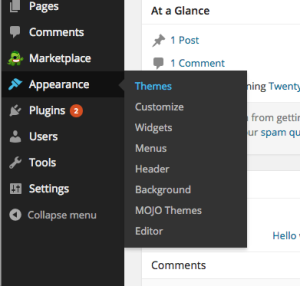 Here you can browse tons and tons of themes for free. Pick one you like, click "Install" then "Activate" and your website will instantly be sexy.
If you're not into searching through a sea of free themes, then I suggest these alternate (incredibly popular) routes:
Theme Forest – Home of super premium, super gorgeous WordPress themes. I love love love this place. There have been days when I just browse through the collection because there are just so many to ogle at. There are literally thousands to choose from whether you're starting a food blog, news portal or photography site. The downside is you have to pay per theme. So if you have multiple websites or blogs you aren't allowed to purchase one theme and use it multiple times. You'd have to buy a theme for each site.
Elegant Themes – One time payment, and you get full access to all the beautiful themes available. So you can use them over and over again on multiple sites. And if you decide you don't like one anymore, you can change to another at no extra charge. Definitely my choice for a beginner.
And again, if you don't want to pay for a theme, you can always pick a free one here.
So that's that!
With your domain and hosting done, your WordPress installed and your theme picked out, all you have to do is start blogging!
Back: Install WordPress | Next: Make Money Blogging